Introducing – Oris Big Crown Pointer Date D.26 286 HB-RAG Limited Edition, With Cool Green Dial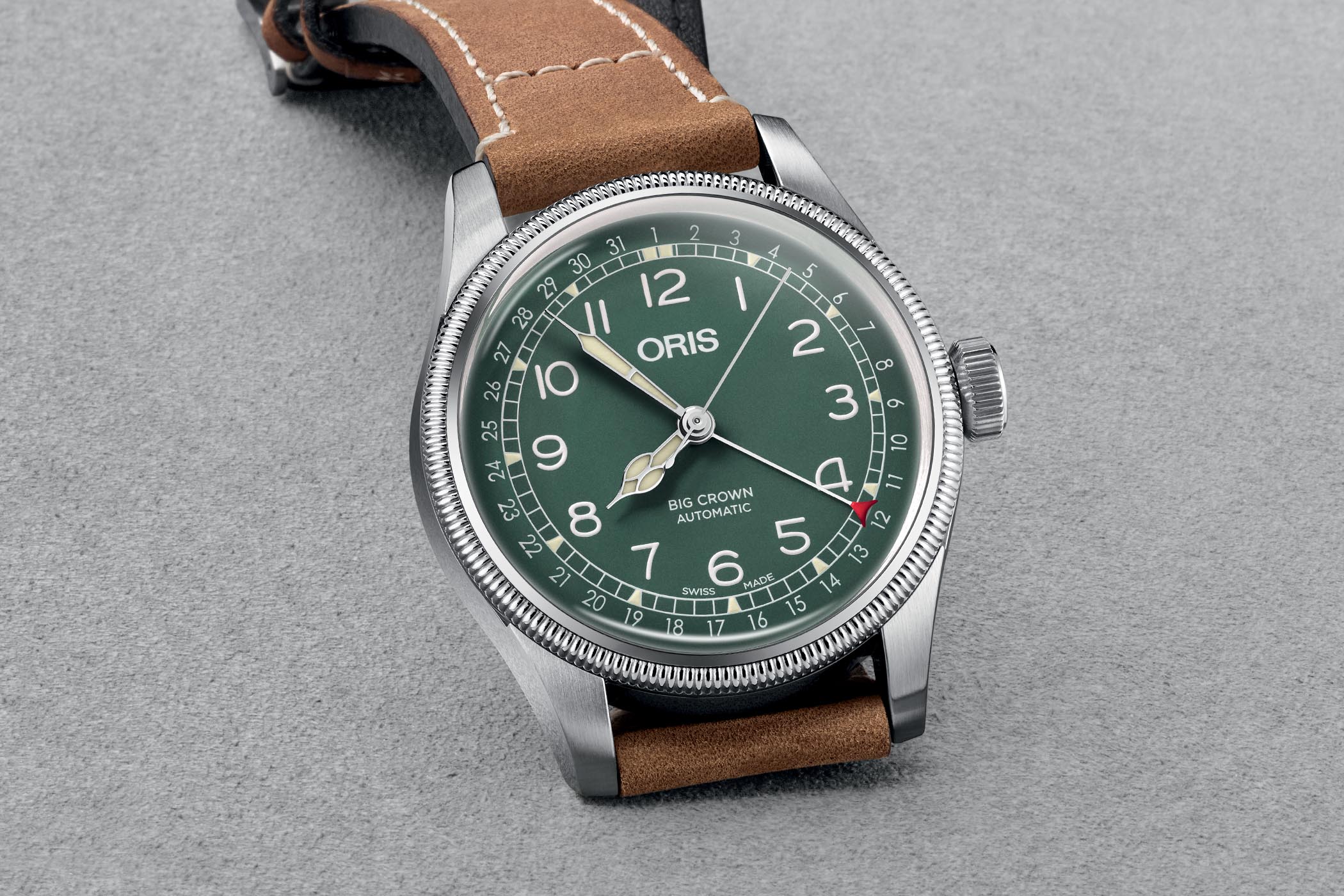 The link between Oris and aviation needs no further introduction. The company's links with flying go back to the dawn of flight in the early 1910s when it produced its first aviation-inspired watch. Oris's first pilot's wristwatch followed soon after and is celebrated a century later with this year's 1917 Limited Edition. Today, the brand introduces a new limited edition, based on the signature Big Crown collection, the Pointer Date D.26 286 HB-RAG with super-cool green dial… and it's not the only feature that is iconic in this watch.
Alongside the aviation roots, it has to be noted that this watch has something special, a sort of signature feature that makes it an icon in the collection. Before I wrote this piece, Frank told me that in the Netherlands, during the 1990s, if you could spot a luxury watch on the wrist of someone, there were high chances that it would either be a TAG Heuer, an Omega or a specific Oris model, the Pointer Date. This display, a centre-mounted calendar pointer, is a classic among the classics and has long been used by the brand – they launched their first version in 1984, and it was based on an Oris watch from 1938. The calendar pointer would become one of the brand's best-known features. And guess what, the signature display is still in the catalogue and is back here, with the new Oris Big Crown Pointer Date D.26 286 HB-RAG Limited Edition.
In their own tradition, Oris has always developed interesting displays based on classical, out-sourced automatic movements (usually based on ETA or Sellita calibres). However, to add some exclusivity, some indications or complications are added, with movements slightly updated internally, allowing for something different, but without having inaccessible prices. The pointer date is one of them: a simple evolution of the display, yet one that makes this watch even more Oris.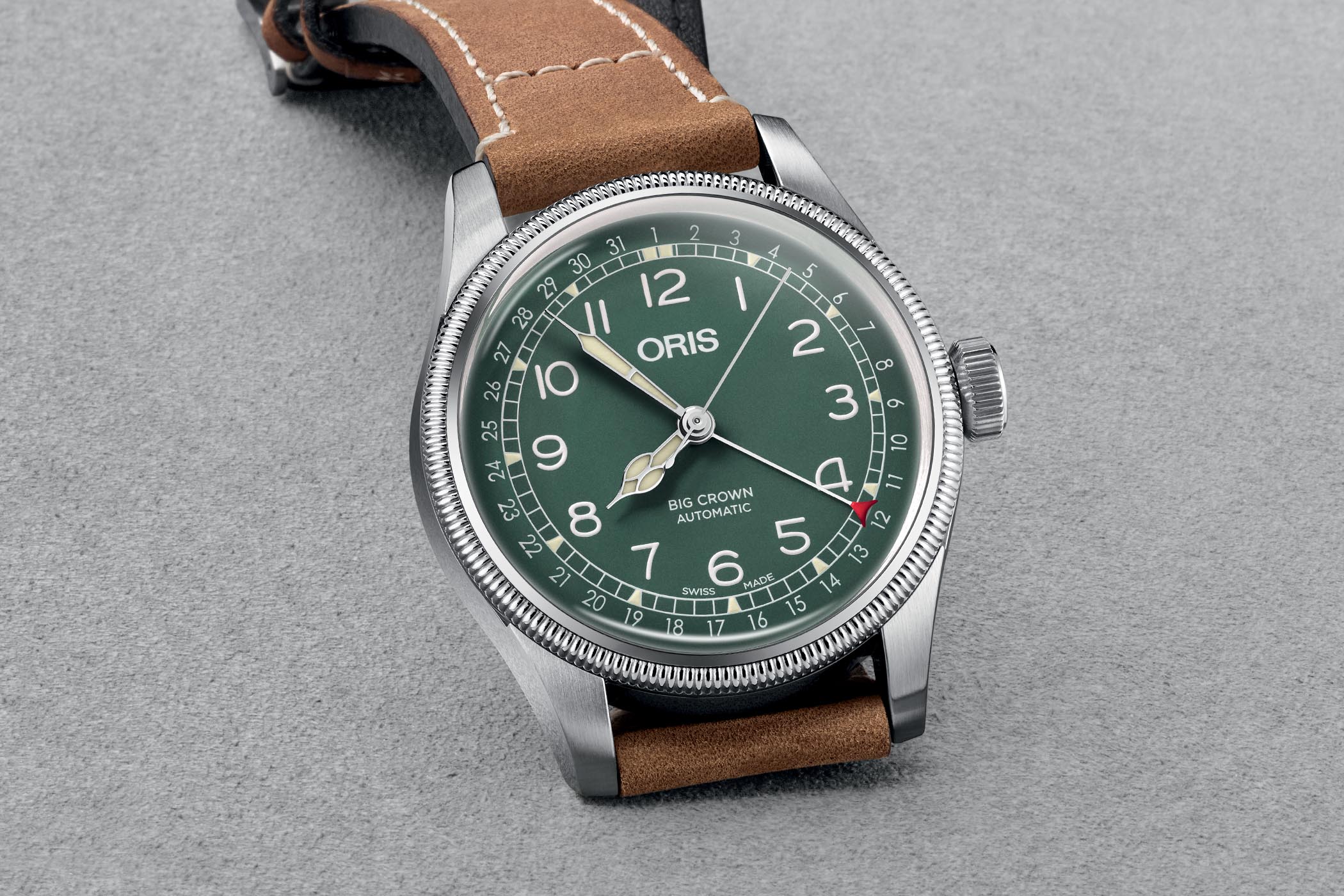 The Oris Big Crown Pointer Date thus indicates the time and the date thanks to 4 centrally-mounted hands – hours, minutes and seconds of course, as well as the date, with a red-tipped hand, highlighting the current date on a track on the periphery of the dial. It's slightly different to the norm, and a bit vintage-inspired. In the usual pilot-style of the collection, legibility is key, with large Arabic numerals, luminous cathedral hands and a dial that, overall, offers great contrast. For this limited edition, it has faux-patina hands and indexes, as well as a cool green colour, unique to this model.
This limited edition is named D.26 286 HB-RAG… Quite a complex name, but behind this unusual appellation is a new partnership between Oris and "Hangar 31", a group of volunteer enthusiasts who preserve and fly the historic Dewoitine D.26 aircraft from their base in the Swiss town of Grenchen, in the foothills of the Jura Mountains. Hangar 31's motto is "Conservare et volare", conserve and fly. The story of the Dewoitine D.26 286 HB-RAG begins when it was put into service on August 20, 1931, as one of 11 aircraft commissioned by the Swiss government and built under licence by the Eidgenössische Konstruktionswerkstaette K+W (Federal construction workshop) in Thun, Switzerland. It remained in the Swiss Air Force until 1948 and was used to instruct trainee pilots. A long period of neglect followed, before it was restored and then exhibited in a museum in Dübendorf, near Zurich. In 2015, the Dewoitine D.26 286 HB-RAG was passed into the care of Hangar 31, who maintain it and regularly fly it, continuing its historic story. Today, it's one of only two original D.26s still flying.
For the rest, this Limited Edition is very much similar to the standard Oris Big Crown Pointer Date, with its 40mm stainless steel case, with fluted bezel and oversized crown (allowing for a use with flying gloves). This limited edition comes with 2 different leather straps (one in light brown, one in dark brown) and a special leather pouch, both inspired by finishes and materials found in the D.26's cockpit. Inside the case is a Sellita SW 200 Swiss automatic movement, modified to display the date with a pointing hand. The back is also specific to this edition, which is embossed with an image of the D.26 286 HB-RAG plane, and also carries an engraving of the limited edition number.
This Oris Big Crown Pointer Date D.26 286 HB-RAG Limited Edition will be produced in 1931 pieces and, as usual with Oris, priced to a very reasonable 1,850 Swiss Francs. More details on oris.ch.
---
Technical Specifications – Oris Big Crown Pointer Date D.26 286 HB-RAG Limited Edition
Case: 40mm diameter – stainless steel, polished and brushed – fluted bezel – sapphire crystal on the front – engraved steel back
Movement: Oris Cal. 754, based on Sellita SW 200-1 – automatic – 38h power reserve – 4Hz frequency – hours, minutes, seconds, date by hand
Strap: Brown leather strap with stainless steel pin buckle
Extras: 

Presented in a special leather pouch with additional brown leather strap

Reference: 01 754 7741 4087 LS
Price: CHF 1,850
https://monochrome-watches.com/introducing-oris-big-crown-pointer-date-d-26-286-hb-rag-limited-edition-green-dial-price/