Old School – Girard-Perregaux's first Quartz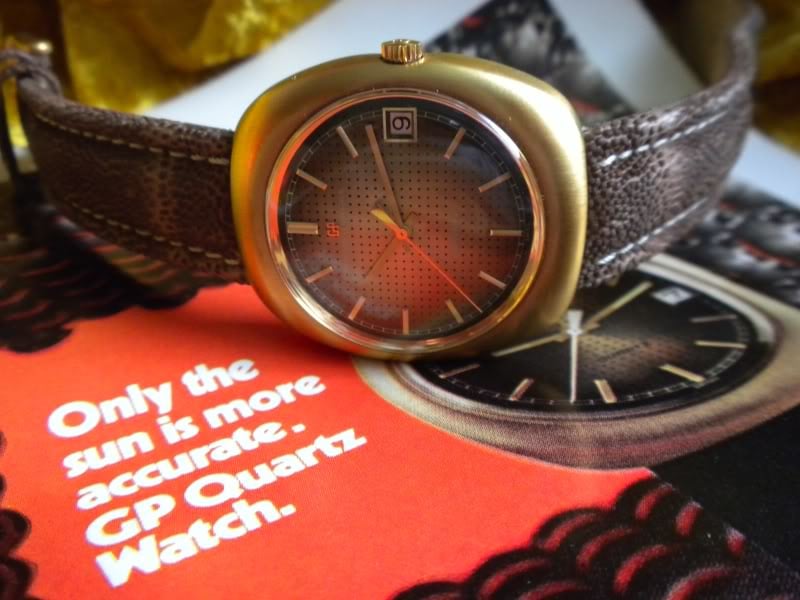 Your mechanical watch? Obsolete, thing of the past, just trade it in for a nice new quartz watch and you will always be on time! Right now this sounds like an absurd proposition, especially to most watch collectors and connoisseurs, but in the early 1970's it was reality.
Although Seiko was the first company to introduce a commercially produced quartz wristwatch on the market, the battle was still on in Switzerland for the position of runner up. Surprisingly it was not the Beta 21 joint venture (that included, amongst others, Omega, Rolex, Piaget and Patek Philippe), but Girard-Perregaux that was first.
Girard-Perregaux developed the movement in house, but with the help of some outside companies and experts. In the mid 1960's Georges Vuffray, an electronics expert, was contracted to develop a quartz clock that later was miniaturized. Another participant was the American electronics giant Motorola. That is also why the integrated circuit inside the movement bears the Motorola-logo.
With the first series the housing of this integrated circuit was actually still made of ceramics instead of the later used plastics. Although the Girard-Perregaux movement shared the same basic components with the Beta 21, it was less complex executed. However compared to a modern day quartz movement, this is definitely another world. The most important accomplishment of the movement was its frequency of 32,768 Hz. This proved to be an optimum frequency and has even become the world standard for most quartz wristwatches!
Girard-Perregaux's movement was also used by Favre-Leuba and Jaeger-LeCoultre in their Master Quartz-models. With a price of $320,- for the gold-plated model it was not a very cheap watch. Today this would be about $1.800,-. That is still quite inexpensive compared to the $11.500,- limited edition Laureato that Girard-Perregaux introduced in 2010 to commemorate the 40th birthday of their legacy into quartz.
A legacy it became indeed, because after their first model Girard-Perregaux continued to create and produce quartz movements. They developed them to such a degree that some of them had several complications including unusual ones like an indicator for the current sign of the zodiac. Also the finish on the later movements was exceptionally high, especially for a quartz watch. Geneva striping and gold battery covers were the standard and Girard-Perregaux even used sapphire backs to show off these movements. Perhaps not every collector's cup of tea, but certainly a part of watch making history.
https://monochrome-watches.com/old-school-girard-perregaux-first-quartz/