Introducing
The New Nomos Tangente Neomatik Platinum Gray 35 and 39 (Video & Price)
The brand's most emblematic watch with a new dial colour and automatic in-house movement.
Classic with a twist. Formally casual. Business casual. Elegant with a modern touch. There are a lot of adjectives that can be used to describe the watches produced by Nomos. Most of them are minimalist with just a hint of cool, either in the design or the colours. Enough to make them fresh and young, but not fashion-oriented items. Watches made by Nomos, in the epicentre of watchmaking in Germany (understand Glashütte), are also packed with true watchmaking features. And when it comes down to explaining this, no other watch can do it better than the Tangente. And today, this signature model returns with a new dial colour and an in-house automatic movement. Here are the Nomos Tangente Neomatik Platinum Gray 35 and 39. And you can see them in detail in the video above.
The most Nomos watch of them all, the Tangente
The Nomos Tangente is by far the most successful watch of the brand, one of the four watches that was introduced in 1992 after the creation of the brand in 1990 in the little town of Glashütte, the place where some of the finest German watches have been produced for over 175 years. Sharing the town with brands like A. Lange & Söhne or Glashütte Original, Nomos might be one of the youngest, but it has found a place of its own within the landscape of Saxon watchmaking. And when it comes to watches that are immediately recognizable, few can rival the Tangente.
Alongside the Orion, Tetra and Ludwig models, which were part of the inaugural 1992 collection, Nomos launched the Tangente, a classic, minimalist watch with a hand-wound movement (an outsourced Peseux 7001 movement) and a typical Bauhaus design inspiration – something that would become a recurring design theme for Nomos, and that is clearly visible in the overall shape of the watch, but also in details such as the numerals, markers and colours.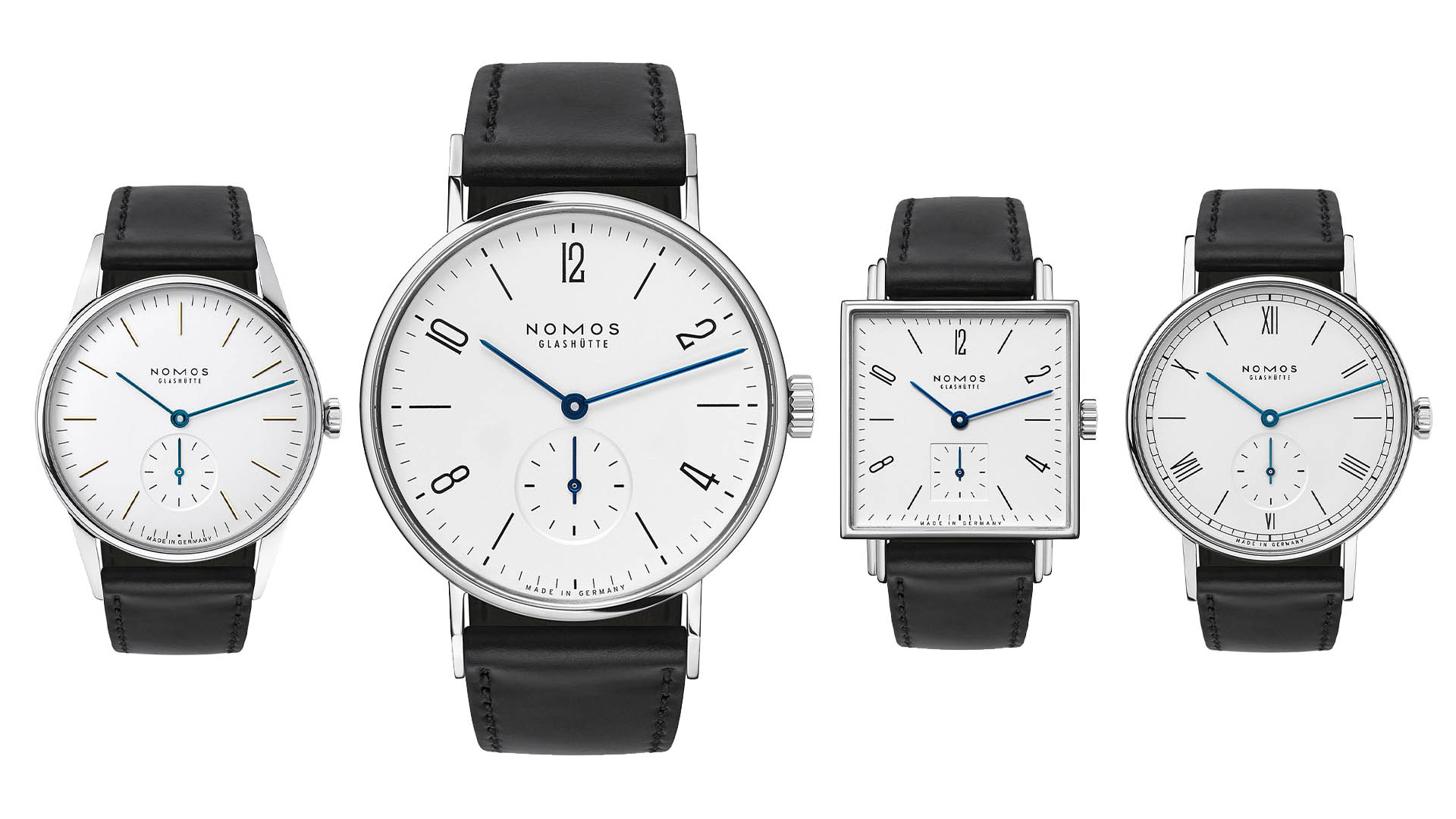 This relatively accessible watch started its life with a white dial and a 35mm case. The dial was simple, ultra-legible, with stylized markers and Arabic numerals paired with blued pencil hands. Surprisingly, although all elements are clean, minimalist and simple in appearance, the combination produces a marked personality.
Since then, we've seen multiple colours – like champagne, silver-cut or blue – as well as various sizes – 33, 35, 38, 39, and 41mm – and the outsourced movements have been replaced by either hand-wound or automatic in-house calibres. There's even a date, a power reserve or a sports model.
The new Tangente Neomatik Platinum Gray
After the two Orions launched in late 2021 with silver or gold-coloured dials, it's time for Nomos to bring another precious colour to its collection, this time with the Tangente Neomatik Platinum Gray models available in 35 and 39mm. First, the case. And no surprises here, as it's the classic Tangente coin-shaped case with its slender (almost inexistent would be even more appropriate) bezel and thin, angled lugs.
It's basically a fully polished, flat cylinder with straight sides that might seem classic at first but actually has a lot of personality and has long participated in the appeal of this emblematic model. On top is a flat sapphire crystal with AR coating on the inner side, and each model measures about 7mm in height. They might be thin watches, but the elongated lugs give them some presence. Also, note that these watches can be ordered with solid casebacks instead of the sapphire caseback seen on both watches we had for our photo session, and that is a first for watches equipped with the Neomatik movement.
As mentioned, there are two diameters available on the Nomos Tangente Neomatik Platinum Gray, either 35mm or 38.5mm (yes, the model is named 39 but is actually a bit more compact than expected). The smaller one (visible below on the left) is great if you want a dressy, more formal look and can also be easily be worn by men and women.
The larger 39 version (visible above on the right and below) adds a more modern touch and will be better for those with larger wrists. And the size is the only difference between the two versions. Both models are worn on black Shell Cordovan leather straps with a classic pin buckle – typical of Nomos, and there are many more options available in the brand's online boutique for added fun.
Moving to the star of the show, the dial and its new metallic colour. The dial is plated with rhodium, a thin application of platinum metal, which provides a striking grey hue. It has a very attractive shimmering matte texture that contrasts with the polished rhodium-plated hands and the signature Arabic numerals painted in black. The snailed small seconds at 6 o'clock balances the logos on the upper side, which includes a slight touch of gold colour for the name of the movement.
Inside the case of both versions of the Nomos Tangente Neomatik Platinum Gray is the brand's in-house automatic movement, the thin calibre DUW 3001, also known as neomatik. This self-winding movement with a bi-directional central oscillating weight stores 43 hours of power reserve and features the NOMOS swing system – an in-house escapement – a transversal balance bridge, a regulation system adjusted in six positions and stop-seconds. It is nicely decorated in a modern German way with blued screws, a three-quarter plate, contrasting gold lettering and thin stripes. Note that the 38.5mm watch is water-resistant to 50m while the smaller model is rated for 30m.
Availability & Price
The new Tangente Neomatik Platinum Gray are now available from the brand and retailers. The 35 version retails for EUR 2,440 or USD 3,070 with a solid steel back and EUR 2,740 or USD 3,460 with a sapphire caseback. The 39 model retails for EUR 2,580 or USD 3,390 with a solid steel back and EUR 2,880 or USD 3,780 with a sapphire caseback.
For more details and to place an order, please visit nomos-glashuette.com.
https://monochrome-watches.com/nomos-tangente-neomatik-platinum-gray-35-and-39-review-video-price/