New Vulcain Cricket REVOLUTION
A revolution for Vulcain. They just released the first automatic alarm movement, calibre V-21. This new calibre powers two new watches, the new Cricket REVOLUTION GMT and Cricket REVOLUTION Dual-Time.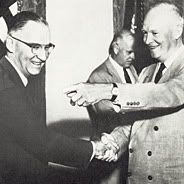 Vulcain is well known for their alarm wristwatches since… well, long before i was born. Vulcain even has a tradition to give a wristwatch to the American president since 1953 when they gave the first Vulcain Cricket to president Harry Truman. President Barack Obama will receive the Anniversary Heart, a new model from Vulcain meant to celebrate the manufacture's 150th Anniversary.
Now Vulcain comes with their first automatic alarm movement, calibre V-21. This is a true revolution for Vulcain. Since the first Vulcain Cricket Alarm wristwatch in 1947, the Vulcain alarm movements are manual wound. The fact this is a revolution comes back in the names of the two new watches with this movement.
The Cricket V-21 movement powers the new Cricket REVOLUTION GMT and Cricket REVOLUTION Dual-Time models. This in-house movement has 42 hours power reserve and a 15-20 seconds lasting alarm. Besides the alarm, the movement has of course hours, minutes, central seconds and a date function. The Cricket REVOLUTION models are 42mm in diameter, a little over 16mm thick and water-resistant up to 50 meters.
Personally i've always liked the Vulcain alarm watches, but the vintage models are just too small for me. Most of them measure 34mm or 35mm. The newer models from the Avaitor series are my favorite and the Aviator GMT is still on my wishlist (which is quite long…). Now seeing the new Cricket REVOLUTION Dual-Time i must admit it will replace the Aviator's place on my wishlist.
The new Cricket calibre V-21 is equipped with Vulcain's patented Exactomatic system. This system equalises the friction on the balance-staff in all positions by modifying the endstones of the incabloc shock-absorbers. This results in more regular amplitude and thus enhanced precision and improved regularity of rate on the wrist.
The numerals and hour-markers of the Vulcain Cricket REVOLUTION models have Superluminova, so reading time at night won't be a problem. The models have a domed sapphire crystal. For the caseback you'll can choose between a sapphire crystal in the back so you can admire the beautiful in-house movement or Vulcain's signature triple case-back serving as a resonance chamber. The new Vulcain Cricket REVOLUTION GMT model comes with a choice of strap in alligator leather or rubber-lined calfskin.
https://monochrome-watches.com/new-vulcain-cricket-revolution/