Miki Eleta And Marc Jenni Present The Timeburner – A Kinetic Sculpture For Your Wrist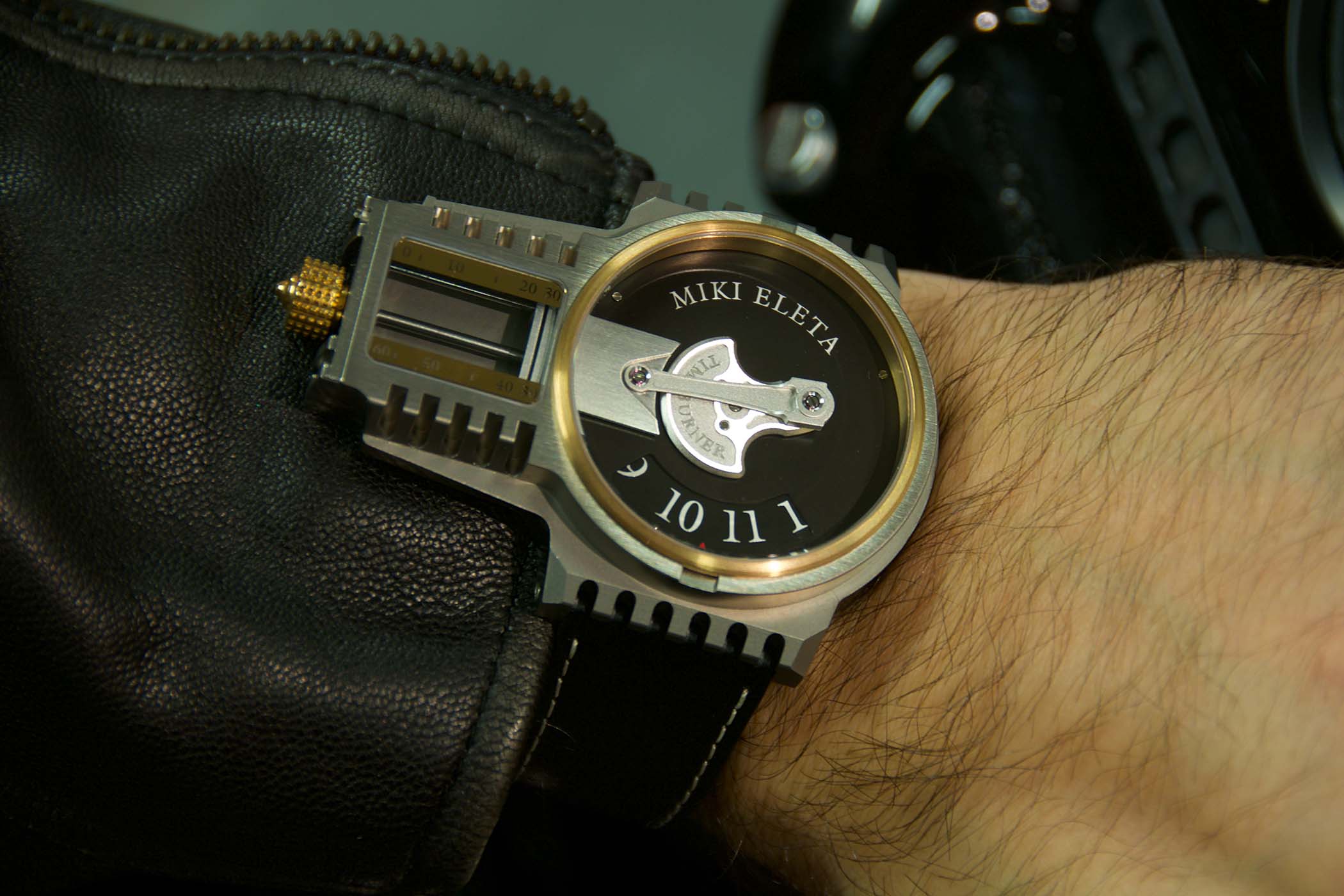 You're looking at what is quite possibly one of the most unusual watches I've ever strapped to my wrist, and I've worn quite a few in my time! The Timeburner, created by Miki Eleta and Marc Jenni, isn't so much a timepiece as it is a lifestyle choice. Its industrial, steampunk style is not for the faint of heart or slim of wrist and yet there is so much more to this watch than first meets the eye. Join us as we take a deep dive into what makes this bad boy tick.
The Creators
If you're a watch fan, and I think it's safe to assume that you are if you're reading this, then you're probably already familiar with the names Miki Eleta and Marc Jenni. Both are members of the highly respected AHCI – the Académie Horlogère des Créateurs Indépendants (the Horological Academy of Independent Creators) – and both have already found success with their own separate creations; Eleta with his kinetic clocks, Jenni with his innovative wristwatches. There's so much to their stories than just that, however.
Miki Eleta
Eleta was born Visegrad in 1950, in what was then known as Bosnia and Herzegovina. At the age of 6 he heard Flamenco music for the first time and became obsessed with the concept of movement, which would later translate into kinetic sculpture. Ten years later, at the age of 16, his father, a train driver, let him drive a fully loaded cargo train across the Bosnian mountainous landscape, an unforgettable experience that had a lasting impact and gave birth to a life-long love affair with all things mechanical. In 1973, he spent a summer in Switzerland with his sister who lived there at the time, and never left, eventually settling in Zurich.
He slowly began to build a reputation as restorer, first with antiques and then later with clocks. In the 1990's he primarily worked on creating kinetic art sculptures and building clocks, which was ironic in a way because Eleta didn't have any formal training in clock making or repair. This irony was not lost on one of Eleta's clients, who questioned the precision of his timepieces and challenged his knowledge of the mechanical workings of a clock, or so the story goes. Simultaneously offended and inspired, Eleta made a deal with the client; he would spend one year creating his own clock from scratch to prove that his work was precise. And so, at the age of 50, knowing nothing about clock-making design, Eleta set out to teach himself how to make a clock.
With no idea where to start Eleta reached out to Paul Gerber, independent watch and clockmaker, fellow resident of Zurich and mentor to a young Marc Jenni (but more on that in a minute), for help. His request was a simple one; a thorough explanation of the inner workings of a mechanical timepiece. After 365 days of study, research and some serious trial and error, Eleta taught himself to make a mechanical clock and held up his end of the bargain with the client. The rest, as they say, is history. Since 2004 he has mainly concentrated on private orders and exhibitions relating to clockmaking, creating products that are part-clock, part-kinetic art. In 2008, he became a member of the AHCI. If you would like to read more about his exceptional time-telling kinetic sculptures, I would recommend this excellent article by Monochrome contributor Mario Squillacioti.
Marc Jenni
Marc Jenni's story meanwhile, whilst slightly less dramatic, is also quite interesting. Born in Switzerland into a watchmaking family, Jenni grew up in the family's watch store in Zurich. Although initially resistant to the idea of the becoming 'another' watchmaker in the family, Jenni eventually decided to give it a try. He began his watchmaking journey as the apprentice of the prestigious independent watchmaker Paul Gerber, who instilled in him the traditional values of handcrafted watchmaking.
Following the completion of his apprenticeship, Jenni worked for Tiffany & Co. for 10 years in Switzerland and New York, before setting out on his own in 2008 as an independent watchmaker. Long-time Monochrome readers will no doubt already be familiar with Jenni's incredible timepiece creations, which you can read more about here. In 2012, Jenni also became a member of the AHCI.
The Timeburner
The Timeburner is the result of combining Miki Eleta's unique sense of design with Marc Jenni's wristwatch construction expertise. The name is derived from the way an engine transforms chemical energy (petrol) into mechanical energy. In the same way, the watch converts spark plug energy (winding the crown) into motion along a non-linear time scale, i.e. it is effectively "burning" time. Eleta came up with the concept and created a functioning prototype, while Jenni is responsible for developing and producing the production models.
The press release describes it as "…a nostalgic tribute to the earliest internal combustion engines. A salute to noise, grease and chrome. And a testimony to the men and women that created and tamed them." This seems fitting given Eleta's obsession with all things mechanical and all it takes is one glance to realise there really is nothing else like it on the market.
According to Eleta, he was inspired by his memories of the large two-cylinder boxer engine on the 1950s BMW motorbike that belonged to his neighbour back in Bosnia. In his youth, he had helped disassemble the bike before winter to protect it from the freezing temperatures. Once spring arrived, he would help reassemble and service the motorbike. "The 'Tack-tack' noise made by the engine once we resurrected it in springtime was music to my ears and it is burnt in my memory," he recalls.
The design is surprisingly simple and yet completely unimaginable until you see it in front of you. Essentially, what you have on the dial is a rhodium plated rod & crankshaft on bead blasted brass connected to an aluminium piston that juts out from the case in a separate housing at 9 o'clock. This piston features a black line, which indicates the minutes on the non-linear scale as the rod & crankshaft rotates clockwise, slowly driving the piston forwards and backwards. The hour meanwhile is shown in a large, digital format in the window across the bottom of the dial, rotating clockwise as the day progresses. It's hard to appreciate the full visual affect without seeing it in action, so please watch this brief video below from our good friend Francois Xavier Overstake:
As I said, the design appears surprisingly simple and yet is very powerful visually, with the connection to the internal combustion engine immediately apparent. At 48mm wide however, the case makes it presence known on the wrist, although the titanium construction means it not quite as heavy as you might anticipate. There are three different versions available; the Silverlight ME1, the Chrome-Rider ME2 and the All-Black ME3. The cases of the first two have been bead blasted with polished top surfaces, vertical edges and polished case backs with sapphire crystal, while the all black version is entirely bead blasted with a polished caseback and sapphire crystal. On all three, the crown, minute scale and bezel are made from untreated bronze, adding to the already industrial, steampunk-ish look and feel of the watch.
Driving the unique display is a manually wound Unitas 6497-1 movement that has been modified by Jenni to suit the unusual needs of the Timeburner. The pinion on the minute hand, which is where the minute hand would usually be attached, has been modified to function as a camshaft, driving a push rod connected to an aluminum piston. As the camshaft rotates over the course of an hour, it pushes this piston up and down. The piston moves slower near the beginning and end of its stoke however, so the spaces between the minute markers are closer together near the ends and further apart in the middle to accommodate this, hence the non-linear scale. As a nice touch, each movement is engraved with the words 'powered by Marc Jenni'. Oscillating at a slow 18,000vph, the manually wound movement offers a 46-hour power reserve and is simply finished with grinded surfaces, and bead blasted cut-outs and decorations.
Displaying the time accurately is clearly not the primary focus here. Rather, this is intended as a mechanical, kinetic sculpture for your wrist. That said, I am sure you're wondering how you're supposed to know in which direction the piston is travelling along the minute scale as at first glance it's hard to know if you should look at the top or the bottom of the scale. Fortunately, there's an easy trick. The direction of the rod of the piston indicates whether the top or bottom of the minute indication should be read – if the rod is pointing down then use the 0-30 minute line, if it's pointing up, then look at the 30-60 minute line.
The Timeburner is available in three color variations, each limited to 99 pieces and each retailing for CHF 7,750. While its unique style won't appear to all tastes, I'm sure there are some petrol heads out there that will absolutely love the Timeburner! Plus, as a final finishing touch, each piece is fitted with its own, uniquely numbered license plate. How cool is that?
For more info and ordering, please visit the Timeburner.ch website.
---
Technical Specifications – Miki Eleta x Marc Jenni Timeburner
Case: 48mm wide – titanium with three sapphire crystals –– 10m water resistant
Movement: manually wound, modified Unitas 6497-1- 18,000vph – 46 hour power reserve – hours shown on rotating disc at the bottom of the dial; non-linear, bi-directional, retrograde minutes.
Dial: Silver or Black Chrome plated (depending on the version you choose) – bead blasted.
Strap: Genuine black or brown buffalo leather strap with vertical brushed stainless steel buckle.
Price

: CHF 7,750
https://monochrome-watches.com/miki-eleta-marc-jenni-present-timeburner-kinetic-sculpture-wrist/