Marc Jenni – watches with a unique winding experience
Today is Marc Jenni's birthday, which is a good reason to tell you about his watches. Quite remarkably his watches don't have a crown… winding and setting time and date is done in a new way, called lateral winding.
Marc Jenni started as an apprentice of master watchmaker Paul Gerber, who is (among others) responsible for the MIH Watch and has build name and fame for himself over the past decades. Not a bad place to start a career, especially because Paul Gerber is one of the few true artisan watchmakers.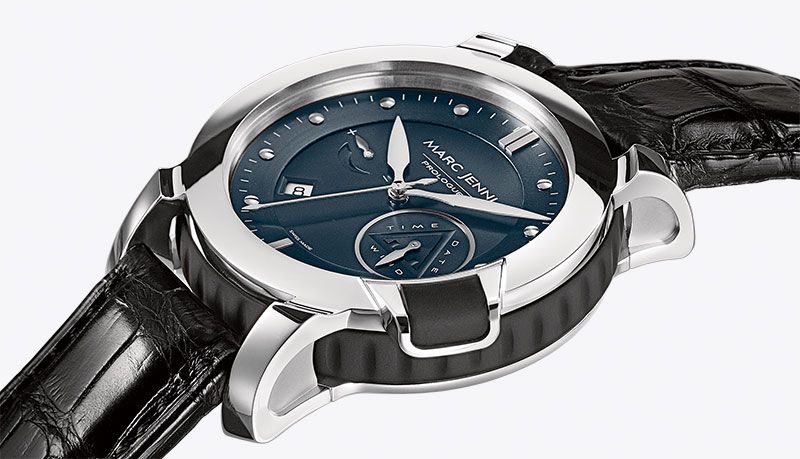 Together with good friend Vincent Mafé he started Nobletime, which gave the chance to build the first watch under his own name. The Marc Jenni Prologue was the 'first born' and this year the JJJ was added to the collection. As candidate member of the Académie Horlogère Des Créateurs Indépendants (AHCI), Marc Jenni presented the Prologue at Baselworld 2010.
Both the Prologue and the JJJ are equipped with a black ring that rotates around the entire watchcase. With this ring all functions that are normally adjusted via the crown, can be set. The function to adjust, is selected by the selector at the 4 o'clock position. Simple yet ingenious!
The Prologue indicates time via centrally positioned hour, minutes and seconds hands. The date display is located between the 7 and 8 o'clock position. Between 3 and 4 o'clock is the setting indicator, which tells you the function that can be adjusted by turning the ring.
Inside ticks a modified ETA 2897 movement. Between the main plate and calendar plate, Marc Jenni integrated his own selector mechanism, without adding any height to the original movement. By pushing the selector mechanism at 4 o'clock, a column wheel is operated that switches between the three different setting positions.
This year Marc Jenni presented the JJJ at Baselworld. Referring to a pocket watch made by Johann Jakob Jenny (the family name was spelled differently) in 1780, it displays the planets, which gave the weekdays their name. The JJJ is a tribute to Jenni's ancestor's pocket watch called "Seven Days / Seven Planets / Seven Symbols". More information about this can be found on Wikipedia.  The planetary symbol passes through the aperture at the 12 o'clock position and runs synchronously with the weekday.
Both watch models measure 44 mm in diameter and are available in rose gold and white gold. The Prologue is available starting from 36,000 CHF.
Later I will definitely post more about Marc Jenni's watches! For more information about the watches and their availability you can visit the website.
https://monochrome-watches.com/marc-jenni-watches-with-unique-winding-experience/