SIHH 2010 news – Lange 1 Daymatic
Lange & Söhne present their new Lange 1 Daymatic. With a completely new automatic movement with a centrally placed rotor! Will this be my new favorite Lange 1?
Lange & Söhne present their first SIHH 2010 novelty, a new Lange 1… automatic! Yes it's kind of shocking, at least at first. A Lange 1 with an automatic movement. The Lange 1 collection has been applauded world wide by watch lovers, for it's beautiful manually wound movement. I can only imagine it's been quite a discussion at Lange & Söhne before they decided to come with the first Lange 1 with an automatic movement. Another first is the centrally placed rotor. In the press release Lange & Söhne states it's the beginning of a new era. Now i'm curious what plans Lange & Söhne has??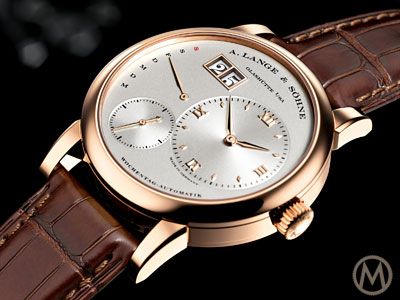 The Lange 1 has been Lange & Söhne's most recognizable watch for 15 years. Famous for it's off-centre dial arrangement  and patented outsize date display. I think the new Lange 1 Daymatic is a true revolution for this brand. Not only because the automatic movement with central rotor… The Daymatic's mirrored dial layout features a retrograde day-of-week indication. The hour and minute hands are now on the right side. Because most people wear their watch on the left wrist, for them this is an advantage. When you pull back your sleeve, the first thing you will see is the most important information: the time.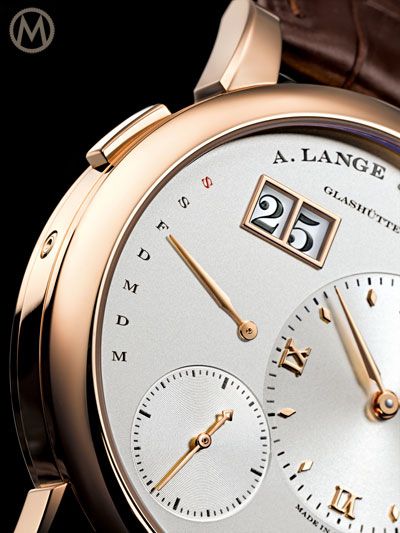 Below the outsize date at the top left, is the retrograde day-of-week display, replacing the power-reserve indicator. Good choice, since a self-winding watch does not require a power-reserve indicator. The date and day-of-week displays can be advanced with two push pieces.
The entire Lange 1 collection is famous for it's manually wound movement with a twin mainspring barrel for a power reserve of three days and the three quarter plate. So seeing a Lange 1 with an automatic movement was a bit of a shock. Especially the central rotor, which is also a first for Lange & Söhne. The central rotor with platinum winding mass occupies the entire 31.6-millimeter diameter of the movement. The  on the outer rim of the rotor transforms even the most subtle gestures of the wrist into kinetic winding energy. When fully wound, the mainspring has a power reserve of 50 hours.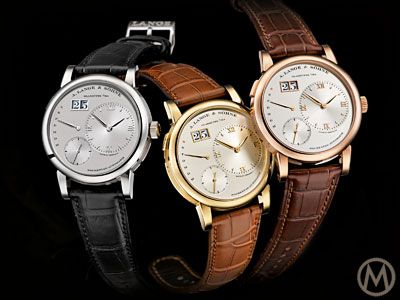 The new calibre L021.1 beats at a rate of 21,600 vibrations per hour, like the movements used in other Lange 1 models. Typical for Lange it features a hand-engraved balance cock, an index-less oscillation system based on a large balance wheel with eccentric poising weights as well as a balance spring developed and manufactured in-house.
The Lange 1 Daymatic is available in yellow gold, pink gold or platinum and has a diameter of 39.5 millimeters. That's almost one millimeter larger than the Lange 1.
In my opinion this is the best Lange 1 to this date. Let me explain why…
Although i admire the manually wound movement of other Lange 1 models, the automatic movement is actually more convenient.
Personally i don't see the necessity of a power-reserve indicator on an automatic movement is obsolete, so another good choice.
I also like the slightly large size and i think it's wise Lange & Söhne didn't follow the big-bigger-biggest hype.
The day of the week display is very clear, like the large date, and is a function that's very convenient.
OK… and i think it's a BEAUTIFUL watch…
https://monochrome-watches.com/lange-1-daymatic/