Review
The Laco Flieger PRO, The Classic Pilot's Watch Fully Customizable
Over 14,000 versions of your classic Flieger watch available...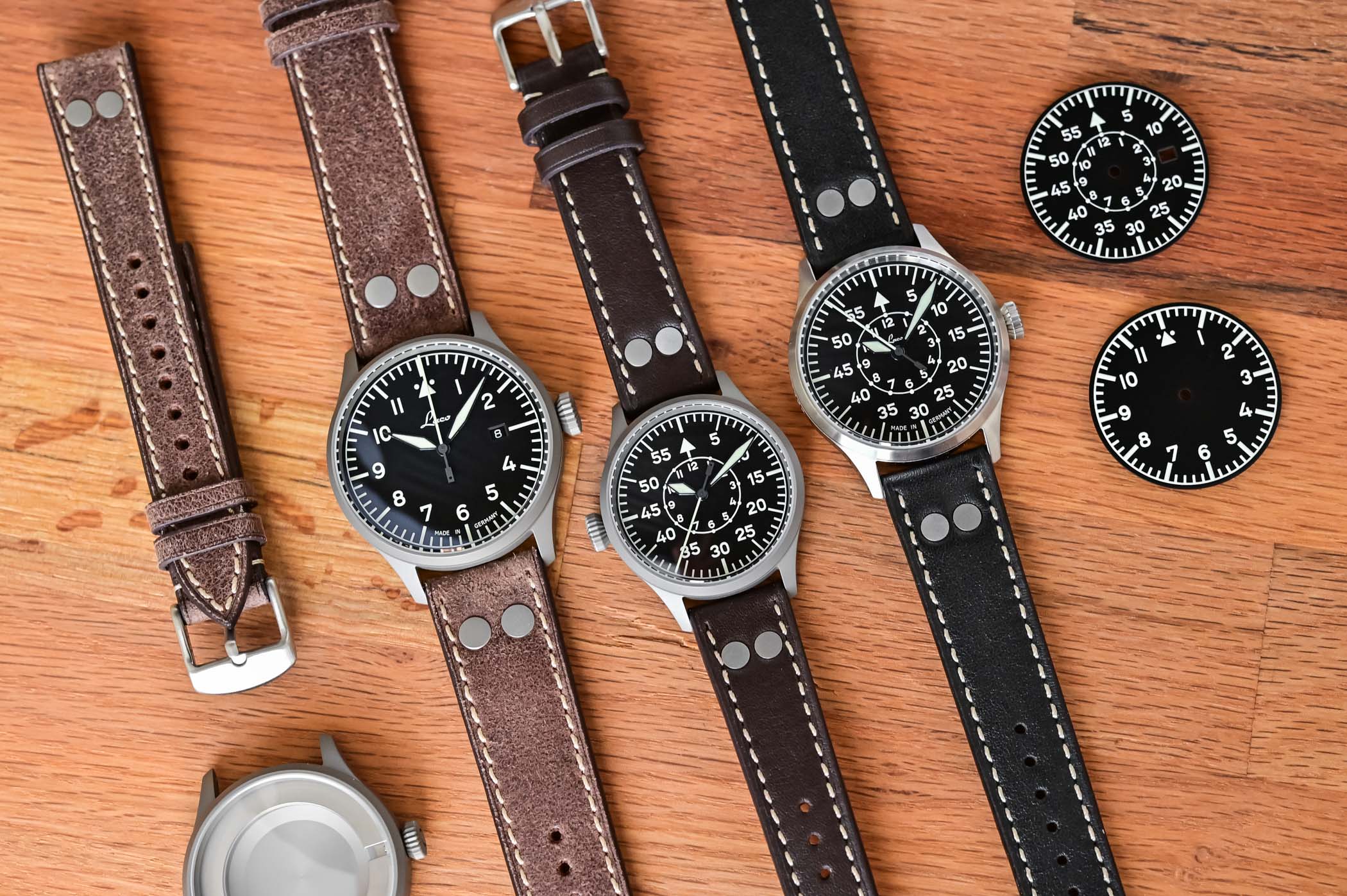 When you think about the classic pilot's watch, the so-called Flieger, there are a few names that might come to mind – in fact, 5 names to be precise. And of course, Laco is one to be mentioned. Inspired by the 1940s models worn by German pilots, the brand has been manufacturing these historically-inspired watches for several years now, with a pretty solid range of models. But what comes today goes multiple steps further, as Laco will offer the possibility to create THE perfect pilot's watch, the one that will reflect your personality and preferences… and that will be possible thanks to the new Laco Flieger PRO range – comprising the Stuttgart PRO and Karlsruhe PRO models – and its online configurator, with thousands of possible design options.
Laco and the Flieger watch
Laco was founded in 1925 by Frieda Lacher and Ludwig Hummel in Pforzheim (Black Forest, Germany) under the name Lacher & Co. But contrary to many brands that were relying on Swiss parts to produce their watches, Laco wanted independence. Hummel on his side created Durowe, a movement maker that supplied Laco and other brands from the Pforzheim region – an area that will be known as the epicentre of watchmaking in Germany, together with Glashütte.
As part of the war effort, Laco (and 4 other manufactures – A. Lange & Söhne, IWC, Stowa and Wempe) started the production of the classic B-Uhr or observation watch, a gigantic 55mm instrument made for pilots with a focus on legibility, precision and reliability. What will become a classic design for the watchmaking industry will also be the cornerstone for Laco's modern collection, with dozens of variations around this pilot's watch design.
The Laco Flieger PRO Configurator
While staying true to its roots and history, with a production largely focused around the "Pilot Watch Original" and "Pilot Watch Basic" lines, Laco has decided recently to offer more to its customers and fan base. While the collection was certainly not short of pilot's watch models, Laco pushes the concept even further with the ability for enthusiasts to create their watch, thus satisfying the desire for more diverse customization and the capacity for each to create a watch that is perfectly suited to his/her expectations and needs. This concept is named the Laco Flieger PRO (PROgress, PROfessional, PROduct configurator) and it is entirely based on an innovative online configurator where one can create his/her watch from case, dial, strap and down to the movement – and much more…
Thanks to an online configurator available here, the Laco Flieger PRO concept allows you to assemble a fully customized pilot's watch for your wrist, entirely based on your own preferences. It all starts by choosing between two distinct editions of the classic Flieger watch; the Stuttgart PRO, which is based on the "type A" model with classic hour markers in the shape of Arabic numerals, with a clean design and a unique track on the periphery; or the Karlsruhe PRO, which is based on the "type B" design, with a combination of 5-minute makers on the periphery and an internal 12-hour track. And once you've decided to go for the Stuttgart PRO or the Karlsruhe PRO, the Laco Flieger PRO configurator is all about the fun of choosing between dozens of options (it's almost as complete as a BMW configurator… and car enthusiasts know what I'll mean by that!)
Once the overall style is selected, you'll start by customizing the case of your future Laco Flieger watch. First, three diameters are available – 37mm, 40mm or 43mm – with a relatively thin profile of 11mm. The only difference between these options is the size. The shape of the case remains the same, with of course longer lug-to-lug measurements depending on the chosen diameter. Also, note that the cases are all equipped with a screw-down crown, offering a solid 200m water-resistance.
Then comes the more in-depth customization process. First, you can choose the location of the crown – either classically at 3 o'clock, or at 9 o'clock for those preferring to wear their watch on the right wrist (ps. this option is only available when a no-date movement is selected). As you can see, there are also two different case finishings available, with a classic brushed surface or a dark sandblasted look (the coolest option, in my opinion). All cases have the traditional "FL23883" engraving on the caseband.
And the options for the case don't stop here… Once you've decided the size, crown position and finishing, comes the other steps, meaning the choice between a closed steel back or a sapphire caseback, and also the option for a classic sapphire crystal on top (with AR coating inside) or one with AR coating on both sides. But let's now move on to an even more serious topic, the movement. First, you'll have the ability to choose between an automatic movement (Sellita SW200) or a hand-wound movement (Sellita SW210). And once this is done, you can select if you want it with or without a date function, with a white or a black disc. And if that was not enough already, you can decide to go for an Elaboré movement (adjusted in 3 positions, 0 to + 14 seconds/day) or for a Top-grade movement (adjusted in 5 positions, 0 to + 8 seconds/day).
As for the dial, the options offered by the Laco Flieger PRO configurator are slightly more limited, with the choice between Type A (Stuttgart PRO) and Type B (Karlsruhe PRO) displays, and the choice between with or without the Laco logo and Made in Germany mention. On all models, the hands have the classic propeller shape and are blued, and largely filled with luminous material. All markers are equally filled with luminescence and the dials are all matte black to avoid reflections.
A decent online watch configurator wouldn't be achieved without offering the choice of a strap, and here you'll be able to go for a classic riveted pilot's strap in dark brown, in black or in vintage brown (once again, the coolest of the three, specifically when paired with the matte case). Finally, the Laco Flieger PRO configurator offers the ability to have a personalised engraving, either on the rotor (for the automatic versions) or on the caseback.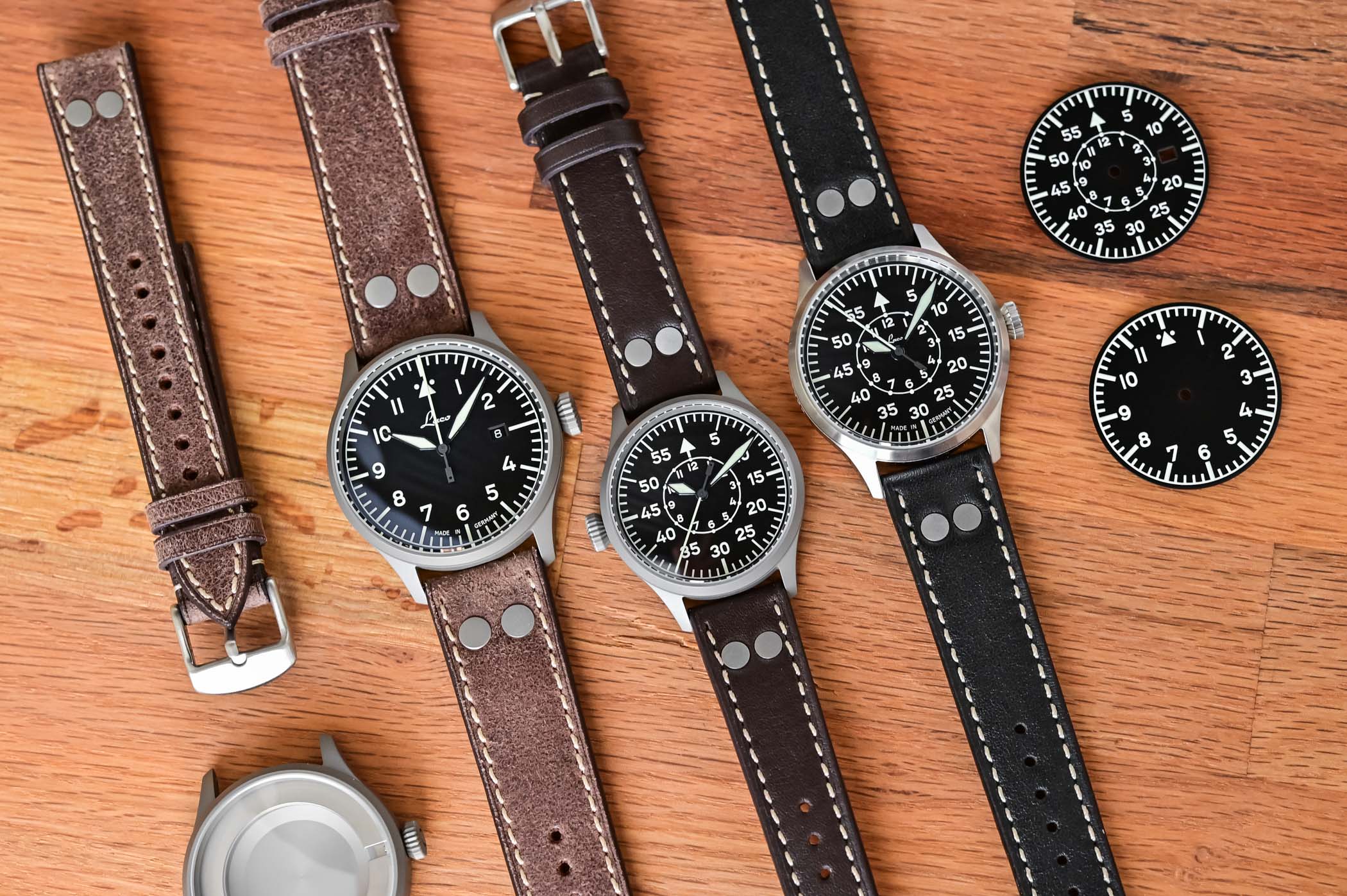 This must be said that the overall concept behind the Laco Flieger PRO is pretty fascinating and extremely easy to use. As always, there will be the difficult task of deciding what option to take or not, but I'm sure you'll find your way to the watch that suits you best. Also, as you can expect from this German manufacturer, the overall quality of the watches is above suspicion. Serious, solid… Typical no-nonsense pilot's watches.
Depending on the options, the watches designed thanks to the Laco Flieger PRO online configurator range from EUR 850 to EUR 1,600. If like me, you decide to go for a 40mm Karlsruhe PRO watch, with a sandblasted case, a hand-wound Top-grade movement, without date, a closed back, a sapphire crystal with double-antireflective coating, a non-marked dial and a vintage brown strap, the price will be EUR 1,230.
The new Laco Flieger PRO online configurator is already available and can be accessed on the watch manufacturer's website here.
---
Sponsored Post: This article is sponsored by LACO Watches. However, it reflects the writer's opinion and has been written according to MONOCHROME's editorial policy.
https://monochrome-watches.com/laco-flieger-pro-the-classic-pilots-watch-fully-customizable-review-price/