Konstantin Chaykin's unique view on time
St. Petersburg's Konstantin Chaykin's trademark gloves could cover the hands of a magician or an artist or an author… or maybe all of them wrapped-up into one?  Let's see!
There is a vast and impressive list of Russian geniuses who have contributed to the world of the arts and humanities. There are names like Prokofiev, Scriabin, Rachmaninoff, who composed beautiful and challenging music! There are names like Horowitz and Ashkenazy who PERFORMED those challenging works. There are names like Chagall, Guro and Kandinsky who painted moving and complex themes. There are names like Chekhov, Dostoyevsky, Nabokov and Solzhenitsyn who used words to show us new worlds and new ways of thinking. Now there is another name to add to that list. A genius who uses his hands to compose challenging and beautiful horological masterpieces – his name is Konstantin Chaykin.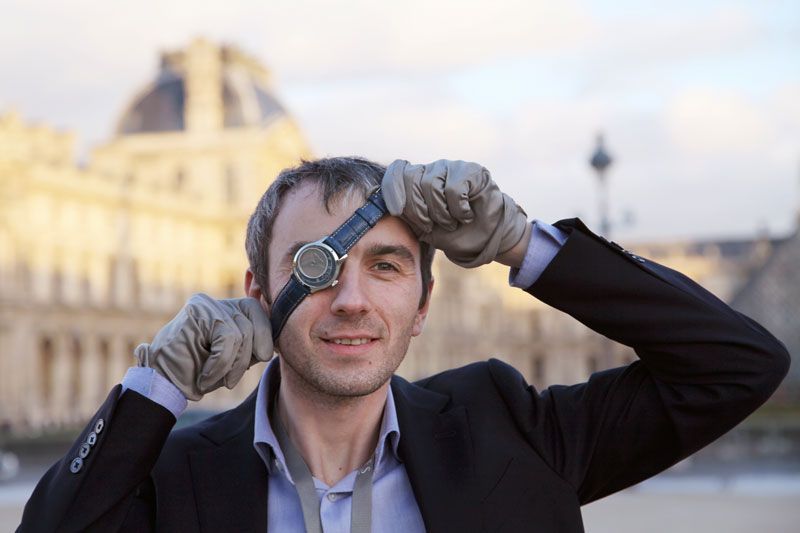 I met Chaykin at the AHCI showing in Shanghai this past October. While we were not able to communicate directly without the aid of interpreters – sadly my Russian is not quite up to the same level as his English – I could tell that he is a very humble guy. But WHY?  Chaykin doesn't just look at watches differently – he looks at time itself differently! Since setting out on his own in 2003, Chaykin has blazed a trail producing fine and beautiful watches in a country that has been known historically as a consumer of high-end horology! The hallmark of three of his major designs are that each of them present time in a totally unique way – each more technically challenging than the next!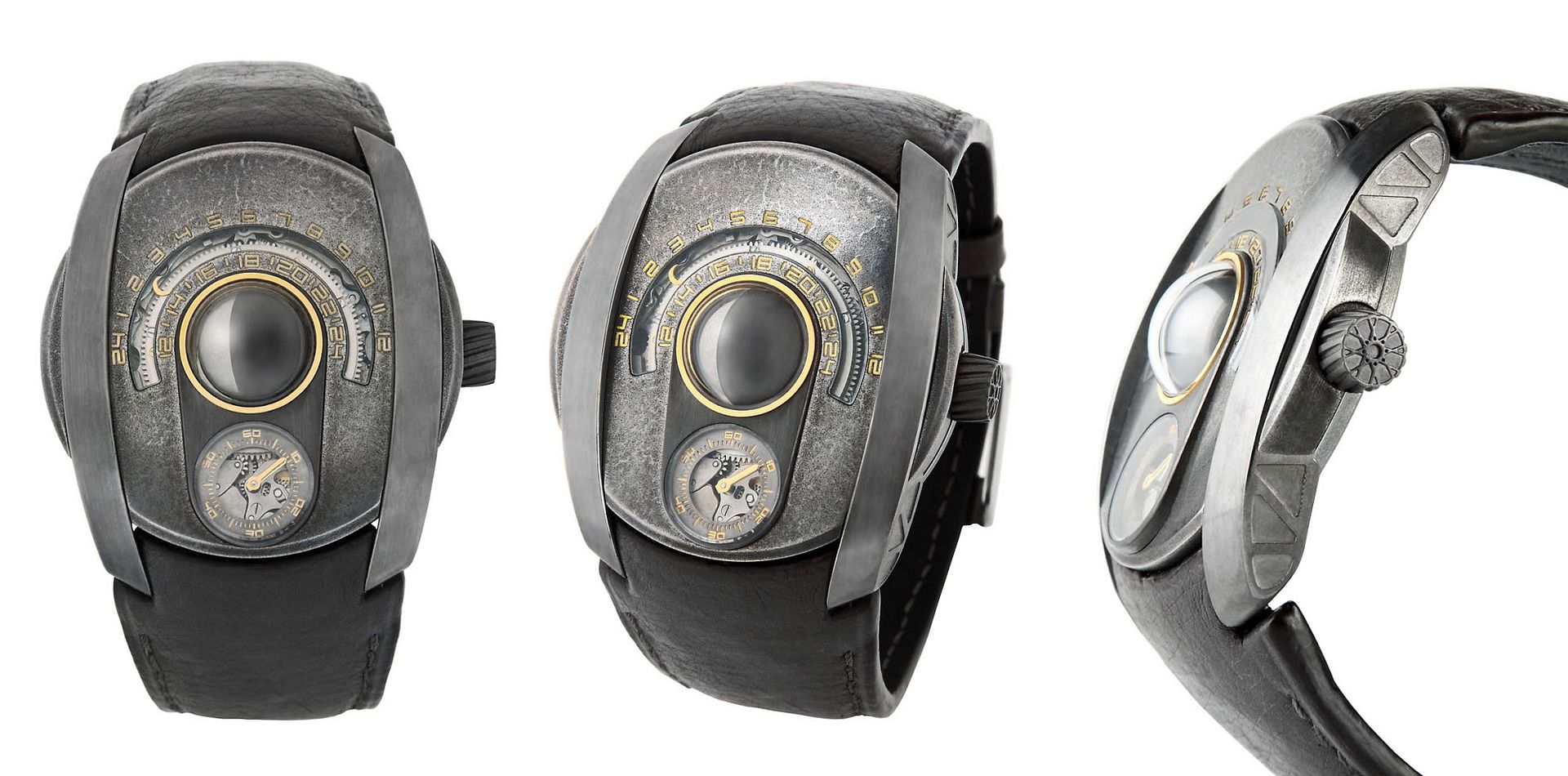 The Lunokhod model, named for the Soviet Moon Rover is at first a funky looking, futuristic watch. The 50mm watch, shaped to pay homage to the rover it is named for, was debuted at the 2011 Basel fair. The Lunokhod uses an incredibly cool material called 'Wootz' steel – which looks a bit irregular on the surface is used to mimic the marred surface of the Earth's dance partner.
By building a moving, blinking eye-lid over a 12mm Wootz steel sphere, Chaykin perfectly mimics the waxing and waning of the Moon three dimensionally!  You can literally imagine the celestial body lighting up as it the Sun's focus illuminates one half at a time. This is an enormous departure from the standard lunar disks that have rotated around dials for centuries, showing the grumpy-faced Man on the Moon as he went from crude crescent to half to full phase.
Oh, before I forget, there is also a 24-hour double retrograde time display! For me the highlight is the use of a small sun and moon as time indicators. As the daylight hours fade, the moon indicator takes prominence and as the night gives way to the dawn, the sun appears again to mark the time! It is a very, very lyrical way of describing a watch – but it is a very, very lyrical watch! Even the way the hours are set out around the lunar sphere is evocative of a glorious sunrise over an eclipsing planetary object!
The Levitas collection highlights another form of Chaykin's genius – miniaturized movements!  The first thing you notice when you see the Levitas is that the hands are floating in a void. The dial is transparent – that is not new – there have been clocks and watches with transparent dials before. What is new is the artistic flair in the overall design that discretely displays the time in an offset window looking through the watch.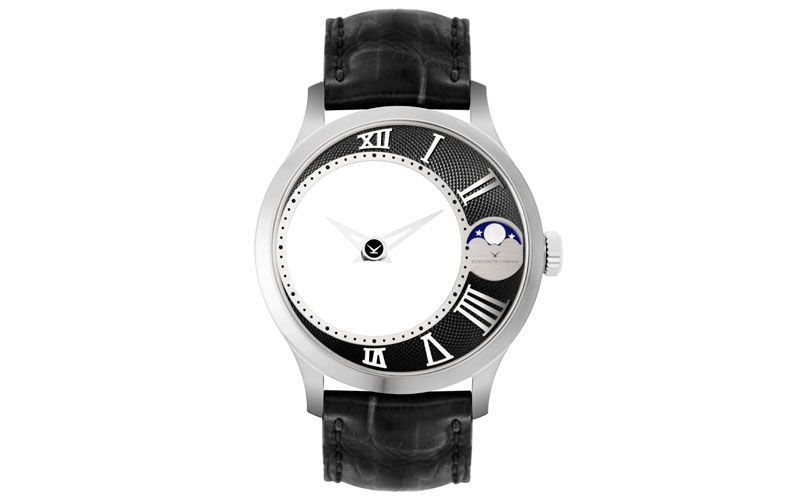 By setting the display off to one side, Chaykin is saying that the fact that the dial is transparent is NOT the key element.  Indeed that the time is not the key element. Look through the dial and through the time to see what the key element really is. (Hint – it's the person wearing the watch!)  A 44mm case is generally large enough for a watchmaker to make any kind of statement that they want – artistic – technological – whichever… the point of the 44mm Levitas is that the 'case', however finely detailed, should really just be a lens to focus our attention on what we use time for.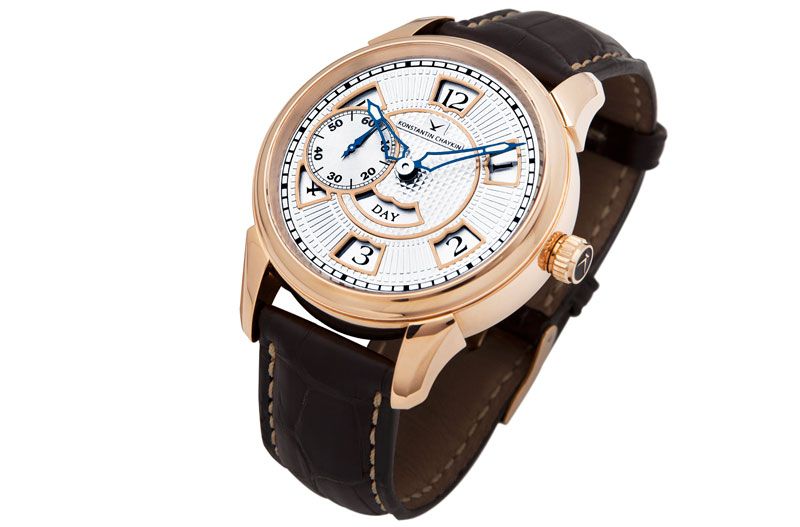 The latest rabbit to spring from Chaykin's hat is the Quartime!  Once again – a totally fresh look at time! Since the first sundials, time has been a circular object. 12 Hours for AM and then again for PM or 24 hours, dials always depict the day, be it in halves or as a whole the same way. So, why not depict the day as we really relate to it?  Is 10AM really the 'same' as 10PM? (No, hardly!) So why do we treat them the same way on the dial???
Chaykin's Quartime splits the day up into 4 separate segments and tells the time not just in terms of day or night but in terms of morning, afternoon, evening and night!  Morning begins at 6(AM) and ends at 11(AM). Afternoon then scales 12(PM) to 5(PM). Evening settles in between 6(PM) and 11(PM), after which night resumes it's hold over us all at 12(AM) until the end of the 5(AM) cycle!  It's genius! It reminds me of Alain Silberstein's depiction of the days of the week with facial expressions; it shows us that each separate segment of the day is different as is our relationship to that particular time.
I was fortunate enough to be one of the first people to see this mechanism first hand in Shanghai – what a privilege! From the outside it has all of the traits of a classically styled dress watch; 40mm case in precious metal. The clous de Paris guilloche dial has blued hands and gilt outlines for each of the separate windows. The movement is finished in Côtes de Genève fashion. From a distance it could be any other high horology dress watch. But then you hold it and you see the dial and realize that this is something more – something special! It's a relatively simple 'twist' on the time of day – but an important one. It's as though Konstantin Chaykin has used his dexterity and his intellect to completely rewrite time with just six numbers! I am very proud to call this man my friend and I am always keenly awaiting his next masterpiece!
For more info, please visit Konstantin Chaykin's website here.
This article is written by Mario Squillacioti, contributing writer for Monochrome-Watches.
https://monochrome-watches.com/konstantin-chaykins-unique-view-on-time/