Kees Engelbarts – unique hand-made watches
Kees Engelbarts is a Dutch hand-engraver, who creates unique hand made watches. He uses an ancient Japanese technique called "MOKUME GANE", which literally means "wood grain metal". Just take a look at the amazing dials on his watches.
Since he had been engraving dials, movement and cases for several high-end Swiss watch brands he felt it was time to create his own watches. In 1997 Kees Engelbarts started making his own watches.
Kees makes only a few pieces per year, for which he mostly uses new old stock movements from the 50's, 60's and 70's. His dial… pure art. Whether the dial is engraved or features the art of Mokume Gane. Kees not only works his magic on the dial, but also the movement and hands.
I'm totally blown away with the incredible beauty of Kees's watches, however i realize i'm only looking at photos. I would love to see a few of Kees's watches up close and personal. Since internet does not fulfill these desires i'll show a few more watches 😀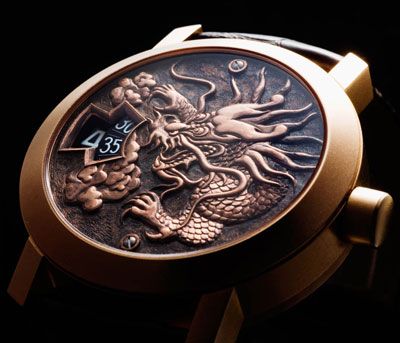 Here is the Jumping Hours Dragon. It has an solid 18Kt. pink gold case of 42mm in diameter and only 11mm thick. Through the sapphire crystal (anti-reflection coating on two sides) the solid Mokume Gane dial and hands can be admired. The dragon motif is hand engraved of course. Oooh… and if you're interested, this beauty also tells the time.
Inside ticks a vintage A.Schild caliber 2072 with 21,600 beat per hour. Like with all n.o.s. movements, Kees keeps a spare movement for parts, so servicing will never be a problem.
OK… one more… the Mokume Gane Unicorn. The 42mm case is made of solid 950 platinum. Under the curved sapphire crystal is the Mokume Gane dial of white gold and silver, fully hand engraved. The hands are hand made of twisted Mokume Gane in the same style as the corn of the unicorn.
Through the transparent case back with sapphire crystal the movement can be seen. It's a very rare vintage manual wound Universal Calibre 1200 with 17 jewels. The movement is also decorated with Mokume Gane (white gold and silver).
https://monochrome-watches.com/kees-engelbarts-unique-hand-made-watches/