Value Proposition
Junghans Meister Hand-Winding – An Elegant and Attainable Dress Watch (Review)
A simple, elegant dress watch with a hand-wound movement and a price that won't break the bank!
Founded in 1861 by Erhard Junghans in Schramberg, Germany, Junghans took inspiration from American watch companies to mass produce timepieces in a way that allowed it to undercut the competition on price. That philosophy is still in place today as many of its mechanical pieces, some with multiple complications, can be had for under EUR 2,000. Their Meister Hand-Winding line brings elegance and simplicity in an affordable package, although a couple of models like the Meister Driver Handaufzug add some vintage flair to the dials. I've had one of their Meister Hand-Winding dress watches for a couple of weeks now, so let's take a closer look.
BACKGROUND – Junghans' history
It wasn't until 1866 that Junghans started manufacturing timepieces as the company initially just produced components for Black Forest clocks. Its eight-point star logo was introduced in 1890 and remains to this day, following a brief stint with a five-point star a couple of years earlier. It also produced the Calibre 10 in 1890, a reliable workhorse for the company for over 50 years. Junghans became the largest watch and clock factory in the world by 1903 with a production of over 3 million timepieces per year. Out of necessity for additional factory space in the crowded Schramberg valley, a nine-stepped terrace building by renowned architect Philipp Jakob Manz was built and became the epicentre of the Junghans factory for many decades. The company recently released a pair of limited addition Meister Chronoscope Terrassenbau watches to commemorate what is considered an architectural masterpiece.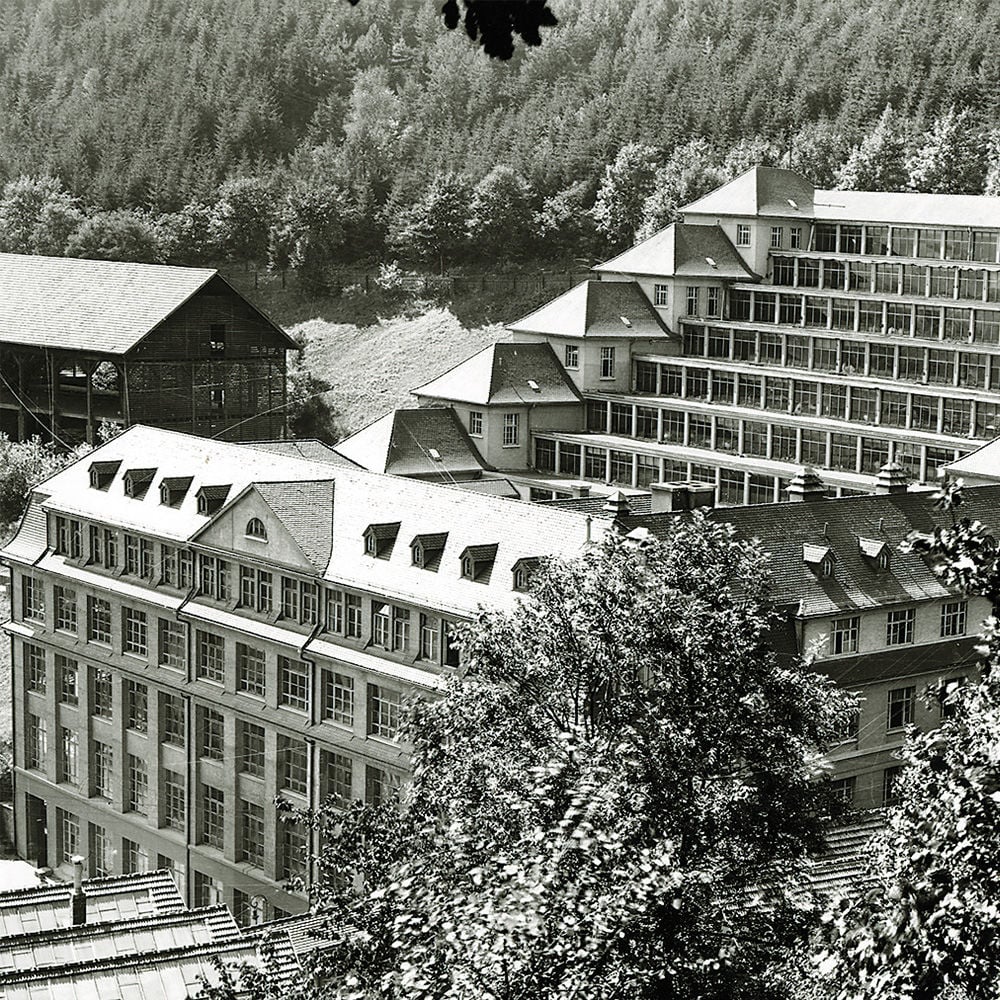 It's not easy staying in business for over 150 years and Junghans changed hands several times, starting in 1956 when the Diehl Group took it over. It was at this time that Swiss artist Max Bill began collaborating on design and there are currently over 30 watches in the Max Bill line. The company changed hands again in 2000 when EganaGoldpfeil Holdings took over and the Meister line appeared under its control in 2006. Following a financial downturn, the company changed hands once again in 2008 but has remained true to its identity and history throughout these turbulent times celebrating its 150th anniversary in 2011. Junghans is among Germany's most historic brands with a diversified portfolio of attainable mechanical timepieces.
CASE AND DESIGN
The polished stainless steel case on this Meister Hand-Winding watch is very thin at only 7.3mm in height and wears bigger than its 37.7mm diameter suggests. It felt like I was wearing a 39mm or even a 40mm watch, which in large part is due to the all-dial design. Similar-sized watches like the 37mm Hand-Wound line from Farer Universal feel much smaller. That being said, you'll have no problem slipping this under a French cuff.
A polarising decision from Junghans is to equip many of its watches with Plexiglas crystals instead of sapphire and the Meister Hand-Winding line is no exception. The use of acrylic provides a vintage charm and creates subtle distortions to the dial when viewed at sharp angles, but it's also more vulnerable to scratches. I'm sure many potential buyers would simply prefer sapphire crystals. Junghans' hardened Plexiglas with SICRALAN coating is more scratch-resistant than conventional acrylic and I can see both sides of the argument, but for me, a sapphire crystal is preferable on a watch costing over EUR 1,000.
The exhibition caseback has a more resilient mineral crystal that displays the decorated manual movement. It's secured with five screws and the case is water-resistant to 30m. It will survive a rainy day and a splash from the sink, but without a screw-down crown, I'd steer clear of prolonged swimming and especially diving. This is a dress watch through and through, preferring a tailored suit over a diving suit.
DIAL AND HANDS
The matte dial is light silver with applied metal indices at 12, 3, 6 and 9 o'clock. The remaining five-minute markers are printed. A sub-dial for seconds is just above the 6 o'clock index, which was shortened to accommodate the addition. The sub-dial is concave and adds some depth to the aesthetic, and there are printed five-minute markers surrounding the perimeter. Polished silver dauphine hands complement the dressy vibe and there is no lume to be found on either the dial or hands.
The Junghans name and logo are printed small at the top, with "Made in Germany" printed at the bottom. The dial is clean and elegant with no superfluous elements to get in the way. This is a classic dress watch and doesn't pretend to be anything else.
STRAP
The strap is made from dark brown horse skin leather with a stainless steel buckle and complements the silver theme well. The lug width is 20mm and other models come with a lighter brown or black leather strap, or a black Louisiana alligator strap. The strap on the one we had for this review is soft and comfortable, not requiring a break-in period to fully hug my wrist. It's padded, but not overly so for a thin dress watch and the stitching matches the leather. For watches around 7mm in height or less, I often replace the supplied strap as I prefer them thinner and/or more supple than what's provided. That, fortunately, wasn't the case here.
MOVEMENT
Beating inside the Junghans Meister is a hand-winding J815.1 movement, which is based on the ETA 7001 Peseux calibre. It's only 2.5mm in height, thanks in part to the absence of a self-winding rotor, allowing for the case to be only 7.3mm in height. It's a common movement for thin, affordable watches like the aforementioned Farer Hand-Wound line and ultra-thin models like the Christopher Ward Malvern 595 and EPOS Originale 3408. It has 17 jewels, beats at 21,600vph (3Hz), has sub-dial seconds above 6 o'clock and a 42-hour power reserve. The accuracy of the movement is rated at +/- 12 seconds per day, but I experienced an average of only +8 seconds per day when compared to a Seiko quartz.
When seen from the exhibition caseback, the bridges are decorated with Côtes de Genève and blued screws. As this is a manual movement, there isn't a rotor to interfere with the view and I appreciate that Junghans provided a window to admire it.
CONCLUSION
Although dress watches rarely excite me like a unique diver or pilot watch, there are definitely exceptions. I can appreciate a masterpiece like the Breguet Classique Extra-Plate 5157, but would honestly prefer to strap on a distinctive Junghans Meister Chronoscope and then buy a car with the money I saved. I never felt that I was compromising with the Meister Hand-Winding dress watch from a design or quality standpoint. On the admittedly rare occasion that I wear a suit or tux, I prefer my watch to be clean, simple and to blend into the background without calling attention to itself. Being a horology enthusiast, it also has to tick some boxes when it comes to design, movement and history. The Junghans piece really fits that bill with its simple elegance and helps reinforce the fact that a fine mechanical dress watch doesn't have to require a second mortgage.
The Meister Hand-Winding line starts at EUR 1,170 (USD 1,295) and tops out at EUR 1,370 (USD 1,495). I wouldn't call those prices cheap, but they're fair and affordable for what's being offered. And coming from a company with over 150 years of German history, you can take pride in ownership. You can purchase a Meister Hand-Winding piece from Junghans' website (and here for US customers) or at a participating retailer. Junghans offers a two-year warranty on its mechanical watches.
https://monochrome-watches.com/junghans-meister-hand-winding-affordable-dress-watch-review-specs-price/