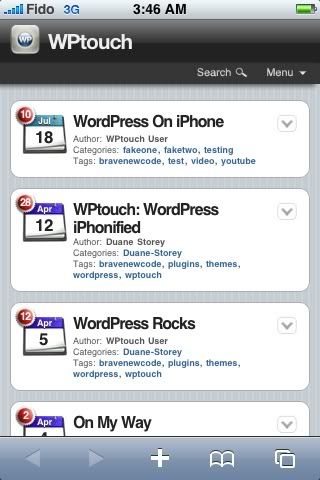 iPhone ready
Especially for iPhone users i installed some additional software, to make monochrome-watches.com more easy to read on your iPhone. The layout will be automatically optimized when you approach monochrome-watches.com with your iPhone. I hope this will make it more convenient for the mobile community to keep track of the watch news i like to share with you.
Do you prefer the regular layout on your iPhone? -> There's an option in the footer that allows you to easily switch between the new iPhone optimized view and the regular appearance. It's that easy. Peopel visiting monochrome-watches.com via a usual browser, won't see this selection option.
Faster than before -> This new software makes reading monochrome-watches.com much faster on the iPhone.
RSS function available at top of post
Maybe you have seen it already… The RSS function that was available at the right top of monochrome-watches.com has been moved to the top of every post.
There are two RSS feed functions available. The usual RSS feed that you can suscribe to and a RSS feed via email. The latter one will sent an email containing the newest post. This RSS via email will only sent an email when there's a new post and never more mails than one a day. But rest asured, since i post 3 or 4 times a week, your mailbox won't get flooded 🙂
I can really recommend the RSS feed via email. It saves you time… since you'll receive an email in your mailbox with the whole text you can easily read it on your mobile device or at the office.
https://monochrome-watches.com/iphone-ready-rss-feed/