Introducing
The Beast of Oris, The New AquisPro 4000m (Live Pics & Price)
A mighty, ultra-resilient watch made for one job only... Diving deep.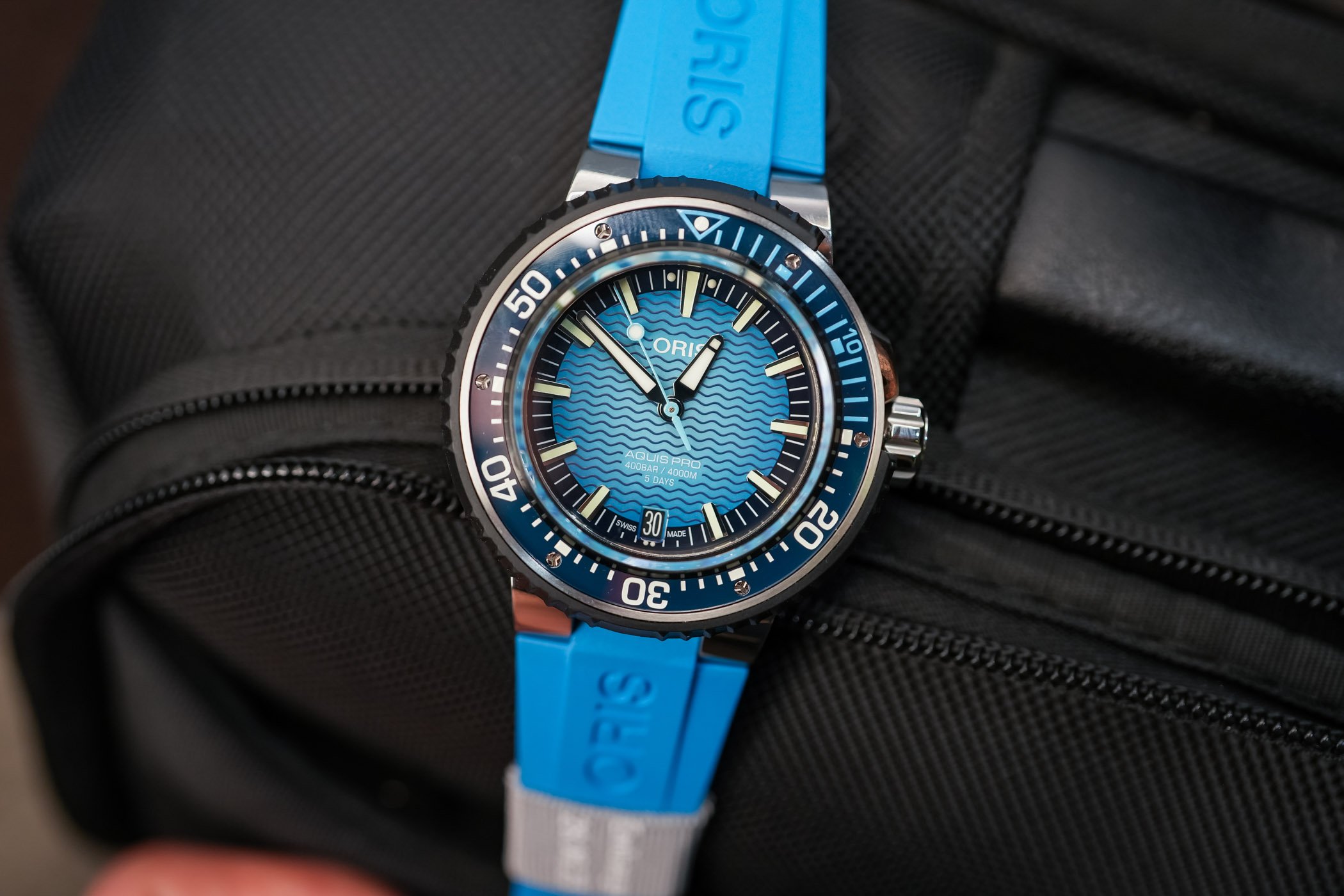 As we've seen in this article, recent years have brought us incredible developments in the field of deep diver's watches – think about Omega and its Ultra-Deep Seamaster 6000m and Rolex's Deepsea Challenge RLX Titanium, a watch capable to withstand the pressures at the deepest point on Earth. For many years already, Oris has demonstrated its capacity to create impressive instruments; watches created for a mission. Up until now, the brand's most powerful model was the Oris AquisPro Date 1000m, a watch that our resident dive watch reviewer Derek named "one serious piece of dive gear." And it does get even more serious now with Oris' most water-resistant dive watch ever, the new and (objectively massive) AquisPro 4000m. 
Let's be real immediately, the AquisPro 4000m is a big watch that isn't meant to be worn on a daily basis. Comfort and elegance were not part of the initial brief… It comes with an oversized case, measuring 49.5mm in diameter (just like the AquisPro Date 1000m) but with a much thicker case overall. It measures 23.4mm in thickness and 55mm in lenght. And yes, whether on our editor Robin's 18.5cm wrist (keep in mind that Robin is over 2 metres in height) or on my 16.5cm wrist, it looks enormous. This watch is a tool meant to be worn over a wetsuit, to perform as much as possible underwater. It's on a mission. Period!
And it does come with quite impressive specifications, besides its extreme dimensions. The case, thankfully, is made of titanium in order to save weight, and coincidentally prevent you to develop scoliosis. It is not what I'd call a light and comfortable watch, but the weight remains manageable. I can hardly imagine wearing this watch anywhere else than on a boat when preparing my diving apparatus, or underwater, but the same can be said, to a certain extent, about the Deepsea Challenge or the Seamaster Ultra-Deep. With all dive watches, and specifically such deep divers, the deal is to prevent water to enter the case due to extreme pressures. To do that, the AquisPro 4000m features an ultra-thick crystal on top that protrudes massively from the case (I could imagine this as a source of problems… But I'll let experts express their concerns), an oversized screw-down crown and a thick titanium back. The latter is engraved with a metre-feet conversion table. A helium escape valve is found on the left side of the case.
Beyond pressure resistance, a dive watch is also an instrument meant to perform calculations, mostly measuring the remaining time of your diving session – and cooking pasta, but I digress. Here, the new AquisPro comes with a classic rotating bezel with a ceramic insert and a 60-minute scale. The latter is coated with SLN, with sections emitting a blue or a green glow… a practical feature when you know that light quickly disappears underwater. The most important feature of this top-tier model is the Rotation Safety System bezel. As explained by Derek when he tested the 1000m version, the RSS "the bezel is fully locked and unable to rotate in either direction, until you pull the grippy locking mechanism that surrounds the bezel up towards you, away from the wrist." And he ended up saying that, in practice for a professional diver, it sits "at the top of my list of favourite bezels to use." If Derek says so, then we have to believe him.
Moving on to the dial, we go back to classic Aquis territories, with a gradient blue dial decorated with a wave pattern. The markers and hands are classic for the collection, and almost identical in shape to a standard 300m Aquis Date, save for the two small dots framing the 12 o'clock mark. Oris has decided to integrate a date at 6 o'clock, which is, as always, debatable on such an instrument piece. Matching the dial is a blue rubber strap equipped with the brand's practical security folding clasp extension system, which means the strap can be easily adjusted for length while the watch is being worn.
Inside the case is the calibre 400, Oris' in-house developed, high-performance automatic movement. Thanks to a double-barrel architecture, this movement stores up to 5 days or 120 hours of energy. Running at 4Hz, it features anti-magnetic parts and has been conceived with both precision (running within chronometer standards) and durability in mind, with 10-year recommended service intervals and a 10-year warranty.
The Oris AquisPro 4000m is, without a doubt, a polarizing watch. It's big and bold, but also highly technical. It has to be considered as a piece of dive gear more than a watch. No doubt that it'll perform greatly there (I'm sure Derek will want to confirm this…) Once on land, it'll be another story. Now available from the brand and retailers, and part of the permanent collection, the AquisPro 4000m will be priced at CHF 5,700 (incl. taxes).
More detail at oris.ch.
https://monochrome-watches.com/introducing-oris-aquispro-4000m-calibre-400-deep-diver-watch-hands-on-specs-price/