Interview
Marc Aellen, CEO of Certina, On The Brand's Evolution and 2021 Novelties
A relatively discreet brand in Swatch's portfolio, yet with growing potential
Founded by the Kurth brothers in 1888, Certina can look back on a rich history. Today Certina is a part of the mid-range brands of Swatch Group, which is also the entry-level to mechanical watches. Certina is catalogued in the Sports watch section, with a slight vintage flair. During the presentation of the brand's 2021 novelties in Geneva, we spent some time with the CEO of Certina Watches, Marc Aellen, to talk about the recent evolution of the brand, the growing demand for mechanical models, the impact of the pandemic, the future of the brand and of course the new watches that have been recently presented.
Xavier Markl, MONOCHROME – Marc, how did you get into watches?
Marc Aellen, Certina – My father was a watch designer in the Neuchâtel region. When he passed away in 1998, I was still too young to take over his business. Naturally, growing up in the area, you get to learn and love watches. After I graduated in business administration, I had the opportunity to work for TAG Heuer or Certina and chose the latter. I was attracted by the brand and the fact that it was part of Swatch Group with its management and vision. After Certina, I went to Omega and then Jaquet Droz. And now, I am back at Certina as CEO.
You took the helm at Certina as CEO a few months ago. What surprised you upon your return to Certina?
What is really new, at least from a professional perspective, is the importance of e-commerce and digital activities. Naturally, this was not the case when I first worked at Certina years ago. And given Jaquet Droz's brand positioning, it was not a top priority.  However, there is still a great deal of development potential in this respect.
From a product perspective, quartz watches were the most important product some 20 years ago for the brand; today, we are selling more and more mechanical watches. Most of the watches we are presenting are mechanical watches.
How did the brand navigate the pandemic?
Unlike many other brands, we hardly rely on tourism shopping as the brand does not yet have a global presence. This explains our resilience in these times. For instance, in Switzerland, as soon as shops reopened, sales went back to their level before the lockdowns. For 2021, turnover is still below 2019 because of the situation at the beginning of the year, but business is picking up, and we are on the right track. Our offer and sales mix has evolved to include more mechanical watches, which explains a higher average price. We have a healthy brand with excellent growth potential. We have amazing products. We are in a super-competitive market segment, but the value for money is exceptional. Besides some Swatch Group sister companies, it is hard to think of other brands that can deliver such value for money.
Although Certina is very strong in some markets, particularly in Europe, you mentioned that the brand does not yet have a global presence. What is your strategy in this respect?
We believe it is essential to support the brand's presence with the right resources in the countries where it is well established. These are often mature markets requiring substantial support. In this respect, our strategy is to open new markets step by step. Last week, we opened the US market. We are starting via e-commerce only with Hodinkee. The feedback so far is very good and truly promising.
What about China?
We have a good presence there and what is really interesting for us is that the market is changing. There is a growing interest in products that match the watches we offer.
Returning to the product; what makes Certina watches special?
Since 1959 and the DS concept, Certina is dedicated to offering robust watches for an active lifestyle. We believe that our pricing is, and has to be, as fair as possible. We have roots dating back to 1888, and over such a long history, the brand has gone through ups and downs but has been extremely resilient. We are, for example, very solid in markets like Scandinavia or Switzerland. Swatch Group backup is vital in many respects, particularly from a manufacturing perspective. We have access to tremendous technology, R&D and innovations. This is an amazing asset. Think of the Powermatic 80 movement with its outstanding power reserve and enhanced with anti-magnetic technology with the Nivachron hairspring.
From there, the potential is exceptional. We need to streamline the collection further to create an even stronger brand image and reinforce the attractiveness of our emblematic watches.
What are and will be the focus points for marketing?
Well, as mentioned, we focus on creating and crafting good watches at a fair price that are coherent with the brand's personality and active lifestyle. We are committing more and more to sustainable initiatives, which are really important to me. This is why we are continuing our partnership with the Sea Turtle Conservancy in Florida. Now we also offer eco-responsible product packaging or new straps made from recycled ocean plastic. In line with our policy of sustainability, we are progressively stopping motorsport partnerships. I am also a firm believer in developing local initiatives and encouraging my teams to do so. For instance, we are involved in Nordic Ski partnerships in Scandinavia, in particular the iconic Vasaloppet.
Can you tell us about some of the new watches you have presented in 2021?
I will begin with the watch I am wearing – the Certina DS Action 38mm. Initially available in a 43mm diameter, the watch now comes in a more compact 38mm version. The feedback has been extremely good. It is available in five different versions. The watch is water-resistant to 300m and ISO-certified as a dive watch.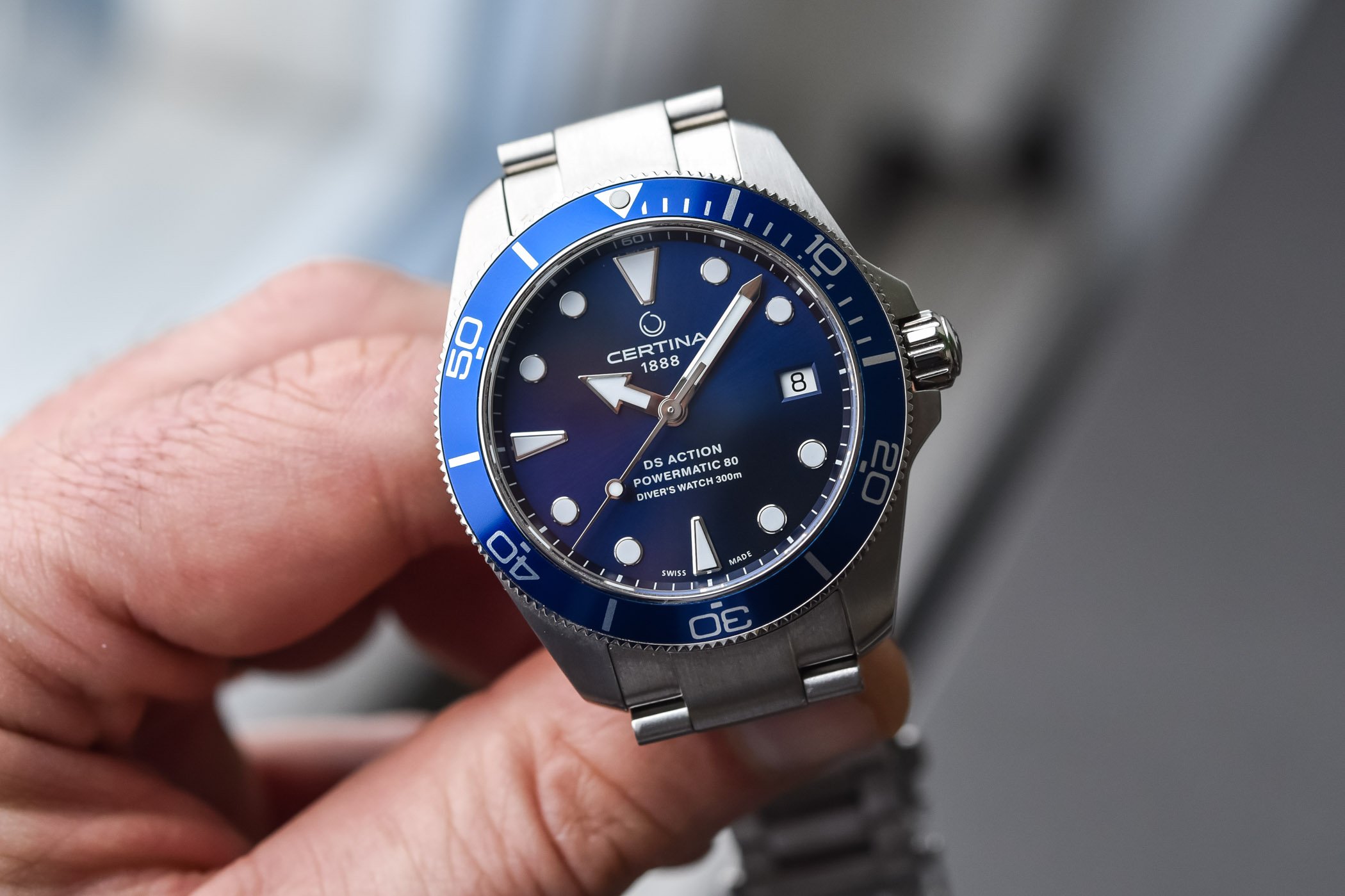 Another example would be the DS PH500. It was available in an ultra-sharp version with an orange dial. It is now available in a black dial version that will be a bit more elegant as a daily wearer but still with the same stringent technical specifications. It comes on a recycled plastic #tide nato strap.
We are also presenting the DS-1, a great all-rounder that comes with new dials and an interchangeable bracelet and strap (again in eco-responsible #tide recycled plastic).
As you can imagine, we can't reveal all our novelties now, but there will be many more to come in the following weeks…
For more information, please visit www.certina.com.
https://monochrome-watches.com/interview-marc-aellen-ceo-certina-on-2021-models-and-market-forcast/