Hands-on Review of the New Slim d'Hermès Time-Only Watch (live photos, specs & price)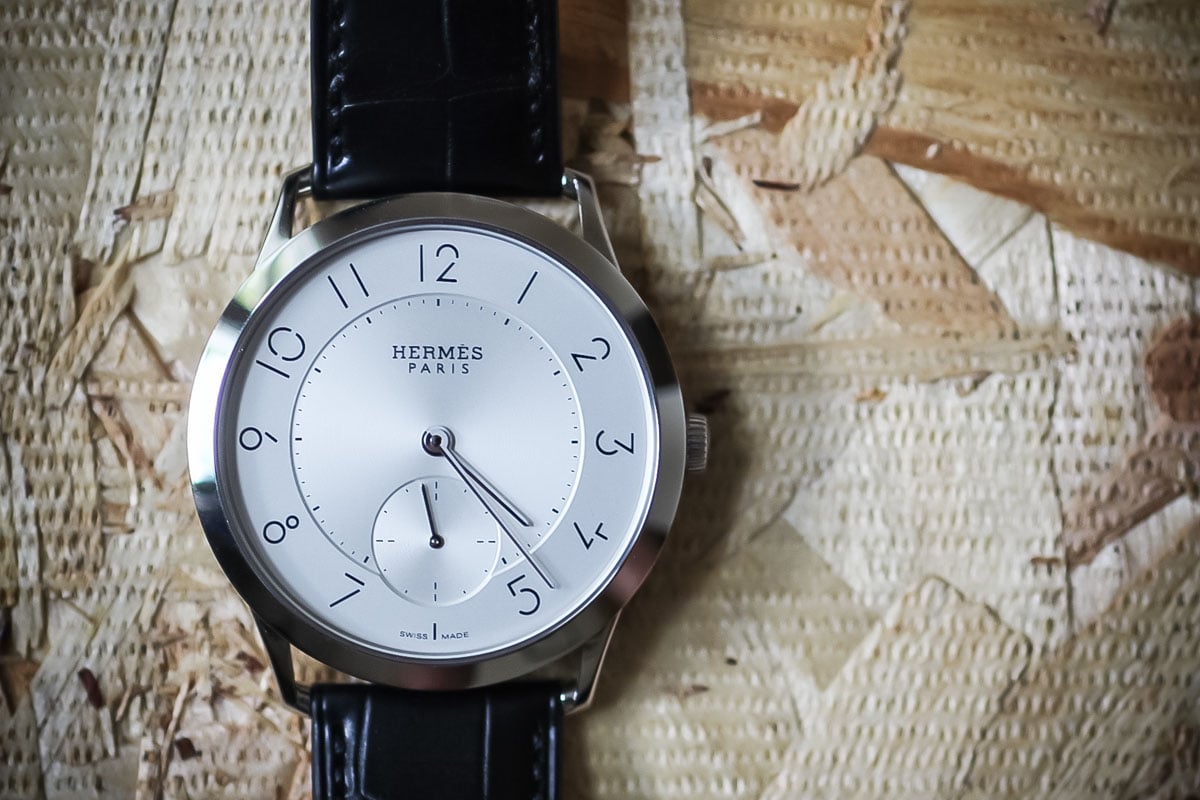 When you hear the word Hermès, we wouldn't blame you for instantaneously thinking of hand bags and leather goods (or maybe the elegant and mysterious Hermès Arceau Temps Suspendu). The time may have come to start considering them more as a watchmaker. Don't just take my word for it, here is the proof… our hands-on with the latest creation of the French Maison, the Slim d'Hermès time-only watch and its mechanical, ultra-slim, micro-rotor movement.
[bctt tweet="Put to one side what you may think of Hermès, this watch is no fashion statement"]
Established in Paris in 1837, Hermès initially built their reputation in crafting saddles and harnesses for horses (with what can be considered as one of the nicest leather on earth). In the early twentieth century, they extended into leather-making such as belts, jackets, bags and, from the 1920s, watch straps. When it comes to watches (and not watchmaking yet…), it is only in 1978 when La Montre Hermès SA opened production facilities in Biel, Switzerland. An entire collection of classically elegant watches followed. Since then, La Montre Hermès has continued to expand and develop its independent manufacturing resources. This year see's the launch of the "Slim d'Hermès".
From the outset, it was clear that Hermès had attempted to create a collection that encompassed both pure lines and simple aesthetic to incentivise daily wear. The Slim d'Hermès is available in a number of different sizes as well as metals and functions. Here we had the stainless steel, 39.5mm, time-only model. In addition, it is available in 18k rose gold case or with a complicated perpetual calendar.
The most intriguing aspect to this watch for me is the dial. It is well balanced and simple while the typography is instantly recognisable. Philippe Delhotal, creative director of La Montre Hermès, who originally conceived the typography worked closely with Parisian graphic designer Philippe Apeloig. You need only look to the late Steve Jobs of Apple to appreciate just how vital typography is, 'when we were designing the first Macintosh computer, it all came back to me. And we designed it all into the Mac. It was the first computer with beautiful typography. If I had never dropped in on that single course in college, the Mac would have never had multiple typefaces or proportionally spaced fonts'.  It is all in the detail. The typeface communicates a products story to the consumer and this is no different when it comes to watches. This is however often overlooked, but when done correctly, it can make all the difference.
In this instance, the Slim d'Hermes is a simple, time-only watch, which draws the wearer's attention to the gloriously simple typeface employed. On this project Hermes engaged graphic designer Philippe Apeloig, whose work is in the collection of MoMA, to create a custom font specifically for the line of timepieces. A brand with a widely admired aesthetic sensibility, Hermes' attention to the font indicates its importance. When asked what inspired this layout, Apeloig said "My imagery connects to the human figure in motion. With type elements, I use repetition and overlapping signs (like kaleidoscopic patterns) to explore synchronicity or de-synchronicity, patterning, and rhythm.". At 39.5 mm, it certainly didn't feel too large on the wrist. It both flew under the radar and sat neatly under a cuff (thanks to a slim profile). The case remains voluntarily simple and clean to leave the dial at the center of the show – and also to make this Slim d'Hermès an elegant, refined dress-watch.
At the heart of the Slim d'Hermès beats the Manufacture Hermès Calibre H1950 ultra-thin movement seen through its sapphire crystal caseback. One of the areas Hermès have struggled in the past has been appealing to the movement snobs out there. They have taken note and spent four years developing this exceptionally slim automatic movement. The micro rotor movement is just 2.6mm high which allowed Hermès to package it in this elegant case. The movement was designed and manufactured by Vaucher Manufacture, which guarantees a high-quality of manufacturing and finishing, as well as a proved technical capacity.
The work of Vaucher was mainly on the micro-rotor, which allows a winding speed equivalent to that achieved by a traditionally sized self-winding movement, with central rotor. The advantage of a micro-rotor movement is that it is very slim, however a potential downside is the less economic winding. The remedy to this is a very heavy oscillating weight and reducing friction in the gear train, escapement and barrel. This movement boasts then a reasonable 42-hour power-reserve (not that bad considering the thinness of the movement) and is adorned with hand-chamfered edges, as well the H pattern on the bridges. It is worth noting that Vaucher manufactures movements for Parmigiani Fleurier as well as Hermès and is majority owned by the Sandoz Family Foundation and Hermès International.
Besides what you may think about Hermès, this watch is no fashion statement. It's watch that should be taken seriously. Despite being suitable for everyday use, it was important to maintain the Hermès allure. I believe they have achieved this in its refinement of the dial, the beautiful finishing on the micro-rotor movement and the super soft Hermès leather strap. The ultimate goal (as for any manufacturer) is to create a design that carries through the generations. As with anything, time will tell.
Price: 5.650 Euros in Stainless Steel and 13.500 Euros in 18k Rose Gold. More on Hermes.com.
https://monochrome-watches.com/hands-on-review-slim-dhermes-time-only-watch-price/