Great exhibition in Geneva – Mechanical Watch Graffiti
Tempus Fugit, or translated Time Flies, is an exhibition of graffiti art displaying mechanical movements. A must see for anyone in Geneva who likes mechanical watches, and I guess in a city like Geneva that will be many people. 
Magaldi Xavier has been a graffiti artist since the early 90's. Besides that he is a watchmaker. In his work he combines these two 'metiers' creating a unique view on mechanical movements. His exhibition called Tempus Fugit can be seen in at the Cité du Temps in Geneva until April 29th.
Something about the artist
 Xavier Magaldi was born in Geneva in 1975. He clocked up his first experiments with spray-paint in 1989. After qualifying as a watchmaker from the Ecole d'horlogerie de Genève in 2000, he turned his attention to digital graphics and publishing. This wealth of diverse experience led to Xavier Magaldi concentrating on fusing the crafts he now mastered. He uses various techniques originating from street art to integrate elements such as tourbillons and perpetual calendars. The artist draws parallels between street art and horology through a comparison of the precise regulation of the spray can with that of a watch. He also derives visible creative dynamism from the juxtaposition of the meticulous art of watchmaking with the world of graffiti, which often dances provocatively on the borders of legality. The new era of Xavier Magaldi's work is termed "Post-Graffiti" and expresses the artist's vision of art, at the same time modern and traditional.
The painting below is called Tourbillon and Xavier Magaldi also created more artworks with names like Quantième Perpetuel (perpetual calendar), Chronographe or Répetition Minute (minute repeater).  When you're not in the position to visit the exhibition, than check out his website here.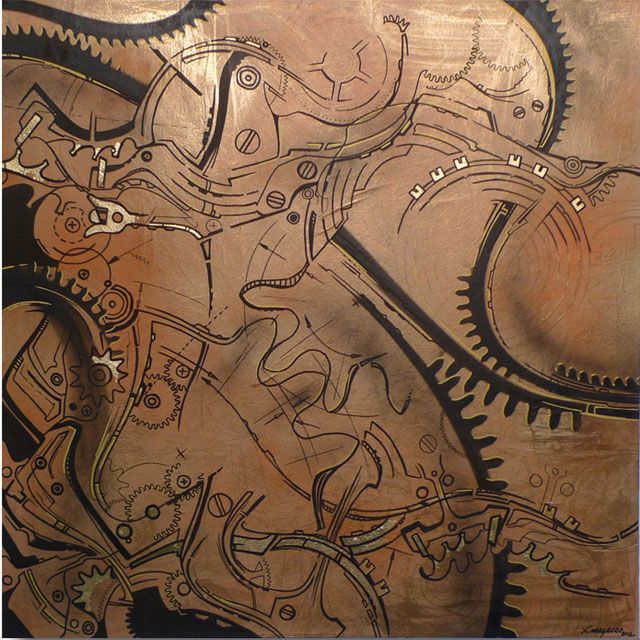 Painting exhibition Tempus Fugit
March 28 to April 29, 2012
The City of Time Gallery (Deck Machine) – Geneva
From 9am to 18pm every day (free admission)
https://monochrome-watches.com/great-exhibition-in-geneva-mechanical-watch-graffiti/