Review
Glashütte Original SeaQ 39.5mm, the Real Deal Vintage Diver
How a Spezimatic dive watch produced during the late 1960s in East Germany resurfaced after decades to become Glashütte Original's hot vintage SeaQ diver.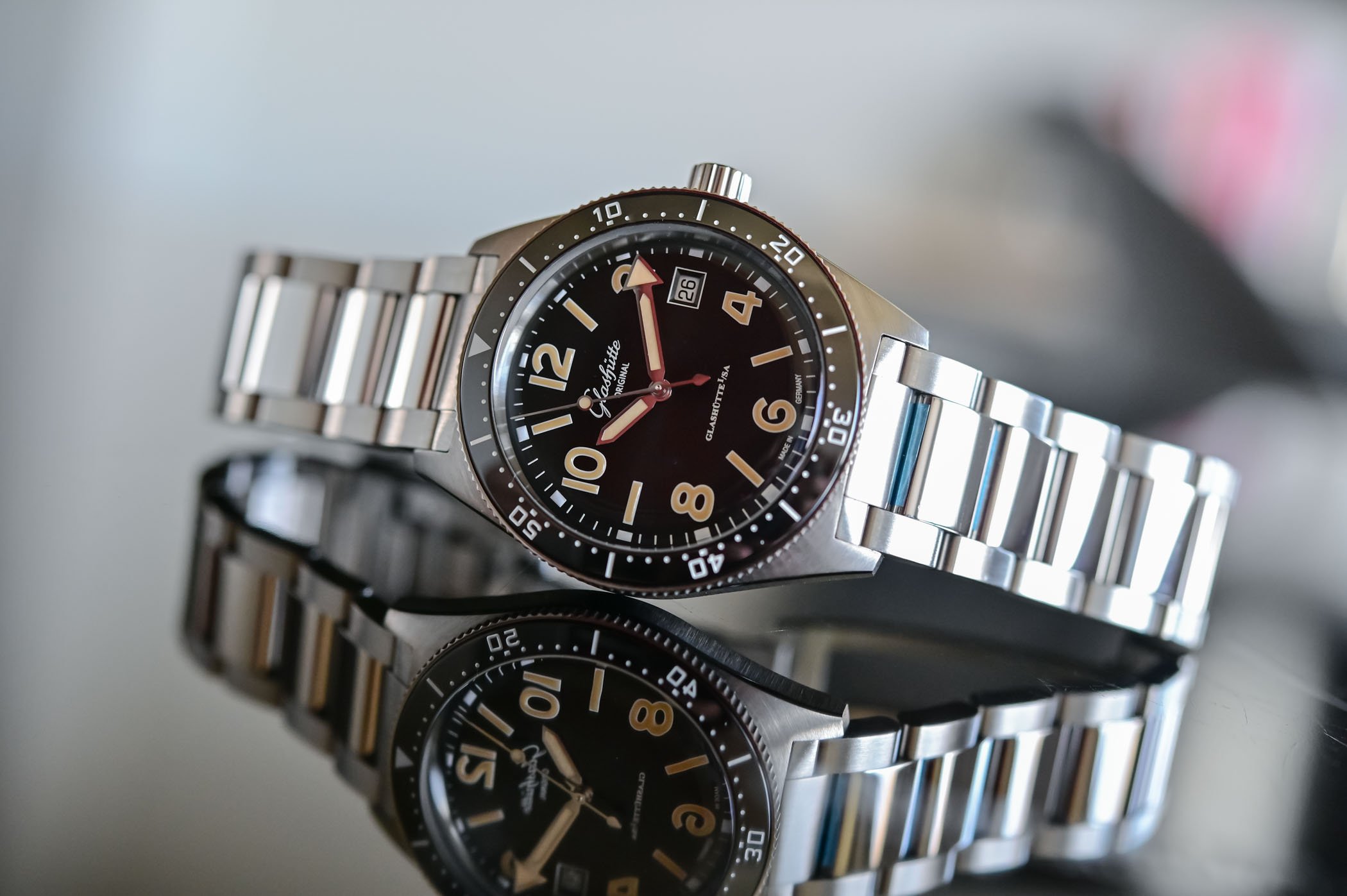 Perhaps one of the most surprising launches of 2019 was Glashütte Original's brand new Spezialist collection of dive watches. Dive watches from Glashütte Original? No way. Was this yet another brand jumping on the massively popular vintage/dive watch bandwagon? A desperate attempt to diversify a relatively classic portfolio by inventing a new line of retro divers to attract a younger client? Well, the answer is yes and no. Yes, Glashütte Original wanted something sporty and fresh to complement its offer and no, it didn't need to invent anything. Possibly surprising to some, but this collection, and even more the present Glashütte Original SeaQ 39.5mm, is easily traceable in the brand's archives. 
Indeed, the design team at GO didn't need to look far, the answer was right there, under their noses in their own archives and on display in the German Watch Museum just down the road. A 1969 model, known as the Spezimatic Type RP TS 200 and produced by state-run VEB Glashütter Uhrenbetriebe (GUB), was chosen as the guiding light of the SeaQ collection. Let's take a closer look at the genesis of the SeaQ and why this 39.5mm model, with legitimate historic credentials and an aura of vintage cool, might be the reincarnation of the perfect vintage dive watch.
The surprising rise, fall and resurgence of Glashütte
Glashütte, the small Saxon town with the biggest names in German watchmaking, is a constant source of surprising discoveries. A visit to the local German Watch Museum reveals its rich horological past dating from 1845 when Ferdinand Adolph Lange laid the foundations to what would become the epicentre of German watchmaking. Not only did Lange attract other master watchmakers from Dresden, together they put the small town of Glashütte on the international map and converted the designation of origin "Made in Glashütte" into a seal of quality. Precision marine chronometers, regulator or pendulum clocks and pocket watches were standard fare from the big names in town, and so was innovation, with Alfred Helwig who developed the Flying Tourbillon in 1920, as well as the school of watchmaking in Glashütte. Under the seal "Original Glashütte", local watchmakers offered their skills worldwide since 1916.
Second World War left its mark on Glashütte, which fell on the Soviet side of the border in East Germany and its watchmaking resources were dramatically affected. This put the persistence of Glashütte to the test again. With flexibility, innovative strength and cultivation of tradition, they enable their craft to continue to develop – despite difficult economic and political circumstances. The changed economic order led to the merger of all still existing Glashütte watch companies in July 1951. The economic isolation once again urges watchmakers to new developments and independent solutions in precision engineering.
On October 16, 1990, Glashütter Uhrenbetrieb GmbH was entered in the commercial register. In reunited Germany, the company becomes the official legal successor to all previous Glashütte watch companies. It will be acquired by the Swatch Group in 2000 and now operated under the commercial name Glashütte Original.
Although the 40 years or so that the GUB was active in Glashütte might not have been the period of greatest creativity or refinement, some watches have become cult objects. The 1964 GUB Spezichron watch, with its groovy cushion-shaped 1970s case and funky gradient dial colours, is not only popular on the collector's market, it is the forefather of Glashütte Original's highly successful Seventies Panorama Date and even the psychedelic dials of the Sixties family.
But what really surprised us at the 2019 Swatch Group Time to Move Event was the launch of Spezialist, an entirely new family focused on instrument watches! The Spezialist collection has also used the blueprint of a GUB watch, this time the 1969 Spezimatic Type RP TS 200. And given the current trend for vintage watches and sports watches, this 1969 model was begging to be revisited.
VINTAGE COOL
Back in its day, the 1969 Spezimatic Type RP TS 200 was a relatively rare (produced in small quantities) dive watch equipped with the calibre 75. Designed for professional divers and combat divers alike, the 36mm Spezimatic Diver was characterised by its excellent rate precision, reliability and robust construction. Design-wise, the Spezimatic was a compact, utilitarian dive watch with a strong East German personality. With its black dial, massive (and luminous) numerals, thick hands and markers, the Spezimatic provided GO with the perfect cocktail for an audience of vintage-hungry watch buyers. Combined with its late 1960s allure, which you can see in the Spezimatic's overtly tool-watch nature and somewhat rudimentary finishes, you can see why GO jumped on it.
Spezialist SeaQ Collection

Three models of the SeaQ were unveiled in 2019: the 39.5mm vintage-inspired model; a 43.2mm model with Panorama Date; and a limited-edition 'replica' of the 1969 Spezimatic watch, the SeaQ 1969. Common features across the board are the atypical steel cases with sharp angles and circular brushed surfaces, unidirectional bezels with ceramic inlay, large indices and hands, in-house automatic movements, and a point that should not be overlooked, all variations fulfil the international divers' watch standard ISO 6425 for professional dive watches as well as Germany's national industrial standard for dive watches, DIN 8306.

The Glashütte Original SeaQ 39.5mm
The Glashütte Original SeaQ model we have today has a diameter of 39.5mm and a height of 12.15mm – pretty contained measurements for a dive watch in 2020 and only 2.5mm larger than the original Spezimatic. It sits comfortably on the wrist (that's Brice rather small 16.5cm wrist in the photos) and features polished and brushed surfaces which continue on the integrated metal bracelet. Ensuring the 200m water-resistance of the SeaQ 39.5mm, the crown is screwed-down and the caseback is closed with a trident, 20 waves (representing the water-resistance of the watch) and a double-G logo engraved in its centre.
The mandatory unidirectional bezel to time immersions has a notched edge and a black ceramic, scratch-resistant inlay with white Arabic numerals and a luminescent triangle. Manipulating the bezel produces a very satisfying click. The watch has the usual sense of quality found on all GO watches.
Dial Made in Pforzheim
"Wow, those are big numbers!" was my first comment when I saw the watch. Set against the galvanic, sunray-brushed black dial, you can see them from miles away, during the day and even more so at night. But isn't that precisely the task of a dive watch? You are meant to be able to distinguish the hands and numerals in the darkest, murkiest waters. All the Arabic numerals, the hour markers and the three hands are treated with an "Old Radium" beige luminescent material, as a reminder to the patinated lume used on the original Spezimatic. This is one of the main differences with the 43.2mm model with Panorama Date, which features applied indexes and white lume – resulting in a more modern, more technical look.
However, what's so special though about these markings is their volume, even though they are painted and not applied. You can actually see how the beige Super-LumiNova rises like a 3D figure from the white border. The reason for this attention to details is that this dial, along with all the other dials of SeaQ models, is made at GO's very own dial manufacture in Pforzheim.
The black dial of this SeaQ model starts life as a brass blank. Once the catch holes, date window and central hole for the hands have been pressed into the blank, the brass surface is ground and polished by machine with a special liquid to obtain a high gloss finish. This is a necessary prerequisite for the next step involving a vertically rotating brass brush to obtain the sunray finish. Once the inky black hue has been obtained through galvanisation, it's ready for the application of numerals, indices, logos, etc.
The numerals and indices of the 39.5mm SeaQ models are printed on the dial in a light primer colour. A soft rubber pad picks up the ink from an etched plate and impresses it on the surface of the dial. The same process, using white printing ink is performed for all the other details. Only then can the numerals and indices be carefully filled in by hand with "Old Radium" Super-LumiNova. This results in very distinctive and bold numerals that are, however, impressively executed.
Calibre 39-11
Although you can't see it, the movement below deck is Glashütte Original's standard in-house calibre 39, similar to the one used in the Sixties 39mm model, though with a date function here. An automatic movement with a 40-hour power reserve and 4Hz frequency, it offers hours, minutes, seconds (with hacking seconds for precise setting) and a date mechanism. Despite the fact that it is hidden, calibre 39-11 is beautifully finished with bevelled edges, Glashütte stripe finishes, a swan-neck fine adjustment (not engraved) and a skeletonised rotor.
German obsession with tests
Beyond its vintage dive watch aesthetics, the SeaQ is a certified professional dive watch backed up with international ISO 6425 standard and Germany's DIN 8306 equivalent. A quick recap of what these standards demand might be useful. Any watch aspiring to comply with the standards set down by ISO 6425 has to comply with several requisites: water-resistance greater than 100m; a diving time/elapsed time indicator (e.g. rotating bezel); clearly distinguished minute markings on dial; adequate visibility at 25cm in total darkness; indication that watch is running in total darkness, usually a running seconds hand with a luminous tip; magnetic-resistance to 4,800 A/m; shock-resistance; strap/bracelet solidity; and a watch case resistant to corrosiveness of seawater. Other tests involved heating the watch to temperatures of 40-45ºC, covering the watch with a cold piece of felt, and then checking for moisture in the watch as well as exposing the watch to pressures you might find at high altitudes (-0.2 bar) and underwater (25 bar). In a nutshell, the Glashütte Original SeaQ 39.5mm is seaworthy.
Thoughts
I really enjoyed reviewing this watch. Unlike so many vintage wannabes or "faux vintage" watches on the market today, this is the real deal. It has a story to tell and transports you back to the GUB years, to the days when the state-run VEB Glashütter Uhrenbetriebe produced no-frill, robust utilitarian watches. Not only does the SeaQ look like a vintage diver, it performs the part of a professional contemporary diver.
Although I was a little disconcerted at first by the sheer size of the numerals, I now realise that they are an integral part of the watch's functional personality and are a distinguishing trait in a sea of Submariner look-alikes. Coupled with Glashütte Original's attention to detail on the case and bracelet, the robust automatic calibre and the lovingly crafted made-in-Pforzheim dial, the SeaQ has certainly got my attention.
straps, availability and price
The Glashütte Original SeaQ 39.5mm we had for this review comes with a well-finished and comfortable stainless steel bracelet (ref. 1-39-11-06-80-70) fitted with an extremely clever and easy-to-use 8-step fine adjustment diver extension. Two other straps, a robust nylon strap and an embossed rubber strap are also available. The SeaQ 39.5mm model with a stainless steel bracelet retails for EUR 9,700 (on rubber or nylon, with pin buckle, price starts at EUR 8,500).
More information at glashuette-original.com.
https://monochrome-watches.com/glashutte-original-seaq-39-5mm-review-price/