Girard-Perregaux puts watchmakers in the spotlight
After launching a new website, an owner's portal and the introduction of a new online life-style magazine (blog) as announced by our friends of Hodinkee, we can report that Girard-Perregaux will be placing their watchmakers in the spot-light.
Girard-Perregaux has of course many talented watchmakers. Not a surprise, because creating entirely new watches and new calibers in-house, like the GP 1966 Chronograph 42mm that was released last week, requires a lot of different skills. It takes many years of practise and a lot of talent, to become the next Dominique Loiseau. 
Ad – Scroll to continue with article
Girard-Perregaux has chosen to highlight the skills of many of their talented young watchmakers and additionally to link their professional activities to their private life. The young watchmakers will tour round the world and present their skills in New York, Beijing and Paris. At the website The New Faces of Tradition, you can see the watchmakers and read more about them.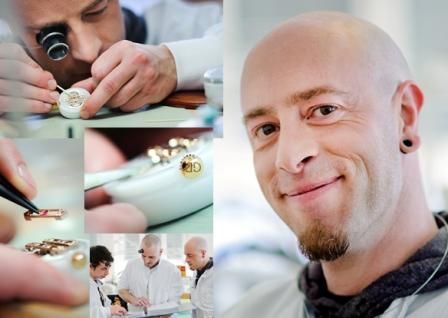 Maybe you ask yourself why GP will put their watchmakers in the spotlight and even talk about their personal lifes? First of all it shows the actual stars of the show, like it is always the case with Independent Watchmakers. Another reason might be that watchmakers and watchmaking skills are becoming more and more scarce.  Mastering the old 'metier' of watchmaking requires years and years of hard work. So by showing these 'normal' young people, Girard-Perregaux could maybe inspire more young people to consider a carreer as watchmaker. 
The tour will begin with a special event at Cipriani Dolce in New York City, where guests will have the opportunity to participate in an in-depth one-on-one workshop with the watchmakers. The workshops will demonstrate the intricacies of the movements and include hands-on lessons on how they are built. New York City is only the first stop of The Girard-Perregaux Young Watchmakers Tour. Later this year the international tour will move on to Beijing, Paris and several other cities. In addition, Girard-Perregaux will feature the latest 2012 novelties and Museum pieces from its historical archives.
It sounds like a very interesting event and I'll definitely be looking forward to visiting the Young Watchmakers Tour in Paris, which is closest for me.
Check out The New Faces of Tradition and Girard-Perregaux's new online life-style magazine Mechanics of Style.
https://monochrome-watches.com/girard-perregaux-puts-watchmakers-in-the-spotlight/