Opinion
The Frederique Constant Hybrid Manufacture – Enough to Convince a Watch Guy?
A manufacture automatic movement combined with connected functionality, or FC's vision of the future.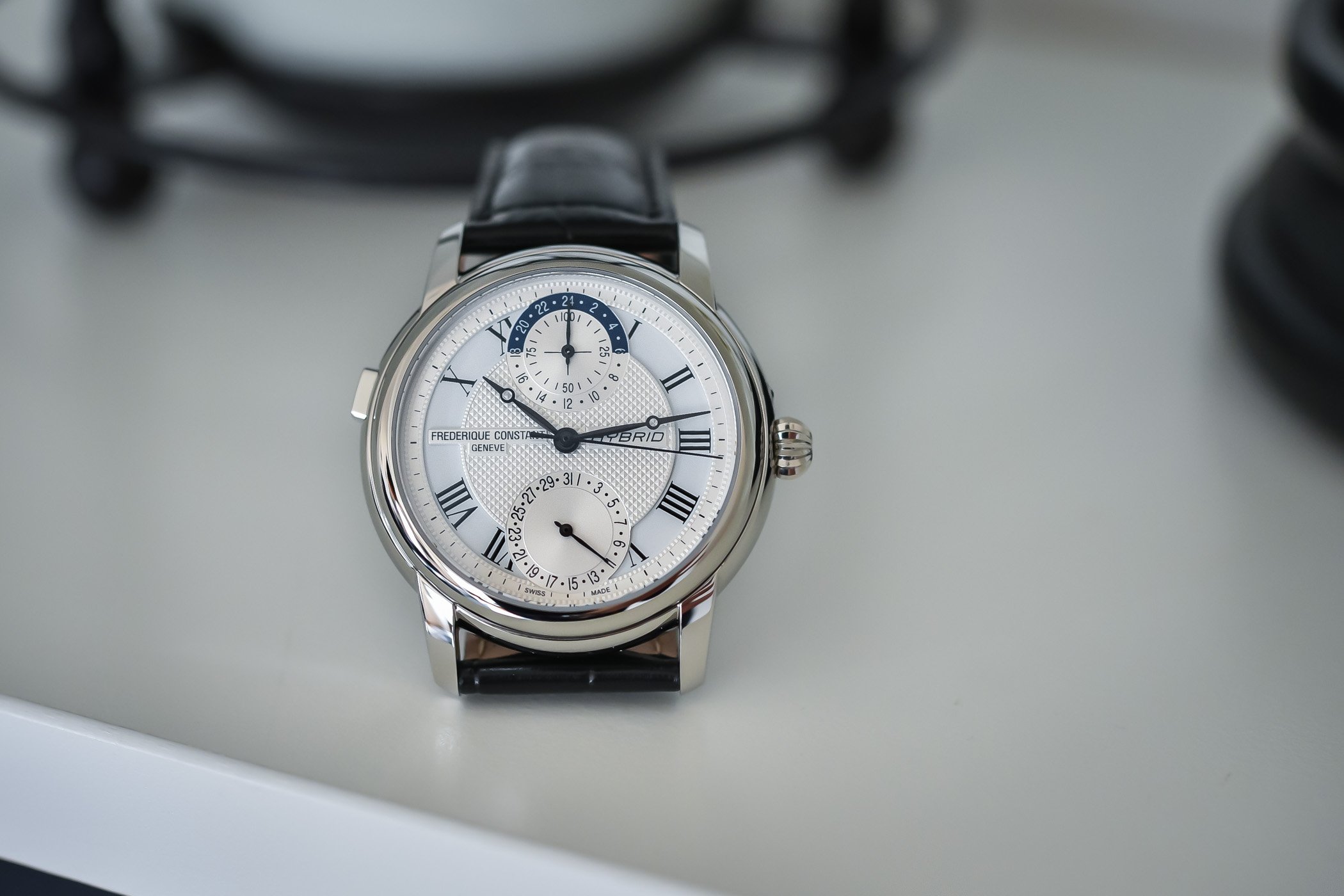 Recently, Frederique Constant introduced a watch it dubbed the "World's First 3.0 Watch". You know about mechanical watches (obviously, if you're reading this magazine, you definitely know about mechanical watches), you know about smart-watches. The next step, according to FC, is the hybrid watch, a combination of good old mechanics with a connected module on top. This announcement grabbed out attention and we asked for a watch to review. The question is simple: is the Frederique Constant Hybrid Manufacture the right recipe to take luxury watches into the 21st century?
In addition to reviewing the watch – how it feels, what it does, how it wears on a daily basis – I'll try to give you a more personal opinion. MONOCHROME is usually all about the beauty of mechanics and smartwatches are not normally included in our editorial policy. Yet, we can't deny that connected watches are growing and, apparently, they are here to stay. We can't ignore this market, but we prefer to look at it from a different angle.
Background
Those of you who read this magazine on a regular basis will know that I'm passionate about watches. I've been collecting watches for some time now and feel gifted that this passion has turned into a job. Yet, this is not my only passion. I have another one that will make sense here: cars. I was born and raised in a car environment, by a man with an absolute passion for mechanics, especially sports cars. My father is a true petrolhead, a passion that we shared when I was younger. On Saturdays at home, the wake-up call was the screaming sound of Italian stainless steel exhausts slowly warming up in the backyard. This passion for analogue cars has never ceased and is as consuming as my passion for watches.
Recently, I had the chance of spending an entire day on the racetrack with the new Honda NSX. I can't say that I wasn't, initially, extremely skeptical about this hybrid car. The combination of a small, turbocharged engine with three electrical motors is rather far from my usual standards. I know that hybrid cars (and even more electrical cars) are a necessity. Yet, I can't live without the smell of burning oil and gasoline. However, I tried to leave these preconceived ideas behind and test drive the future. What a surprise when I found myself able to catch up with a Ferrari 458 Speciale – which isn't a slow car, believe me!
I ended this track day with one thing in mind: hybrid technology can be good. It can add something, it can make old-school mechanics better, more sustainable and (I hate to say it) more performant. I wanted to start with this story for a good reason. When receiving the new Frederique Constant Hybrid Manufacture, I had to do what I did with the cars and get rid of preconceived ideas.
The Frederique Constant Hybrid Manufacture in the metal
What is the Frederique Constant Hybrid Manufacture? At first, nothing more than another FC watch. It looks, feels and wears like any other watch in the collection, with a similar design to the other mechanical watches manufactured by the brand. It has the same 42mm case as other FC watches, it has a casual-chic design with an elegant dial and nothing on this watch, with the exception of the "HYBRID" mention on the dial, would make you suspect there is a battery-powered connected module integrated inside the case. This is a deliberate choice on behalf of Frederique Constant, which has already been used on the fully connected watches of the brand.
Yet, something has drastically changed, compared to what FC was doing before. This Frederique Constant Hybrid Manufacture has a mechanical heart. Its hands (hours, minutes, seconds and date) are driven by an in-house automatic movement – the same that can be found in various watches of the brand, such as the Worldtimer or the Moonphase. This movement, a tried-and-tested calibre, is visible through the case back and consolidates the impression of having a true mechanical timepiece on the wrist.
As usual with the brand, the watch is pleasant, slightly dressy with a contemporary feel. The overall quality is in line with the rest of the collection and again, nothing screams technology. Yet, in between the movement and the dial sits a battery-powered module – the connected part of the watch. Driven by a rechargeable battery, this module has no interaction on the rate of the watch, which is left in the hands of the automatic movement. Yet, some additional functions have been added, which require the use of your phone.
What does it do?
The Frederique Constant Hybrid Manufacture offers activity tracking (step counter with defined objectives and monitoring) as well as sleep monitoring (again with defined objectives). These are standard features of smartwatches. What it doesn't do – and I'm actually very happy about this – is function as an extension of your phone, with notifications of calls or messages.
In addition to these monitoring functions, the Frederique Constant Hybrid Manufacture adds several "horological smart functions". Thanks to the dial at 12 o'clock, the watch can give you a 24-hour indicator or a dual-time function. After setting the second time zone you want to display, thanks to the well-conceived application, you can track your home time or a second time zone when working in an international business environment.
The last feature is one that I found quite interesting: movement analytics. It is not the first time that we see these functions on a mechanical watch though. URWERK, a few years ago, introduced the EMC, where in addition to the mechanical movement, there was a quartz movement and an optical device to monitor the rate of the movement. Even though much more complex and expensive, the final uppercut was the ability to self-adjust the watch according to the results. Just like the electric engines of a McLaren P1, the hybrid technology was used to improve the mechanical performance.
With the Frederique Constant Hybrid Manufacture app, you can check the rate, the amplitude and the beat error of the watch. Results are communicated to the Hybrid App via Bluetooth and can be seen in the form of graphs – note: pleasantly surprised by the results of watch we had for review, as you can see in our photos. Yet, again, there is room for improvement. Monitoring is the first step, the interaction between the connected module and the mechanical movement is another. Frederique Constant should explore self-adjusting or auto-correcting possibilities.
The opinion of a watch guy?
I will say it again: I don't consider the Apple Watch or any fully-connected smartwatch as timepieces. To me, these are wrist worn techno-devices that can display the time, but they don't comply with my definition of a watch – this is personal, of course. On the other hand, I can't deny the growing interest of customers for these connected wrist devices. They represent a huge market – and as we reported, Apple shipped more watches than Switzerland in the fourth quarter of 2017. Swiss brands have two options: doing what they've done best for centuries or finding another way to enter this market. And if they can't compete with Apple or Samsung on the fully-connected smartwatch market, they can maybe find a different approach, on a more luxurious side.
Did Frederique Constant manage to convince me, just like Honda did with the NSX? Yes and no – a very Swiss answer, you'll agree. Yes it did because it has taken a different approach. FC knows that it is impossible for Swiss watch companies to beat Apple or Samsung on their own playing field. The Apple Watch offers a lot more for a much lower price. A Swiss company will hardly have a competitive advantage over a powerhouse like Apple. Frederique Constant understands that and brings something which combines true mechanical savoir-faire, an elegant design, a view on the beating heart of the watch (which is commercially extremely important here) and overall, the look and feel of a true watch.
On a daily basis, the Frederique Constant Hybrid Manufacture is first and foremost a watch. It gives the time, it ticks, it wears nicely with a suit and it has this pleasant wobbly feel of the oscillating mass. It is only when you pair it with your phone that the connected part of the watch appears. As a true watch guy, I ended up forgetting that this watch even had Bluetooth pairing and a connected module. And this is where it might not be fully convincing.
I would say that the Frederique Constant Hybrid Manufacture is a good first attempt, but which lacks functions. I think that FC could go a few steps further, that it could add more functionalities, more connected peanut butter over the mechanical jelly. The intention is good, the ideas and the technologies are here, but I think that Frederique Constant thought more about convincing mechanical guys to add connected functionalities to their watch than convincing millennials or techno-oriented people to enjoy the beauty of a mechanical movement.
If mechanical-oriented customers are already convinced about spending over 3K on a watch, the challenge is more about creating the desire among youngsters, millennials or techno-oriented customers, who are already convinced that connected watches are the future. Adding a mechanical movement is a good idea if the connected part follows. So, Frederique Constant, you're in the right direction but add more technology to your mechanical recipe.
On a more personal basis, I have to admit that nothing can replace the beating heart of a mechanical movement in my mind. But if evolution is necessary, at least the Hybrid Manufacture by Frederique Constant is less harmful to me than the Apple connected device. The main evolution I can think of is about self-adjusting the rate or an auto-correcting device which could make sure that the watch runs at the exact time. That is quite a challenge, but I know Frederique Constant's head of developement likes challenges.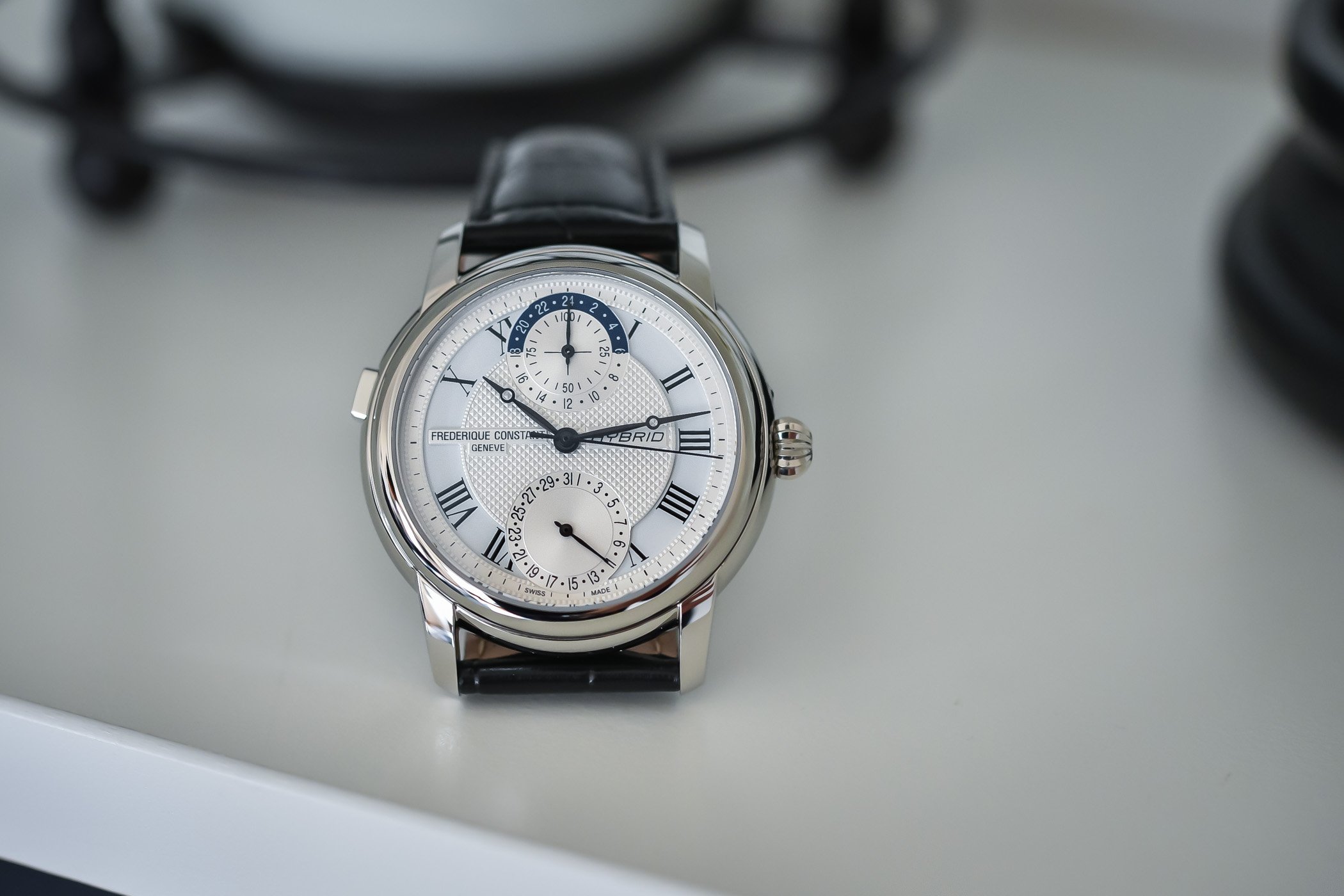 Available online and soon at retailers, prices for the stainless steel Hybrid Manufacture start at EUR 3,250 and reach EUR 3,550 for the rose gold plated model. More info at frederiqueconstant.com.
https://monochrome-watches.com/frederique-constant-hybrid-manufacture-review-opinion-price/