FOUND: a Heuer Autavia with Prototype Orange Dial – Extremely Rare, possibly Unique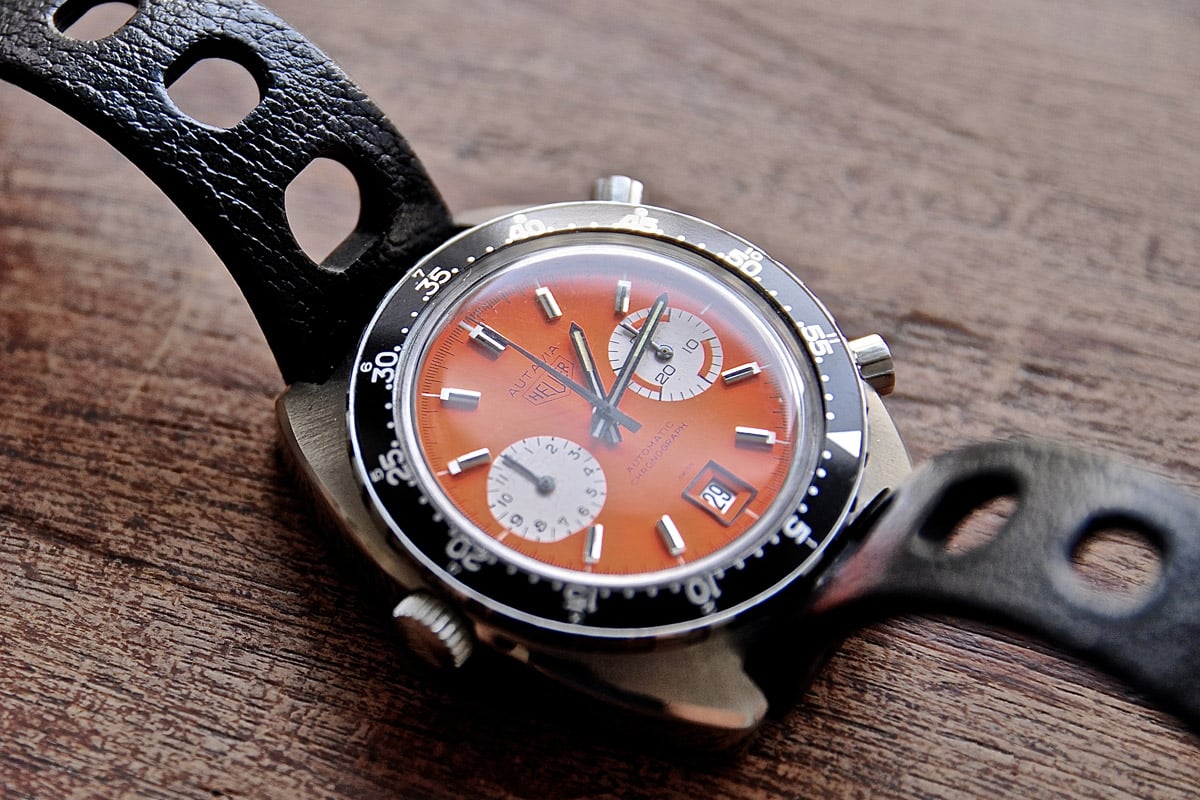 Rarer than hen's teeth? This Orange dial Heuer Autavia is indeed extremely rare, if not unique. Experts are still debating on the exact details, however they seem to agree we're dealing with a genuine Heuer Autavia ref. 1163, with a high-beat calibre 11 movement, a prototype orange dial, and hands from a Heuer Carrera ref. 1153. And it seems to be authentic. You want to own it? That's possible!
This rare prototype Heuer Autavia was offered for sale at the Chronocentric forums (click here), which is a forum for vintage (Heuer) chronograph collectors. Of course we immediately mailed the seller, who send us some additional images and told us he bought the watch, as is, at a reputable watch dealer in Munich, Germany. That would make sense, because according to several experts who commented online, a few orange Autavia dials surfaced at a German watch dealer some years ago.
The serial number that is stamped between the lugs (Serial Nr. 274XXX), indicates that the case, which is also stamped with reference number 1163, is from 1972. Again correct according to the online experts at the various fora. Heuer never released an Autavia with orange dial, however they did do an orange dial on the vintage Heuer Diver ref. 980.007 as can be seen here. That vintage diver's watch features the same tone of orange; a colour that's was not often used by Heuer.
While all calibre 11 movement from Heuer tick at 19,800 vph, the brand increased the speed to 21,600 vph for the updated calibre 12 movement. This rare Autavia comes with a calibre 11 signed movement, that ticks at a speed of 28,800 vph. Again, a rather unique property, that all ads to the desirability of this particular watch.
This extremely rare or unique orange dial Autavia was worn only twice, to make photos for the sales ad. According to the seller it can best be described as new old stock (NOS) condition and he would like to fetch at least 7k Euro for it. Click here to visit the sales ad on Chronocentric.
https://monochrome-watches.com/found-heuer-autavia-prototype-orange-dial-extremely-rare-unique/