In-Depth
Diving with the DOXA Sub 300 Carbon Professional
Taking the orange feather-light watch underwater to see how it performs.
In the world of dive watches, you would be hard-pressed to find a brand with more history or pedigree than DOXA. From the 1930s all the way to the quartz crisis in the 1980s, they built a brand around a singular focus on the purpose-built tool watch, attracting the attention of both the superstars of the dive world and the everyday hobbyists alike. On the wrists of real-life explorers like Jacques Cousteau and his team, and even fictional heroes like Clive Cussler's Dirk Pitt, Doxa has become synonymous with diving. We are going beneath the waves, to some reefs in the Florida Keys with the latest release in the iconic Sub 300 line, the Sub 300 Carbon, to see how it lives up to this long and storied history. Read on.
DOXA was founded in 1889 in the heart of one of Switzerland's major watchmaking areas, the Canton of Neuchâtel, by Georges Ducommun of Le Locle. At the age of 12, Ducommun became an apprentice to a watch manufacturer, specializing in casing-up movements. After eight years of learning, at the tender age of 20, he started the watch repair business that would eventually grow into DOXA. After registering the name DOXA (which means "Glory" in Greek) in 1910, Ducommun started producing watches under that name. As an automobile enthusiast in the early 1930s, Ducommun spotted a hole in the market and started producing instrument panel clocks for cars and aircrafts. Famous automaker Bugatti's race cars of the era were equipped with DOXA clocks, featuring an 8-day movement that Ducommun patented in 1908. This would mark the beginning of DOXA's affiliation with the sporting and adventurous lifestyle, a theme that continues until this very day. 
After Ducommun's death in 1936, the company was taken over by Jacques Nardin. If that sounds suspiciously familiar, he was indeed the grandson of Ulysse Nardin, founder of that eponymous brand. Small world. DOXA continued producing watches, mostly of the dressy variety that were popular at the time, with some more innovative designs like the Bauhaus-inspired Grafic thrown in for good measure. 
By the 1960s, DOXA had grown into one of the larger Swiss watch manufacturers, with over 150 employees. With the growing mainstream popularity of scuba diving, DOXA decided that it wanted to produce a dive watch for the everyday diver, an affordable alternative to the Rolexes and Blancpains used by professional and military divers of the day. A dive watch for the proletariat, if you will. Putting together a research team to develop the watch in 1964, rigorous testing ensued. What they settled on was a large stainless steel case to enhance reliability and water resistance, a bright orange dial, which had proven to be the most legible in their underwater testing, and the now-iconic rotating bezel with no-decompression dive table printed on it. And just like that, a star was born.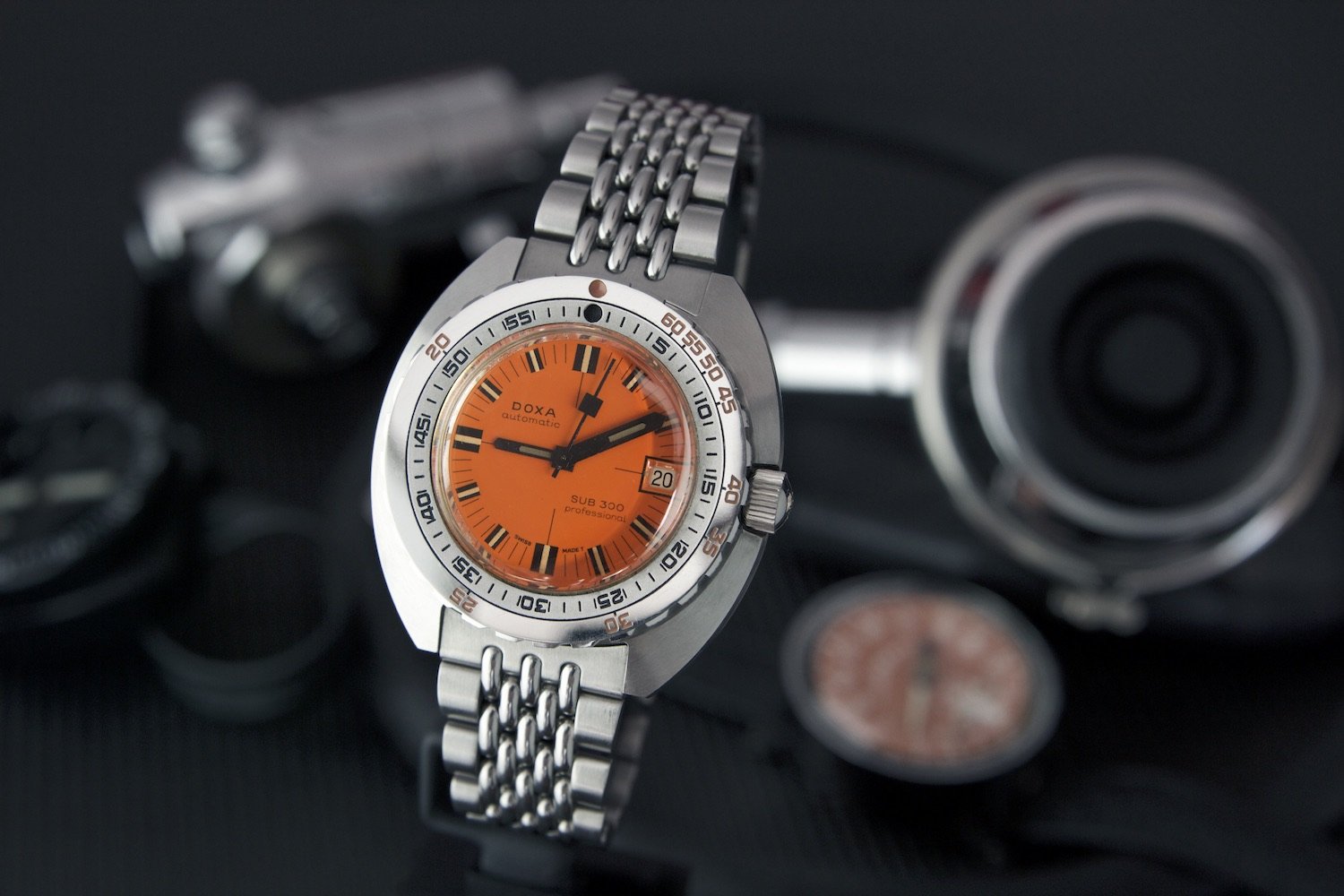 The DOXA Sub 300 was introduced to the world at the Basel watch show in 1967, and would soon be seen on the wrists of divers everywhere, amateur and professional alike. DOXA followed up the success of the Sub 300 with an array of dive watch models over the next decade or so, until ultimately falling victim to the quartz crisis like so many other Swiss watchmakers at the time. The brand stuck around, and found some success in the Asian market, but the days of the DOXA dive watch were over. 
Until 1999, when one Mr Rick Marei approached DOXA with an idea to re-release the Sub 300T, and to sell it online to enthusiasts, an unheard-of practice at the time. After a few years of discussion and design, the 300T was reissued and sold out quickly, followed by a slew of other successful re-releases from the back catalogue right up until the current day. 
This wild popularity of a watch that was designed over 50 years ago puts modern DOXA in an interesting position. Not wanting to be entirely reliant on their past catalogue, DOXA has released a couple of modern designs over the last few years (i.e. the Sub 200 and Sub 200 C-GRAPH) with mixed reactions from the watch community. On one hand, they are solid, capable watches at a reasonable price point, but on the other hand, they can't hold a candle to the charm and iconic looks of the watches from the 1970s. So what's a brand to do? 
DOXA took an unexpected approach with their next dive watch release, opting for a fully anachronistic approach. Mixing old design with radically new, 21st century materials in DOXA Sub 300 Carbon, the. It mixed the vintage dimension and design of that original watch from 1967 with a high-tech and ultra-lightweight forged carbon case and immediately, for DOXA fans at least, became the watch we never knew we always wanted. That successful release led to DOXA releasing forged carbon versions of the Sub 300 in every color of the collection, including the trademark orange of the Professional that we are taking underwater; but first, let's take a look at the specs.
The DOXA Sub 300 Carbon, The Basics
The DOXA Sub 300 Carbon features a 42.5mm diameter, 45mm lug-to-lug case that is 13mm thick and composed of forged carbon, with an internal titanium casing. A technology originally invented by Lamborghini for use in their automobiles, forged carbon is created by fusing chopped bits of carbon fiber, or "tow", into shape under pressure in a mold, unlike its sister material carbon fiber which is meticulously woven into shape. There is not much information from DOXA about their particular forged carbon process, so the generic explanation is the best I can do. The benefits of this material are being "up to 10 times stronger than steel" while being much lighter. The first statement I cannot vouch for, and I'm not sure what metrics are at play in that claim, but just being 1x as strong as steel would probably suffice, so I think we are safe. The second claim is certainly true, as this watch weighs in at just 45g without the strap, a full 40% lighter than its stainless steel sibling, which tips the scales at a downright obese 75g. 
The dial is the classic DOXA orange, known as the "Professional" colorway. It is bright and vibrant and looks absolutely killer in contrast to the smoky black of the watch case. There is lume at every five-minute interval, as well as all three hands, for maximum visibility. The dial is protected by the large, box sapphire crystal that the Sub 300 is known for. Encircling the dial is another DOXA trademark, the no-deco bezel, also rendered here in black, forged carbon. The inner ring has the standard, 60-minute count up markings, while the outer ring marks no-deco times for depths up to 190 feet. NOTE: I don't think these bezels are updated with current accepted decompression science, so probably best to not rely entirely on these numbers when diving. 
DOXA specs list the movement as a "Swiss mechanical automatic". Quite vague. Being an enthusiast-driven brand, it would probably be wiser to tell us specifically what movement is under the hood. Regardless, a small bit of detective work leads us to believe it is an ETA 2824 base (or its equivalent Sellita SW200-1). In either case, they are excellent, reliable workhorse movements so there is no reason not to tell us. Plus, in any case, the movement is certified chronometer by the COSC, so it's safe to say that it'll be precise. The movement is protected by a pressure-resistant titanium casing, and titanium is also used for the screw-in caseback and screw-down crown, to keep things watertight – of course, up to 300 metres or almost 1,000 feet.
The watch delivers on a dive-ready rubber strap in either color-matched orange or black, and is a definite high point. Made of FKM rubber that feels tough but terribly comfortable, it features a black PVD deployant clasp and therefore must be cut to size correctly, making for a perfect custom fit. And there is, of course, a ratcheting dive extension to help it fit over a wetsuit. Drysuit divers will need to make other arrangements. 
The Sub 300 Carbon on the Wrist
The DOXA Sub 300 Carbon wears like a supercar for the wrist. Fitting, since we have already mentioned Bugatti and Lamborghini in this article. It makes the stainless steel Sub 300 feel like wearing a Volkswagen thing by comparison. It feels sleek, light, and very high-tech. You may have heard before that the Sub 300 wears much smaller than its 42.5mm diameter would have you believe, and that holds true here as well. It's a combination of the tonneau case curving around the wrist and the dial being much smaller than the case that gives it a diminutive feel, more akin to a 39-40mm watch, in my humble interpretation.
The rubber strap completes the sleek, svelte package perfectly. If the alien suit that turns Eddie Brock into Venom included a watch, this is what it would look like. If even a few of you get that reference it will have been worth it. 
The Sub 300 Carbon under the sea
Modern dive watches generally fall into one of two categories. You have your vintage-inspired pieces, taking cues from the past and harkening back to the glory days of diving, when it was called skin diving, Cousteau was king and 36mm was a large watch. At the other end of the spectrum, you have your modern high-tech tool watches. They are generally bigger and chunkier with more bells and whistles like helium escape valves and bezel locks, etc… This is the first watch I can think of that fits squarely and completely in both categories. On one hand, it looks very much to the past, being one of the most iconic dive watches of all time, but on the other hand, it embraces the material science of the future. 
Its perfect blending of new and old make it the best of both worlds and a new favourite dive watch of mine. You get the same old-school diving romanticism that you get from a standard DOXA, but also the space-age, high-tech, gee-whiz feelings you would get from an ultra-modern diver, like the Oris AquisPro. Functionally it does everything you could want a dive watch to do. The strap's dive extension flips out easily to help you fit it over a wetsuit, the bezel has just the right amount of tightness that it won't easily turn by accident, but is grippy enough that it turns with ease when you want it to.
The orange dial and Super-LumiNova of the hands and indices make it highly legible, at depth of up to 60 feet at least, which was as deep as our dive went. The reduced weight is nice underwater as well, making the watch blend away so much that you forget it's there until you need a time check or you just want to look at it because it looks cool. I found myself doing the latter a little more often than I usually do. 
The brand has accomplished quite a feat with the DOXA Sub 300 Carbon. Rather than trying to improve an icon, they decided to grow a new and progressive branch off of its family tree. It was a move that no one really saw coming, and with that kind of outside-the-box thinking, I can't wait to see what they might do next. The watch is now available from the brand's website at EUR 3,790 or USD 3,890. 
https://monochrome-watches.com/doxa-sub-300-carbon-professional-in-depth-dive-watch-underwater-review-price/