The Collector's Series
Collector Gaurav Shines A Light On The Unusual Patek Philippe Neptune
Patek Philippe isn't only about coveted icons, but sometimes also about being daring and different…
When you think about sporty Patek Philippe watches in stainless steel with aquatic references, names such as Nautilus and Aquanaut will be at the centre of the conversation. Both iconic models, both highly coveted, both around for several decades. But there's another watch that completes the trilogy. A watch that is much rarer and far less conventional. Still, beauty is in the eye of the beholder, and Gaurav Rekhi (@HighendTime on Instagram), a long-time Patek Philippe admirer, perfectly summarises this. Although he loves his Nautilus and his Aquanaut, it's his Patek Philippe Neptune 5085 he highlights for our Collector's Series.
Frank Geelen, MONOCHROME – How did you personally get introduced to the brand? 
Gaurav Rekhi – "You never actually own a Patek Philippe. You merely look after it for the next generation" is what the ad said, and I, being a young banker on Wall Street in the summer of 1998, was completely hooked.  Like many other lovers of horology, this was my first introduction to the most prestigious watchmaker in the world. That message stayed with me for a while and continued to haunt me – what were they really selling; not just any watch but something much greater and timeless that could even outlast us and be passed down to the generations to follow! Although I didn't really buy one at that point, this emotional proposition of tradition and inheritance that the ad so aptly conveyed had a lasting impact!
What is it you admire about this brand in general?
Imagine an obsessive focus on quality, unlike anything you have ever witnessed. So obsessive that even an inconspicuous gear wheel requires 40 steps to hand-decorate. Now top this up with a lot of tradition, given Patek's 180 years-plus of continuous watchmaking history, and then add unmatched expertise. From standard complications like chronographs, a second time zone, to sophisticated masterpieces that include minute repeaters, tourbillons and rattrapantes, Patek is often the standard against which most other brands are measured.
We are talking about one specific model. Why is this one your favourite?
There are many Patek models that can be called favourites, starting with my very first Patek Nautilus (5712), which was a grail watch for me until I finally managed to get one from Patek Philippe in Hong Kong. I could go on forever about why this is one of my favourite models and how long it took to acquire one, but the Nautilus isn't what I have chosen to profile in this article. 
There is another model that also has a stainless steel case, integrated bracelet, screw-down crown, an identical movement and is, in fact, even rarer, having been produced for two to three years with a shorter production run. Nope, it isn't the Aquanaut either (although I love mine) but the much rarer third pillar in Patek's aquatic luxury steel sports series: the Neptune 5085.
Introduced in 1998, this was Patek's first complication in stainless steel pre-dating the Nautilus 3712 by seven years. Other than its neo-classical design, I love it for its versatility; even Patek deemed it "ideal for sportswear and, at the same time, the perfect dress watch", and it really is equally at home with jeans and a T-shirt as it is under a dress cuff with a finely tailored bespoke suit.
Since when has the Neptune been a watch you desired to possess?
I was never actively seeking this model after having owned more than a few Pateks, including the coveted Nautilus, but as I always say, if you truly do love watches, you don't need to find them; they will find you!
I think it was the bracelet that did it. It's ironic that some of the most interesting design elements in a watch manifest through bracelets, yet it is usually an area that doesn't get adequate attention. The design borrows from the classic 1940s Gay Frères "beads-of-rice" bracelets, which were ironically made for and supplied to both Patek Philippe and Vacheron Constantin in the 1940s and 1950s. Some also see a design similarity with "fish scales" in keeping with the nautical theme, but either way, the intricately hand-crafted links and how this bracelet sits on the wrist are just captivating.
Do you remember buying it?
The best watches are acquired at the spur of the moment, completely unintended during friendly catch-ups over (or rather after ;p) some fine wine, and this was no exception. A close friend of mine and a fellow collector who writes for one of the most popular fashion and lifestyle journals and I were catching up and discussing watches (as we WIS often do), and I ended up buying his "never-worn" Neptune as soon as I had tried it on my wrist; the watch felt that good. 
The watch was practically unworn, as you can see from the pure white outer track lume plots that could patina with the passage of time unless the watch is like new and single-sealed for most of its life like this one was. It also helped that, unlike the Nautilus, this gorgeous bracelet had screws, not pins, and so seemed to be surprisingly better built and more robust.
And now you own it; do you also keep it locked away?
No, I wear it. It's a near-perfect blend of luxury (given the svelte dressy look) and sports casual (given the integrated steel bracelet and complicated black dial), so it does get good wrist time and is a near-perfect choice when I'm out for a coffee or breakfast or at a formal occasion at work that might require a suit.
It also gives off this bespoke artisanal air but with a good amount of toughness since it is a stainless steel watch, so not as easy to scratch as a precious metal timepiece. Of course, it doesn't help that it costs more than a gold timepiece from some of the other brands, but it does hold up a lot better, so the price is well worth it.
And what price is that?
Given this has nearly all the elements of the modern complicated Nautilus yet can be bought for a quarter of the price makes this the best-kept secret in steel sports Patek Philippe watches. I got a relatively decent deal but did pay a bit more than market, given its white lume plots and practically new old stock condition.
Another fact that may not be well known is that Patek's policy is to limit its entire steel watch production to 25% of its total production. The majority of these are the ladies' quartz models, which makes steel the rarest production metal for Patek over its illustrious history. If we look at the Nautilus, which was first produced in 1976, most dealers are lucky to get one or two a year. Some get none. 
With the Neptune, we are only looking at a three-year production run, making this arguably among the rarest steel Patek models. In fact, a recent auction house mentioned that the black dial is "One of 87 pieces known", which was a bit eye-opening!
Tell us about the reactions you get when you wear it.
The Neptune epitomises subtle elegance and isn't as in-your-face as its more popular elder brother, the Nautilus, so whilst it usually flies under the radar given its size, it is almost always noticed by true watch collectors and the real watch lovers amongst us, which I have grown to love. 
Some of them are wild! I once met a fellow collector who also owned this model and who was convinced that the lume plots should be custard yellow instead of white; the reason for his insistence escapes me, but he kept mentioning age and physics!
We decided to take the discussion to the PP service centre in Hong Kong, which checked his watch and found that it hadn't been adequately waterproofed (after its last service from an independent watchmaker), which explains why the lume plots had yellowed with age. For my Neptune, on the other hand, Patek confirmed that it was in pristine condition (as it was when I bought it) and had never been polished, opened or serviced, which is why the lume was as pure white as the day it left the factory; testament once again to that legendary Patek quality. This also exposed me to the massive role condition can play when acquiring timepieces from this period. 
Do you have other watches in your collection dating from that era?
When I first started watch collecting a few decades ago, the majority of my collection was hyped modern watches from the usual brands, and I didn't own any vintages. Today, it's almost entirely the opposite, with vintages and especially neo-vintages being the focus of my collection. 
I am especially enamoured by neo-vintage watches from the early 1980s to the 1990s, a period that combined the elegance of classic design with the resilience and solidity of modern production techniques. Brands like Daniel Roth, Roger Dubuis and Franck Muller saw their best work and their most limited releases during this time, and this is what seems to have become the mainstay of my collection.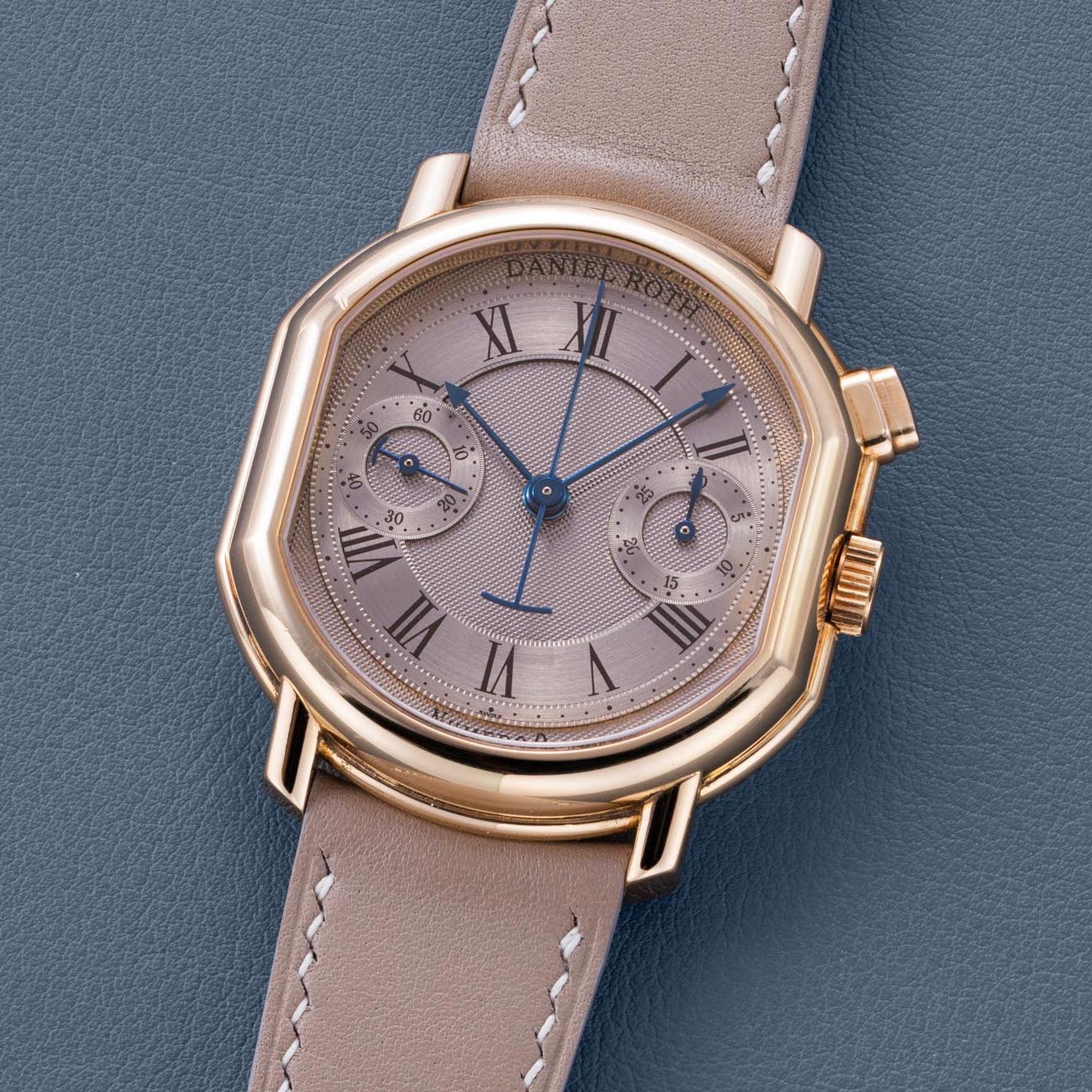 Are there any more watches on your wish list? 
I am known in the watch community for my fondness of neo-vintage rarities from maisons like Roger Dubuis, Daniel Roth and vintage Franck Muller. With these on the rise and getting unattainable (especially Roth and Dubuis), I have recently also turned to vintage Breguet, which was also heavily influenced by Roth. I believe it represents one of the best investments considering the rarity and quality. I'm now on the lookout for a Lemania-based tuxedo dial 3237 (which I first saw here on  MONOCHROME) and which is one of my ultimate grails; not at all a simple undertaking since I believe there are just a handful made. But one can dream…
Of course, more first-generation Roth models are always an aspiration as well, and I recently acquired an uber-rare first-generation skeleton chronograph that was hand-engraved by the Master himself and which has become one of my most cherished pieces.
Finally, what are your tips for other (starting) collectors?
The great poet Rumi said it best with the age-old quote: "What you seek is seeking you", and my watch-collecting experience has been no different. I do believe that if this is a true passion for you as a collector, the watches you covet will find you – no better example of this exists than in my own personal journey where some of the rarest watches I had no hope of acquiring at all now form an indelible part of my collection. So my only advice to all collectors is to follow your heart and buy what speaks to you as opposed to what the world appears to be hyping at the moment.
An extensive network helps, of course, are you in touch with other collectors?
The watchfam is truly a family, and it still amazes me how two complete strangers are instantly united and act as long-lost siblings at a first meeting over their watches! Relationships are so pivotal to the collecting experience, not only to help you facilitate your search for that next grail piece but also to help you immerse yourself in the joy of collecting – I love connecting across borders with close friends and fellow collectors (many of which are featured right here on MONOCHROME) to discuss upcoming trends, diverse perspectives and stories of watches that we got and those that got away…
https://monochrome-watches.com/collector-series-interview-gaurav-brings-the-light-on-the-unusual-patek-philippe-neptune-5085a/