Eric Clapton's Patek Philippe Perpetual Calendar Chronograph ref.2499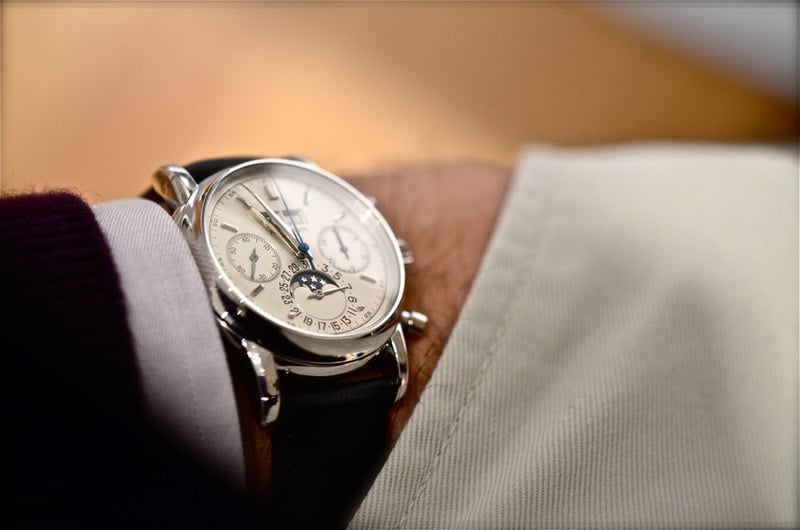 From time to time, there are articles written about our favorite topic, articles that are truly great and a must read. Ben Clymer, executive editor from Hodinkee, just wrote such an article. An article that shares great knowledge, interesting facts and passion all in one story. 
This story is about the only platinum Patek Philippe ref. 2499, a perpetual calendar chronograph, that is in private hands. In the hands of nobody less that Eric Clapton, who is single-(slow)-handedly responsible for me starting to play guitar. By now most of my friends have forgiven him, so I'd like to highlight another passion we have in common… watches and in this case a particular watch he offers for sale at the upcoming Christies auction in Geneva.
On Monday November 12, Christies will be auctioning the only platinum Patek Philippe 2499 in private hands, making this an incredibly rare moment for collectors from around the world. It's like a rare painting or a Chinese Ming vase, although this particular Ming vase (click here) that was part of the Meinyintang collection was auctioned for a staggering 21,6 million USD. That makes this Patek 2499 look almost affordable, with a pre-sale estimate of $2,700,000 to $4,200,000.
One more wrist shot of this stunning Patek perpetual calendar chronograph on Ben's wrist and then hop over to Hodinkee's "Letters from the editor"-story about this Patek Philippe ref. 2499.
For this Patek 2499 and other watches on auction, check out the Christies online catalog (or download it) here. The auction will be in Geneva on November 12.
This article i written by Frank Geelen, executive editor for Monochrome Watches.
https://monochrome-watches.com/eric-claptons-patek-philippe-perpetual-calendar-chronograph-ref-2499/