Buying Guide
The Most Sought-After Royal Oak Models in Collection – And the Sad Reality of the Market
The reality of an investment-driven market and the watch that actually started it all.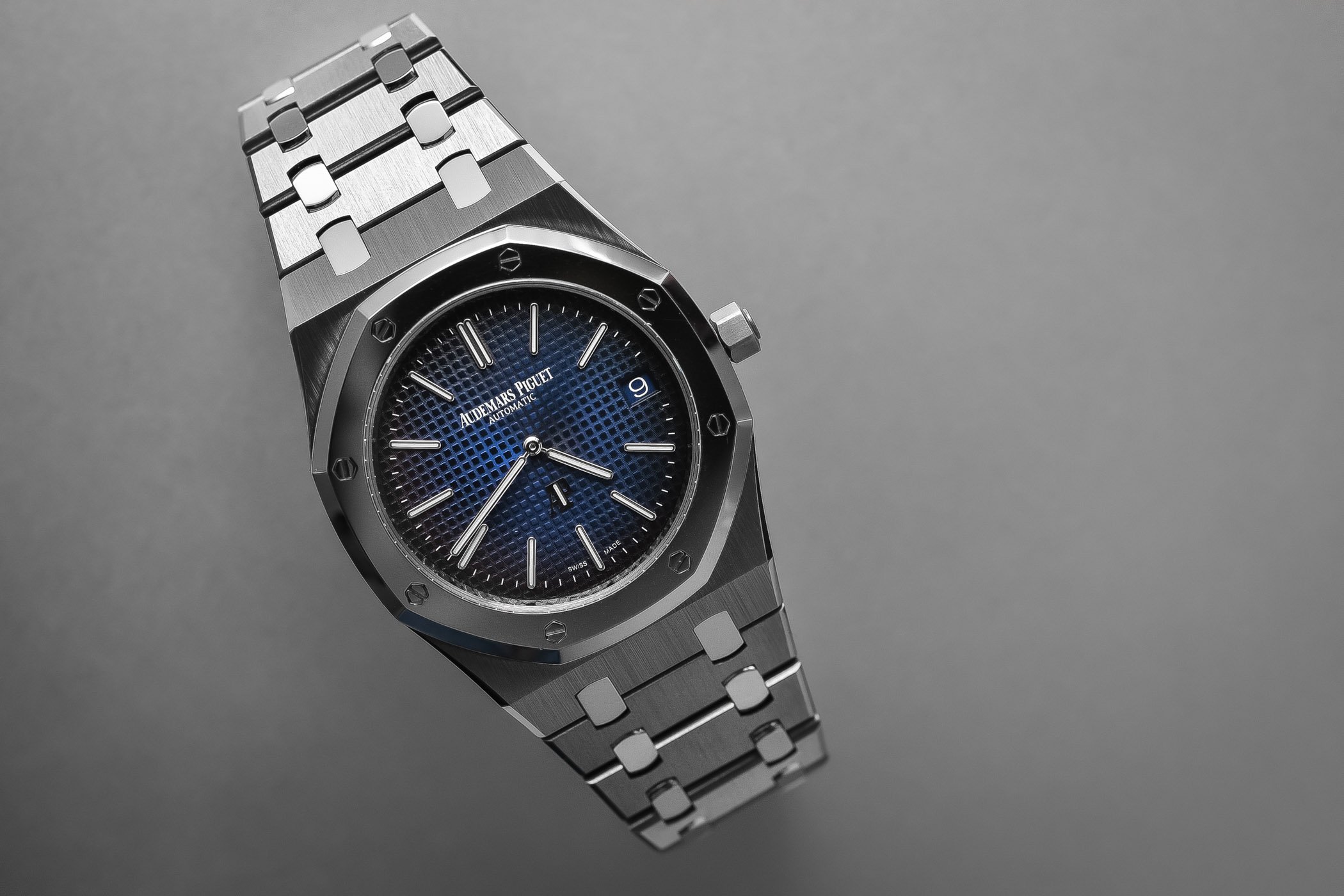 After we look at the most desirable models in Rolex and Patek Philippe catalogues, and the reality of the market – understand, the premium you'll have to pay to get your hands on these watches, without waiting for years – it is time to go full circle and to give an end to the speculation story… And that means looking at THE watch that actually started it all, the watch that, back in 1972, created the trend for luxury sports watches, so-to-say today's hottest watch category; the Audemars Piguet Royal Oak, of course. So here are the most sought-after Audemars Piguet watches in collection – all being Royal Oak models – and the reality of what you'll need to pay if you want one, right now. 
The 15202ST might not suffer the same insane premium as a 5711 but that doesn't mean it will be easy to get one (and not cheap either)
You must know the deal… Back in 1972, a man named Gerald Genta went to see a certain watch manufacture, part of the so-called Holy Trinity, a company renowned for its delicate, high-end, complicated and elegant dress watches with a brand new concept: the luxury sports watch. This concept was, back in the days, properly disruptive. Imagine a stainless steel watch, more expensive than a dress gold watch, with a relatively robust, water-resistant and shaped case and integrated bracelet, an avant-garde design, an ultra-thin, Haute Horlogerie movement and a refined, textured dial. The Royal Oak was born, with the 5402ST A-Series. Needless to say, the watch made some noise. And this concept will be followed for the decade to come by most established watch brands: Girard-Perregaux, Vacheron Constantin, Patek Philippe, Omega, Rolex, IWC, Piaget, Seiko and more…
Ad – Scroll to continue with article
The Audemars Piguet Royal Oak is the definitive luxury sports watch – for more details about what is a luxury sports watch, check this guide here – and this category being on everybody's mouth these days, it sits high on wishlists, next to its all-time competitor, the Patek Philippe Nautilus ref. 5711 – two watches made by top-tier watchmakers, both designed by Genta, originally equipped with the same movement, carrying the same spirit and launched respectively in 1972 and 1976. The demand for such watches being very high these days, there's no denying the increasing interest of watch enthusiasts for Audemars Piguet and its Royal Oak collections… And the interest of flippers, investors, speculators too (sadly.)
However, on the contrary of Patek Philippe which suffers speculation on most Nautilus models – whatever the complication or the material – Audemars Piguet's case is different. At Patek, this situation concerns altogether 6 to 8 references for the Nautilus and 5 to 7 references for the Aquanaut – not that the latter is particularly popular, but the shortage of Nautilus watches had an impact on the Aquanaut. For AP, "Royal Oak" actually means 3 sub-collections, if you include the Offshore and the Concept models, and close to 180 references. And not all of them are concerned by speculation. In fact, it mostly concerns a handful of references… but those really suffer shortage and, incidentally, premiums over retail prices.
The classic: Royal Oak Jumbo Extra-Thin 15202ST
As with Patek Philippe and its signature watch, understand here the watch that is the direct descendant of the original model, most of the fame around the Audemars Piguet Royal Oak is due to the "Jumbo" Extra-Thin 15202ST. This watch is the modern interpretation of the original 5402ST, down to its shape, its 39mm diameter, its integrated steel bracelet, its "petite tapisserie" blue dial and even its movement, which is an upgraded version of the one found in the 1972 watch. Faithful, superbly executed, bold and classic at the same time, but also rare. Audemars Piguet is well aware of the desirability of this very watch, which is, in its steel version, only available under a single reference – 15202ST.OO.1240ST.01 – and voluntarily produced in low quantities.
As such, the demand remains higher than the production, keeping the desirability of the model on the rise. The Royal Oak Jumbo Extra-Thin 15202ST is now a boutique only edition and is almost impossible to find new in stock, despite a retail price of approximately EUR 25,000. Thus, it suffers speculation and premium.
However, on the contrary of the Nautilus, there are alternatives to the Royal Oak Extra-Thin. Audemars Piguet indeed produces another steel, automatic, time-and-date version of the RO, the reference 15500ST – in black, blue and grey – and that is slightly easier to find. Also, on the second-hand market, you'll be able to access references 15300 (39mm) and 15400 (41mm) for prices substantially lower than a 15202ST. Certainly, these watches are thicker, larger, slightly less refined and less faithful to the original concept, but they remain great alternatives.
The reality: It is today almost impossible to acquire an Audemars Piguet Royal Oak Jumbo Extra-Thin 15202ST new, at retail price, without waiting over 2 or 3 years. As a result, and because some potential customers (not necessarily true watch enthusiasts, as we've already mentioned) don't want to wait, this specific reference is only available at a premium. The average price for a current 15202ST.OO.1240ST.01 is about EUR 38,000 to EUR 40,000, a 55% premium over retail. As an alternative, you can look for a pre-2012 reference with framed date window and larger pattern on the dial, which can be found in the low 30k.
The rare 15202 Models (Salmon and Titanium)
There are currently 7 Audemars Piguet Royal Oak Jumbo Extra-Thin 15202 in collection; 2 in yellow gold, 1 in rose gold, 1 in white gold with diamond-paved case… and two other models that will be the topic of this section. These two watches are not only superb – and thus intrinsically desirable – but they are also known to be extremely limited in production – one of them being a limited edition of 250 pieces, the other isn't per se limited but its production is below 100 pieces a year.
The first model in question here is the Royal Oak Jumbo Extra-Thin 15202IP, a watch technically identical to the ST model, yet with a brushed titanium case and bracelet, a polished platinum bezel and centre links and a superb gradient blue dial. As being limited to 250 pieces only, and since it became a star of Instagram, this watch became extremely sought-after. Don't expect to find one at boutiques, as it is probably sold-out now. The retail price is approximately EUR 35,000. The reality: scarcity is key in this market and as a consequence, the 15202IP suffers an impressive premium. Only a handful of models are listed on Chrono24 and prices seem to be around EUR 70,000, thus a 100% premium over retails.
Another model that has extremely high desirability is the Royal Oak Jumbo Extra-Thin 15202BC. This version has been presented this year at the SIHH 2019 and features a white gold case and a pink-gold coloured, salmon-like dial. Knowing that both the RO and salmon dials are hot these days, you can easily imagine the reaction of collectors. This watch is a boutique exclusive, which isn't limited but it will be produced in only 75 pieces this year. Retail price is approximately EUR 56,000. The reality: Finding a Royal Oak 15202BC is almost impossible since allocations are so low. In fact, no watches are even listed at the time of publishing (except one, at EUR 780,000… but that can't be serious).
Royal Oak + QP + Ceramic
Last but not least, let's talk serious watchmaking, with the complicated, superbly executed, bold-looking and rare Royal Oak Perpetual Calendar watches in ceramic – all three models currently in production. This concerns the Perpetual Calendar Black Ceramic reference 26579CE.OO.1225CE.01, the Perpetual Calendar White Ceramic reference 26579CB.OO.1225CB.01 and the recently presented Perpetual Calendar Openworked Black Ceramic reference 26585CE.OO.1225CE.01.
All three watches are both complicated in and out – especially true for the Openworked version. Indeed, not only these watches feature a complex perpetual calendar automatic movement but their cases and bracelets are made entirely in ceramic, which in the case of the Royal Oak, and knowing Audemars Piguet's quality standards, is far (really) from a simple task. As such, these 3 watches are boutique exclusive and produced in low volumes – note that none is limited neither numbered.
As a consequence, finding one of these 3 watches requires patience (of you want to go the legit way) or a loaded wallet (if you go the unofficial way). The reality: while we can't tell yet for the Openworked version, the two other Royal Oak Perpetual Calendar Ceramic suffers an impressive premium on the second-hand market. While the retail price of these models is approximately EUR 95,000, the black model is hard to find under EUR 120,000 and the white model easily requires EUR 150,000.
---
Concluding words on this situation
The following statement goes for Rolex, Patek Philippe and Audemars Piguet and reflects feelings on this entire speculative market. We, at MONOCHROME, love watches and the idea that true enthusiasts and collectors exist – those who are driven by passion, who enjoy watches because they are mechanical object manufactured by women and men devoted to their work. In this instance, this situation makes us sad.
These watches, produced by 3 great watchmakers that are now more suffering this situation than really benefiting from it, have become commodities, investment vehicles destinated to people with no or low interest in watches, under the influence of opportunistic sellers and so-called flippers. These 3 brands can't be blamed, as they are all trying to kill this situation – some by controlling the distribution, some by increasing the production (in Rolex's case). Still, it doesn't seem to have an effect yet and the market is currently suffering a speculative bubble – an artificial situation that isn't really tangible. Needless to say, this has a bad impact on the image of these watches, on the companies that produce them and on the entire industry. Hopefully, the bubble will explode sooner or later… And passion will be the only reason for buying these great watches, whether it is a Rolex Daytona, a Nautilus 5711 or a Royal Oak 15202ST – because indeed, these are some of the best watches currently produced. Just don't get them because Instagram told you so…
https://monochrome-watches.com/buying-guide-the-most-sought-after-royal-oak-models-in-collection-and-the-sad-reality-of-the-market/