Buying Guide
The 5 Most Sought-After Rolex Models in Collection – And the Sad Reality of the Market
Desirability + shortage at retailers = investment potential and leads to take your wallet out and buy at premium.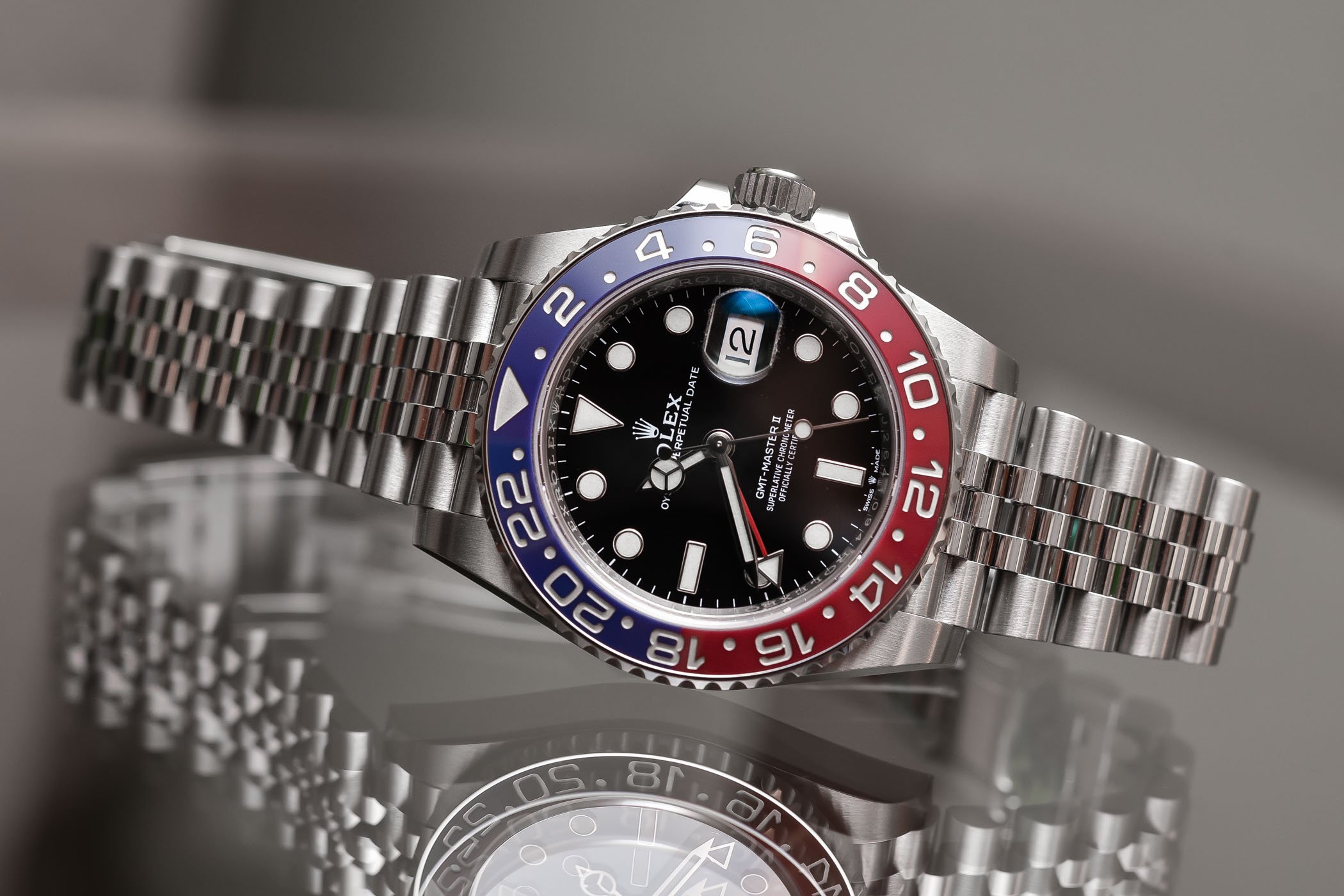 The following buying guide is one that I'm not particularly fond of writing, not that the topic isn't desirable (on the contrary) but behind these watches hides a market reality that needs to be told… Rolex has always been hot, but recently, some of its watches have become inaccessible. The scarce availability of certain Rolex models at official retailers has fostered a rise in value on the second-hand (or most likely, grey) market. So here are the five hottest Rolex watches now in collection and the truth behind them, meaning what you'll have to pay if you want to skip the waiting list.
All of us at MONOCHROME, love watches. We truly love them, we're passionate about them, we love to wear them and we love to collect them. This shared passion was the reason behind the creation of our "magazine dedicated to fine watches". This statement implies that we also want our readers to enjoy watches, to be able to acquire them and to be able to enjoy wearing them… And not to hide them in a safe to become an investment vehicle, which is what Rolex has become recently. Truth be told, this situation (well-known by most watch enthusiasts) is a sad reality, which weighs on passionate collectors who want to enjoy these watches and not participate in this speculative bubble.
We're not going to debate the reasons why this situation came about. It involves multiple actors, from the retailers, the grey-market dealers, some opportunist collectors (the so-called 'flippers') and people who actually may not have a real enthusiasm for watches. Will this last? Well, unfortunately, we can't tell but everything comes to an end. Do we encourage you to buy these watches at a premium? Not really, however, if you have an uncontrollable itch and you're able to afford these watches, it is your money after all. So, why not? But before, be prepared and know what to expect.
Ad – Scroll to continue with article
Note that the five following watches are currently almost impossible to get at the listed RRP, from an official retailer, without being on a waiting list. Paying a premium at a non-official Rolex watch seller is thus the way to go if you want one immediately. Sadly.
Rolex Daytona Steel 116500LN
The steel Daytona has been a hot commodity since the introduction of the in-house calibre 4130. Fact is that, during the 1970s and 1980s, the Daytona wasn't sough-after, at all. But the situation changed in 2000 when Rolex introduced its own movement, creating a shortage on the steel versions of this model. The real turning point was when Rolex introduced the Panda dials/black ceramic LN versions in 2016. This watch, with its well-dosed vintage influence, immediately became a success, which resulted in extremely high demand at retailers and interminable waiting lists.
Bear with us, the desirability of the Steel Daytonas 116500LN is justified. This watch has never looked so good and is, in almost all aspects, a winner. The quality is superb, the dials (white or black) are great, the movement is performant and the black bezel makes it cooler than ever. Problem is, too many people are now aware of it and the availability at retailers is close to zero (if not zero).
Reality: The demand for the Daytona Steel/Ceramic is still extremely high, even three years after its introduction. It might be the most sought-after Rolex to date and this has a direct impact on the real market price. While it retails for EUR 11,350 or USD 12,400, expect to pay a minimum of EUR 20,000/USD 22,000 for a black dial model and EUR 23,000/USD 25,000 for the white dial version. This results in a solid 100% premium over the RRP.
Rolex GMT "Pepsi" 126710BLRO
The GMT was and still is one of the cornerstones of the collection since its introduction back in 1954. The current collection is based on the evolution launched in 2005 with the ref. 116718LN, comprising a redesigned case, a ceramic bezel and maxi dials. Later the steel/black dial LN model would follow. If this watch was well-received, it wasn't an immediate success and remained relatively accessible at retailers. Then came the two-tone, blue-and-black "Batman" BLNR model in 2013, which started to create fame around the GMT. It was hard to find a new model in stock and second-hand models were already sold at a premium.
In 2015, Rolex reintroduced the Pepsi, a version with red-and-blue bezel, faithful to the original 1954 version… Sadly, it only came in white gold, producing great frustration among collectors. BUT, Baselworld 2018 saw the launch of the 126xxx series, with a new movement and mainly, the return of the Pepsi bezel on a steel watch and the arrival of the Jubilee bracelet on the GMT. No need to say, success was immediate, demand became crazy… prices too.
Reality: One year and a half after its introduction, the Steel Pepsi 126710BLRO is still highly sought-after, just like any steel model in the GMT line (including the older 116710LN, which are now discontinued but sell over retail). While the RRP is EUR 8,500 or USD 9,250, prices on the second-hand market are about EUR 17,000/USD 18,500, again a 100% premium over retail.
Rolex GMT "Batman" 126710BLNR
As we mentioned, the popularity for the GMT models started when Rolex relaunched the steel Pepsi in combination with the (clearly cool) Jubilee bracelet. This year at Baselworld, the brand announced that the entire collection will feature two-tone bezels, thus discontinuing the LN model but updated the blue-black version BLNR, a watch nicknamed "Batman". The concept was the same as with the Pepsi: new movement, new ref. number in 12xxxx, new Jubilee bracelet. And the demand for this version immediately rose, without having an impact on the demand for the Pepsi.
Reality: Just like the BLRO version, this "Batman" BLNR is almost impossible to find new at a retailer, with a retail price of EUR 8,500/USD 9,250. And just like the BLRO version, the price on the second-hand market is high, at around EUR 15,500/USD 17,000 – a bit under the Pepsi, confirming that the blue-red model is the definitive model.
Rolex Submariner "Hulk" 116610LV
No need to present the Submariner, which is probably the most iconic watch in the entire industry. It is available in multiple versions, including steel, steel-and-gold, yellow or white gold. However, if we look at the three steel editions – 114060 no-date, 116610LN date and 116610LV – these are again rare commodities at retailers. The wait for having one is long, especially for the green "Hulk" version, which has always been in demand. This model is rather unique in Rolex's collection and, with its bold green bezel and dial, gained collectable status.
Reality: The shortage of steel Submariners isn't new but the situation is getting worse since all the steel, professional Rolex watches are seen as investment vehicles. Even though it is not a rare watch, the Submariner "Hulk" 116610LV, which retails at EUR 8,300/USD 9,050, is impossible to find on the second-hand market without a premium. Expect to pay around EUR 14,500/USD 15,000 for a used model with box and papers – and add 1K to the total for an unworn model. This makes a 75% premium over retail.
Rolex Sky-Dweller Steel 326934
The last watch in this selection came as a surprise. Indeed, the Sky-Dweller, Rolex's most complex watch introduced in 2012, isn't part of the professional collection. From 2012 to 2018, this watch was only available in gold (on a leather strap or gold bracelet) and, as such, wasn't really sought-after. But at Baselworld 2018, Rolex introduced the Rolesor models, including this ref. 326934 mostly in steel (case and bracelet), with a fluted white gold bezel. Suddenly, this watch became hot and demand rose – particularly for the blue dial version, as the demand is lower on the black or white models. As a result, it is now hard to find one at a retailer and prices are getting higher these days.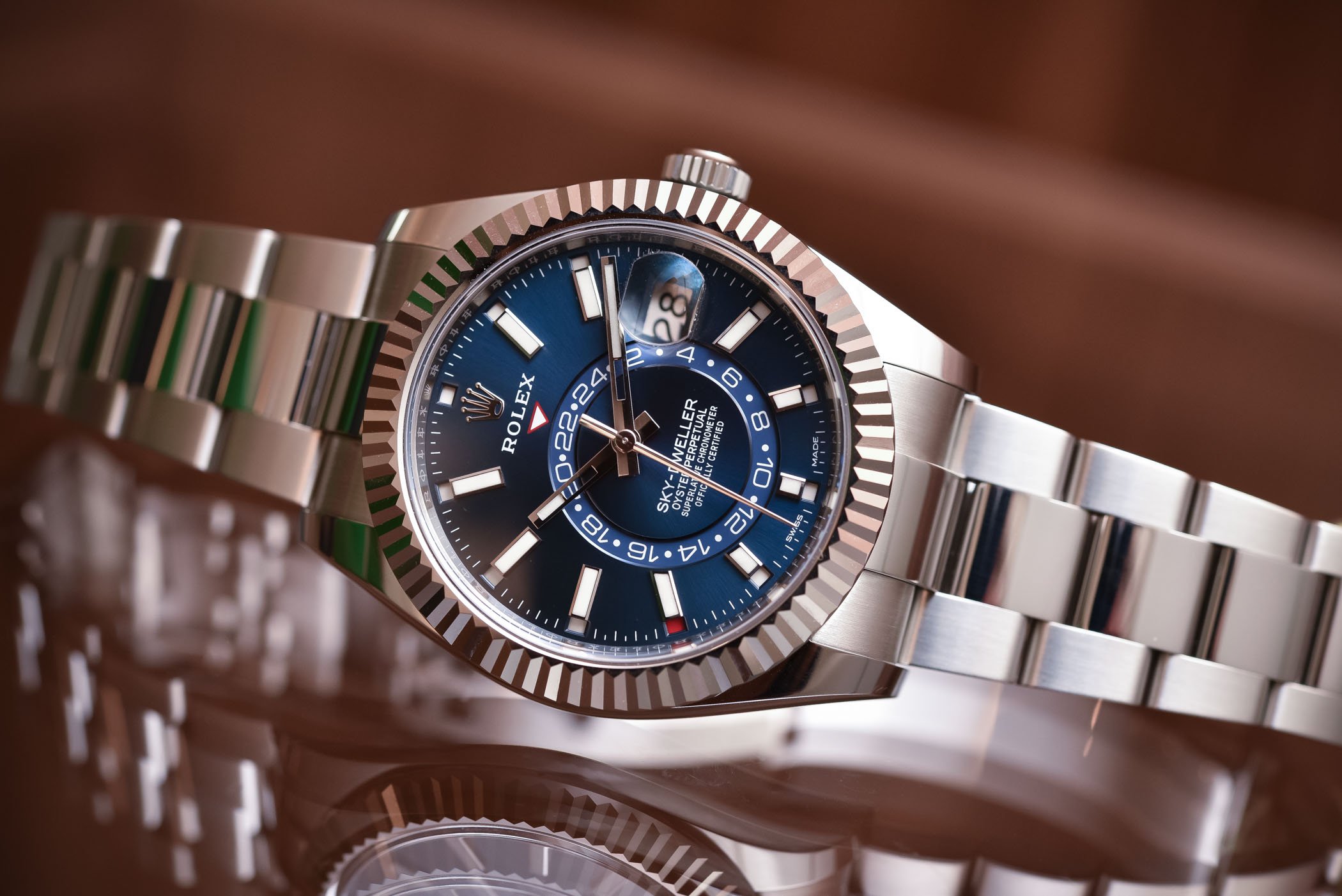 Reality: While the gold models were in the 30k range, the Rolesor ref. 326934 retails for EUR 13,050/USD 14,400. However, if you want a blue model right now, the second-hand market price is around EUR 21,000/USD 23,000, meaning a 60% premium.
https://monochrome-watches.com/the-5-most-sought-after-rolex-in-collection-and-the-sad-reality-of-the-market/