Buying Guide
5 of the Most Iconic Luxury Sports Watches You Can Buy in 2018 (and one accessible alternative)
Born in the 1970s, disruptive but no less iconic...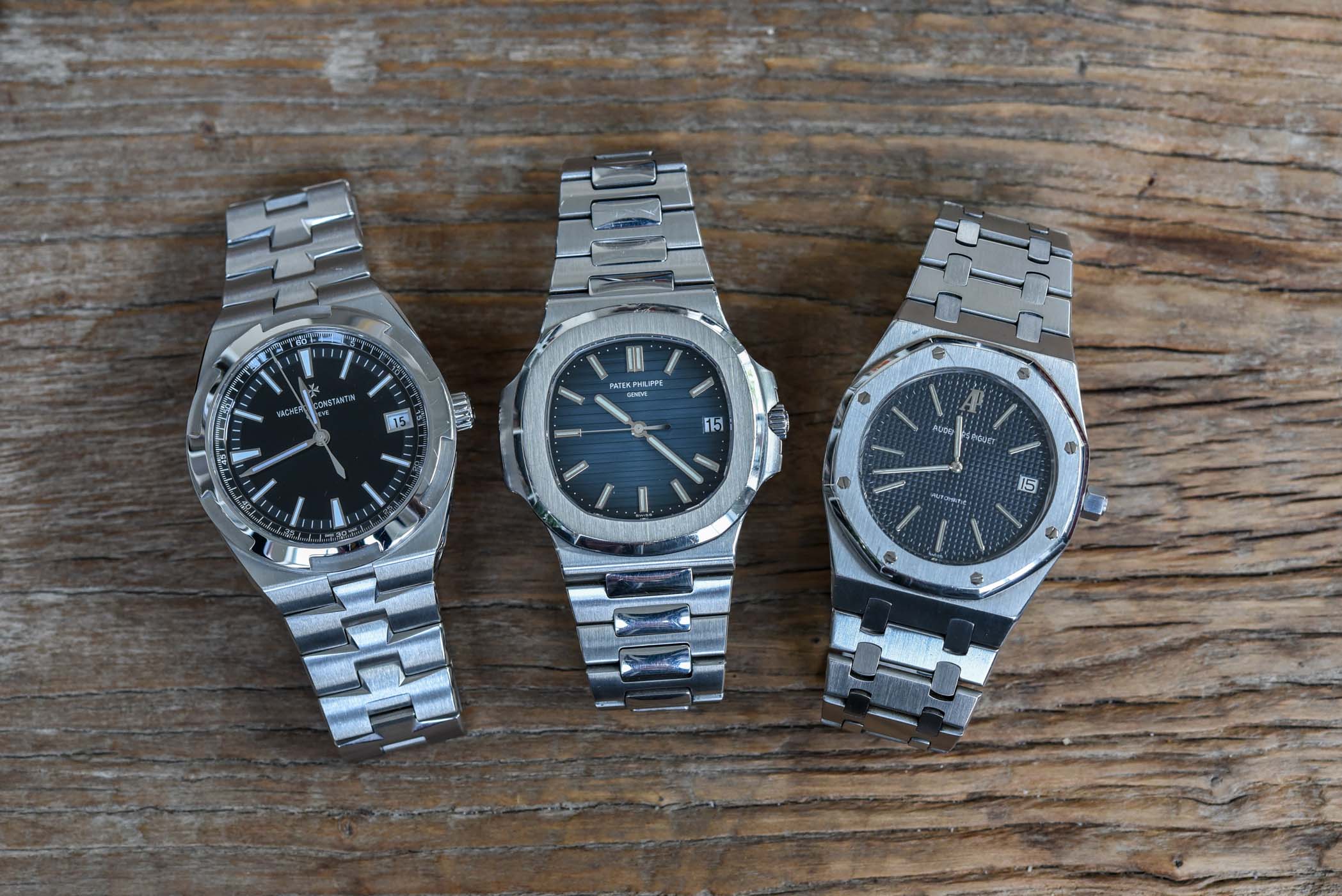 Just like we did with chronographs and dive watches, it's now time to look at the current hottest watch category: the luxury sports watch. Born in the 1970s as a truly disruptive concept with deliberately provocative ads – remember those ads claiming "a steel watch more expensive than gold"? – luxury sports watches are on fire at the second-hand market. Since our buying guides only take the best of the best, here are the 5 most iconic luxury sports watches you can buy in 2018 – or at least, dream to buy, as some are close to being unattainable.
Ad – Scroll to continue with article
Note: as always, this list isn't exhaustive. Please feel free to add your favourite watches in the comment section at the end of this article.
What is a "Luxury Sports Watch"?
While the concept behind a dive watch or a chronograph is pretty easy to understand, the luxury sports watch category needs to be explained. Certainly, there's no official definition of what comprises a luxury sports watch but this is how we, at MONOCHROME, see it. A luxury sports watch is a high-end watch combining a refined, ultra-thin automatic movement with a sporty stainless steel, robust, water-resistant case incarnated by the Royal Oak watch created by Gérald Genta in 1972. The case of a luxury sports watch is usually a shaped case (no traditional, round cases with protruding lugs here), often a tonneau shape, integrated lugs and an integrated steel bracelet.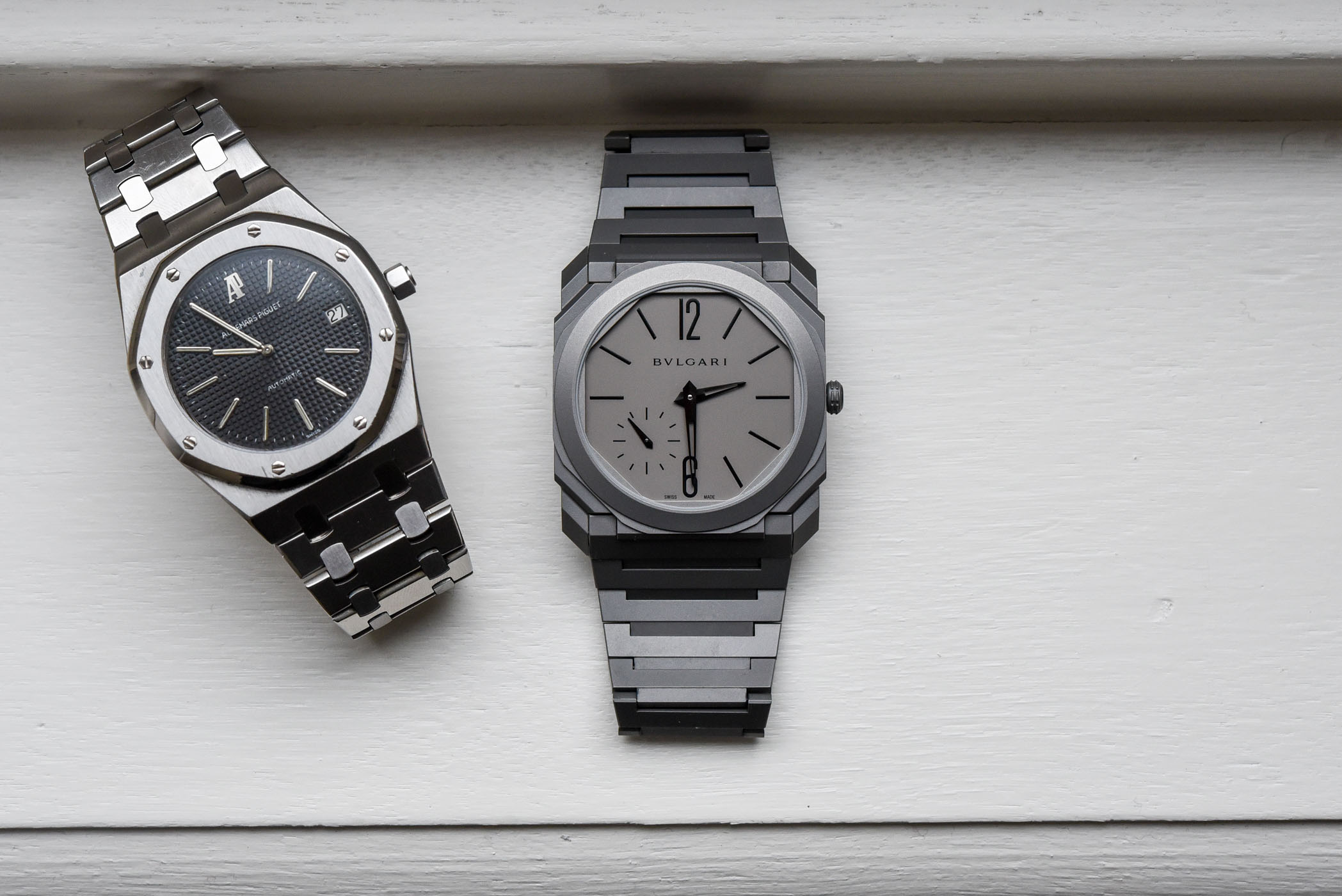 These watches are luxurious but bold, overly designed, ultra-thin but still wearable on a daily basis thanks to their robust-enough cases. The first watch launched was the 1972 Audemars Piguet Royal Oak. The two other members of the Holy Trinity, Patek and Vacheron, followed a few years later with the Nautilus and the 222 (which later became the Overseas). Multiple brands relied on the concept – Rolex with the Oysterquartz, IWC with the Ingenieur, Seiko, Omega and more. Few reached an iconic status but the 5 watches we have chosen, tick all the boxes.
Audemars Piguet Royal Oak Jumbo Extra-Thin
If there had to be one and only one, it would be the Royal Oak. Not that the other watches don't deserve to be here, but the RO is the mother of all luxury sports watches, the one that put this genre on the map, back in 1972. With its octagonal bezel on top of a tonneau-shaped case, its integrated bracelet with a chain-like profile, its ultra-thin movement and its delicate hand-guilloché dial, it has become a classic. Hundreds of editions have been created since its inception, however, in our book, one truly deserves iconic status: the "Jumbo" 15202.
Available in steel, yellow gold, red gold or in a brand-new and desirable combination of titanium and platinum, the Audemars Piguet Royal Oak Extra-Thin ref. 15202 is the version that is most faithful to the original: 39mm case, ultra-thin, automatic, 2-hand, refined "Petite Tapisserie" guilloché dial… It might be extremely difficult to find at retailers and far from cheap, but nevertheless remains one of the definitive options when it comes to luxury sports watches.
Quick facts: 39mm diameter x 8.1mm height – steel, gold or titanium/platinum case – 50m water-resistant – self-winding calibre 2121 – hours, minutes, date – integrated metallic bracelet – guilloché dial – ref. 15202 – EUR 25,100 in steel, EUR 35,400 in titanium/platinum, EUR 54,600 in full gold – more at www.audemarspiguet.com
Bvlgari Octo Finissimo Automatic
The Bvlgari Octo Finissimo Automatic has only been launched last year, but it definitely has its place in this guide. First of all, the Octo design isn't new and is in the Bulgari collection since 2004. However, it's only in 2017 that Bvlgari found the right recipe to enter the luxury sports watch arena with the award-winning Octo Finissimo Automatic.
Ultra-thin, crafted in several materials (only titanium at first, but now also in steel and gold), featuring a shaped case, an integrated bracelet, a simple display and a monochromatic look, it is also the thinnest of the category with a case measuring just 5.15mm in height. Our favourite version is also the only one that best befits the luxury sports watch concept: the sandblasted steel on steel – however, this watch is special and is coated with a thin layer of gold and later palladium-plated and rhodium-plated resulting in an almost white-looking material. P.S. It is also one of the most accessibly-priced watches here.
Quick facts: 40mm diameter x 5.15mm thick – sandblasted steel case – 30m water-resistant – calibre BLV138, micro-rotor – hours, minutes, small seconds – integrated steel bracelet – EUR 12,900 in steel, EUR 13,500 in titanium, EUR 44,900 in pink gold – more at www.bulgari.com
Girard-Perregaux Laureato Automatic 42mm
The story of the Girard-Perregaux Laureato has had its ups and downs. But the situation seems to be back on track now with a watch that returns to the original concept. The original GP Laureato was launched in 1975 with a quartz movement. However, back then, it was considered as a true contender for the AP, thanks to its tonneau-shaped case and integrated bracelet, its guilloché dial and a bezel mixing round and octagonal shapes. Several successive updates drastically changed the overall design – for instance, the 2000s Evo 3, with larger dimensions and a sportier look.
In 2016 (with a limited edition) and again in 2017 (with regular production models) the Laureato is back on the scene with a thin case and movement (automatic, of course), its original shape, various colours and an integrated bracelet. It is even available in two sizes: 38mm and 42mm. Overall, the design is great and the quality, considering the relatively friendly price, is on par.
Quick facts: 42mm diameter x 10.88mm height – polished and brushed steel case – 100m water-resistant – calibre GP01800, self-winding – hours, minutes, seconds, date – integrated steel bracelet – EUR 11,200 steel-on-steel – more at www.girard-perregaux.com
Patek Philippe Nautilus 5711
Meet the hottest watch currently on the market: the Patek Philippe Nautilus 5711. Sadly, this watch has become a true object of speculation and its iconic status is one of the reasons behind this success. Born in 1976, designed by Genta, the Nautilus was PP's answer to the Royal Oak. Even though both watches shared multiple attributes (same nautical inspiration, same movement), designs were relatively easy to differentiate. Since its introduction, the Nautilus has always been part of the collection – in dozens of different editions – and it has gained a true cult status.
The current version, the 2006 ref. 5711, remains faithful to the original with its thin steel case, its rich blue dial with horizontal grooves, a refined automatic movement, its integrated bracelet and a great robustness. However, not everything is perfect with this watch. The product itself is brilliant but the way it is commercialised isn't. Far from sharing an accessible price tag (EUR 27,000), it is (almost) impossible to find a new one at official retailers. Production is low and demand is ultra-high, meaning decade-long waiting lists. The only option is the second-hand market, but don't expect to find one under EUR 45,000… The ransom for the glory!
Quick facts: 40mm diameter x 8.3mm height – polished and brushed steel case – 120m water-resistant – calibre 324 SC, self-winding – hours, minutes, seconds, date – integrated steel bracelet – EUR 27,040 in steel, EUR 46,300 in pink gold – more at patek.com
Vacheron Constantin Overseas 4500V
This list wouldn't be complete without the third member of the Holy Trinity: Vacheron Constantin. In 1977, the Geneva-based brand, for the occasion of its 222nd anniversary, launched its own vision of the luxury sports watch – a watched named the Ref. 222. While many think it's a Genta design, it was actually the work of Jorg Hysek. His design was bold – especially the links of the bracelet – but deeply inspired by the 1970s trend – ultra-thin, sporty, integrated and, of course, with a steel case and the same ultra-thin movement as AP and PP.
Three generations of what will later become the Overseas, Vacheron Constantin still relies on this concept with the Ref. 4500V. Slightly sportier than the two competitors, more travel-oriented, it shows an impressive attention to details and some practical and luxurious aspects – 150m water-resistance, an in-house movement with Geneva seal and an interchangeable device for the bracelet/strap. A watch that definitely forms part of the trilogy of high-end sports watches.
Quick facts: 41mm diameter x 11mm height – polished and brushed steel case – 150m water-resistant – calibre 5100, self-winding – hours, minutes, seconds, date – integrated steel bracelet, rubber and alligator straps also included in the box – EUR 20,100 in steel – more at www.vacheron-constantin.com
---
The Accessible Alternative: Maurice Lacroix Aikon
The main issue with these five watches…? All of them retail for over EUR 10,000, which makes them unattainable for most collectors. However, we have a much more accessible solution, in the name of the Maurice Lacroix Aikon. While it "only" retails for EUR 1,690 (on steel bracelet), it ticks most of the luxury sports watch boxes: shaped steel case, round bezel with 6 claws, integrated steel bracelet, brushed surfaces with polished elements, relatively thin profile, textured dial (not guilloché – but still) and a 3-hand display.
Certainly, the Maurice Lacroix Aikon Automatic (powered by a Sellita SW-200) lacks the refinement of a Royal Oak or the prestige of a Vacheron Constantin, but for the price, it delivers A LOT (even an impressive 200m water-resistance). An accessible alternative that we won't qualify as a "poor man's luxury sports watch".
Quick facts: 42mm diameter x 11m height – brushed and polished steel case – 200m water-resistance – calibre ML115 (Sellita SW-200), self-winding – hours, minutes, seconds, date – integrated steel bracelet (also available on alligator leather) – EUR 1,690 on steel bracelet – more at www.mauricelacroix.com
https://monochrome-watches.com/buying-guide-5-most-iconic-luxury-sports-watches-you-can-buy-in-2018/