Buying Guide
5 High-End Watches with World Time or Multiple Time Zones
For the demanding travellers!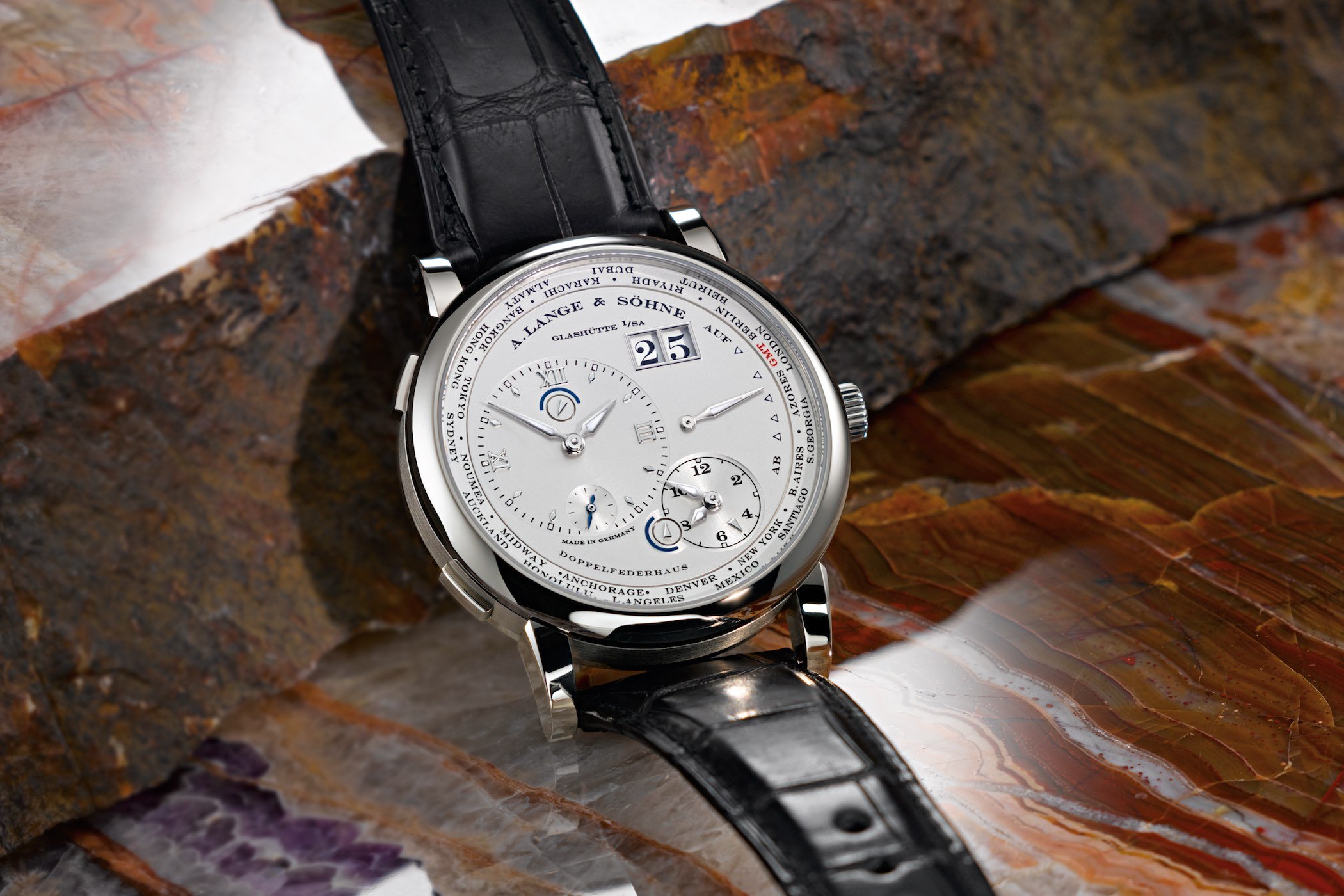 A watch is an essential item while travelling. An essential item on your "things to pack" list. We've said it already several times here on MONOCHROME, but multiple time zone watches are certainly amongst the most practical you can find. Not only when travelling (obviously) but also for those working in an international environment – and there are more and more of them. For those who want to combine functionality and their love for fine watchmaking, here are 5 sophisticated watches with world time complications or multiple time zone indications.
A Lange & Sohne Lange 1 Time Zone
Based on the iconic Lange 1, the A. Lange & Söhne TimeZone features a multitude of sub-dials and no fewer than nine hands and indicators. The main dial at 9 o'clock displays the home time with 24-hour indication and a subsidiary small seconds. The 5 o'clock sub-dial shows a second time-zone and the corresponding city on the outer ring, as well as its own 24-hour indicator. The 8 o'clock pusher switches the city for the second time zone. Last, the watch features a power reserve indication at 3 o'clock and a large date (home time).
Behind the caseback is a superbly finished hand-wound movement, with its 3-day power reserve (72 hours) and nice details, such as the German silver plates and bridges, the hand-polished bevels and engraved cock-bridge. The implementation of the time zone function goes along with an evolution of the mechanics, shown by additional wheels and a second engraved bridge over the 3/4 plate.
Ad – Scroll to continue with article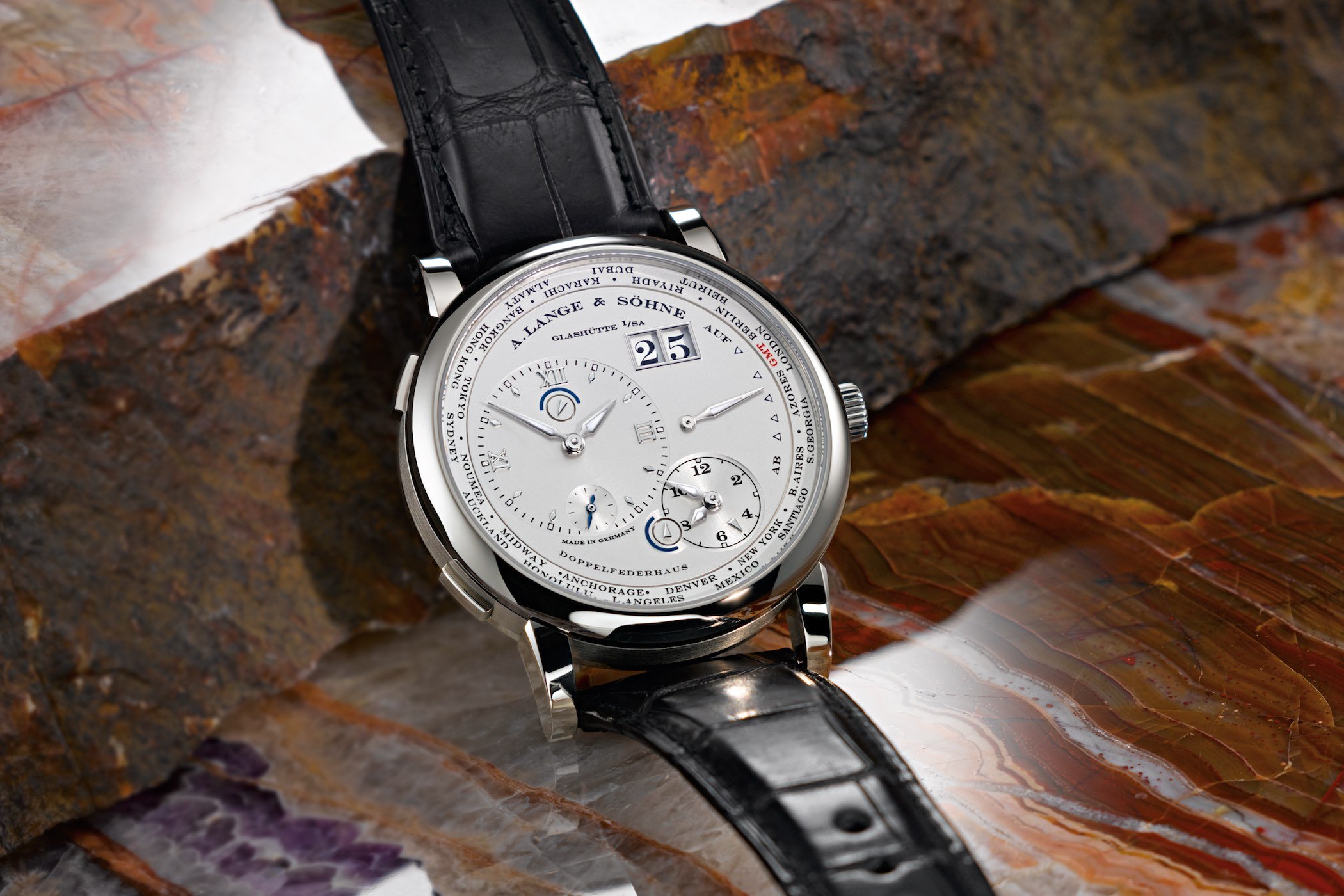 Quick facts: 41.9mm x 11mm gold case – hand-wound calibre L031.1 with hours, minutes small seconds, second time zone with city disc, day/night indication for each time zone, large date and power reserve indication – alligator strap on folding buckle – EUR 46,400 in white gold – For more information, www.alange-soehne.com
Breguet Hora Mundi 5717
The 5717 Hora Mundi is quintessentially Breguet. The brand's design cues are all here: a classic design with a 43mm case featuring a fluted caseband and welded lugs, a solid gold dial with superb hand guilloché and later silver-plated. The finishing is top notch as always.
The 5717 is not a traditional world timer per se. If it looks simple at first glance, it incorporates a complex and practical instantaneous time zone jump. It lets you set your home city and corresponding time, and another city and time. The watch features a mechanical memory and one press on the 8 o'clock pusher will allow you to switch from one time zone to the other. The 4 o'clock sub-dial provides a 24-hour indication. And if necessary the date (positioned at 12 o'clock) will change too!
Quick facts: 43mm x 12.60mm gold case – water-resistant to 30m – automatic calibre 77Fo with instant time zone jump with synchronized date, 24 hour and city indications – alligator strap on folding buckle – EUR 67,400 – For more information, www.breguet.com
Glashütte Original Senator Cosmopolite
This watch isn't a world timer in the most classical style. However, the practical Glasshütte Original Senator Cosmopolite is, without a doubt, one of the most functional traveller's watches on the market. It displays two time zones at once. No fewer than 36 time zones can be selected including time zones with ¼, ½ or ¾ of an hour difference. Another practical and rare feature, two windows allow the wearer to select either standard time (STD) or Daylight Saving Time (DST).
Powering the watch is the complex automatic calibre 89-02, comprising over 400 parts. The movement is wound by an off-centred openwork rotor rotating over the iconic three-quarter plate. The decoration is typically German, with all the required features you can expect from such a watch. And as of 2018, this complicated watch is available in stainless steel.
Quick facts: 44mm x 14mm steel case – water-resistant to 50m – automatic calibre 89-02 with home time, local time, 36 time zones, daylight saving time and standard time, small seconds, large date and power reserve indication – alligator strap on pin or folding buckle – EUR 20,700 on pin buckle – For more information, www.glashuette-original.com
Patek Philippe 5230 World Time
Patek Philippe's world time watches have long acquired a cult status. Their history, spanning over decades, dates back to the 1930s and the collaboration with Louis Cottier. In 2000, the launch of the Patek Philippe reference 5110 marked a revival for World Time watches. The 5110 was replaced in 2006 by the 5130, itself replaced in 2016 by the present Patek Philippe 5230.
The case design of the 5230 with winglet lugs is one of the main evolutions found on this new model. The hands and dial, with the central hand-guilloché pattern, have been reworked too, in an objectively gorgeous way. Inside is the calibre 240 HU with a micro-rotor. It allows the display of time in 24 time zones simultaneously. The internal rotating hour ring allows reading the time, in combination with the outer city ring. The pusher on the left side of the case allows advancing local time by one-hour increments while rotating the city ring at the same time.
Quick facts: 38.5mm x 9.5mm gold case – water-resistant to 30m – automatic calibre 240 HU with hours, minutes and world time with day/night indication – alligator strap with folding buckle – EUR 43,210 in white gold – For more information, www.patek.com
Vacheron Constantin Overseas Worldtimer
In 2016, Vacheron Constantin presented a revamped collection of its luxury sports watch: the Overseas. The collection was later enriched with complication watches, including a world time watch, a befitting complication as travel is a leitmotiv for the Overseas. At 43.5 mm in diameter, it is the largest of all Overseas.
This complex model is powered by the automatic calibre 2460 WT/1. The world map in the centre rotates, which simplifies reading. It is surrounded by a disc featuring 37 cities/time zones (yes, there are more than 24 time zones…) A sapphire disk connected to the hour ring provides day/night indications by means of subtly graded smoky tints. Last, this really versatile watch is delivered with three strap options that are remarkably simple to change.
Quick facts: 43.5mm x 12.6mm steel case – water-resistant to 150m – automatic calibre 2460 WT/1 with hours, minutes, seconds and world time with day/night indication- steel bracelet with folding clasp, rubber and alligator strap –EUR 37,200 in steel – For more information, www.vacheron-constantin.com
https://monochrome-watches.com/buying-guide-5-high-end-watches-with-world-time-or-multiple-time-zones/