Review
Bulgari Octo Finissimo Automatic vs. the Audemars Piguet Royal Oak ref. 5402ST
Comparing the latest luxury sports watch to the first ever luxury sports watch!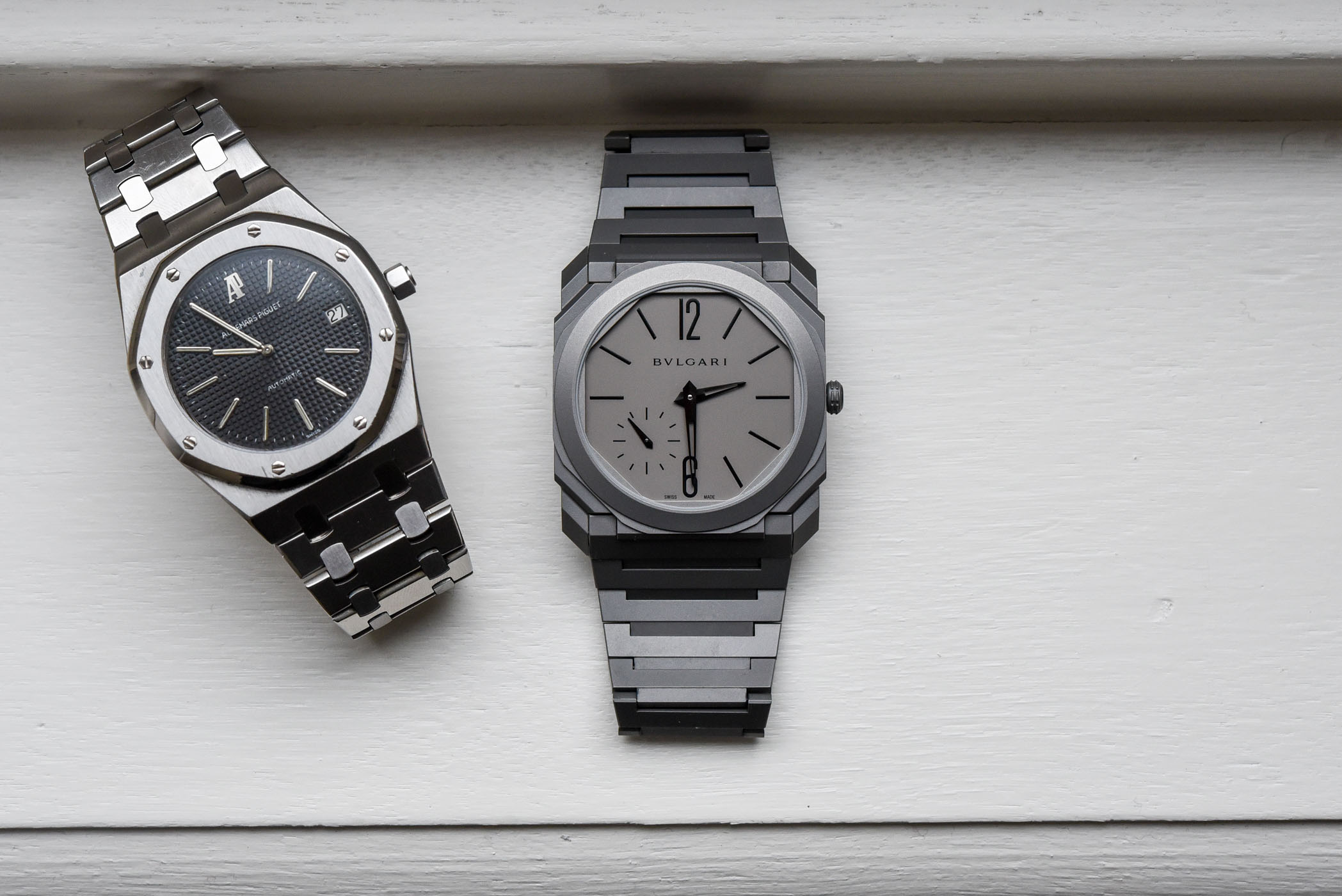 Now it makes zero sense to compare the very first luxury sports watch to the very latest in this desirable segment, at least not from a consumer's perspective (the vintage AP RO Jumbo is of course not for sale anymore.) However, it does, when looking at if and how the luxury sports watch segment has developed over the past 4.5 decades. The Audemars Piguet Royal Oak ref. 5402ST was introduced in 1972, and the Bulgari Octo Finissimo Automatic was introduced in 2017. Forty-five years, only a handful of competitors in all those years and only one serious competitor survived: the Patek Philippe Nautilus. But will the new Bulgari become a serious competitor for the uncrowned king of the luxury sports watches?  
Setting the stage
When Audemars Piguet introduced the Royal Oak in 1972, we can say it was not the average introduction of a new watch. The story goes that Gerald Genta, the designer of this iconic timepiece, drew some sketched the night before he had to show it during the Baselworld watch fair. And to the surprise of Audemars Piguet's CEO at the time, the Swiss and Italian markets immediately ordered enough pieces to start production. It was the start of a new segment in the world of watches, and one that no-one could have imagined before: the luxury sports watch.
The Playing Field
Made of stainless steel and priced like a watch in solid gold, that was the perception people had of the Royal Oak ref. 5402ST. Inside ticked the ultra-thin JLC based automatic calibre 2121, measuring no more than 3.05mm. The entire watch measures exactly 7mm thick and that was not only due to the ultra-thin movement, but also to the 2-piece case construction (called monobloc case). Later contenders in the luxury sports watch segment also featured similar case construction, like for instance the Patek Philippe Nautilus ref. 3700.
Over the past 45 years, the only serious competitor for the Audemars Piguet Royal Oak is the Patek Philippe Nautilus
I would have loved to mention a few more, but I'm afraid that previous contestants (IWC Ingenieur SL and Vacheron Constantin 222) never were very successful (commercially speaking) and both are not available anymore as "direct descendants". Sure, Vacheron Constantin introduced a revamped Overseas in 2016, and I love it, but with a changed design and name, it's a different watch altogether. Plus most of the Overseas collection is not really ultra-thin, except two ultra-thin models that are only available in white gold. IWC has just discontinued the last Ingenieur that could be regarded as sort of a direct descendant, but that was also not really ultra-thin, and certainly not positioned as a 'luxury sports watch'. Actually only the Patek Nautilus can be regarded as a serious competitor. And that's the level playing field after forty-five years.
Audemars Piguet Royal Oak ref.5402 & Patek Philippe Nautilus ref.3700
Where we are today
So here we are, January 2018, and we're close to this year's SIHH were brands like Audemars Piguet and IWC will be presenting their newest timepieces. Will there be a new luxury sports watch in the game? We'll see it soon enough! One thing cannot be ignored, and that's the launch of the Bulgari Octo Finissimo Automatic, last year. It was one of the watches that created a buzz in the world of watches, it set a new world record for the thinnest automatic watch (but has already been de-throned by Piaget) and it won the prize for best men's watch at last year's GPHG.
So, after many decades there's finally another competitor. It's not made of stainless steel, but in titanium, which is not really the first material you think of when talking luxury sports watches. And with only 5.15mm it's thinner than the old ref. 5402ST (7mm according to my calliper) and thinner than both the old and new Patek Nautilus (ref. 3700 measures 7.6mm and ref. 5711 is 8.3mm thick).
Although we call these watches luxury sports watches, none of them actually excelled in serious sports activities. The ultra-thin movements in all of the above, are not the most robust and shock resistant movements. And the ultra-thin cases are also not very water resistant, except the Patek Nautilus with a water resistance of 120 meters! OK, you can go into the shower while wearing one of them, and maybe jump into a pool, but with water resistance rating of 30m (Bulgari Octo Finissimo Automatic), 50m (Audemars Piguet Royal Oak Extra-Thin ref. 15202ST) and 120m (Patek Philippe Nautilus ref. 5711) these watches are not meant for serious deep sea diving; only the Patek qualifies for something more than showing off besides the swimming pool. Bottom line, the luxury sports watch is mainly meant to be worn as a fashion statement of pure elegance, refinement and understated luxury (because of the use of steel instead of precious metals), and that's just fine.
Being the world's thinnest luxury sports watch (the recently introduced Piaget 910P is the thinnest automatic watch in the world, but not a luxury sports watch), and the newest contender in this segment, all eyes are on the Octo Finissimo Automatic, so enough reason to put the first and newest luxury sports watches next to one another. Owning an old Royal Oak ref. 5402ST myself, I wanted to get a good feel of how the Bulgari is on the wrist for daily activities. How does it hold up?
The Bulgari Octo Finissimo Automatic on the wrist
To immediately give the clue away, I must say that I absolutely love the new Octo Finissimo Automatic. It wears comfortable, so incredibly comfortable as no other watch I've ever worn. I know, that sounds like quite a statement. My old Royal Oak has been the most comfy watch (with bracelet) so far, and I need to emphasize that the old ref. 5402ST feels quite different on the wrist than the new Royal Oak ref. 15202ST (not saying that one is not comfortable!) The new RO Jumbo is a bit heavier, build a tad more robust and feels less fragile than my old 5402ST. In terms of wearing comfort, there's really nothing that wears as comfy as the new Bulgari Octo Finissimo Automatic.
The Octo Finissimo Automatic is very light due to its incredible slenderness and the use of titanium, and this of course also add to the superb wearing comfort. This is even increased by the fact that the bracelet is comprised out of many short links, and these fold around your arm smoothly.
Luxury sports watches are mainly meant to be worn as a fashion statement of pure elegance, refinement and understated luxury
Secondly, it can be matched with jeans, shorts, and a suit, and always looks absolutely fab. But let me spend some more words on it, and explain my enthusiasm. While the Royal Oak (the old 5402ST and the new 15202ST) are executed in stainless steel, the case, bezel, and bracelet reflect the light and this has a certain "shine" to it. Same goes for the Patek Nautilus, which might even have a bit more "shine" due to fully polished centre-links in the bracelet. The Bulgari… is matte. All the way. Less flashy, and actually the perfect fly-under-the-radar watch. And due to this nature, it will never look too flashy and always be extremely discrete. I must say that I have never regarded my RO as flashy and, although I do not own a Nautilus, never considered the steel Nautilus to be flashy either. But none is as understated or 'discrete' as the Bulgari. Don't think this compromises the "luxury" part or 'wearing as a fashion statement', the Octo has more than enough 'panache'!
The Bulgari is also available on a black alligator strap (with tang buckle) and somehow, due to the strap being black, this gives the watch more impact, more visual presence, while keeping the restained luxurious look.
One thing that surprised me right from the beginning, is that such a large and thin watch can be so rigid. Mind you, the least of bending (even when talking a fraction of a millimetre) can cause this watch to not function properly anymore. A hand could touch the sapphire crystal or even worse, the case's water resistance could be compromised. Somehow the designers and engineers at Bulgari found a way to make this miracle of slenderness rigid enough for daily activities.
Adding a sapphire pane in the case back usually costs a few extra millimetre, so it's even more impressive to know that this 'thinnest luxury sports watch' comes with a see-through case back! It allows for an unobstructed view of a very nicely finished movement. And also its micro-rotor allows you to admire that lovely movement even better!
The in-house movement, calibre BLV138, measures no less than 36.00 mm in diameter and that's very large for a movement. However, in terms of thickness, the BLV138 measures only 2.23mm and that's very thin, and actually still the thinnest automatic movement in the world. To improve rigidity the balance is held by a bridge instead of a cock, and instead of small bridges and plates, this movement comprises one large main plate and four large bridges that are all held down by at least three screws per bridge. Again, this improved rigidity of the movement and with such thinness that's necessary.
Concluding words
The new Bulgari Octo Finissimo Automatic (the name is quite a mouth full) is certainly a serious competitor to AP's Royal Oak Extra-Thin and Patek's Nautilus. It's much more affordable, as both others are priced around 21/22k Euro and the Octo is priced at EUR 13,500 including 21% VAT. It's more slim, more understated, less attention-seeking, and second to none when it comes to wearing comfort.
Unfortunately, it is less water resistant, rated at only 30 meters, and that's a bit of a bummer to me. But seen the extremely thin case and the fact Bulgari managed to have a sapphire crystal on each side, I'm not amazed by this. In fact, I think that it was a deliberate choice, and if they had opted for a closed case-back a higher (or deeper?) water resistance would certainly have been achieved.
Maybe the most important task is upon Bulgari's shoulders, and that is to take care of this beauty. The Royal Oak has been on the market, almost unchanged, for 45 years. The Nautilus has been on the market for 40 years, also in an almost unchanged way. Now the main question is if, in forty years from now, we will have a legendary luxury sports watch from Bulgari that is named Octo Finissimo Automatic… I sincerely hope so!
I want to thank Alon for letting me wear his own Octo Finissimo Automatic. Wearing the Octo for some weeks has been a sheer join. Thanks for getting me hooked. More info at Ace Jewelers here and the official Bulgari website.
https://monochrome-watches.com/bulgari-octo-finissimo-automatic-vs-audemars-piguet-royal-oak-ref-5402st-review/