A Most Dangerous Watch Company – IWC and Carl Jung
Is IWC a dangerous watch company? IWC has an obscure connection with one of the pioneers of psychoanalysis, Carl Gustav Jung. David Cronenberg's film, A Dangerous Method, charts the early collaboration between Sigmund Freud and Carl Jung and the subsequent demise of their friendship.
One aspect of the Freud/Jung rivalry is the discrepancy between their financial means. "I married rich," is Jung's explanation in the film.  Emma Jung, Carl's wife, was previously Emma Rauschenbach as in the International Watch Company Rauschenbachs.  IWC, rich indeed, but dangerous?
Carl Jung's marriage connection to IWC made him a co-owner of the company, but he never took an active interest. Ronald Hayman in his book, A Life of Jung, writes, "By Swiss law, a wife's assets belong to her husband . . . Jung was ambivalent towards [Emma's] wealth, which brought him professional independence. Without it, as he acknowledges, 'I should have been far more cautious in expressing my opinions, and many things would have gone another way.'" IWC afforded Jung a financial independence to pursue his studies, and the gold pocket watch that he carried throughout his life was an IWC. This special watch was a marriage gift from Emma.
Cronenberg's film title is an allusion to American psychologist William James who warned about metaphorical dream interpretation saying, "Symbolism is a most dangerous method". Despite the film's title, psychoanalysis and Jungian analytical psychology in particular continue to help millions, and just as Carl Jung pioneered the interiors of the mind, IWC remains a horological innovator.
In 2000 at Baselworld, IWC revealed its new 5000 caliber with the Portuguese Automatic 2000.  Until the quartz crisis of 1973-4, IWC produced thousands of in-house calibers, but the following years were difficult for the whole industry. A new era was dawning. These Portuguese were limited to 250 platinum, 750 red gold and 1000 steel – all 5000 caliber.  This initial in-house movement featured a patented Pellaton winding system, power reserve, and small second hand at 9 o'clock. In 2002, the caliber 5011 with date and a central seconds hand evolved for the Big Pilot Watch. The impetus was set for further creativity just when the need for innovation would become a necessity.
For the watch industry, Swatch Group's Nicolas Hayek fired the shot heard round the world. In 2002, Swatch announced that it would stop delivering ETA movements in barebones 'ebauch,' and by 2005, they wanted to stop delivering ETA movements to companies outside the Swatch Group. The Swiss Federal Committee for Fair Trade (WeKo) stopped this plan, and they reached a 2004 agreement with Swatch in which ETA agreed to continue delivery of movements until 2010, but numbers would gradually decrease. Watch companies took notice, and for those without alternative plans, panic ensued. IWC was already ahead of the game.
IWC developed a cadre of in-house movements. Through the years, the 5000 caliber has grown most extensively with various complications and optimizations as has the chronograph caliber 89360 introduced in 2007. In addition, in 2010 IWC presented the 59210 hand-wound movement. Excluding legendary module movements, these three movements and their subsequent evolutions represent a creative push; expect more movements in the future.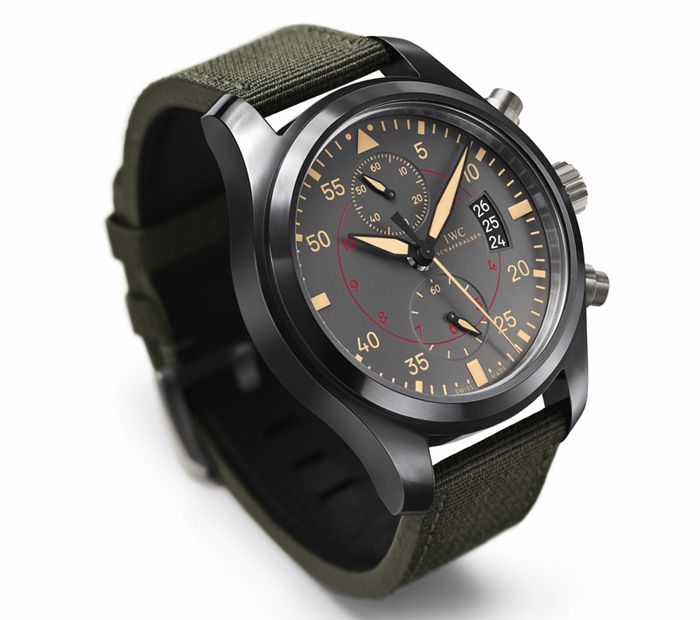 Case in point is IWC's new line of Top Gun Watches. Instead of C.G. Jung's pocket watch, think jet aircraft. In homage to the United States Navy Strike Fighter Tactics Instructor Program in Miramar, California (Top Gun), the Top Gun Miramar watches (the Big Pilots Watch Miramar and the Pilots Watch Chronograph Miramar) are 'the best of the best'. The forward thinking use of a polished ceramic case coupled with the flight deck design makes a bold statement. These are military watches with swagger. With IWC manufactured 5111 and 89365 caliber movements, the Top Gun watches display the company's continuing technological prowess. Jung might pronounce the post quartz crisis therapy complete.
Technological and stylistic innovations place IWC in a dominant position.  But dangerous?  If you are the competition – without a doubt.
Here you can find an interview with Carl Jung's grandson and great grandson.
This article is written by Max Reddick, contributing writer for Monochrome Watches.
https://monochrome-watches.com/a-most-dangerous-watch-company-iwc-and-carl-jung/