Like every year, Timezone held an election for the watch of the year. The forums moderators made a selection of 6 ultimate watches, released in 2008, and the ultimate choice is made by the forum member's votes. The six selected watches where the Blancpain Carrousel Volant Une Minute, F.P. Journe Centigraphe Souverain, Jaeger LeCoultre Reverso Gyro Tourbillon 2, Rolex Sea-Dweller Deep Sea, Seiko Credor 'Torque Return' Spring Drive and the Vacheron Constantin Quai de I'lle.
This years winner features a revolutionairy chronograph, the first mechanical chronograph to measure elepsed time to 1/100th of a second!
F.P. Journe Centigraphe Souverain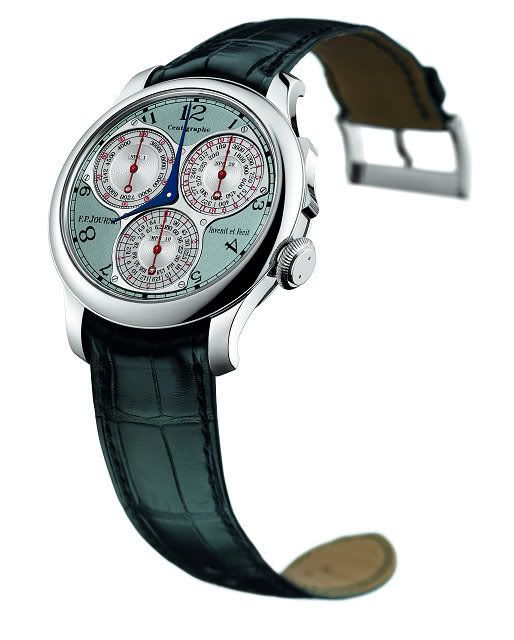 The flying seconds hand at 10 o'clock goes around the subdial in one second against a scale marked in hundredths of a second. On the dial at 2 o'clock, the hand goes around in 20 seconds and the time scale is marked in seconds. The outer tachometer scale shows the speed against odd numbers of seconds – 1, 3, 5, etc. – while the inner scale corresponds to the number of seconds. The third dial, at 6 o'clock, where the hand goes around in 10 minutes, has a similar tachometer scale with speeds corresponding to 20 second markers. The chronograph is started, stopped and zeroed by a patented rocker button at 2 o'clock, so no conventional 2 pushers. The rocker button turns a column wheel which activates the levers in the start, stop, and zero sequence in the conventional way.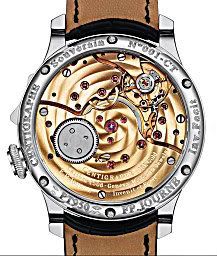 The manual wind movement has a power reserve of 60 hours or 30 hours with the chronograph running. As the chronograph movement is actually separate from the time movement, using the chronograph doesn't affect the watch's amplitude. The high-speed flying seconds driven by the escapement, rotates 360 degrees in one second, jumping in tiny 1/16th second increments. A wheel, mounted on the fourth wheel of the movement engages a pinion carrying the flying seconds hand. This means that the flying seconds is driven by both the going train of the movement, working off the barrel, and the chronograph train, working off the barrel arbour. An unexpected feature of this arrangement is that the flying seconds hand can be stopped anywhere along its one-second journey, even between two 1/100th second divisions, enabling an approximate fractional reading.
Congratulates to Francois-Paul Journe with yet another price and the creation of such an astonishing achievement.
https://monochrome-watches.com/watch-of-the-year/