Vacheron Constantin introduces 4 limited editions for Moscow Boutique Opening
Vacheron Constantin has just opened a new boutique in Moscow. As the brand traditionally does when opening a new flagship store, new limited editions are being introduced. They did it for the Parisian boutique with a series of very nice pink gold and guilloche-dial watches and with the very stylish 1972 Prestige. For their new Russian store, VC is coming with black dials for 4 of their most iconic models.
The recently opened boutique (20 June 2014) is located in the Russian capital city and offers 352 square meters in which to discover and enjoy the whole collection of Vacheron Constantin in a very pleasant setting; the space is beautifully appointed in every detail, as is every VC boutique – we can attest to the boutiques' atmosphere, especially having been recently inside the Parisian boutique to have some hands-on time with a stunning vintage chronograph.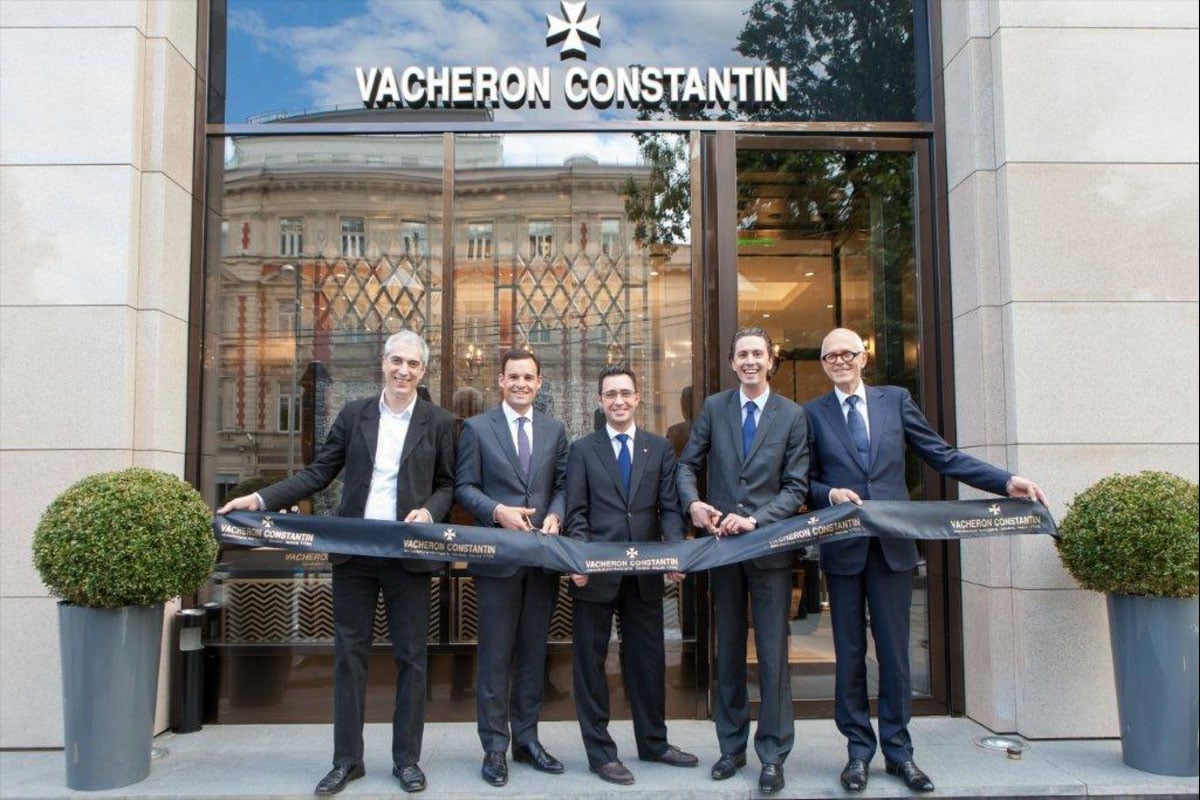 Vacheron Constantin now delights us with 4 limited editions of existing watches, presented in white metals with a black dial – a colour combination quite unusual for Vacheron Constantin dress watches, which we are used to seeing in pink or yellow gold with bright dials.
The first model we'll look at is a mighty Traditionnelle Calibre 2253. This Grande Complication watch is equipped with no less than a tourbillon, a 14-day power reserve, a perpetual calendar, an equation of time as well as sunrise and sunset times for the city of Moscow. It comes in a 44mm platinum case with an onyx black dial. The movement is adorned with the prestigious Hallmark of Geneva (Poinçon de Genève), which is an independent and sovereign guarantee of workmanship. The Calibre 2253 represents the highest level of precision, complexity and finishing of Vacheron Constantin (and of all the watch industry). Only one very lucky owner will be able to enjoy this beauty as it's a unique edition.
The second watch being presented is a 30-piece limited edition of the very elegant Patrimony Perpetual Calendar. This watch comes in an 18K white gold 41mm case with a black opaline domed dial. It features the automatic Calibre 1120QP, a movement known to be very well finished (Hallmark of Geneva) but also very thin, as it measures only 4mm deep. The watch itself is only 8.90mm thick.
The opening of the Moscow Boutique also brings back to us the very nice and modern Patrimony Retrograde day and date in a 20-piece limited edition; this one comes with an 18K white gold case and a black opaline dial. The Patrimony Retrograde has something special in its layout, with 2 retrograde indications – one in the centre for the date and one at 6 for the day. This watch represents the contemporary and less conservative side of Vacheron Constantin.
The last edition brought forth is a 30-piece edition of the Traditionnelle that comes here with a very nice hand-guilloché slate-grey dial in a 41mm 18K white gold case. The very fine geometric pattern of the dial is inspired by the façade of Moscow's main attraction, the Kremlin (house of the Russian Government). The Traditionnelle features the extra-thin (2.45mm thick) self-winding Calibre 1120 (for connoisseurs: that's the non-date version of calibre 2121, as used in the Audemars Piguet Royal Oak.)
Last but not least, all of the watches are delivered with a pair of cufflinks in 18K white gold matching the dial of the timepiece. These limited editions and the opening of the new Russian Boutique could be a good reason to have a nice summer trip to Moscow, don't you think?
More info on Vacheron-Constantin.com
https://monochrome-watches.com/vacheron-constantin-introduces-4-limited-editions-moscow-boutique-opening/