Value Proposition
Tzoumy Watches, The Pentagon-Shaped Watch Launching on Kickstarter
An experienced watchmaker sets out to create a new independent brand, and starts with something original.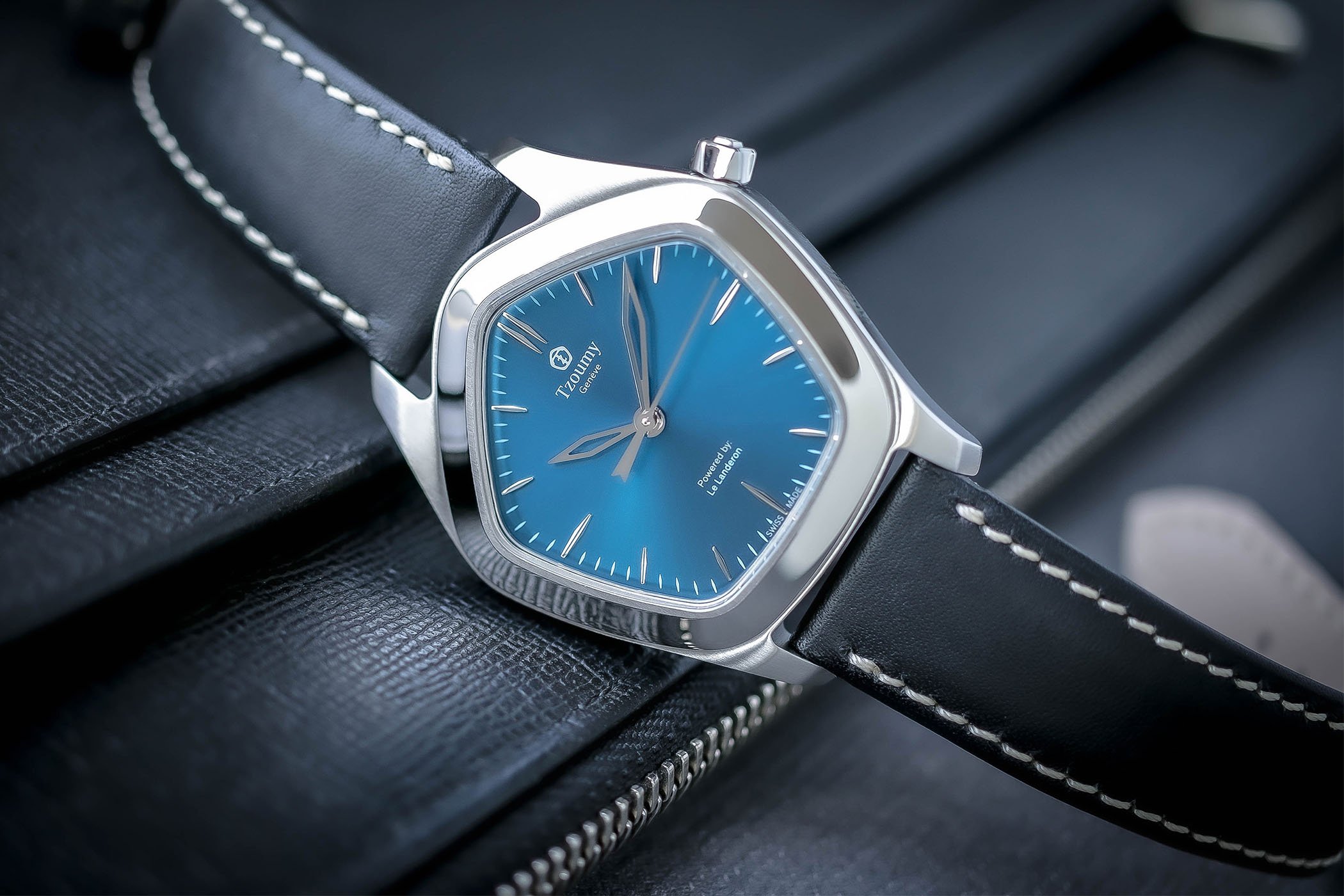 When it comes to watches, there are three, maybe four basic shapes people can expect. The most obvious shape is of course round, simple as that. On the other end of the spectrum, we have watches with a square case. Other than that, we can distinguish cushion-, tonneau-, or helmet-shaped watches but that's pretty much it. Well, not anymore, as Yvan Monnet is presenting the pentagon-shaped Tzoumy Watches collection, now available on Kickstarter.
Yvan Monnet is a Swiss-born watchmaker, formerly working for prestigious brands like Patek Phillipe and Vacheron Constantin. In 2016 he presented a very limited series of watches under his own name, with a unique pentagonal shape for the case and dial. In June last year, a chance encounter with Gerrit Spalteholz, lead to a new project called Tzoumy Watches. A little over a year later, the original pentagonal design by Yvan Monnet is reinterpreted into a new collection, launched via a crowdfunding campaign on Kickstarter.
The inaugural Tzoumy Watches collection comprises five different models, all bearing a uniquely five-sided stainless steel case. The brushed and polished case has a star-shaped offset crown at 02:30. Like the case, the crystal and dial underneath are shaped like a pentagon. The tip of the case at 12' extends out between the lugs a little, for a unique and striking look. From left to right, the case measures 40.1mm across and has a relatively slim height of 9.5mm.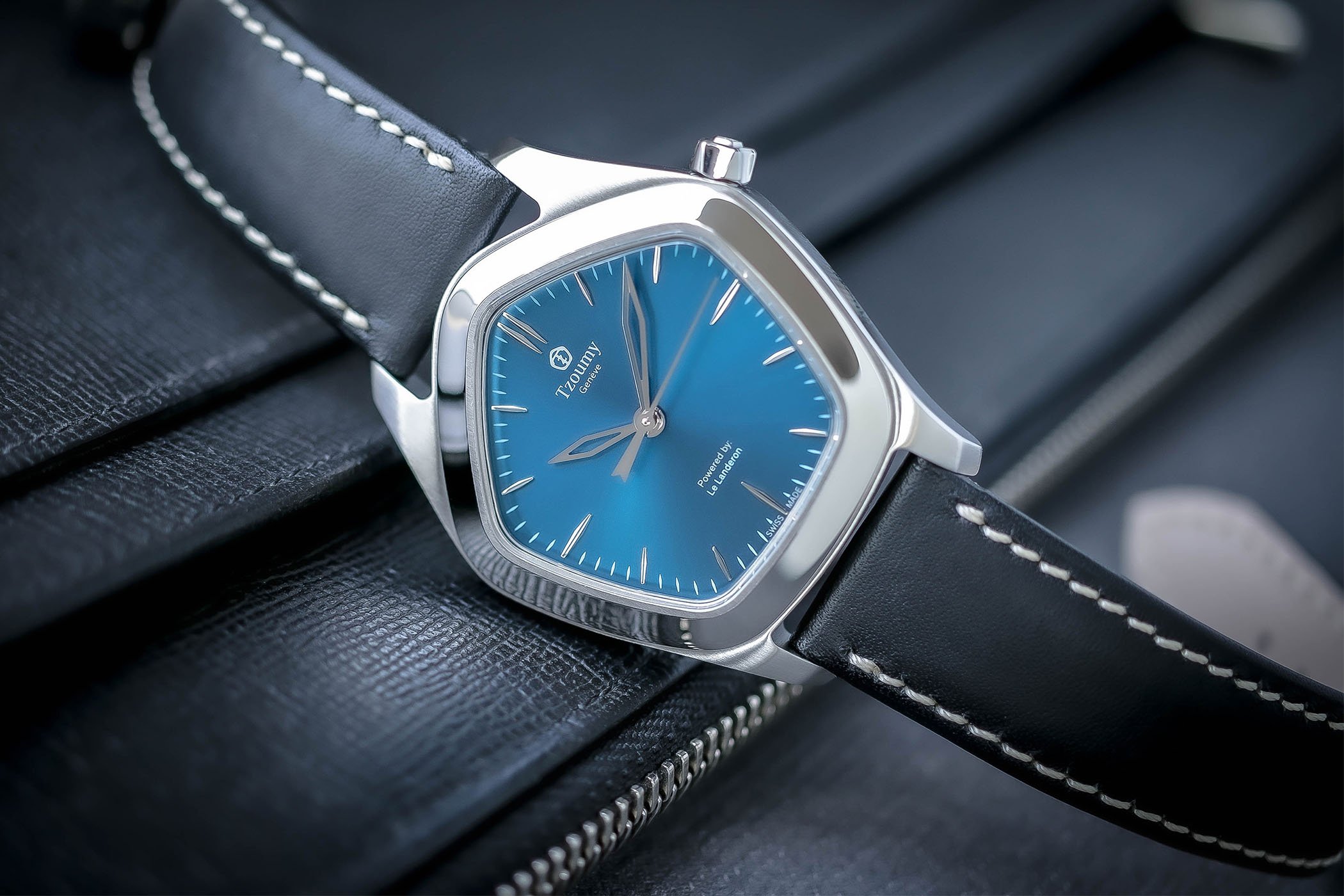 The subtle sunray finished dial comes in five colours; opaline white, cobalt blue, denim blue, anthracite grey or melon orange. The central hour and minute hands are open-worked, polished and faceted. The central seconds hand comes in one of three colours of choice; rhodium, cobalt blue or denim blue. The slender hour indices spread across the dial are polished, with a double marker at 12 o'clock.
Inside the Tzoumy Watches collection ticks a modern movement with a historical name; the Landeron 24. Landeron is of course a famous name within the Swiss watchmaking industry. Founded in 1873, it was at one point the largest movement manufacturer in the country. In 1927, it became part of Ebauches SA, a company that evolved into ETA, now owned by the Swatch Group. Recently, a company named Depa Swiss Movements has decided to bring back the Landeron name to create Swiss-made ETA clones. One such movement is the Landeron 24, a clone of ETA's 2824 calibre, yet with a modified automatic winding module.
The Landeron 24 has the same 25.60mm diameter and is a classic movement with a central rotor. It uses 26 jewels, runs at a frequency of 28,800vph and offers 36 hours of power reserve. It is used here in a time-only configuration, with a Tzoumy-branded rotor visible through the sapphire caseback.
The Tzoumy Genève collection comes with two straps, with the option to choose from 5 colours. One will be fitted with a deloyant clasp, the other with a pin buckle. Both will come with quick release push pins to easily alternate between the two. The Tzoumy Genève collection is now launching on Kickstarter, with the campaign ending on October 18th. Currently, the Early Bird price is at CHF 1,375 for one watch, with a future retail price of EUR 2,500.
For more information, please visit the Tzoumy Watches campaign on Kickstarter.
https://monochrome-watches.com/tzoumy-watches-pentagon-shaped-watch-launching-on-kickstarter/