Up Close and Personal with the Tudor Heritage Black Bay Steel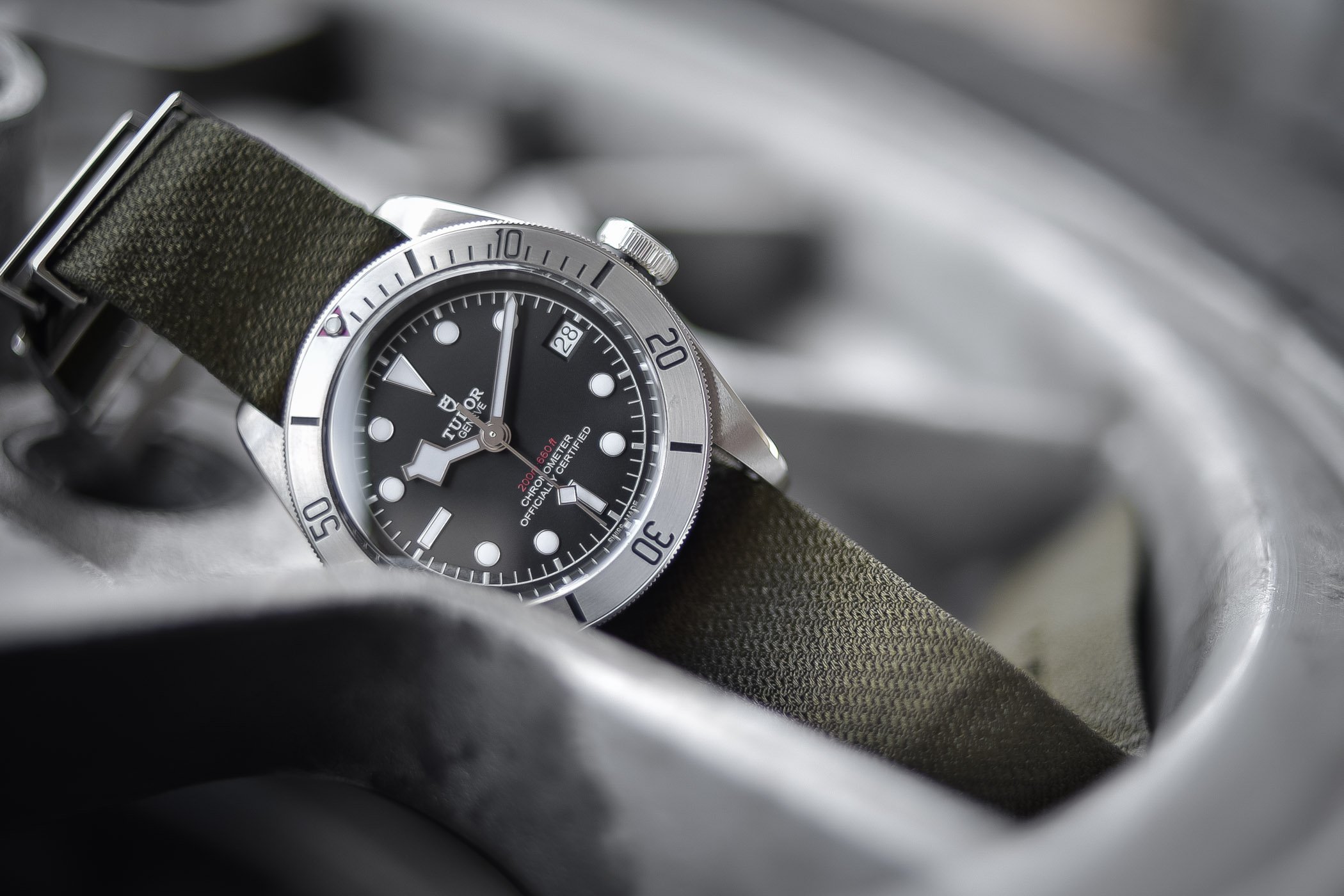 At Baselworld this year, Tudor introduced a new version of the Black Bay, dubbed "Steel" – or more precisely, the reference 79730. Immediately during the official presentation, I wondered to myself about the real purpose of this watch, which admittedly is… a Tudor Black Bay. No question about it, this new version perfectly blends into the rest of the collection. The real question was more about knowing if it was just another Black Bay or if it could make a difference? Let's find out.
In order to make things clear, I am the owner of a Tudor Black Bay Midnight Blue (before being the Managing Editor of MONOCHROME, I was already a watch lover and a watch collector). I love everything about this watch, and I know it by heart. I know the reason why it has been created, I know the guy who designed it, I know all the specs and the details, I know where it comes from, I know its evolution over the years… There's not much about the Black Bay that remains unknown to me. I ordered the Blue edition just after its introduction at Baselworld 2014 – although for me it was, in all fairness, love at first sight. And in every love story, when a new candidate enters the game, it will undoubtedly draw attention. This is what happened with the Tudor Heritage Black Bay Steel Ref. 79730. Is it still a Black Bay? Is it just another Black Bay? Does it bear enough specificities to have its own "raison d'être"? Many questions that I had, and I'm sure many shared. And we'll try to find out the answers here.
In a previous article, which was rightfully named "First Look", I mainly described the watch in an objective way, without trying to enter too much into the details of the background or into more personal feelings. Such conclusions should only be done once we had enough quality time with the watch strapped to our wrists. A 30-minute meeting at Baselworld mainly focused on our need to make over 200 photos certainly won't give credit to a watch. Before being able to write a precise piece about the Black Bay Steel, we needed to have it for a longer period – which we've done (Frank, the Founder of Mono', was also using the watch).
What is exactly the Tudor Black Bay Steel? Well, in short (way too short), it is an evolution of the BB, which presents 2 main specificities: a steel bezel (replacing the coloured aluminium inserts) and a date window (and that is far from being a simple update… It tells a lot about the intentions behind this watch). For the rest, no real drama, as the basics of the collection are still here: the 41mm steel case with a mix of vintage and modern elements, a very decent diving capacity, a dial that recalls the old Tudor Submariner watches, a respectable and efficient in-house movement, a quality that is above all suspicion and a price/pleasure/quality ratio that is… quite hard to beat.
In details, with the Tudor Black Bay Steel Ref. 79730, we basically have the same watch (to the exception of the two specificities we mentioned earlier) as the regular Black Bay, which is available in 3 different versions (black bezel, blue bezel and burgundy bezel). Essentially this means it's an evolution of the watch, with the in-house movement. Nothing to complain about the addition of the in-house movement, as for an extra cost of only EUR 250, collectors could benefit from a calibre superior in every aspect: longer power reserve (a comfortable 70h), antimagnetic properties (thanks to the silicon hairspring), chronometer certification, respectful pedigree (Tudor is owned by Rolex, meaning that the crown must have been involved in the conception… and that is always a good sign for the reliability) and a conception made accordingly with the style of the watch (the BB is, after all, a tool watch made for action, and its movement is made to resist this tough life).
The original Black Bay trilogy, with Black, Blue or Burgundy Bezel
However, with all of this in mind, isn't the Tudor Black Bay Steel perhaps a little too close to the "original triplets"? Believe it or not, and this is not only my original opinion, I'm now convinced of the merits of this version, which I feel is a piece on its own in the collection, a piece that aims to conquer new clients (a word that I chose on purpose, in opposition to the word "collectors") and to bring some fresh air to the collection.
With the "original triplets" (burgundy, blue, black), Tudor's mission was to make a return to its former glory and to gain the heart of collectors. They needed to gain in popularity, which has been done by creating a watch that could talk to real watch aficionados, to those with more than one watch, to those who already knew the brand… And they did it with a cool-looking vintage-inspired dive watch, based on what had been the brand's most successful pieces – the 1960s Subs. Mission accomplished, as many insiders (merchants, journalists, bloggers, influencers…) consciously fell into the trap. Yet, the brand can't live on one model only, with one single (and concise) customer base.
This is, at least to me, the "raison d'être" of the Black Bay Steel, which might be the watch to talk to a larger audience, and this is all due to the two main specificities Tudor chose to implement here. First is the steel bezel's insert, in lieu of the aluminium inserts – what we have here isn't a solid steel bezel but a new insert, which is made out of steel. The new insert gives a rather different design to the watch. It makes it, to my eyes, more modern, more technical, more casual too, and mainly, less vintage-inspired. This steel ring is circular brushed and engraved with the 60-minute diving scale, something that is also quite different from the shiny, flat and dark bezel we were used to seeing on the triplets.
In addition to this, this new bezel changes the perception of the watch once on the wrist. It plays differently with the light, it changes the proportions, it changes the contrast and makes it more of a tool watch than a retro-diver. It draws the attention differently, and the watch is now more focused on its dial rather than on its bezel. This change of bezel also implied a dial that gets rid of the golden hands and indexes, again in line with the more contemporary and stealthier look of this Tudor Black Bay Steel – and all of these comments become even truer when the watch is worn on its (superbly executed) riveted steel bracelet – look at this page for more images.
Then there's the addition of a date to the Black Bay – which is something I know shocked some collectors. Once again, this watch isn't, in my opinion, meant to be a collector's piece but had been created to appeal to a wide audience. The date is, in this perspective, a clever addition, as many "clients" are willing to have a date window on their watches – something that is admittedly quite practical on a daily basis. The date has two interests: first, it makes the watch more modern, then it gives a more practical, user-friendly touch to a piece that was previously meant for an experienced clientele.
All in all, I would say that this Tudor Black Bay Steel Ref. 79730 has its own style, and even if it blends into the BB collection, it stands apart with its modern, toolish design and its more practical functionalities. It is a Black Bay without being just another Black Bay. And its very existence is justified by the need for Tudor to evolve and to gain new market shares, especially among a clientele that is a little less informed and that will be less attracted by vintage codes. Don't forget that Tudor, as all watch brands, is a company that needs to make profits – which can go along with pleasing hardcore collectors, but that is the duty of the original Black Bay trilogy.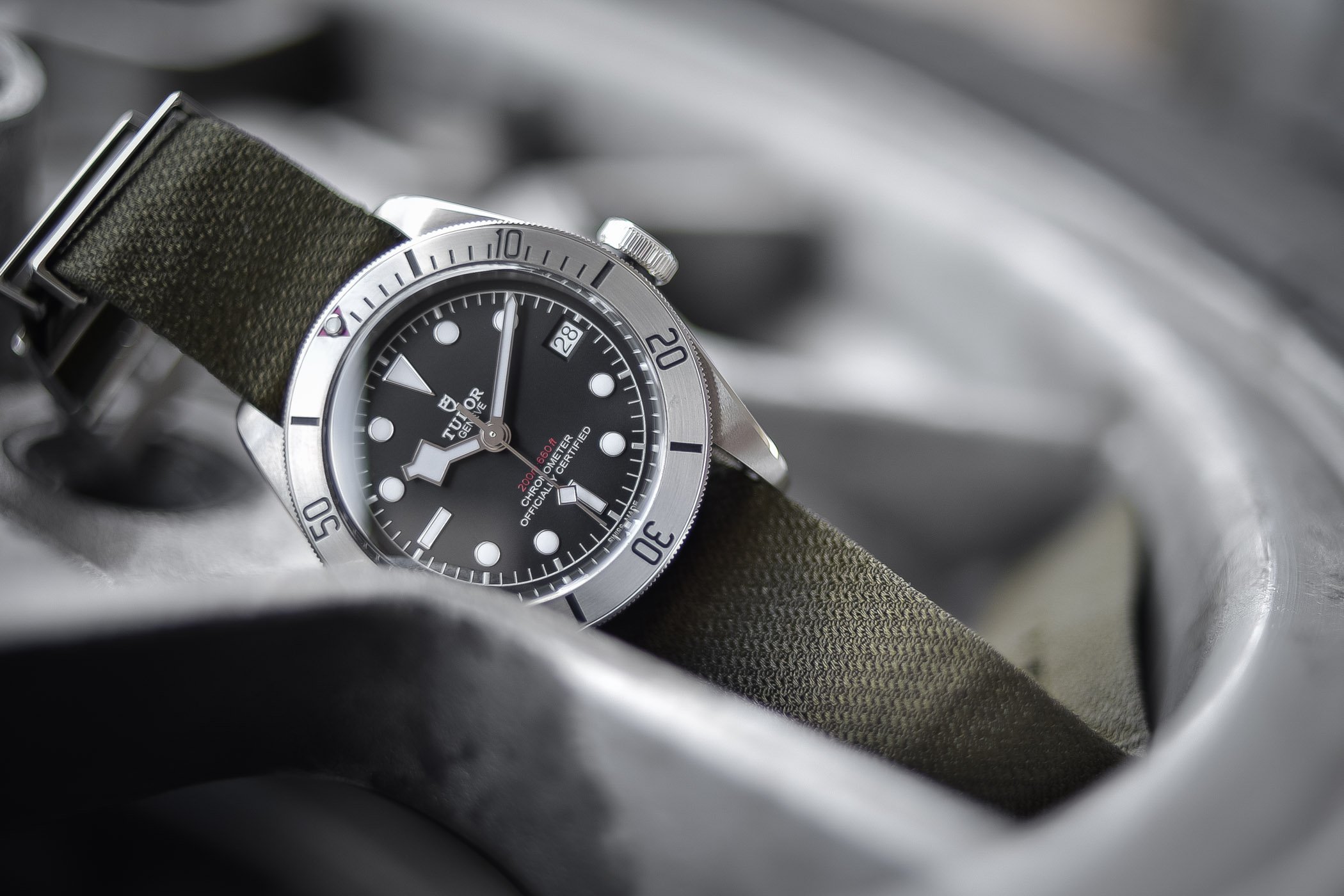 On a more product-oriented note, the Black Bay Steel is again a demonstration of savoir-faire by Tudor, with a watch that is impeccably executed and perfectly positioned in terms of pricing. Starting at EUR 3,260 on leather (EUR 3,560 on steel bracelet), it again offers one of the best quality/price ratios on the market. More details on www.tudorwatch.com.
---
Technical Specifications – Tudor Heritage Black Bay Steel Ref. 79730
Case: 41mm diameter – 60-minute uni-directional bezel (60 clicks) with brushed and engraved steel insert – stainless steel case, brushed and polished – domed sapphire crystal on top, screwed steel caseback – 200m water resistance
Movement: Calibre MT5612, in-house – COSC certified – Automatic – 70h power reserve – 4Hz frequency – hours, minutes, seconds, date
Strap: Aged leather strap on folding clasp or steel riveted bracelet on folding clasp – additional green fabric strap with buckle included in the box
Availability: As of June 2017
Reference: M79730-0003 (leather) – M79730-0001 (Steel bracelet)
Price: starting at EUR 3,260 / CHF 3,300 / USD 3,475 / GBP 2,490
https://monochrome-watches.com/tudor-heritage-black-bay-steel-79730-review-price/