Hands-on
The Opaline Tudor Black Bay GMT Brings The Albino GMT Vibe You've Always Wanted
It was already cool in black... but now Tudor creates the Albino version that many have expected from the Crown.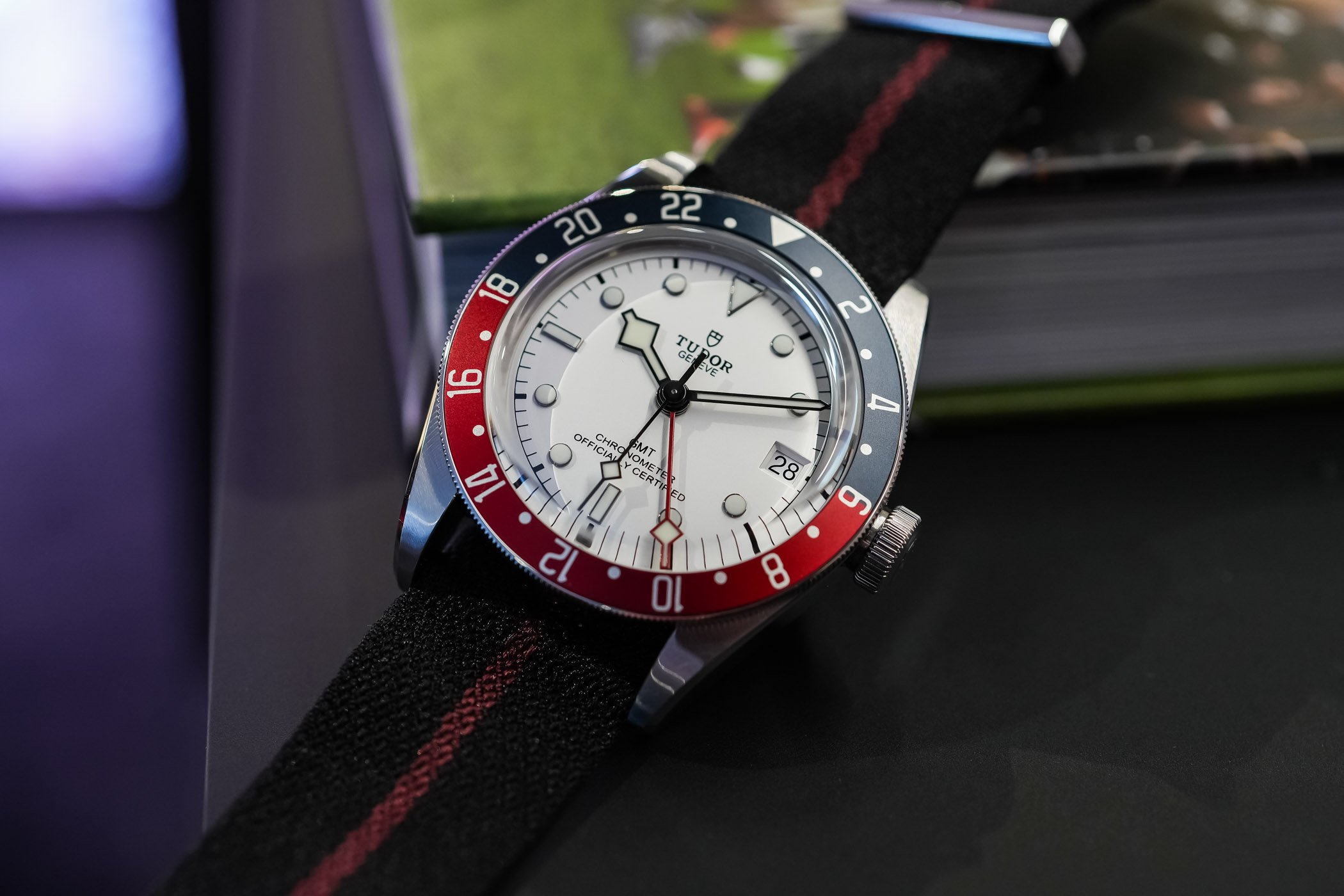 The difference a dial can make… We've said it countless times, but a simple change of dial colour can truly transform a watch. And the new opaline silvery-white dial of the Black Bay GMT introduced earlier this year at Watches & Wonders is there to make a point. For several years, this watch has been, at least in my books, too close to what Rolex was doing with its Pepsi GMT-Master II. But Tudor is in its emancipation period. The teenager is turning into an adult and takes his own decisions. While this new white dial makes the Black Bay GMT stand independently, what truly matters is the vibe, the non-official inspiration… Because what you're looking at is an evocation of an elusive, mythical, maybe questionable but truly desirable watch, the so-called Albino GMT… 
There's a new dial on the Tudor Black Bay GMT. I know, many can argue that it isn't a big deal. Objectively, this is the exact same watch as before, just in a new colour. In most instances, we would have stopped the story here, moved on to the specifications, pros and cons, and concluded the article. Except that the dial in question on this new edition of the BB GMT has a story to tell, one that Tudor or the Rolex group don't really want to express officially, but a pretty cool one. In the world of vintage Rolex watches, a world that we often avoid due to its relative lack of transparency, there are some unicorn watches… Think about the white dial "Polar" Explorer 1, the Split-Seconds 4113, and the Paul Newman Daytona of Paul Newman. And then there's the so-called "Albino" Rolex GMT-Master Reference 6542, earning its nickname from its crisp white dial – the only difference with the regular 6542 with black dial and Pepsi bakelite bezel – there's a fascinating story to read here by Ben Clymer.
This white dial GMT-Master from the first generation is known in only a handful of examples, with ongoing debates regarding the originality of these watches. As questionable as its authenticity is, the Albino GMT is a mythical, dare I say iconic watch that many have dreamed of seeing once in the metal. And, of course, we've long been waiting for Rolex to actually release a white dial on its modern GMT-Master II Pepsi steel watch (the closest you can think of is the white gold meteorite dial 126719BLRO). And while it didn't happen this year, it actually kind of happened this year… But with a Tudor. Should we see an acknowledgement of the authenticity of the vintage Albino GMTs here by Rolex? Not really. I wouldn't cross the line. However, Tudor is bringing the modern Albino GMT to life and once again giving watch enthusiasts what Rolex doesn't: watches with a vintage touch and based on icons – just like the Black Bay Pro of last year revived the concept of the early Explorer II.
Now, we have the cool factor. The icing on the cake. The layer of desirability that makes this silvery-white opaline version of the Black Bay GMT better (or not, depending on your tastes) than its black counterpart. But what about the watch itself? Well, there's not much new under the sun, dear readers. And this is what disappoints me… a bit; I'm being finicky here. But still, Tudor could have gone the extra mile by changing some of the specifications of this watch. We've seen that recent introductions, such as the updated Black Bay, had a thinner case and redesigned profile. Many of the new models now feature a micro-adjustment device on the clasp, redesigned hands or a newly-shaped crown that sits flush with the case. And, of course, there's the move to Master Chronometer movements, which will take time to implement.
But no, Tudor has not applied any of these updates and kept the Black Bay GMT Opaline identical to the black version. It doesn't make it a bad watch. But I would have loved to see incremental upgrades applied simultaneously on this objectively very cool dial. Let's do a quick recap. First released in 2018 with a black dial, alongside Rolex's take on the GMT Pepsi watch (both at Baselworld 2018), the Black Bay GMT is a mix between diving credentials and travelling capacities – a combination that I've always appreciated, making some of the best all-rounder sports watches. Housed in a rather large steel case of 41mm, it followed the design of the non-GMT models, with an oversized crown, a visible winding crown tube, chamfers on the sides of the lugs and a bidirectional bezel with now 24h scale printed over a blue and burgundy "Pepsi" anodized aluminium insert.
While Tudor has now been working on making its watches thinner, the BB GMT is still a sizeable piece, with a 14.5mm height, flanks that could be objectively thinner and a 50mm lug-to-lug measurement. Water-resistant to 200m, it retains the cool vintage-ish domed sapphire crystal of other members of the family and is offered on either a textile strap or a riveted steel bracelet… but without T-fit micro-adjustment on the clasp. No changes either on the side of the movement, which is still the Kenissi-made calibre MT5652, a powerful and fully equipped chronometer-rated movement with a built-in GMT complication. And yes, this is a flyer or traveller-style GMT, with the crown adjusting the local hour hand independently by one-hour increments.
The dial needs a few words, though. Apart from the excitement of having an albino or polar style on a Pepsi GMT, it has to be said that the dial isn't exactly white. It is opaline, with a silvery-white tone obtained through a galvanic process that results in a metallic feel with a slight sheen and iridescence. Combine this silvery-white colour with pure white lume on the hands and markers, and it results in a dial with a modern, technical touch, not the vintage flair some would have expected. The hands and markers have been darkened for the occasion, increasing the contrast. It certainly looks very good, but it is a bit too clinical for my liking. To each his own.
Objectively, this watch is nothing more than a new dial on an existing model, with all its pros and cons. However, it has an important 'cool' factor as an official Albino GMT produced b the Rolex consortium. Probably something of very low importance for some, yet it will make it highly desirable within a certain community. And in all fairness, it does look fresh and retains the impeccable quality of construction of all Tudor watches. Now available and part of the permanent collection, it is priced at EUR 3,940 on the textile strap and EUR 4,250 on the steel bracelet.
More details at www.tudorwatch.com.
https://monochrome-watches.com/tudor-black-bay-gmt-opaline-dial-pepsi-bezel-albino-gmt-79830rb-white-polar-hands-on-review-price/