Value Proposition
Tissot Heritage Petite Seconde (Review)
A vintage-inspired piece based on a 1943 classic with an old-school movement to boot.
Vintage-inspired watches are all the rage these days with military and dive watches usually grabbing the spotlight. Tissot has been around since the early 1850s and knows a thing or two about vintage watches. The brand's Heritage collection is full of throwbacks, celebrating milestones in both engineering and design. For instance, the Visodate line looks back at the 1950s when the date complication was integrated with an automatic movement. The recent Heritage 1973 Chronograph Limited Edition celebrates the brand's long ties with racing. The Tissot Heritage Petite Seconde is inspired by a dress watch from 1943 that was marketed as an elegant piece for men in big cities. Anti-magnetism was an innovative feature at the time with ongoing developments, and this actually created a bit of controversy with this new watch (more on that below). The Heritage Petite Seconde might be aesthetically faithful to the original but its timeless design still works well today. Let's take a closer look.
Background
Tissot was founded in Le Locle, Switzerland in 1853 by Charles-Félicien Tissot and his son Charles-Émile Tissot. Interestingly, Tissot and Omega had merged in 1930 for a time (producing watches that are highly sought-after by collectors). Tissot is among the first brands to develop a truly anti-magnetic watch in the 1930s and the Heritage Petite Seconde pays homage to a 1943 piece labelled "Antimagnetique" on the dial. When first introduced at Baselworld 2018, the watch had Antimagnetique printed under the logo, causing some contention among enthusiasts and collectors.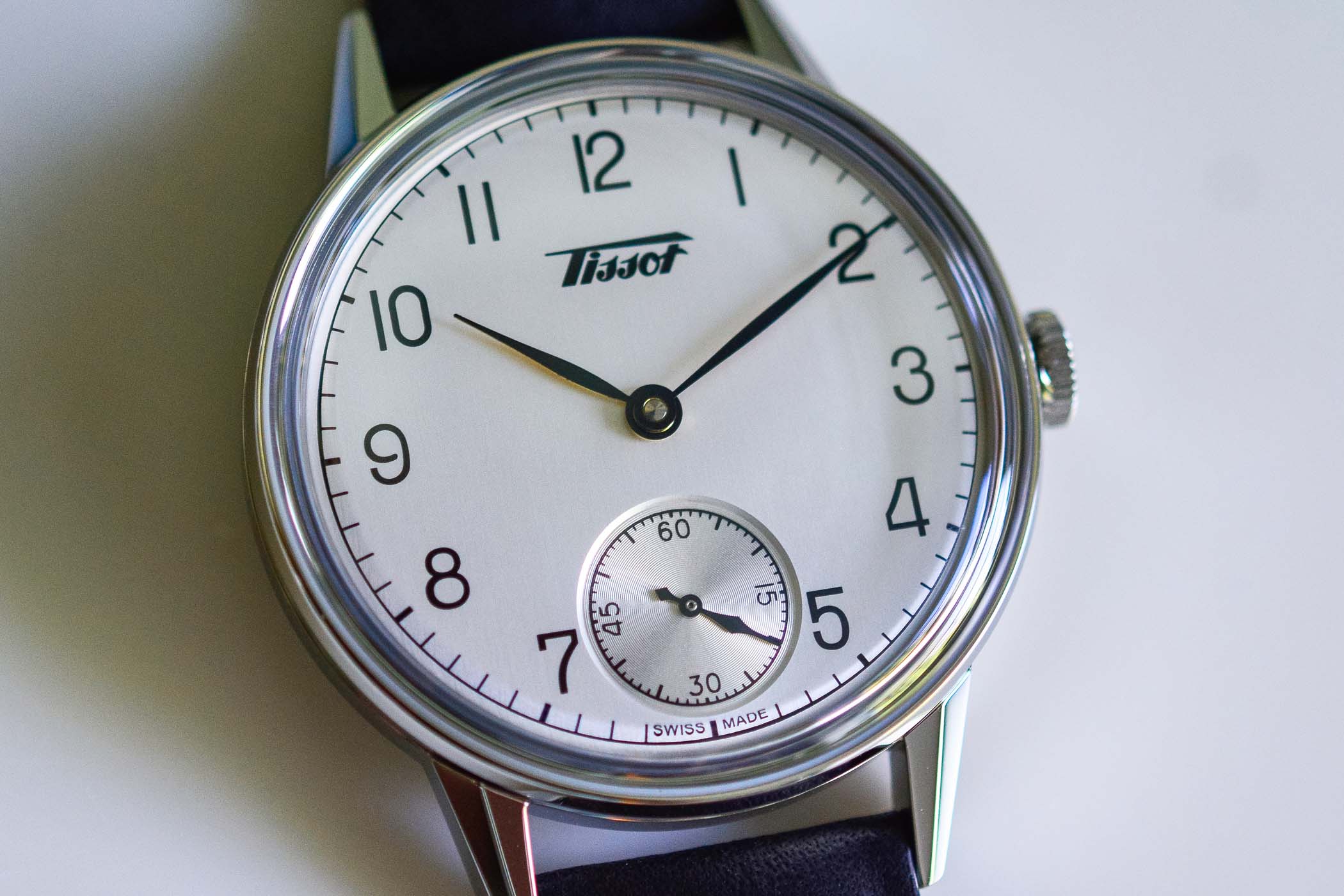 The problem is that this new piece doesn't have any significant anti-magnetic specifications, although it falls in with an average rating of 64 gauss. Tissot claimed it printed the designation on the dial because it was present on the original watch that served as inspiration, but without actually qualifying as an anti-magnetic watch by today's standards, some were up in arms. The term was dropped before the official launch and the dial now simply has the brand's retro logo below 12 o'clock. I personally wouldn't mind that initial dial set-up, but I understand the issue. It could be compared to a vintage-inspired dive watch with an "inspired" depth rating on the dial that wasn't truly accurate. In any event, the finished product is an elegant, refined piece that replicates one of the company's early, popular dress watches without controversy.
Case and design
The stainless steel case of the Tissot Heritage Petite Seconde is on the larger side at 42mm in diameter and 11.35mm in height, but flip it over and the sapphire exhibition caseback reveals why. The 36.6mm hand-wound Swiss movement takes up almost the entire case, but more on that later. The lugs are a bit on the large side as well, giving the case a lug-to-lug length of 52mm – Editor's note: the watch was photographed on Erik's 16cm wrist.
Some will rightfully argue about the large diameter for a vintage-inspied watch, but other than that, it looks great.
The sides of the case are brushed with the bezel and remainder of steel being polished. The bezel itself is almost non-existent as this watch is all dial, yet it has the overall impression of a piece a bit smaller than the diameter suggests. The domed sapphire crystal with an anti-reflective coating replaces the original's acrylic. The large knurled crown is easy to wind and pull to set the time, and I like its rather unassuming aesthetic. The case back has a narrow, polished steel rim (around 2.4mm) holding an expansive flat sapphire crystal and the watch is water-resistant to 50 metres. The case has certainly been upsized to contemporary proportions but retains that 1940s vibe despite of the modern touches.
Dial and hands
The dial is a light silver with a subtle vertical brushed pattern that adds texture to the generous amount of empty space. There is no lume or applied indices on this Tissot Heritage Petite Seconde, as everything is printed in black, starting with large Arabic numerals in a period-correct font with Tissot's retro logo under 12 o'clock (non-heritage pieces have the brand's current logo). A simple minute track spans the outer perimeter with bolder markings every five minutes. The seconds sub-dial at 6 o'clock is recessed with a snailed pattern and sunburst finish. Arabic numerals are printed every fifteen minutes with a seconds track similar to its main minutes counterpart.
The hour and minute hands have a long leaf style reminiscent of the original 1943 model. The dial really takes you back to a time when things were a bit simpler. Legibility is outstanding (as long as there's light) and the lack of clutter with plenty of negative space exudes old-school charm. Shrink it down a little to 38mm and it'd be right at home on a 1940s wrist.
Movement
The heart of the Tissot Heritage Petite Seconde is a hand-wound ETA 6498-1 calibre, first developed in 1950 and based on a pocket watch movement. It's only a handful of years ahead of the original model and gives this piece another shot of vintage adrenaline. The movement (and 6497 sibling) is no stranger to Tissot as it's been used in many pieces – and is produced by ETA, another Swatch Group-owned company.
It features 17 jewels, beats at 18,000vph (2.5Hz) with a 46-hour power reserve. Seen from the exhibition caseback, it's decorated with Côtes de Genève and blued screws. Winding this oversized movement is always a joy as it's loud and tactile, and when sitting at my desk, I can often hear it faintly ticking away.
Strap
The 20mm black leather strap with black stitching is simple and lightly padded and comes with a steel butterfly clasp with push buttons. A brown strap is also available. It looks great and is comfortable out of the box and fit my smaller wrist well without the need for extra holes (that's always a plus in my book). On paper, the 20mm lug width sounds a bit small for the watch size, but anything wider (like 22mm) would look out of place on this particular case.
Conclusion
The Tissot Heritage Petite Seconde is an excellent addition to the Heritage collection, faithful to the 1943 piece that inspired it with an old-school movement that may not be entirely period correct, but still smothers it with vintage character. If you're a fan of vintage-inspired pieces, there's a lot to like about this one with its classic dial, oversized pocket watch movement and "old-fashioned" font, but the size may be polarizing for some. It certainly doesn't have vintage proportions, although it's about as small as you can get with an ETA 6498-1. The majority of watches sporting this movement are larger.
I also like how the vertical brushing on the dial adds texture to the negative space and the black print on silver couldn't be more legible. It leans toward the dressy side but works fine with a t-shirt and jeans as well, especially given the size. I'm a big fan of this almost industry-wide trend of finding inspiration from a bygone era and the Heritage Petite Seconde certainly is a desirable, inexpensive piece.
Price and availability
The watch retails for EUR 990 or USD 995. It is now available at Tissot's online store or participating retailers worldwide. More information can also be found at Tissot's website.
https://monochrome-watches.com/tissot-heritage-petite-seconde-value-proposition-review-price/