Opinion
Thoughts on the Patek Philippe Nautilus ref.5711 (and why I didn't buy one)
Due to (way too) popular demand, prices for a pre-owned Nautilus ref. 5711 are at insane levels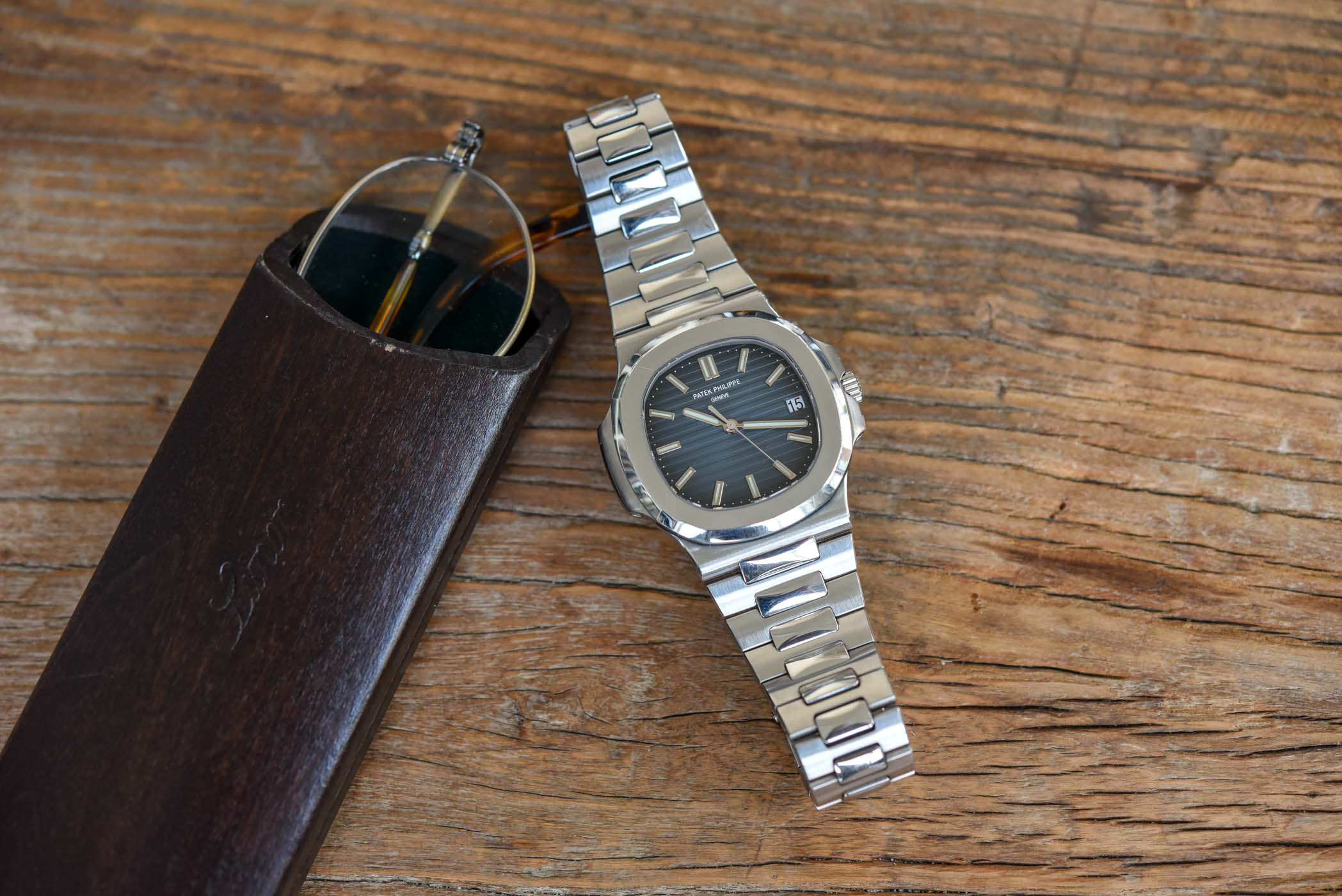 The segment of luxury sports watches remains an interesting and intriguing category in the world of watches. Since the very first luxury sports watch was introduced in 1972 – the Audemars Piguet Royal Oak ref. 5402ST – many brands have tried to enter this segment, most of them without the success they had envisioned. The watch we will be looking at today did succeed, and might just have superseded the immense success of the Royal Oak. I'm talking about the Patek Philippe Nautilus and today we'll be looking at this extremely popular luxury sports watch.
Originally introduced in 1977 as the Patek Philippe Nautilus ref. 3700, this was Patek's take on the luxury sports watch and, like the Royal Oak, it was designed by Gerald Genta. In 2006 it was replaced by ref. 5711, an updated, modernised version of the basic stainless steel Nautilus. Over the years there have been quite a few variations, materials, and additional functions for the Nautilus, which we covered in our three-part in-depth story, starting with part one focusing on the ref. 3700 here. In the second part, you can read all about the variations, and part three is dedicated to the modern ref. 5711 and its siblings. Two years ago Patek celebrated the 40th anniversary of the Nautilus with the introduction of several special pieces (see here.)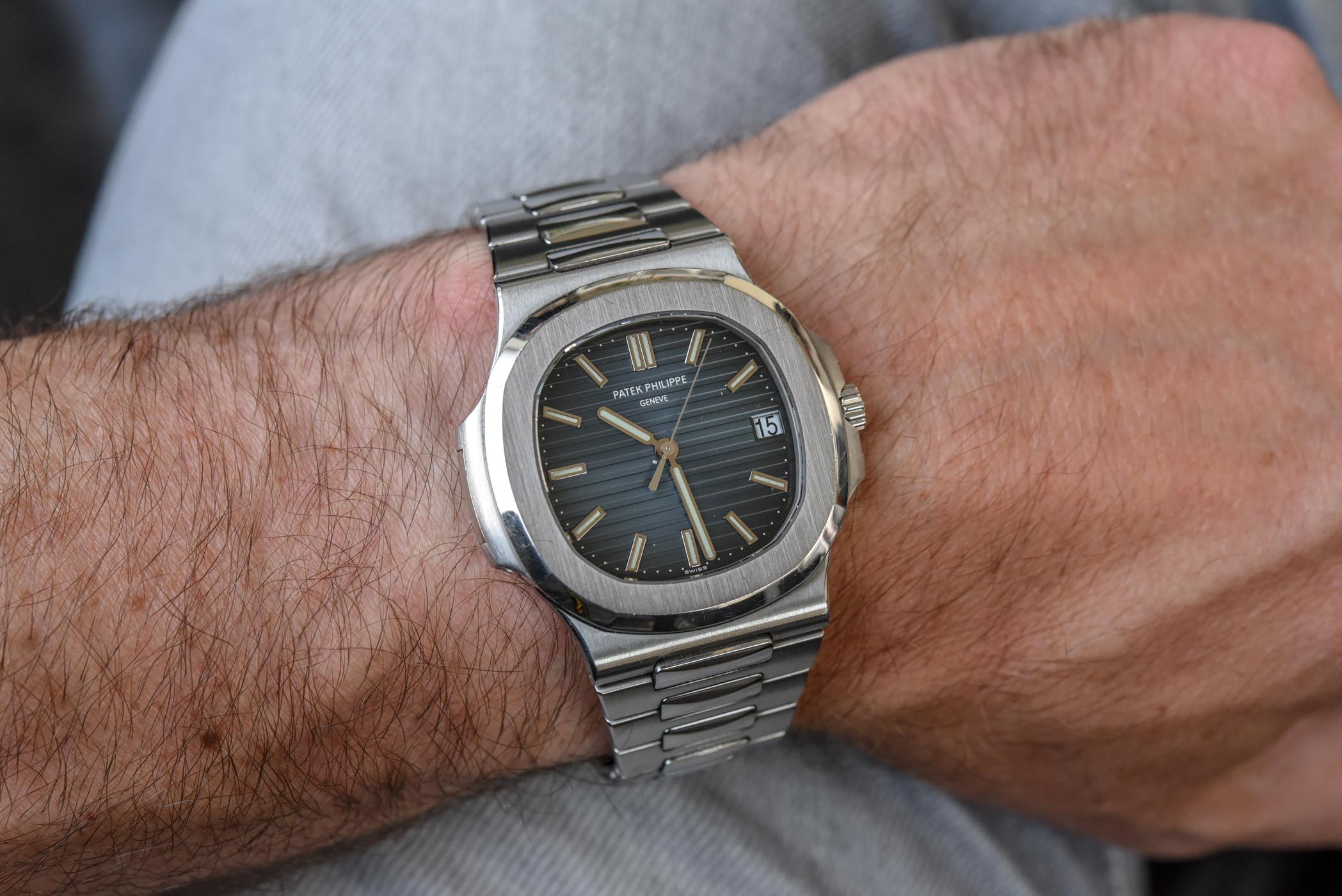 The other day I had the good fortune to borrow a friend's 5711 and get a taste of how it wears, how it feels, and how it feels to be wearing the most desirable luxury sports watch of the moment.
Desirability of the Patek 5711
Is it desirable? Well, at the beginning of this year Patek Philippe increased the price of the Nautilus by 20%. When asked why, we were told that part of the reason is that demand for the Nautilus was just too high. It used to retail for just under CHF 22,000 and now for almost CHF 27,000. On the pre-owned market, the Nautilus ref. 5711 goes for CHF 40,000 and more… Pre-owned dealers and official Patek dealers get phone calls on a daily basis from people inquiring if they have a Nautilus available. Any steel Nautilus! And prices offered are far above retail price. In fact, the lowest price for a used Nautilus ref. 5711 with gradient blue dial, at the time of publishing, is around EUR 40,000 and that's one that has had a pretty demanding life if I have to judge by the scratches visible in the photos.
The Nautilus has been high on my own wishlist for a long time. Now that I finally have the budget to buy a Nautilus, I am facing the issue of availability. The EUR 22,000 I saved up isn't enough anymore. Since the sudden price increase, I need to add an additional EUR 5,000 to get one, but there's another issue… The waiting list is said to be around eight years!
Pre-owned 5711's are all overpriced at insane levels. Prices for a used (really used) 5711 start at EUR 40,000 and easily reach figures of EUR 50,000 (and more) for an unworn version. Do I still want one? Yes. But not for EUR 40,000 or more, and eight years of waiting does not match my 'patience-profile'. After some weeks of deliberation, my budget was spent on something else, also pre-owned, although with four wheels and a reference number that also ends with "11".
Patek Philippe Nautilus ref. 5711 on the wrist
I own a vintage AP Royal Oak ref. 5402ST and to me, this is THE benchmark for luxury sports watches. Elegant, extremely comfortable, thin, light, legible… and probably more "luxury" than "sports" watch. The modern Nautilus also delivers everything you would expect from a luxury sports watch. It wears very comfortably, it's legible, it's thin, light, elegant and looks good with pretty much any outfit and in every situation. It's really one of the nicest all-rounder watches you can imagine.
Compared to the Royal Oak, the Nautilus looks softer, rounder, maybe a bit less bold and masculine and a tad more feminine. The ribbed gradient blue dial of the Nautilus looks more elegant than the anthracite/grey 'clous de Paris' dial of the Royal Oak. Same goes for the bracelet and the case; fewer angles and fewer sharp shapes add some more joie de vivre to the Nautilus.
Due to its magnificent slenderness, it can also be perceived as fragile. Take for instance my own Royal Oak that, since my son was born almost four years ago, spends more time in the vault than on my wrist. Jumping into the pool with the little one, spending a day on the beach, and going to the playground are all of a sudden situations where I do not want to wear this watch anymore. If my son grabs my wrist, I'm worrying that the bracelet might break and that's what you do not want when you're on the beach with your kid. The Nautilus is a tad less fragile than my old Royal Oak (the new Royal Oak ref. 15202ST is more robust), but for a day on the beach playing with my four-year-old son, I would choose something more rugged.
A small flaw is that the Nautilus' movement, calibre 324SC, does not feature a stop-seconds function when the crown is pulled. Not a big issue for me, but I know some people would disqualify a watch, especially a sports watch, for this very reason.
Water-resistance rating of the Nautilus is 120 metres, and for all 'wet' activities – except professional deep-sea diving – this is more than sufficient. The steel bracelet comprises brushed steel links and polished central links, all quite thin and very comfortable on the wrist. The clasp is a simple clasp, with no easy adjustment or micro/fine adjustment to resize it when your wrist grows or shrinks with temperature changes. There's also no easy way to change the steel bracelet for a rubber or leather strap.
Conclusion
The Patek Philippe Nautilus ref. 5711 is one of the most desirable watches on the market today, if not THE most desirable one. It wears great, it looks great, and yes, it also feels great to wear.
It's not the most modern sports watch, as the bracelet doesn't feature any sort of fine adjustment or possibilities to change it for a rubber or leather strap. Plus Patek's in-house movement, calibre 324 SC (SC stands for Seconde Central), does not feature a stop-seconds, which is something you would expect in a modern sporty watch.
Despite these minor flaws, the Nautilus is peerless in its popularity. The aforementioned eight years' waiting list at retailers and official Patek boutiques has not been reduced even after the 20% price increase earlier this year, and on the pre-owned watch market, the Nautilus' popularity is unparalleled. In recent history, I've not seen any watch with such strong appeal that people are prepared to pay up to double the retail price.
I know that people are wondering whether this would be a good investment… Let me say that IF I had a crystal ball, I would have bought a bunch of these last year and sold them with an interesting profit margin this year. But I do not have a crystal ball, and the 45k savings I had were spent on a luxury sports watch car instead. But boy, the Naut would look great on my wrist, behind the wheel of my car!
At the time of writing, nine months ago, pre-owned 5711's were sold for around € 45,000 EUR. Today the price of a pre-owned Nautilus 5711 starts around € 50,000 EUR, however expect to easily pay around € 60,000 – 65,000 EUR (and upwards) for one in mint condition.
edited 11-05-2019
https://monochrome-watches.com/thoughts-patek-philippe-nautilus-ref-5711/