The Petrolhead Corner
The Suzuki GSX-R 750, Legendary in Every Sense of the Word
A street/track weapon with an unmatched price-to-performance ratio.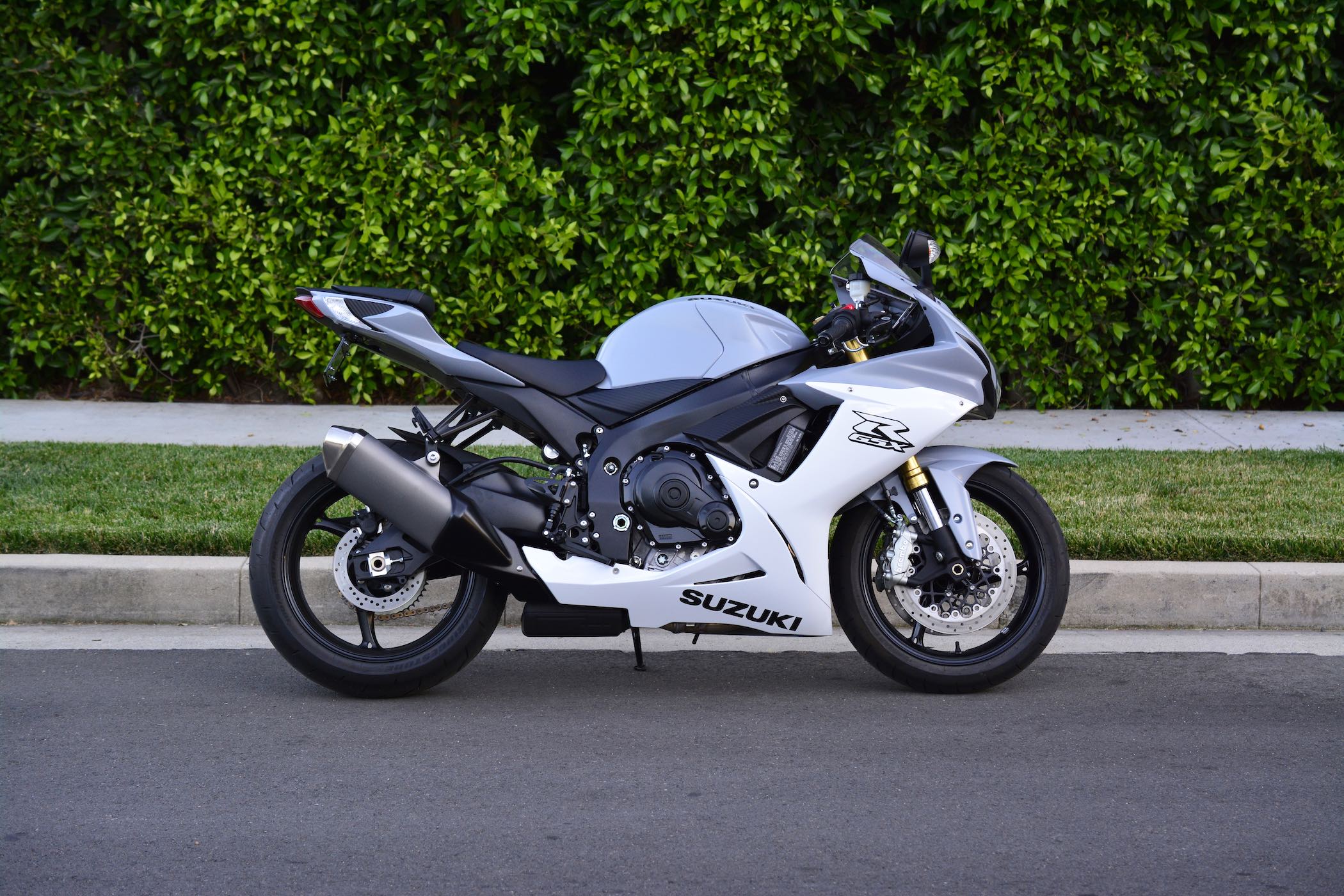 There's a saying that I've always appreciated, "They don't make them like they used to". I mentioned in a recent Petrolhead Corner on V4 Motorcycles that we're truly in a golden age of motorcycles. They've never been better as far as power, performance, technology and reliability, but sometimes things can be "too good" and stray from the character (and even flaws) that make riding such a rewarding experience. Suzuki tends to keep things old school, which some argue is behind the times, but I think the GSX-R 750 sportbike is all the better for it.
Electronic interference
Too many motorcycles are overengineered these days with electronic interference as the computerised engine control unit (ECU) "keeps you safe" by limiting the engine's potential. Over-aggressive traction and wheelie control, lean angle sensors, ABS and so on, not to mention outright power limits at the low end (cough, Ducati), can polish out what should be rowdier. Some of this can be turned off or at least toned down, but often there's a computer middleman making one too many decisions that distance the rider from the engine. Suzuki tends to avoid these traps, as my 2022 GSX-R 750 doesn't even have traction control or ABS, which is rare for a modern high-performance bike. Of course, ECU interference can be improved with aftermarket tunes, exhausts and so on, but I'm talking about stock, from-the-factory setups. Of the four major Japanese brands, Suzuki wins my old-school test.
The GSX-R Changes the Game
Sportbikes matured in the 1980s with superstars like Kawasaki's GPZ900R (the original Ninja), Honda's track-focused VFR750R V4, Yamaha's FZR1000 and, of course, Suzuki's GSX-R 750. The latter was introduced in 1985 and followed the Japan-only GSX-R 400 a year prior.
In the 1970s, Japanese bikes had an old, stale design language that led to the term UJM or Universal Japanese Motorcycle. The following decade saw a reversal with truly modern sportbikes that established a formula that remains today. The GSX-R 750 was basically a middleweight race bike you could buy for the street that was sized for AMA racing rules at the time, which decreased from a maximum of 1,025cc to 750cc.
Even then, it had an old-school vibe with an inline-four and four valves per cylinder, while Yamaha's FZ750 had five valves per cylinder, and Honda's VFR750R Interceptor had a bold, liquid-cooled V4. Suzuki went with aluminium tubing for the frame, however, which was lighter and more innovative than some common steel counterparts.
The GSX-R 750 remained very competitive yet a step behind until 1989, when Suzuki won the AMA Superbike Series. The bike's price-to-performance ratio also made it a favourite among amateur racers and street demons alike, which endures even today. With my 2022 GSX-R 750, there's 150 horsepower on tap at a price meeting Honda's smaller CBR600RR and just a bit higher than Kawasaki's, also less powerful ZX-6R (113 horsepower and 134 horsepower, respectively). The price is thanks to the absence of electronic gizmos like traction control, ABS, multiple power modes (mine has two) and so on. As mentioned, it's better off without them as the ride is more organic and direct, just like the motorcycle gods intended. I'm all for technology (and the GSX-R has the modern essentials), but not when it's overbearing.
Seven Generations
Following the 1985 debut of the GSX-R 750, an updated model was launched in 1988 with a cast and formed frame replacing welded tubes. New "slingshot" carburettors improved performance, and better suspensions were added, although the overall weight increased to 458 pounds from its lightest configuration of only 388 pounds. In 1992, the third generation launched with a more powerful liquid-cooled engine to rival Honda and others without a weight increase. Two years later, in 1994, a fourth generation dropped the weight to 436 pounds, but it was the fifth generation in 1996 that brought major changes, including the SRAD (Suzuki Ram Air Direct) induction system.
At this time, all Japanese competitors had aluminium frames, removing Suzuki's early advantage, so the GSX-R 750 followed the trend of beams going directly from the steerer tube to the swingarm pivot for a stiffer, lighter setup. The new, more powerful SRAD engine, coupled with a reduced weight of 394 pounds, brought the GSX-R 750 to AMA Superbike championships multiple times since 1999. In 1998, fuel injection also replaced ageing carburettors.
The sixth generation debuted in 2000 and is considered one of the greatest sportbikes ever. Cycle World even declared it as they looked back on the industry in 2011. A redesigned engine, lighter frame and improved performance set a standard that remains today with the 2023 GSX-R 750. The benefits of my 2022 (and all late models) are size and weight comparable to the smaller GSX-R 600 but power (almost) comparable to 1,000cc superbikes. As mentioned, mine has 150 horsepower from a lightweight 750cc inline-four, while my previous 2018 Honda CB1000R with an additional 250cc had 143 horsepower. I also had an MV Agusta Brutale 800RR that pushed out 140 horsepower with a 50cc advantage. Both were more expensive as well.
The last significant revision occurred in 2011 with (what I'm calling) the seventh generation, and it's generally unchanged today. A new chassis and bodywork are highlights, but the engine has seen performance tweaks as well. At 427 pounds fully fueled, the bike is lighter than litre bikes (1,000cc) and even less than Honda's smaller 600cc CBR600RR. The dash seems antiquated to many with an analogue tachometer and monochromatic LCD display, but I prefer this to fancier colour displays. It's a performance bike, and I just want to see the necessary info and nothing more. The essentials are also all there – adjustable suspension with Showa forks, Brembo brakes and second-to-none reliability, among many other things. Perfectly engineered without being overengineered.
A dying breed
Unfortunately, the GSX-R 750 lives in a much smaller competitive world than years ago. A small handful of 600cc (proper) sportbikes remain from Honda, Kawasaki and Suzuki (Yamaha recently discontinued the street R6 variant – a stripped-down race model exists), but there isn't another comparable 750cc at this point. There are a couple more from Italian brands Aprilia and MV Agusta, with the RS 660 and F3, respectively. Aprilia's is at a smaller tier with 100 horsepower, while MV Agusta's F3 has comparable power but with an 800cc engine and a much higher price.
Today, it generally goes from the 600cc class to the 1,000cc class, making Suzuki's 750 the only middleweight "superbike" from Japan. With 600cc-like track prowess and 1,000cc-like power, the latest GSX-R 750 is arguably the best overall sportbike you can buy, especially for the price, and its track record speaks for itself. It's not cheap at USD 13,000, but very well-priced from a power/performance standpoint. For anything comparable, which is generally in the 1,000cc class, you'll surely pay more. MV Agusta's 800cc F3, the closest bike to the GSX-R 750, is over USD 19,000. Pound for pound, as they say, there's just nothing better than Suzuki's legend.
https://monochrome-watches.com/the-petrolhead-corner-suzuki-gsx-r-750-legendary-sports-bike/