The Petrolhead Corner
The lost Art of the Racing Transporter
When even trucks were cooler than ice cream…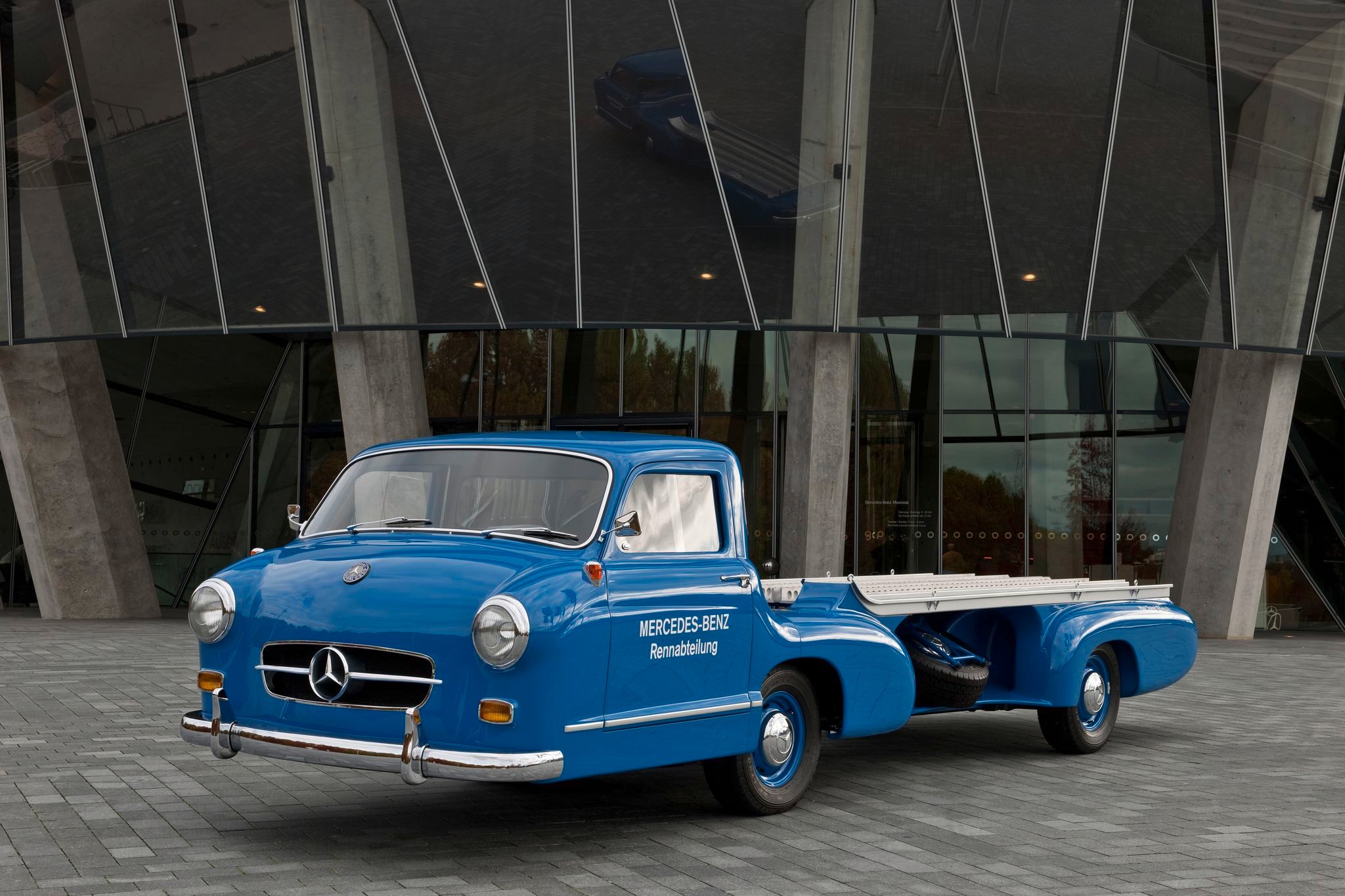 Modern-day tech requires modern-day designs and solutions. The world of racing perfect embodies this. Big money racing teams rely on state-of-the-art amenities to support the entire crew during a racing weekend. Entire fleets of trucks (or even planes) are used to transport people, cars parts, tools and equipment halfway around the world. Throughout history, these trucks have been the unsung heroes in a world where only the drivers and cars seem to be in the limelight. There are examples though, were a racing transporter outclasses the label of being a simple truck. Here are some of the finest examples!
Nowadays a racing truck is a sleek, fully branded box on wheels lugging around a motorhome, racing car of equipment while staff is flown in and out of a country. I am exaggerating a bit of course, but avid motorsports fans are familiar with the sight. During a racing weekend, these trucks and trailers are parked, tucked away in silence, only to be called upon when all the spectacle is done and dusted. Even on the road, it sparks little excitement when spotted. Yes, it often bears team-colours or a flashy image of the car that is probably inside it, but that is about it.
It wasn't always like this though. There are plenty of stories where drivers actually drive their racing car to a race or carry it with them on a trailer to and from an event. As racing got more and more professional, this graduated in trailers with room for a car, tools and parts but also for accommodation perhaps. Not only is it a matter of what you need at the race track but also how you get there and back again. 
Perhaps the most well-known examples of the humble racing transporter turned superstar is the Mercedes-Benz Racing Transporter known as "Das Blauwe Wunder" and the coachbuilt Commer TS3 truck built for and used by famous Scottish racing team Ecurie Ecosse. These two trucks, both blue, fulfil a basic logistical need at heart but have become far more than that. When an old truck sells for a hammer price of 1.6 million pounds at an auction, it is no longer a mere truck, now is it?
Both of these famous trucks were built in the fifties, perhaps the most interesting era in motor racing. Coming out of WWII and basically still in the process of rebuilding much of Europe, motor racing was picking up steam again. 
"Das Blaue Wunder"
For racing manufacturers and teams, 1950's Europe posed several challenges but also one huge plus. One of the challenges is lugging your race car from venue to venue and be on time for the first practice session of a race. The fact that virtually all the big races were held in Europe was a big help. At the time, it was simply impossible to repair cars if certain parts were damaged or destroyed. The solution was to bring it back to the factory, fix it and send it back again, losing countless hours in transport. Having the proper tools at your disposal was another, and this is when Mercedes Motorsports Chief Engineer, Rudolph Uhlenhaut had a solution; build a fast truck.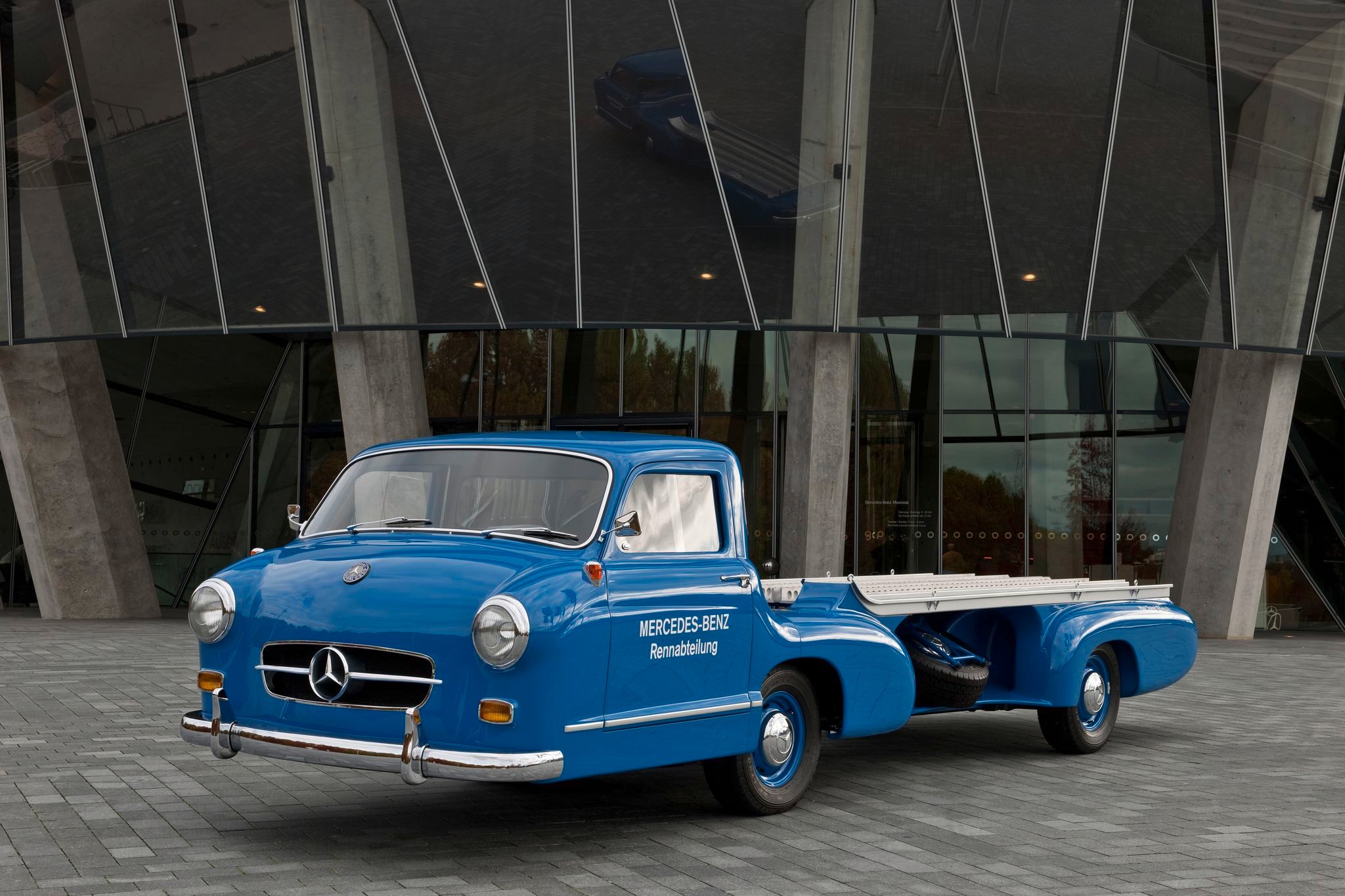 The truck in question is known as "Das Blaue Wunder", the Blue Wonder. The striking blue truck is not necessarily the prettiest of things, as the cab-forward design makes it look rather weird. The cab is mounted low, it's not much higher than a regular car but sits in front of the front axle and wheels. There was room for one car behind the swoopy cabin, with the truck's engine, mounted low in the chassis.
It was built on a lengthened chassis pulled from the Mercedes assembly line. Even the engine was pulled out of a Mercedes production car, but was a potent one; a 220bhp 3 litre 6-cylinder engine donated by the iconic Mercedes Benz 300 SL Gullwing. Top speed for the truck was more than 100mph, exceeding the top speed of any mass-produced truck available at the time. Not only the chassis and engine came from standard Mercedes cars, but also the doors, fenders and parts of the interior. But most of the rest was custom built for the Blue Wonder.
It was in use for more than a decade and served as an exhibition vehicle and testbed after Mercedes pulled out from all forms of racing following a horrific tragedy at the 1955 Le Mans 24 hours (over 80 spectators were killed in a crash involving Mercedes works-driver Pierre Levegh). In 1967 the car was scrapped for unfamiliar reasons and considering the fact the built only one, that was it.
About 40 years later Mercedes-Benz came to their senses, and allegedly even the man responsible for scrapping it in the first place regretted doing so. With the help of original documents and drawings, they managed to recreate it to the most intricate detail. They fitted with an original 300SL engine, which it used to have. The full build took about 7 years and was completed in the year 2000, at an estimated cost of 2 million dollars, and resides in the Mercedes-Benz museum ever since, occasionally pulled out for international motorsport events. 
But, there are actually two in existence albeit the second one is slightly different from the original vehicle and its down-to-the-screws exact replica by Mercedes-Benz themselves. The second one is owned and built by Jay Leno and his team (who else!) and is frequently used by the true petrolhead himself. He has an unrestored Mercedes-Benz 300SL Gullwing on the back which he sometimes hauls around to car shows and impresses the crowd. 
We all know Jay is extremely knowledgeable when it comes to cars, and it is always a joy to watch his shenanigans and listen to him explain a car in detail. Driving around in this one thing stands out; it must be a really unusual feeling to motor down a highway in this. The forward mounted cab means everything happens behind which looks like a real dizzying experience at times. Jay's version has a few differences from the original, one of which is the engine. He fitted a Mercedes-Benz truck engine as an original 300SL one would be too costly to use. Also, a few other updates have been fitted, all explained in this episode in Jay Leno's Garage from a few years back;
More information on the Mercedes-Benz Renntransporter "Das Blaue Wunder" can be found on Goodwood.com.
Ecurie Ecosse Commer TS3
One of the most famous non-factory racing teams to ever grace international endurance racing is Ecurie Ecosse. While it sounds very exotic to the uninitiated, it is in fact Scottish! It translates to Scotland Stable from French and its most noticeable for winning the 24 Hours of Le Mans back to back in 1956 and 1957. The team was founded in 1951 by Scottish businessman and racing driver David Murray and mechanic Wilkie Wilkinson. The team has competed in various different racing classes, but always with a distinct Flag Blue paint job on their cars. That's what makes them instantly recognisable as it is one of the most iconic liveries before sponsoring became a thing.
The most famous cars ever to be driven by the Ecurie Ecosse team is a 1953 Jaguar C-Type and a pair of Jaguar D-Types, in which they took their double win at the 24 Hours of Le Mans race. Ecurie Ecosse's double win actually followed a factory-run Jaguar D-Type overall victory in 1955 which shows that Ecurie Ecosse was up against the best of the best and overcame all odds, twice! The 1957 outing of the iconic endurance race even saw the team coming in first and second, a rare privateer 1-2 finish. 
Following their Le Mans wins in later years they ran a Cooper T57 Monaco, Austin-Healey Sebring Sprit and Tojeiro EE but were never able to repeat the success. Other cars that bore the evocative blue with white stripes are a Jaguar XK120, and in Grand Prix racing a Cooper T20 and Connaught Type-A.
In 1971 Ecurie Ecosse sceased to compete in racing but has since been revived twice. Once during the eighties, winning the 1986 C2 World Sportscar Championship and continuing racing into the nineties. The second revival came in 2011 when the Ecurie Ecosse team would once again return to Le Mans with an Aston Martin DBRS9. 
But, considering this is an article on racing transporters, we have to mention perhaps the most famous member of the Ecurie Ecosse racing team; the unique and rather cool Commer truck. How this truck came about is rather special too, as it was made possible by the Ecurie Ecosse Association, booming with new members following their 1956 and 1957 Le Mans wins. These members thought the team could benefit from eliminating the stress of transport by building this one of a kind machine. The truck is equipped with a crew cabin and small living quarters, storage for tools, equipment and parts and the ability to haul three cars at once. It is built on a Commer truck chassis with three-cylinder Commer TS3 diesel engine, and a fully bespoke, coachbuilt body as nothing in existence would fulfil the team's needs.
Much like the Mercedes-Benz Renntransporter it gathered attention everywhere they went and the truck found its own unique place in racing history. It was owned by enthusiast collector and Dick Skipworth from the early nineties, also owner 7 of the Ecurie Ecosse racing cars from the fifties and sixties. After holding on to them for over 20 years he decided it was time to part with them and sell them through Bonhams in 2013, grossing over 8 million GBP. While the stars of the collection were the Jaguar C- and D-type, perhaps the most loved car up for auction was indeed the Commer truck. With a hammer price of close to 1.8 million GBP including buyer's premium. There's a fantastic video by Goodwood Road & Racing from the event, including an interview and final drive with Dick Skipworth himself and an insight to some of the cars from his collection.
More information on the Ecurie Ecosse collection that went up for sale in 2013 can be found at Bonhams. 
https://monochrome-watches.com/the-lost-art-of-the-racing-transporter/