Face-to-Face
The Hamilton Khaki Pilot Pioneer vs. the Timor Heritage Field
Both military-inspired, both issued to the British Armed Forces, both compact and both accessible...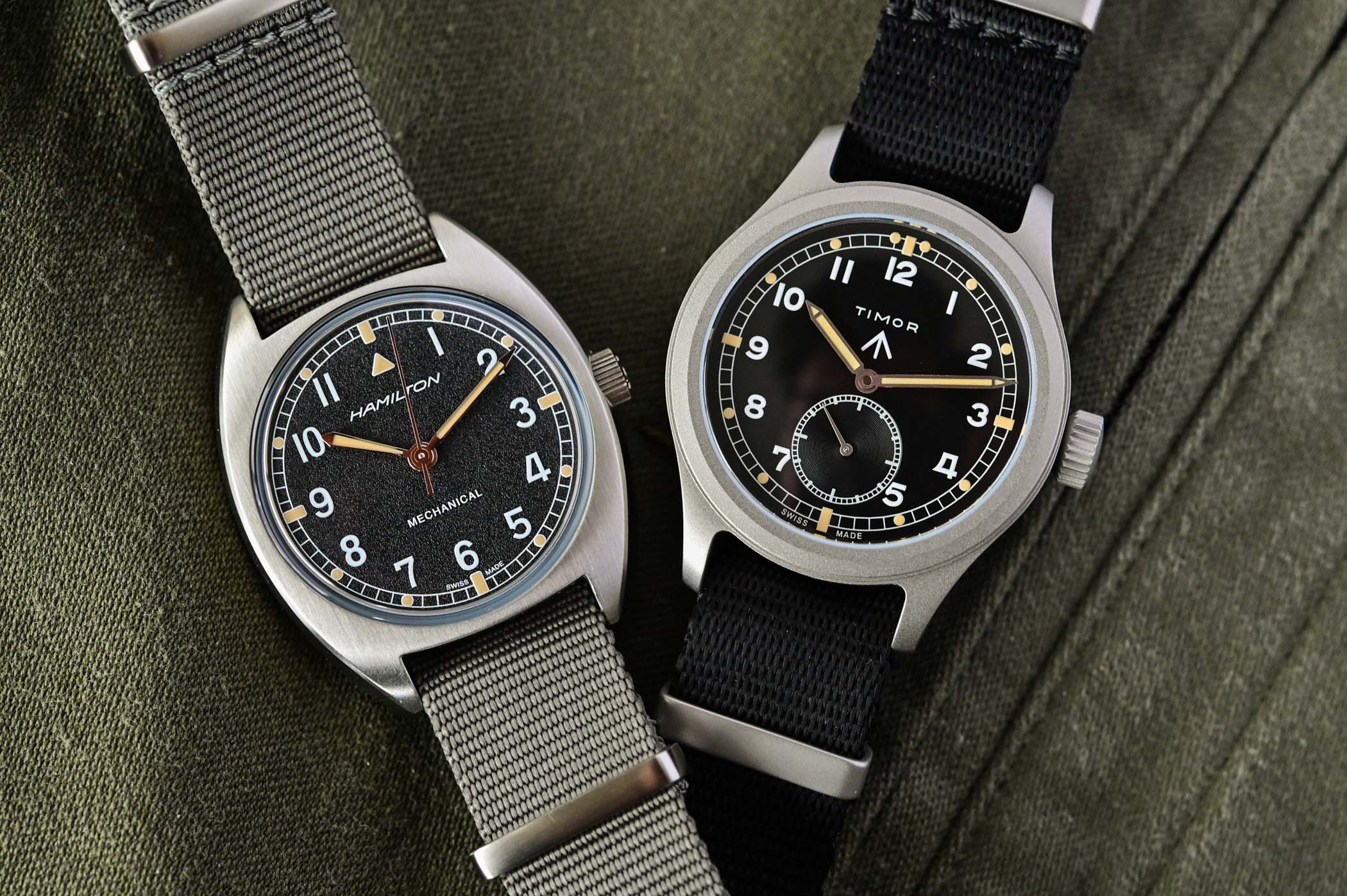 Here's the battle of accessible British military-inspired watches! The two watches we're about to compare are indeed very similar in spirit and execution. Undoubtedly, there are drastic differences between them, but there are strong resemblances too. Both watches are accessible, hand-wound, inspired by past military-issued models for the British Armed Forces (the MoD and the RAF, respectively), compact in size and very faithful to their ancestors. However, one is produced by an established brand owned by a Swiss giant and is a reissue of the so-called W10. The other one comes from a micro-brand and is the closest modern watch you can get from a "Watch Wristlet Waterproof" of the iconic Dirty Dozen. So let's compare the Hamilton Khaki Pilot Pioneer Mechanical with the Timor Heritage Field. 
The story behind this article is simple. Although we hadn't planned on a comparative review of these two very similar models, when we had both models in the office for a photoshoot, this face-to-face review became more and more obvious. In a way, one is the successor of the other and side by side, the connection between these two watches is blatant. But before we move on with the comparison, we need to see where they come from, as both models are re-editions of past watches.
Background
In our days of smartphones and wearable tech, it's easy to forget just how indispensable the humble mechanical wristwatch once was. And it's easy to forget that the mechanical watch was once part of the vital equipment of a soldier and for most Armed Forces around the globe. Some of them simply were bought off-the-shelf; some, on the other hand, set specific criteria to define the exact watch they needed.
The W.W.W. "Dirty Dozen"
This is the case for the W.W.W. (Watch, Wristlet, Waterproof), a  watch standard defined in 1943 by Commander Alan Brooks for the British MoD (Ministry of Defense).
Criteria were simple: a black dial with small seconds, luminous hands and Arabic numerals, movements with 15 jewels, shatterproof Perspex crystal, a waterproof case, precision movements that had to be regulated to chronometer criteria, a rugged case to absorb shocks and a large water-resistant crown. Once the British MoD had settled on these criteria, requisition officers were sent to British manufactures and to Switzerland to find companies that could fulfil the order. In the end, twelve companies would be selected, giving their name to this "collection", later known as the "Dirty Dozen". And among these manufacturers was Timor, a company renowned for its participation in this production. Timor Watch Company was founded in 1923 by Mr Bernheim and Mr Luthy in La Chaux-de-Fonds, Switzerland.
Once peace returned in Europe, Timor diversified and started to create more fashionable dress watches but was eventually affected by the quartz crisis of the early 1970s. Following its recent reincorporation in the UK, the brand has started to reproduce its iconic W.W.W watch, almost identical to that of the Dirty Dozen. For more details about the "Watch Wristlet Waterproof – Dirty Dozen" watches, you can read our in-depth article here.
The Hamilton W10
It is now established that about 145,000 W.W.W watches were manufactured, but at a certain time, change was needed. The British Armed Forces had multiple other watches in stock following the Dirty Dozen, such as those manufactured by Smiths or CWC. Another important one was Hamilton, which was already manufacturing so-called "hacked" watches – which were actually not far from the W.W.W.
The W10 watches (mid-1960s) were first produced, entirely in the UK, by Smiths. But by the early 1970s, Smiths was replaced by Hamilton for the production of the W10. Made for the British Ministry of Defense from 1973 to 1976, these models had a different case, typical of the era, with a so-called tonneau or helmet shape. The W10 was mostly issued to pilots and featured a hand-wound movement. Although the overall design was modernised, the basics of these watches were still very close to what was once found on the Dirty Dozen.
Hamilton vs. Timor, but in 2021
Fast forward to mid-2019 when Hamilton announced its newest addition to the Khaki collection, a watch directly inspired by the W10: the Khaki Pilot Pioneer Mechanical. In short, the brand applied the same recipe as it did with the Khaki Field Mechanical, meaning a faithful, accessible recreation of past military watches. Then, in 2020, Timor was back in action and presented, via a Kickstarter campaign, its re-edition of a Dirty Dozen watch: the Heritage Field watch. Surprisingly, there are only two brands of the original dozen that produced re-editions, the other one being Vertex – which, however, offers a far more modern take on the concept. If you want something truly faithful to the original W.W.W spirit, the Timor is the best option currently available.
So, what do we have here? Basically, two watches directly inspired by past British military specifications, both very compact and faithful to their ancestors, both hand-wound, both with a true instrumental look and both fairly accessible. This is why this comparison felt natural to us. How different are these watches? Well, they are as different as their ancestors were, meaning not that different after all. Enough to continue? Of course! So let's start the battle of accessible British military-inspired watches.
Look, Case & proportions
The most obvious difference between the two models regards the case design. There's a clear distinction between a classic field watch on one side and a typical 1970s "helmet" pilot's case on the other. Still, the overall spirit is similar.
The Hamilton comes in a case with integrated lugs and an ovoid overall shape. Offering great protection against shocks, it really sets this watch apart from other Khaki watches of the brand and plays a huge role in its personality. The case, made of stainless steel, is nicely executed – as you can expect from Hamilton. All the surfaces are brushed – vertically on the top of the case and on the sides – and a bevel (not polished) runs on the side of the case. It is topped by a highly domed mineral crystal that protrudes from the case and reinforces the vintage touch – but it may not be the best when it comes to protection and resistance.
The Hamilton Khaki Pilot Pioneer is a fully equipped watch. Despite the absence of a screw-down crown, which is engraved with the Hamilton logo, it offers 100m water-resistance. And even though it is quite small, the crown is easy to manipulate. The caseback is closed by four screws.
The Timor is an all-time classic. It features a traditional case with a typical military look. This means a wide, flat bezel and classic lugs. But if this look feels familiar, it perfectly blends with the utilitarian field design of this watch. In order to evoke the matte finish of the old W.W.W watches, the Heritage Field has a finely bead-blasted surface all around, not only giving it a darker colour but also a technical, stealth look. The dial is protected by a curved sapphire crystal that follows the lines of the bezel.
For the rest, the Heritage Field is water-resistant to 50m and comes with a slightly oversized crown, which is very easy to use. However, it doesn't screw down, and the WR is on the lower side. Personally, 5ATM is enough for my everyday use as I don't intend to dive with this watch. The caseback is screwed and is also bead-blasted.
But now it's time to talk about proportions. And yes, both watches are faithful to their ancestors right down to the size of their cases – something rare enough in the current market to be mentioned. The Hamilton is, on paper, the smallest of the two, with a 35.5mm diameter, a height of 10.1mm and a lug-to-lug measurement of only 41.5mm. No doubt, this is small, especially by modern standards. The Timor is only a bit larger, with a 36.5mm diameter, a height of 11mm and 45.2mm lug-to-lug. Once again, this makes this watch very compact compared to its modern counterparts.
One thing to mention regarding the Hamilton is that the cushion-shaped case provides more wrist presence than expected, and, in the end, both watches don't feel that different in size. The Timor is only marginally larger – a feeling that is reinforced by the thicker strap too. In both instances, if you're used to 40+mm watches, we suggest that you try them first as these small cases might surprise you! On my side, I simply love it.
Dial & hands
Looking at the Hamilton Khaki Pilot Pioneer next to the Timor Heritage Field, there's clearly a shared DNA. These are unmistakably influenced by the specifications of the MoD regarding legibility, contrast and luminescence. However (and thankfully), there are some noticeable differences, both in the design and in the execution of these dials.
First, the displays are different since the Hamilton features three central hands, while the Timor is fitted with a small seconds sub-dial – both respecting their vintage inspiration. But it goes deeper than that. For instance, Hamilton has chosen to give this W10 reissue a very unique dial, with a pronounced granular texture (which is accentuated by the close-ups). On the other hand, Timor remains classic with a matte black dial with a concentric pattern for the subsidiary seconds. This gives more depth and contrast to the Heritage Field, while the Khaki Pilot feels a bit more playful, more animated and also less dark.
Where the shared DNA is truly present is on the tracks and markers. Both watches are equipped with a highly legible railroad minute track, punctuated every five minutes by luminous dots or rectangles. The only real difference is the 12 o'clock marker. For the Hamilton, there's a rectangle with a triangle underneath, while the Timor has a rectangle framed by two dots. Still, in both cases, the objective is to quickly identify the 12 o'clock position in the dark. Other than that, the dials feature large, white Arabic numerals.
The hands are also slightly different in shape, as well as finish. The Timor relies on straight batons with a matte finish, while the Hamilton has sword hands with a polished surface. Both are generously filled with luminous material; however, the Timor provides better contrast and fewer reflections. Also, due to the pitch black and matte background, the overall daytime legibility of the Timor surpasses that of the Hamilton. And overall, due to its simplicity and absence of texture, it feels even more instrumental than the Hamilton. Two slightly different approaches, but both watches have A LOT of charm and perfectly provide that desired dosage of vintage military spirit you're looking for in these models.
Movements
When it comes down to the mechanics, the Hamilton Khaki Pilot Pioneer and the Timor Heritage Field are also, on paper, very similar. To make it simple, both watches share the same base architecture, that of the hand-wound ETA 2801. There are, however, some noticeable differences between the two – and not just the display (central vs off-centred seconds).
Starting with the Timor, the brand isn't a manufacture and, as such, needs to rely on third parties. In this case, it decided to source its movement from a well-known Swiss supplier, Sellita. The Heritage Field features the calibre SW216, which is a clone of the aforementioned ETA architecture. This simple, robust and renowned hand-wound movement beats at 4Hz and provides 42 hours of power reserve when fully wound. Nothing wrong with this movement; it does its job perfectly, providing ease-of-use and peace-of-mind. It is accurate and easy to service. Its only flaw (which isn't really one, actually) is that it is a standard movement, which isn't the case of the Hamilton.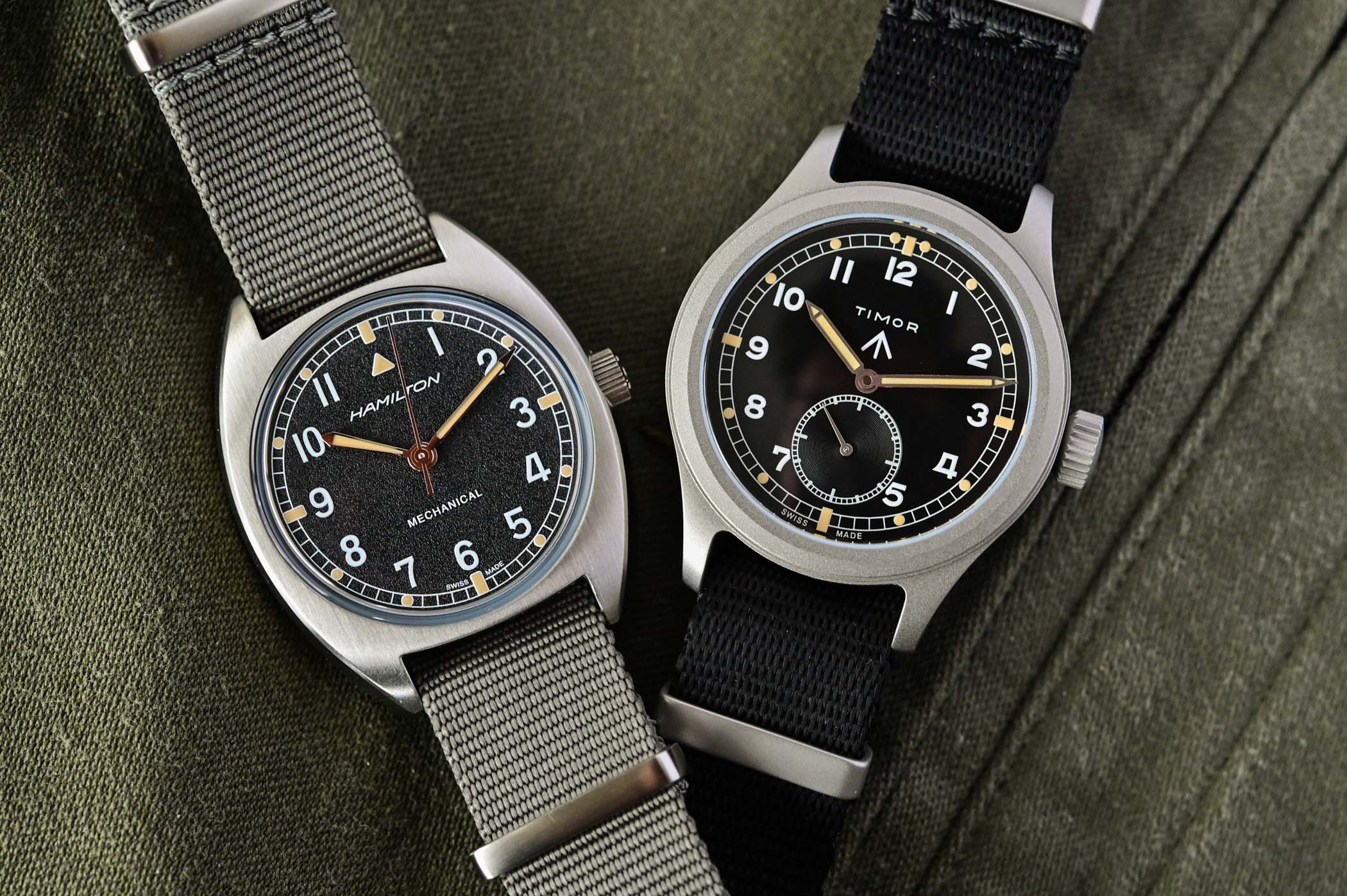 Being part of the Swiss conglomerate Swatch Group, Hamilton can rely on its immense resources and thus provide an upgraded movement, but still at a fair price. As such, it is equipped with the Calibre H-50, which is again based on the architecture of the ETA 2801. However, it has been reworked with a slower frequency of 3Hz and an improved kinetic chain, resulting in a stronger 80h power reserve. This is where the power of an established manufacture can be felt compared to a startup brand.
As for accuracy, we quickly tested both watches with Timegrapher – an application available on iPhone and Android – with both watches fully wound and lying flat on a desk. And the results (if not as accurate as those you'd obtain with a professional Witschi) were pretty impressive: an average rate of +2 seconds/day and 306 degrees of amplitude for the Timor, and -3 seconds/day and 282 degrees of amplitude for the Hamilton. Knowing that these watches are supposedly "accessible" pieces, it's pleasant to see results within the COSC-certification standards.
Strap
Not surprisingly, both the Hamilton and the Timor are delivered on military-inspired NATO-style straps. One major difference with their ancestors, these modern re-editions are equipped with traditional spring bars and not fixed attachments like in the past. This means that you'll be able to use your own choice of strap.
The Hamilton, which can also be ordered on a leather NATO strap, is presented on a thin, very supple green textile strap. It is comfortable straight out of the box and is pleasant to wear. Nothing extraordinary, it's good, suits the design of the watch and feels durable enough.
Timor offers the Heritage Field on a sturdy, relatively thick and high-quality black NATO strap. Another strap is available as an accessory on the brand's website, a beige textile band, which is a reproduction of the military-issued A.F.0210 strap. Back to this black NATO, it feels extremely resistant and durable (it is made from seatbelt-woven nylon) but will need a break-in period. Also, it might be a bit too thick, but it will last for years.
What to remember
Here's a table to summarise the basic specifications and measurements:
Availability & Price
Both watches are now available for orders. The Hamilton Khaki Pilot Pioneer Mechanical on a green textile strap is priced at EUR 775, GBP 720 or USD 845. It is available from hundreds of retailers around the globe as well as on the brand's e-boutique at hamiltonwatch.com.
The Timor Heritage Field on a black NATO strap is priced at GBP 910, or about EUR 1,070 or USD 1,280. It is only available from the brand's website here, at timorwatch.com. Note that an automatic version (with Sellita SW260) is also available for the same price.
Our thoughts
Let's be honest, if you like military-inspired watches with compact dimensions at relatively accessible prices, both the Hamilton and the Timor are great choices. Both look fantastic, have that unique field-watch charm, outdated proportions that make them so special in these days of 40+ mm watches are faithful to their ancestors and are of equal overall quality – meaning very well executed.
Looking more closely at the details, the Hamilton gains points for its more powerful movement and its price, which can be explained by the affiliation of the brand to the giant Swiss Swatch Group. But the Timor has its own charm, too, being a more exclusive, more niche watch that you won't find on the wrist of many enthusiasts. Also, it is currently the only proper vintage re-edition of a Dirty Dozen watch and, in my books, it makes this watch very special.
Putting the design aside – it's always down to personal preferences – the choice is difficult. My brain tells me to go for the Hamilton, which is a more reasonable, even more, accessible option. Coming from an established brand, it offers more security and its movement provides a clear competitive advantage. Still, my heart goes out to the Timor for its historical relevance, its even more utilitarian look and its exclusivity. Reason versus passion… Always a tough choice.
Let us know in the comments if you prefer the Hamilton or the Timor and why.
https://monochrome-watches.com/the-hamilton-khaki-pilot-pioneer-vs-the-timor-heritage-field/