The Collector's Series
A Car Aficionado Talks About His Chopard Alpine Eagle XL Chrono
It's all about passion for fine mechanics, on the road or on the wrist.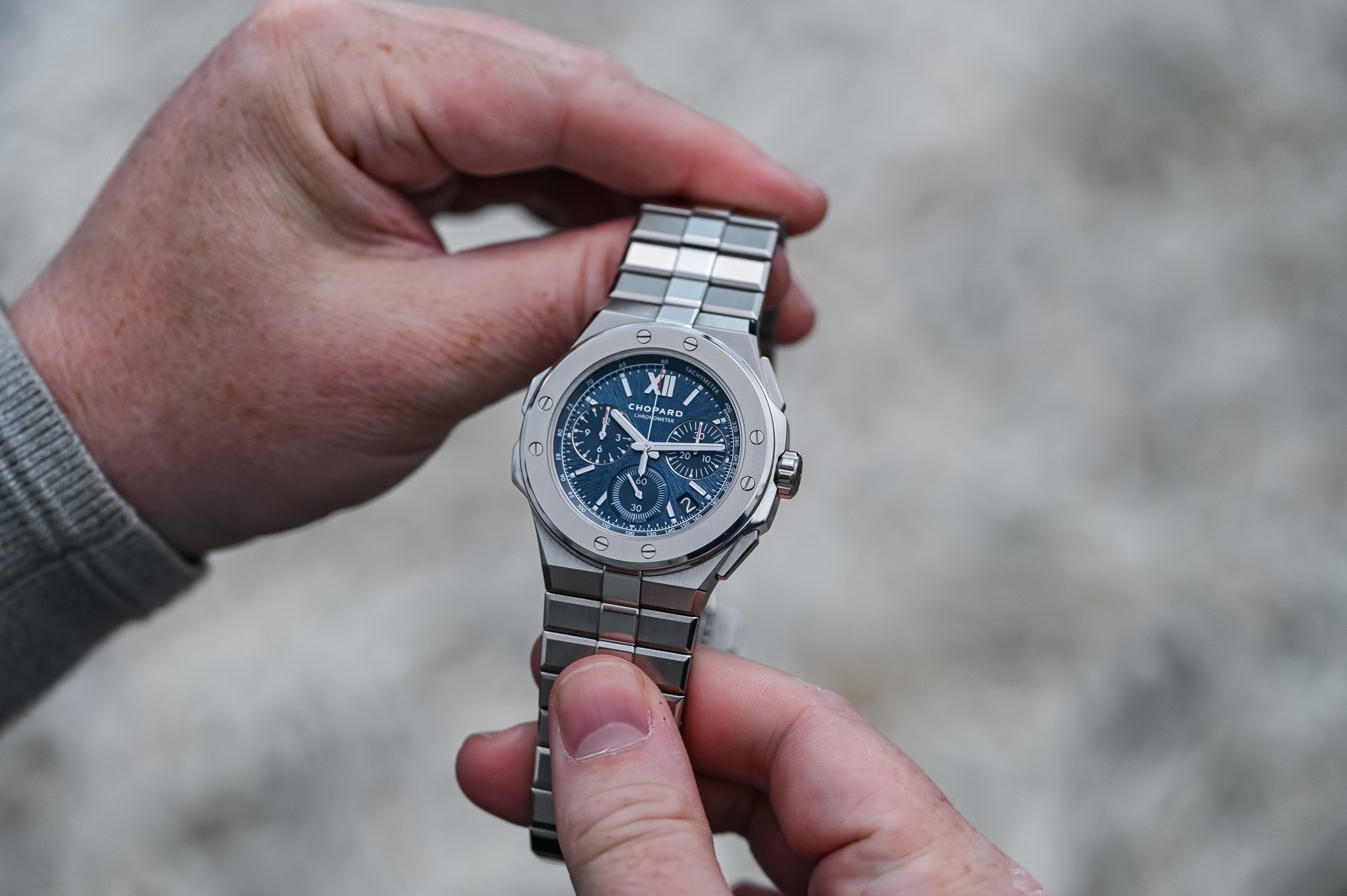 It is 2023, and we're back with a new instalment of the Collector's Series, a column where we let watch aficionados talk about their passion for a specific watch. Today we're talking to Tom, also known as Wtt1975 on Instagram. He is a 47-year-old Dutch company owner with a wide range of interests, including a passion for beautiful watches, but not only. The remarkable story of his company might just require a separate interview – and we just might do that for some hot Petrolhead Corner stuff – however, today, we'll talk watches. Wtt1975 got himself the Alpine Eagle Chrono XL with that gorgeous blue dial. And he'll explain what's so special about it.
Chopard is a well-known brand; how did you get to know it?
I knew Chopard as the primary sponsor of the classic car rally Mille Miglia and their special editions for that race. And, of course, I knew it as a jewellery house.
What's your impression of Chopard as a watch brand?
Its connection with (classic) cars matches mine. Their quality is high, and they make exclusive watches. It may not be a household name like Rolex or Omega in that high segment. Chopard's owner is also a car enthusiast and participated in the Mille Miglia, a fantastic event. What I consider to be a main attraction, too, is that Chopard develops their own movements.
You're a car enthusiast; how does this show? What do you like about cars? 
Passion for (racing) cars, especially Ferraris (classic and modern) and watches, often go together. Over the course of many years, I got to know more about classic Ferraris, I got to know the people, got to be exposed to the passion, and that did it. The fine mechanics working together in perfect harmony to make such a racing machine run resembles how mechanical watches work. 
Why did you choose the Alpine Eagle, since it's unrelated to the Mille Miglia?
I fell for the look; it's a modern version of the fantastic St Moritz. And although it has a slightly retro vibe, it's still very modern. 44mm is a good size for me, and the sapphire back gives a glimpse of the great in-house "engine" of this very contemporary watch. The swirling pattern on the dial in a beautiful blue colour resembles the iris of an eagle's eye. I love it. Then, there is a beautiful lunette with small screws that looks a bit like a ship's porthole. It has a sleek design, just like the push buttons for operating the flyback chronograph.
The steel used is special too, isn't it?
The case, bracelet and bezel are made of Lucent Steel A223, an alloy specially developed for Chopard and this Alpine Eagle line. A metal as precious as gold. This unique material with superior functionality is comparable to surgical steel; it has a very high hardness and is very bright in colour with a particularly high glow. All these things really appeal to me.
Since when has it been a watch you desired to possess?
I have wanted it since I heard of it at the end of 2019 (the model without chronograph,) and in 2020, this chronograph model came out. I watched a lot of videos on YouTube and read reviews/posts on watch forums/websites like MONOCHROME (we reviewed the Alpine Eagle XL Chrono here). Then, I bought the watch at the beginning of January at Wempe in Düsseldorf, Germany.
So it's a very recent acquisition. Do you wear it a lot?
I wear the watch regularly; it alternates with my other watches. I wear the watch more often on weekends than on weekdays. 
Do you ever get reactions to it?
Yes, plenty! It's a pretty special watch that you don't see often. The beautiful steel (bracelet) strap with brushed and polished parts is so bright and shiny that it stands out to people. They often think it is very beautiful and something different from a standard well-known brand from Geneva that produces almost a million watches a year. With her Alpine Eagle collection, Chopard will not make tens of thousands a year of this model!
Do you know the current market value of the watch?
I don't know the current value. I paid EUR 19,000, but it was new. I buy watches because I think they are beautiful and exclusive, not to sell them.
How would you describe your watch collection so far?
I started a collection not too long ago. After the Ulysse Nardin Maxi Marine Diver in 2006, I hadn't purchased a new watch in a long time. Times have changed! The collection now consists of five eyes of different styles.
Are there any more watches you would like to buy?
I have a few on order: a Tudor Black Bay Chronograph (inverted Panda version), a Grand Seiko Evolution 9 ref. SBGE285 Mist Flake, and a Nomos Club Sport Neomatik Date Blue. On my wish list is an A. Lange & Söhne, but the model is still under consideration because so many beautiful watches can be found there.
Which brands do you think are doing interesting work out there? 
Quite a list! A. Lange & Söhne, IWC, Ulysse Nardin, Cyrus, Girard-Perregaux and many Swiss and German microbrands, such as D. Dornblüth & Sohn, Laco, Lehmann, Nomos, DeBethune, Moser & Cie, and of course, the Dutch brand of Grönefeld from Oldenzaal!
Can you give tips to other collectors who want the watch you possess? 
First, immerse yourself in the "smaller" Swiss or German brands. Consult friends/acquaintances who have watches and put one on. If not, walk into a jewellery store and ask if you can put on a watch. Photos on websites do not always show how the watch really is. I am careful with my watches, but they are consumables…. Follow the manufacturer's maintenance interval, and you will enjoy your purchase for decades.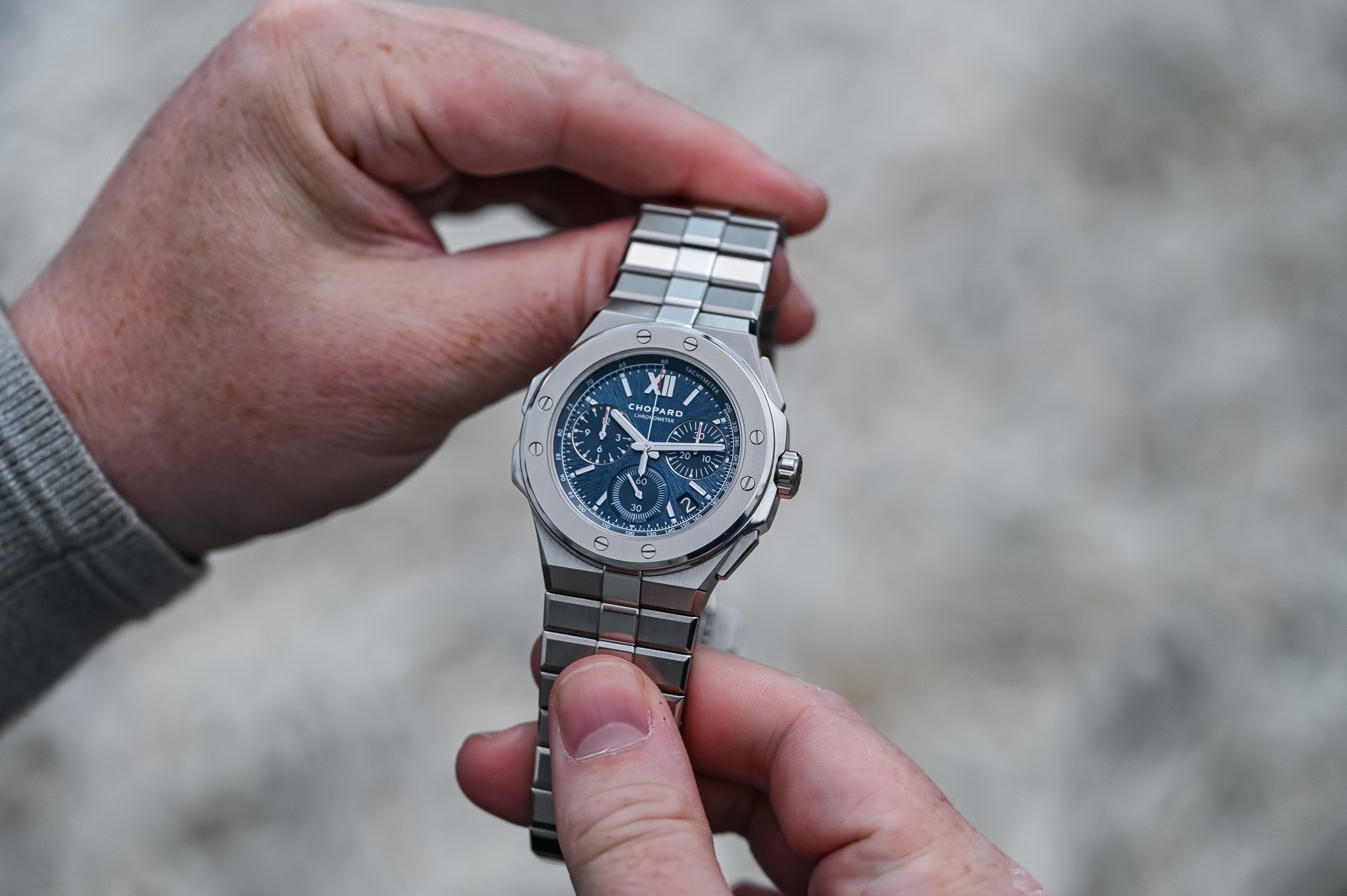 Do you have general tips for people who want to start collecting watches?
Buy what you like. I buy cheap watches from Steinhart, for example, and watches from a more expensive segment. You should feel good about it. Remember: there's no arguing about taste! There is a suitable watch – or suitable watch if you want more than one – for every personality. I like to have different types of watches. Sometimes a sporty watch, sometimes a pilot's watch or a divers' watch.
https://monochrome-watches.com/the-collectors-series-a-car-aficionado-talks-about-his-chopard-alpine-eagle-xl-chrono/