Introducing the TAG Heuer Carrera Heuer-02T Tourbillon – a chronograph & tourbillon just under 15,000 CHF (specs & price)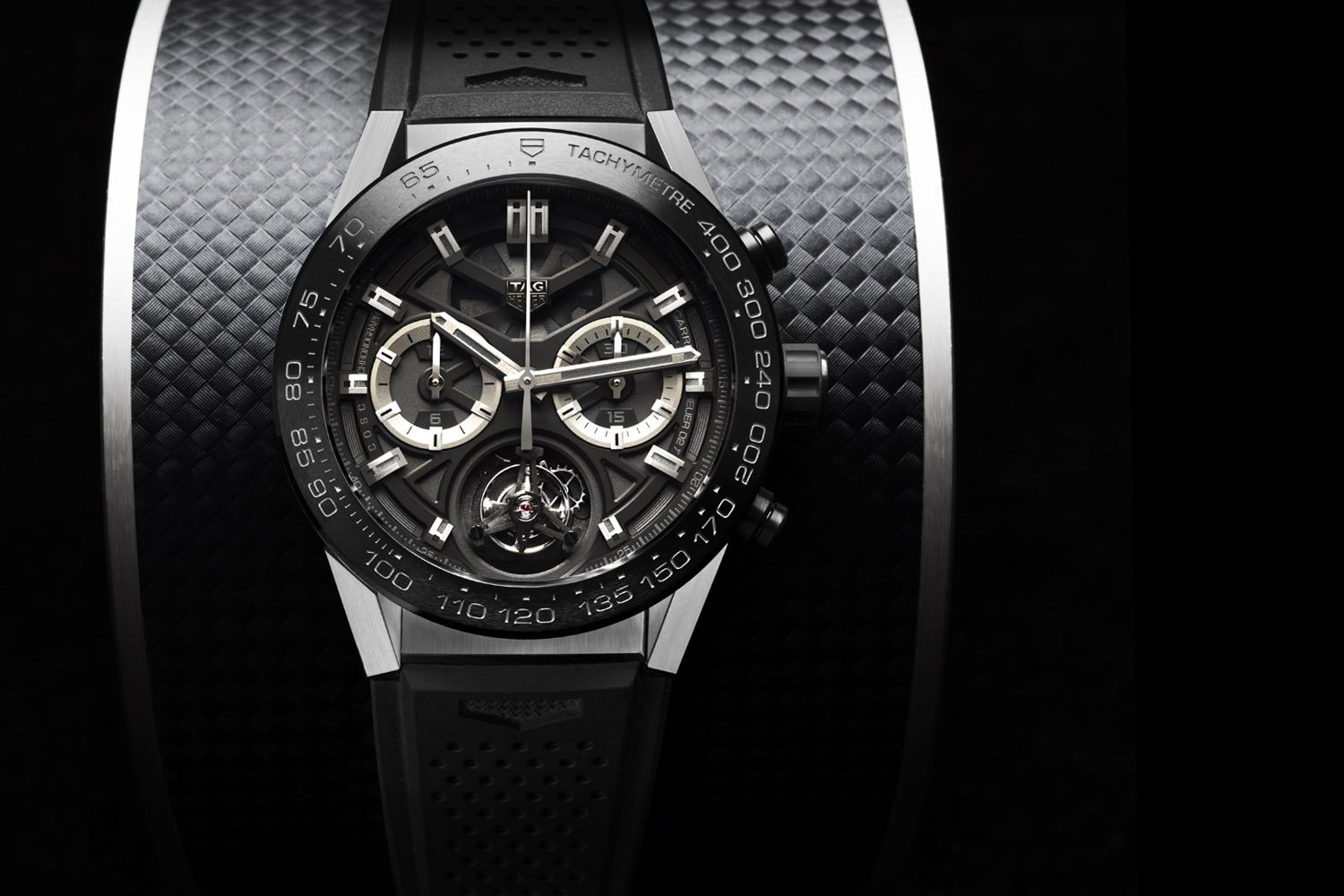 Here is the deal… TAG Heuer has just released a new Carrera watch featuring (please, take a seat…) their own in-house chronograph and tourbillon movement for JUST 15,000 Swiss Francs including taxes. Yes, you read it correct, there's no typo here. We're not talking about 150,000 Swiss Francs but really fifteen thousand Swiss Francs, including 8% Swiss taxes. Frankly, this is beyond impressive. It's almost unbelievable. However, this new proposition by TAG Heuer leaves us with a few questions. And you know us, at Monochrome-Watches, we'll try to answer them. Here's an overview of the new TAG Heuer Carrera Heuer-02T Tourbillon – a chronograph & tourbillon for 15,000 CHF.
The TAG Heuer Carrera Heuer-02T Tourbillon
Well, for the first paragraphs of this article about the TAG Heuer Carrera Heuer-02T Tourbillon, we're going to hide our usual alertness and critical approach, and first focus on what we are looking at. Using the same concept as the TAG Heuer Carrera Heuer-01 introduced at Baselworld 2015, the brand now updates its modern and masculine watch with only (understatement to say the least) a new movement, featuring of course a chronograph but mainly, a one-minute tourbillon regulator, placed at 6 on the dial and working like every tourbillon you'll see on the market. This proposition isn't just impressive; several other brands with sports-oriented watches already introduced such watches, like Bell & Ross with the BR-X1 Tourbillon, and Montblanc with the TimeWalker ExoTourbillon Minute Chronograph LE100. The TAG Heuer Carrera Heuer-02T Tourbillon is nothing revolutionary, technically speaking. Except one big thing: TAG achieved to develop, manufacture, assemble and encase a chronograph with tourbillon, and for a price of just under 15,000 Swiss Francs – which is approximately 5 to 10 times less expensive than other watches with a chronograph and tourbillon escapement (except the Montblanc that was the most affordable with a price just under 40k.)
The new TAG Heuer Carrera Heuer-02T Tourbillon has the same approach as the brand used for the Carrera Heuer-01. It features a modular construction of the 45mm case, allowing to easily create several styles (which is in fact already the case as TAG introduces this watch in two editions: a titanium and black edition, and a full Phantom black one.)
A central part, lugs with an independent central insert, a separated bezel – the case comprises 12 modular components. Then, like the Carrera Heuer-01, the new TAG Heuer Carrera Heuer-02T Tourbillon features a semi-skeletonized dial – in fact the dial is transparent and composed a sapphire crystal with applied register tracks for the sub-counters, and applied indexes, which reveals the skeletonized bridges and plates of the movement. The main spring barrel can be seen at 12 and several wheels are visible thought the sub-dials. Of course, the main attraction of the dial remains the tourbillon cage at 6.
TAG Heuer claims that the movement of the Carrera Heuer-02T Tourbillon "was developed directly from the DNA of the CH-80 chronograph", the movement that we kind of applauded a few years ago, a new integrated automatic chronograph movement, developed in-house, which was later cancelled – see the story here. So, this new watch relies on the CH-80 movement as a base, meaning an automatic winding movement, with integrated construction for the chronograph that is actuated by a column-wheel. The movement boasts a respectable 65 hours of power reserve and will be COSC certified (just in case those saying that a tourbillon priced so low can't be precise; now they can't say it anymore).
Back on the tourbillon itself! What we have here is in fact a very classical tourbillon, making one revolution per minute and beating at a modern and fast frequency of 4Hz. It has a balance wheel, a hairspring, an escape wheel and a pallet fork, all of that is housed in a cage that rotates on a central axis. Yes, this is a normal tourbillon. Nothing more, nothing less. Each watch undergoes a protocol involving a total of 21 days of testing and will be tested and certified as a chronometer before it's going send to an authorized retailer. Imagine that, a certified chronometer,an in-house integrated chronograph with a one-minute tourbillon as escapement, and all of that for CHF 15,000 Swiss Francs.
Two editions of the TAG Heuer Carrera Heuer-02T Tourbillon will be available: one non-limited in grade 5 titanium, with black titanium bezel and silver accents on the dial (priced just under 15,000 Swiss Francs) and a 250-pieces limited edition called "Black Phantom" with a full black and dark grey colour scheme (priced at 19,900 Swiss Francs).
Questions…
First and main question: how is it possible that TAG Heuer introduces a tourbillon chronograph priced so low? (as a reminder, most of the tourbillon chronograph watches are priced over 80,000 Swiss Francs) Well first, the movement of the TAG Heuer Carrera Heuer-02T Tourbillon is based on an existing calibre, the CH-80, meaning that the development costs are de facto much lower. Then, TAG says that an "industrial framework was developed to optimize assembly in TAG Heuer's Chevenez workshops", meaning that this movement is not hand-finished. It is an industrial movement, just like the rest of the TAG Heuer production. Again, the costs are reduced. Then, as you can see, the tourbillon it-self doesn't feature the usual hand-made chamfers or polishings that we're used to see in traditional tourbillons. The cage has central sections made from titanium and a carbon top section. No hand-finishing here. Again, it helps to keep the price low. Finally, TAG Heuer claims that the tourbillon of the TAG Heuer Carrera Heuer-02T is inspired by the one found in the Monaco V4 – meaning that development costs are again reduced.
These facts could (partially) explain the price of the TAG Heuer Carrera Heuer-02T Tourbillon. Another (possible) explanation could also be that TAG Heuer just wanted to strike hard and thus, they decided to set the price under the real costs, in order to boost the market (a sort of snook to the rest of the industry). This is just a possibility… Whatever the reasons, it remains quite unbelievable. We don't really understand how it is possible (and even the rest of the industry remains suspicious about such a watch, for such a price). Let's just hope that the movement is entirely Swiss made, and developed and assembled in-house.
The other question concerns the strategy of the brand. Let us now remind you what happened at TAG Heuer. In 2013, TAG developed the calibre CH-80 (in-house integrated chronograph movement – a.k.a. as the calibre 1969). Then at Baselworld 2014, they introduced a watch featuring this movement, a new Carrera. Soon after this introduction, TAG announced that the development and production of the CH-80 was stopped and that the Chevenez production plant (that was created for the CH-80) will not be used for such movements. A few weeks after, TAG announced the dismissal of their CEO, Stéphane Linder, who was being replaced by Jean-Claude Biver. At the same time he announced a 'repositioning of the brand', with watches priced in the 1,500 Euros / 5,000 Euros range, mainly chronographs, sports-oriented, affordable and mechanically simple.
With the TAG Heuer Carrera Heuer-02T, TAG Heuer goes against all the previous choices: the CH-80 resurfaces, the Chevenez production plant too, the brand goes into a price range that was not part of the initial strategy (a strategy defined just one year ago…) And they do that with nothing less than a tourbillon chronograph.
This new TAG Heuer Carrera Heuer-02T Tourbillon is an impressive watch, with a price that is nothing short of being completely mind boggling. Creating a chronograph tourbillon under 15,000 Swiss Francs, with an in-house movement (meaning that it should be entirely produced in Switzerland) is a real prowess. We're very curious to learn more about this new Carrera Heuer-02T Tourbillon, and how we can align this with their own strategy. Story to be continued!
More details at www.tagheuer.com.
https://monochrome-watches.com/tag-heuer-carrera-heuer-02t-tourbillon-chronograph-under-15000-chf-price/