Hands-on
The King Seiko KSK SJE083, A Handsome Re-Edition That Revives A Surprising Internal Rivalry
The flair of the Seiko watch that was once determined to do better than Grand Seiko...
When you think about high-end watches produced by the Seiko Watch Corporation, you'll certainly come to conclusion that there's one alternative to consider, and that is Grand Seiko. And, in today's context, you'd be right to think so. But looking back at the brand's past, there is another name that has once been synonymous of excellence in watchmaking and precision; King Seiko, an internal rival of Grand Seiko. If the latter has been around for decades, King Seiko was somehow dormant, until the end of last year when, in the frame of its 140th anniversary, Seiko decided to re-create an emblematic watch, the King Seiko KSK. It took us some time to get our hands on one of these SJE083, and I was eager to see if it lived up to its name. Let's dig in.
The result of a healthy rivalry…
Say what you want, but competition can be an extremely healthy problematic. There's nothing good in being stuck in your own bubble, not looking at what the rest of the world is doing. Competition leads to the need to grow, to evolve, to question who you are and, as a result, to innovate and change. This is true in all industries and watchmaking is no stranger to this need of innovation and rivalry. This situation has always been rather natural for European manufacturers, most of them being located in a small part of Switzerland and thus very much aware of what the neighbors were doing… The Swiss watch industry, for a large part of its history, has been built around an eco-system of suppliers and watch brands, with horizontal integration and all sourcing parts from the same companies.
However, before it became the global giant we now know, Seiko was facing an issue well known by most Islands, and that is isolation from the rest of the world. As such, Seiko has soon developed the concept of vertical integration, with most of the components produced in-house, as it couldn't benefit from the same eco-system found in Germany or Switzerland. And the heads of the Group quickly saw the issue of not having this healthy competition as a driver for innovation. And here comes the creation in 1960 of Grand Seiko. The company that was created in 1881 by Kintaro Hattori (you can read about the history of the brand here) decided to up its game and to create a sub-brand responsible for the production of the most advanced, precise and luxurious watches of the brand. But alone, one can do good. To do great, you have to be challenged… And this challenger will come a year later, under the name King Seiko. Surprising, but this results from Japan's mentality, quite different from occidentals…
In the late 1950s and early 1960s Seiko had two production sites: Suwa Seikosha and Daini Seikosha. In the scope of this internal competition to accelerate innovation and push teams to do even better, Suwa Seikosha will be responsible for the manufacturing of Grand Seiko watches. By 1961, Daini Seikosha reacted with its own vision of a high-end, ultra-precise watch, which was named King Seiko. The internal rivalry between the two wholly-owned subsidiaries had led to the race of becoming the company's flagship brand. The perfection of accuracy and precision was their common driving force for glory, so it was inevitable that both brands culminated their achievements by each creating a Hi-Beat timepiece. But this is another topic that we've explored here.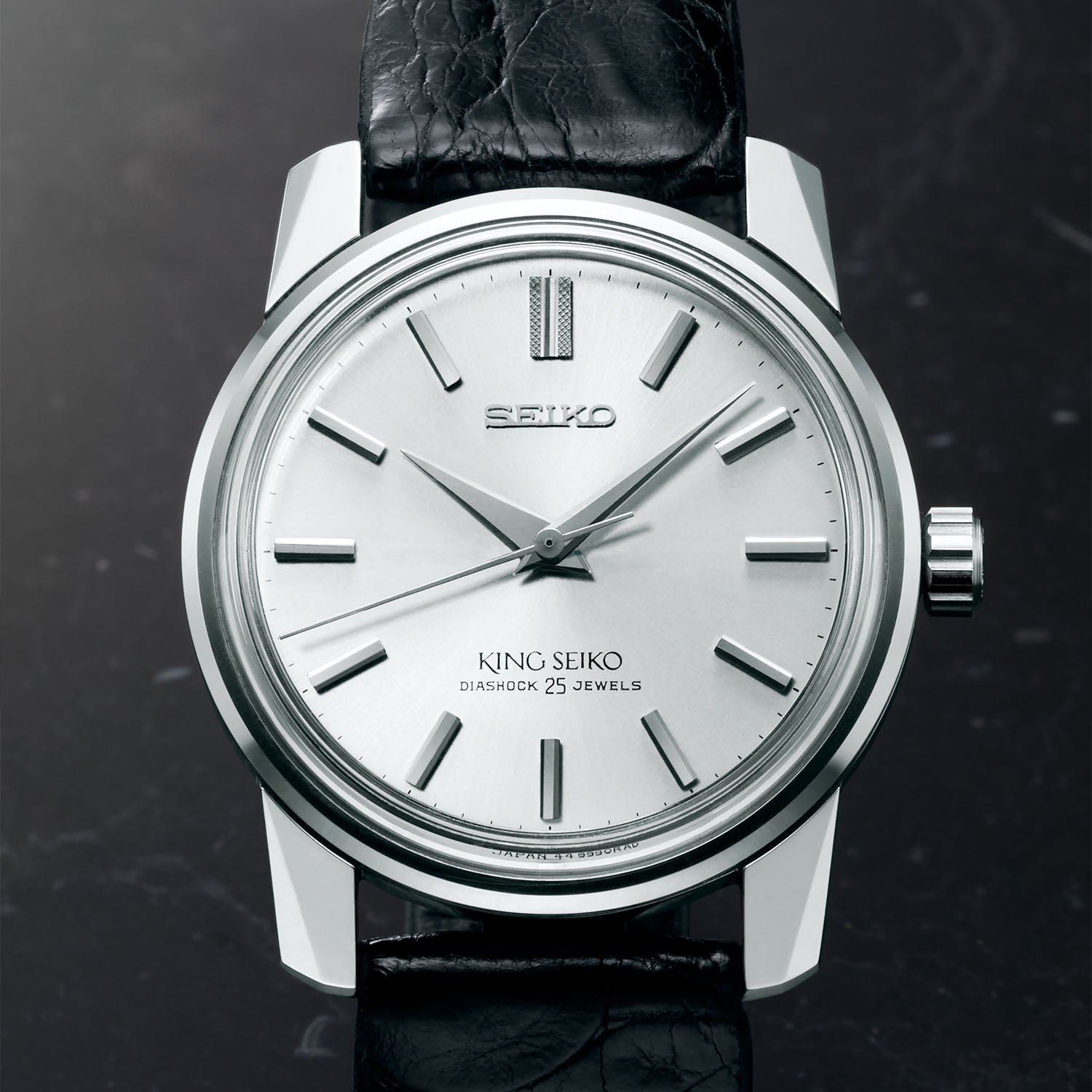 With both companies having an impressive focus on precision, and the 1960s being an era when chronometry competitions were still a thing for promoting watches, both Grand Seiko and King Seiko will compete in several of these tests, including the Neuchatel Observatory Competitions, both in 1964 and 1967 – and both came back home with pretty good results!
The watch that certainly is the most notable from the King Seiko catalogue is the 1964 model, the second generation KS watch. Equipped with the hand-wound calibre 44A under the reference 44-9990, this watch bore the name KSK, with KS meaning King Seiko and the K at the end being the acronym for Kisei-Tsuki, stop-seconds in Japanese. Yet, the year 1969 will change drastically the course of things, as Seiko introduced the quartz technology, putting a halt on the efforts of both King Seiko and Grand Seiko – quartz was so precise that the watches produced by these two entities became obsolete. And while Grand Seiko has been active still, KS has been dormant, until now.
The King Seiko KSK SJE083
Seiko has waited to be in a celebratory year to have the emblematic name King Seiko back on the dial of a watch. No need to say, reviving this name creates high expectations, but also in today's context, the watch couldn't cannibalize the production of Grand Seiko either. So the Seiko Re-Creation of King Seiko KSK is somehow a high-end Seiko, which yet sits a bit below what Grand Seiko is today…
Starting with the case, we have an immediate connection between this new SJE083 and the second generation King Seiko – and to make things clear from the beginning, the whole watch is actually a faithful re-edition of this reference 44-9990. Proportions are great, with a compact diameter of 38.1mm and a height of 11.4mm, which comprises a raised, box-shaped sapphire crystal (itself participating in at least 1.5mm of the height). The watch is worn on a very (too) classic crocodile strap, which feels appropriate even though I'm sure future owners will easily find something a bit more casual and cool to add to this watch…
The design and the shape of the case is typical of the early days of Grand Seiko and King Seiko, back at a time when the Group decided to hire an internal watch designer, Taro Tanaka – a man of importance as he simply defined the brand's identity for the decades to come in what is known as "The Grammar of Design." What Tanaka did was radical and complex, as he decided to set Seiko apart from the rest of the production (understand Swiss), by defining multiple rules for creating cases, specifically in the Grand Seiko and King Seiko lines. Using gem cutting as a basic principle, he came up in 1962 with 4 rules under the so-called "Grammar of Design" – in short, cases, hands and dial had to sharp and with flat surfaces to reflect light, bezels had to be simple, cases had to be finished in distortion-free polishing and cases had to be unique in shape, and no more simple round cases.
And looking at the KSK, you immediately spot these rules. Even though the King Seiko KSK SJE083 is a fairly simple watch, it remains nevertheless highly graphic and far sharper than anything Swiss back in the days – something specifically visible on the lugs. This case, made of steel with super-hard coating, has crisp angles and facets all around, reflecting light in all directions. Furthermore, in the same vein as a Grand Seiko watch, the case is entirely polished with the so-called Zaratsu technique, resulting in delightful distortion-free surfaces. This case is vintage-ish in its execution but also in its specifications, with a water-resistance fairly limited (at 50 meters, but in line with the overall style).
Despite being a Seiko-only watch, the dial of the King Seiko KSK SJE083 wasn't left apart. Surely, the simple silvery-white base with sunray-brushed pattern is nothing extraordinary, but a closer look will reveal the attention to detail on the hands and markers. All are entirely Zaratsu polished, with the same level of craftsmanship as the case, and the super-sharp hands reveal a beautifully polished flat surface, as well as large bevels… Something that seems very GS indeed (nothing wrong in that, on the contrary). The 12 o'clock marker is special, just like it was in the 1964 watch, with a very fine pyramid pattern on the top surface.
One must see an evolution at 3 o'clock, as this King Seiko KSK SJE083 now features a date… If not historically accurate, at least its integration is well done and the window is framed by a nicely executed metallic element. What does bring joy, on the other hand, is to see the historical "King Seiko" logo back on the dial of a watch, next to the indications of the jewel count and Diashock.
Turning the watch over reveals a faithful reproduction of the gold emblem found on the original KSK watches. A nice touch, this medallion, however, hides the view on the movement. Personally, I don't mind as it makes sense in this historical context and a see-through caseback would have felt out of place. Under this screwed back is the Seiko in-house calibre 6L35. While the original KSK was using the hand-wound calibre 44A, this re-creation does things in a modern way with an automatic engine – another reason why a close back is more relevant. A more refined and high-end engine mostly reserved for the brand's Presage limited edition, this calibre 6L35 was presented in 2018 as a thinner alternative (only 3.7mm in height), but also a movement with finer regulation. Beating at 4Hz and boasting 45 hours of power reserve, it is given for -10/+15 seconds/day.
Thoughts
With this Re-Creation of King Seiko KSK SJE083, the brand pays a very nice tribute to one of the most glorious pages of its history. Surely, one could easily point the slight lack of precision of the movement (at least compared to what KS meant in the past), the presence of a date or even the very presence of an automatic winding, but all in all the habillage is not only extremely faithful to the original watch but also finely executed – to a level that isn't that distant from what GS is producing. On that part, no doubt that the King Seiko KSK is lives up to its name, however, the price (above 3K) is not the most accessible of the lot. Anyway, seeing the name King Seiko back on the dial of a watch is a joyful event!
Availability & Price
The Seiko Re-Creation of King Seiko KSK SJE083 is a limited edition of 3,000 pieces and is now available from Seiko boutiques (online included) and at selected retail partners worldwide. It is priced at EUR 3,400. For more details, please visit www.seikowatches.com.
https://monochrome-watches.com/seiko-re-creation-king-seiko-ksk-sje083-hands-on-review-price/