Introducing
The Seiko Prospex Street Series Enlarges with 'Urban Safari' Tuna-Inspired Watches
Adventure look and Tuna Can cases for Seiko Prospex's new models in the Street Series.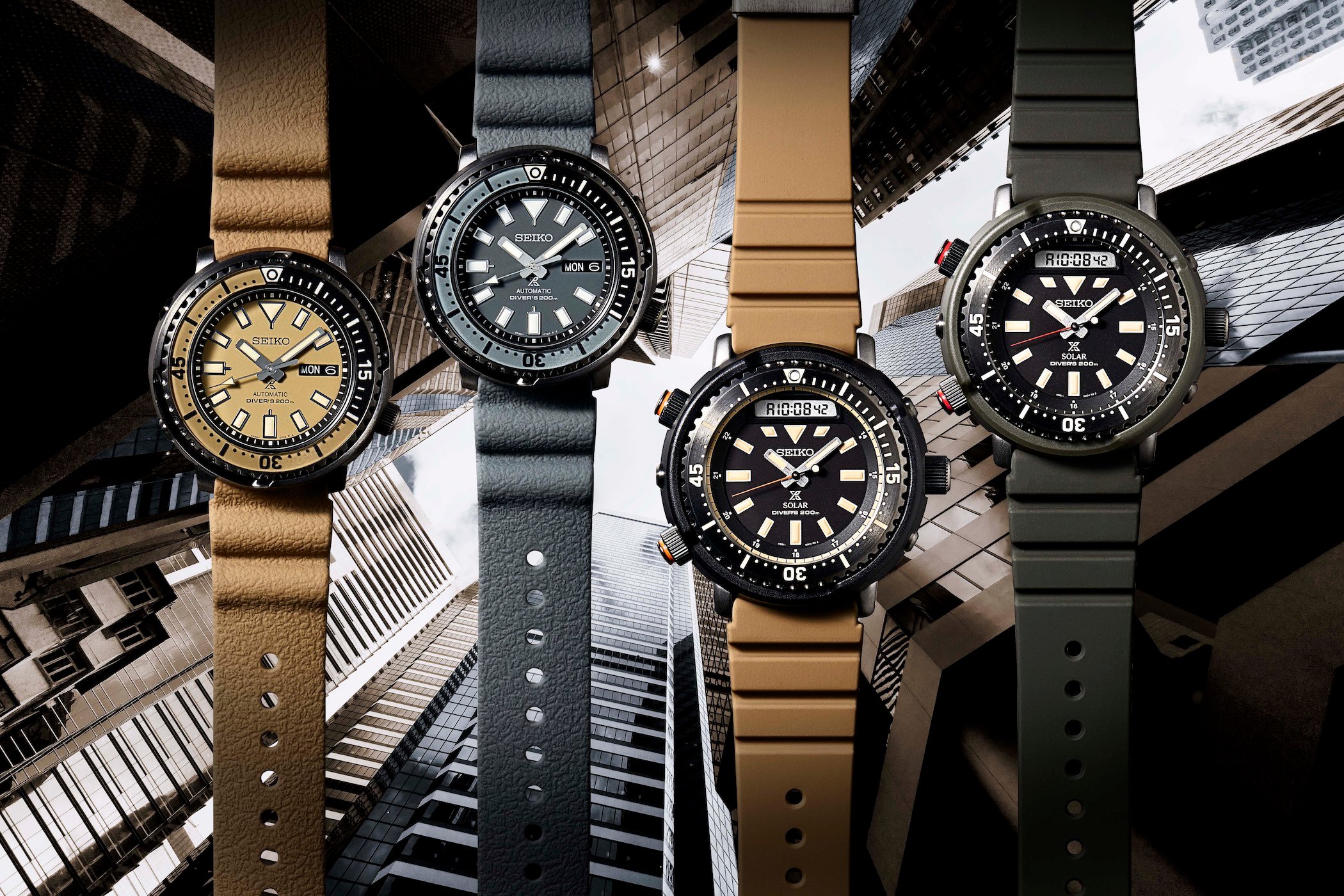 "Inspired by the original 1975 Seiko diver's, this new timepiece features the same iconic outer protector, in a more compact design perfect for urban living." Seiko's speech regarding these new models, an entire collection of no fewer than 11 watches, says it all. Take one of the brand's most important professional specification dive watches, extract what matters (the case, its unique design and its specific architecture), make it modern and less instrumental, add a touch of contemporary colours and texture and you end up with the new Seiko Prospex Street Series 'Urban Safari' collection.
While the brand has already announced that the Automatic Professional Diver 600M 'Tuna' will be reissued later this year in a faithful, far more expensive way, there are more watches from the brand bearing the original 1975 look. Back then, Seiko was already well established as one of the top members of the pro dive watch community, alongside the usual suspects Rolex, Omega, Doxa and others. That very year, however, the brand showed that not only was it capable of producing reliable and efficient timepieces with a hi-beat movement and a 300m water-resistance, it also showed a spirit of innovation. The watch in question was the world's first diver's watch with a titanium case, a watch shaped like no other with an external 'shroud' to protect the inner case, partially coated in black. This watch, due to its unusual architecture – not elegant but truly performing – was nicknamed 'Tuna Can' and would inspire dozens of watches to come. And the story goes on today, with the new Seiko Prospex Street Series 'Urban Safari' collection.
Seiko's watches might have a long history as professional instruments, but the brand also knows that today these watches function more as style accessories and statement pieces. For that reason, and without sacrificing its diving capacities, the brand has injected a powerful shot of cool into some of its collections. Made for modern life, resistant to most situations, the new watches are still inspired by the 1975 Tuna and still rely on this specific architecture with its reinforced external case. This new urban collection features camo colours, monochromatic schemes and textures to bring coolness, while also having smaller cases to make them wearable on a daily basis. In total there are two automatic models, nine Solar watches, five styles… Here are the Street Series Urban Safari models.
SRPE29K1 & SRPE31K1
Being MONOCHROME we have to start with the SRPE29K1 & SRPE31K1, the two automatic versions. These 200m divers are made of stainless steel with hard-coating and feature the iconic protective external case. Measuring 43.2mm in diameter and 12.7mm in height, they aren't small watches per se, yet the unique shape of this case allows them to be compact (44mm lug-to-lug). They are equipped with a screw-down crown and a Hardlex crystal.
There are two colours available, khaki beige for the SRPE29K1 and light grey for the SRPE31K1, used for both the dial, the leather-textured silicone accordion strap and part of the bezel's insert. The rest is black – first 20-minute of the bezel's scale and outer case. Powering these two models is the classic entry-level automatic movement, calibre 4R36, with 3Hz frequency, 41h power reserve and day-date function. Both will soon be available from retailers and priced at EUR 580.
SNJ029P1 & SNJ031P1
The second model is represented again with two watches, references SNJ029P1 & SNJ031P1, and is the boldest and largest of them all with a clear instrumental design. This watch is inspired by the famous 'Arnie', the ref. H558-5009, as worn by Arnold Schwarzenegger in 1985's Commando, and 1987's Predator.
Available again in khaki beige and in dark military green, these two Arnie-inspired Seiko watches are 47.8mm x 14.4mm and made in a combination of stainless steel and coloured plastic (for the external protective parts). Water-resistant to 200m, they feature a unidirectional bezel and a screw-down crown.
Powered by the calibre H851, a solar movement, these watches combine digital and analogical displays, as well as multiple functions – alarm, chronograph, full-auto calendar. They are worn on a silicone accordion strap matching the colour of the dial. The SNJ029P1 and SNJ031P1 will be priced at EUR 530.
SNE545P1 & SNE547P1
Certainly, the least tool-oriented watches in this new Seiko Prospex Street Series Urban Safari sub-collection, these two watches feature the brand's iconic case architecture and are powerful dive watches with a 200m water-resistance and all the necessary equipment – screw-down crown, Hardlex crystal, screwed caseback and unidirectional bezel with a 60-minute scale. While the khaki green model is classic, the second version in white with red accents and black dial feels like a nice summer option (or even one for women who like a larger sports watch).
Both the SNE545P1 & SNE547P1 are worn on stripe-textured silicone accordion strap and measure 46.7mm x 12.6mm – yet with a reasonable lug-to-lug of 46.1mm. They are solar-powered watches, with Calibre V157, capable of a ±15 seconds accuracy per month and a 10 months power reserve. They display the time on three hands as well as the date. These two Tuna watches are priced at EUR 439 (SNE545P1) and EUR 449 (SNE547P1) and are now available.
SNE533P1, SNE535P1 & SNE537P1
Blue (SNE533P1), green (SNE535P1) or grey (SNE537P1)… your choice. Three watches, three monochromatic colour schemes, lots of textures and surfaces to look at, these three new models are visually appealing and designed more for the city than for the depth of the oceans – even though they still are 200m water-resistant, equipped with unidirectional bezel and screw-down crown. These three models are urban, with a camouflage pattern on the dial, a colour-matched metallic bezel, with engraved scale and a leather texture silicone strap.
Once again, the diameter is quite impressive at 46.7mm yet the lug-to-lug dimensions, at 45.8mm, will make them easier on the wrist than expected. These solar watches are powered by the Calibre V157, capable of a ±15 seconds accuracy per month and a 10-month power reserve. They display the time on three hands as well as the date. Quite cool looking watches that are priced at EUR 399 and are now available.
SNE541P1 & SNE543P1
Last but not least, the nice and slightly more rugged SNE541P1 & SNE543P1. Once again, the typical Tuna design is present with a deeply notched bezel and a slightly more aggressive, quite masculine design. The proportions – 46.7mm x 12mm, with a lug-to-lug of 46.1mm – are in the same vein as the rest of the collection, and so is the 200m water-resistance, the Hardlex crystal and the screw-down crown. Two versions are available, one in black and silver (SNE541P1) and one in black and green (SNE543P1).
Both models in this Seiko Prospex Street Series Urban Safari sub-collection are equipped with the same Solar movement, Calibre V157, as above, and with a leather-textured silicone accordion strap. The SNE541P1 is priced at EUR 369 and the SNE543P1 at EUR 399, and both are now available.
More details about the Seiko Prospex Street Series here, at seikowatches.com.
https://monochrome-watches.com/seiko-prospex-street-series-urban-safari-tuna-2020-introducing-price/