Roger Dubuis Pulsion Skeleton Flying Tourbillon in Titanium – REVIEW (Photos, Specs & Price)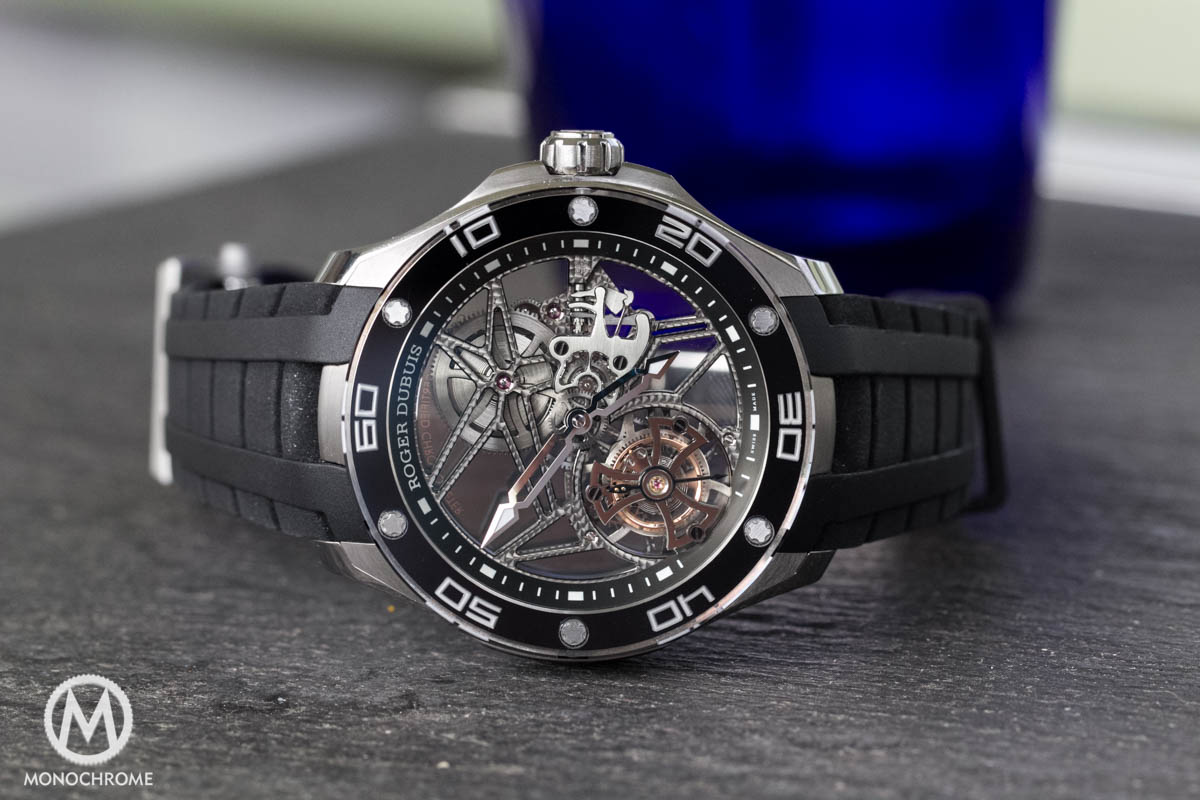 At the Monochrome desks we see many impressive timepieces, and we even have the good fortune to get to wear many of them for some weeks. Each and every of them excels in its own field, however if we don't like it, we don't write about it. That's our our own rule. When we had the chance to review the Lange & Söhne Datograph and Double Split or the JLC Master Ultra-Thin there was no sign of hesitation or doubt and we wholeheartedly and immediately agreed to do a review. However when we got the chance to review the Roger Dubuis Pulsion Skeleton Flying Tourbillon, there was a brief hesitation. As said… it was brief, and very soon made place for tremendous delight.
Roger Dubuis is not know for being discrete or modest in its looks. Except perhaps the La Monegasque collection that was introduced in 2011, however all other collections are quite distinct. And so is the watch at hand today. At least that's what I thought at first, however soon I found out that the Roger Dubuis Pulsion Skeleton Flying Tourbillon much less polarizing than expected. The sheer visual pleasure is really of another level, and that is experienced without having to turn over the watch like with afore mentioned timepieces. As a personal note, I must state that the tourbillon cage is in my opinion the most beautiful I've ever seen. And like the rest of the movement, it is finished to a superlative level.
Monochrome has been wearing the Roger Dubuis Pulsion Skeleton Flying Tourbillon for several weeks and got a real good idea of both this remarkable timepiece, the brand and the brand's values. But before we go on about it, let's have a short glimpse at Roger Dubuis' nineteen years of history.
Roger Dubuis – a brief history

The brand's name refers to the name of watchmaker Roger Dubuis, who in 1980 founded his own atelier, after 14 years of developing complications for Patek. He took on work from more major watch brands, to design new complications. Fifteen years, in 1995, later Carlos Dias, a designer for Franck Muller, joined Dubuis and launched the brand "Roger Dubuis". The brand has always walked a fine line between traditional watchmaking and avant-garde design. In 2008, the Richemont Group (which also own A. Lange & Söhne, Cartier, Jaeger-LeCoultre, Montblanc, Piaget and Panerai among others) acquired a 60-percent interest in Roger Dubuis SA. In 2015 Roger Dubuis will celebrate its 20th anniversary.
Overall appearance
The visual abundance of horological technicalities was at first glance maybe a bit too much for me. That explains my initial hesitance. What I did not expect is for this to change overnight and I not only came to appreciate it, but to admire and praise exactly these properties. On the wrist, the 'visual treats' diminish and only appear on close observation when you really want to enjoy exactly those qualities.
On first glance, it might just be a visual busy dial in a large sporty case on a rubber strap. From another angle, when reflections and light hit the anti reflective coating and make it look blue, the horological sweetness catches the attention. Both the polished hands and the black-polished tourbillon cage jump out and catch the light.
Dial / hands
Describing the dial is done rather quickly, because there's no dial. That means you'll immediately see the movement and since the movement doesn't have a main plate, and is skeletonized to the max, you'll see what remains and you wrist. The skeletonization of main plate and bridges leaves only a few pieces of metal to hold jewels and screws, and offers enough stability to the entire movement. Because of this you can closely observe all movement parts and how they operate. The Roger Dubuis Pulsion Skeleton Flying Tourbillon, and it's skeletonized siblings, can perfectly serve to learn a lot about how a mechanical watch functions.
With a view like in the photo above, you can probably imagine that reading time might be difficult. On the wrist however, you will never have such a view as you'll automatically tilt your wrist so that reflections on the hands are clear and you're able to read the time. That's something that happened automatically since the first moment I put this technical marvel on the wrist.
Because of the different finish on the various parts, everything reflects lights differently. The main plate, or actually the skeletonized main plate, has a darker finish, while hands and tourbillon bridge feature a black polished finish. Screws heads and slots are polished and blackened, as is the tiny second hand on top of the tourbillon axis.
Case / strap
At first glance the 44mm titanium case might not immediately stand out, however when wearing a Roger Dubuis Pulsion (besides the Skeleton Flying Tourbillon, there are also several Chronograph models) for a longer period, the lovely details and impeccable finish of the case starts to become a real treat. Alternating brushed part, beveled edges, and polished parts and even something like a cavity that has no purpose but to look nice. And it does look nice! Finishing so many details, in so many different ways, is rather complex, and that contributes to the exclusivity of this technical marvel.
Another characteristic feature, that sets the Roger Dubuis Pulsion apart from the crowd is the massively thick crystal and the screws that hold it in place. The thick crystal extends to the flanks of the case and serves as a bezel. The numerals are engraved under the crystal and filled with luminescent material (SuperLumiNova.) Just look how thick that crystal is!
By the way, the finishing of the lugs for instance, is quite complex. And we're talking about just the lugs! The Roger Dubuis Pulsion Skeleton Flying Tourbillon is loaded with intricate details that might not immediately catch your attention. On the other hand, when look for the time, you'll see an overwhelming amount of details, so all together it's probably nicely balanced.
All Roger Dubuis Pulsion models, except for one (the pink gold version of this Pulsion Skeleton Flying Tourbillon comes on a shaped black alligator strap), come on this rubber strap with titanium clasp. The strap matches very well with the style of the Pulsion collection and also makes it superbly comfortable to wear it. What seems to be a simple tang buckle, is actually a comfortable single folding buckle, that opens by simultaneously pressing the buttons on either side of it.
The Roger Dubuis Pulsion Skeleton Flying Tourbillon is water resistant to 10 BAR / 100 meters. Maybe not fit for professional scuba diving, but good enough for some serious water fun!
Movement
The gem that gets all the spotlights on it, is the in-house developed and manufactured calibre RD505SQ. This movement has been superbly finished and therefore has been certified with the Poinçon de Genève. Calibre RD505SQ is a certified chronometer – meaning it's deviation is maximum -4/+6 seconds per day – has been certified by COSC. Calibre RD505SQ (SQ stands for squelette, which means skeleton in French) comprises 165 individual parts, measures 16″ (16 ligne is approx. 36 mm) and 5.70mm in height. The balance makes 21,6000 vph (3Hz).
The hand-wound movement has one main spring barrel that is skeletonized, so the main spring itself is visible. It's located at the 1 o'clock position and delivers power for 60 hours of autonomy, when fully wound. The 19 jewel movement is adjusted in six (!!) positions, so one additional positioned compared to 99.9% of all movements on the market that have been adjust to five positions. The skeleton bridges and remainders of the main plate are anthracite rhodium plated, circular grained and, like mentioned before, the tourbillon cage has been black polished.
Conclusion
The Roger Dubuis Pulsion Skeleton Flying Tourbillon is an epitome of an ultra-high-end luxury timepiece, and it's sporty at the same time. While it has "two faces", the two are perfectly merged into this highly comfortable wrist watch. When I first saw the Roger Dubuis Skeleton Flying Tourbillon I had to take another breath, because, well, how to put this… it's simply a bit "too much" for my taste. How wrong I was! After wearing it for a day, worn during a normal office day (meetings and desk work) it felt like it was in place on my wrist. The titanium case is light, the finish is sublime, the thick crystal and rubber strap make it sporty, and the skeleton movement does not immediately catch the attention. It does on second glance and that second glance usually only comes from the person who's wearing it.
During the 4 weeks I've been wearing the Pulsion Skeleton Flying Tourbillon I've become a bit of a fan of the brand. In my humble opinion, Roger Dubuis' tourbillon cage is the most beautiful I've ever seen. The fact that all their watches are Poinçon de Genève certified, and chronometer certified. For $137,000 USD / € 121,000 EUR you buy a lot of watch and a lot of visual pleasure and a lot of wearing pleasure.
More info: www.rogerdubuis.com
https://monochrome-watches.com/roger-dubuis-pulsion-skeleton-flying-tourbillon-titanium-review-photos-specs-price/