Hands-on
Nomos Zürich Weltzeit Amsterdam Edition for ACE Jewelers
A watch named after two not-so-big cities actually has a real cosmopolitan feel to it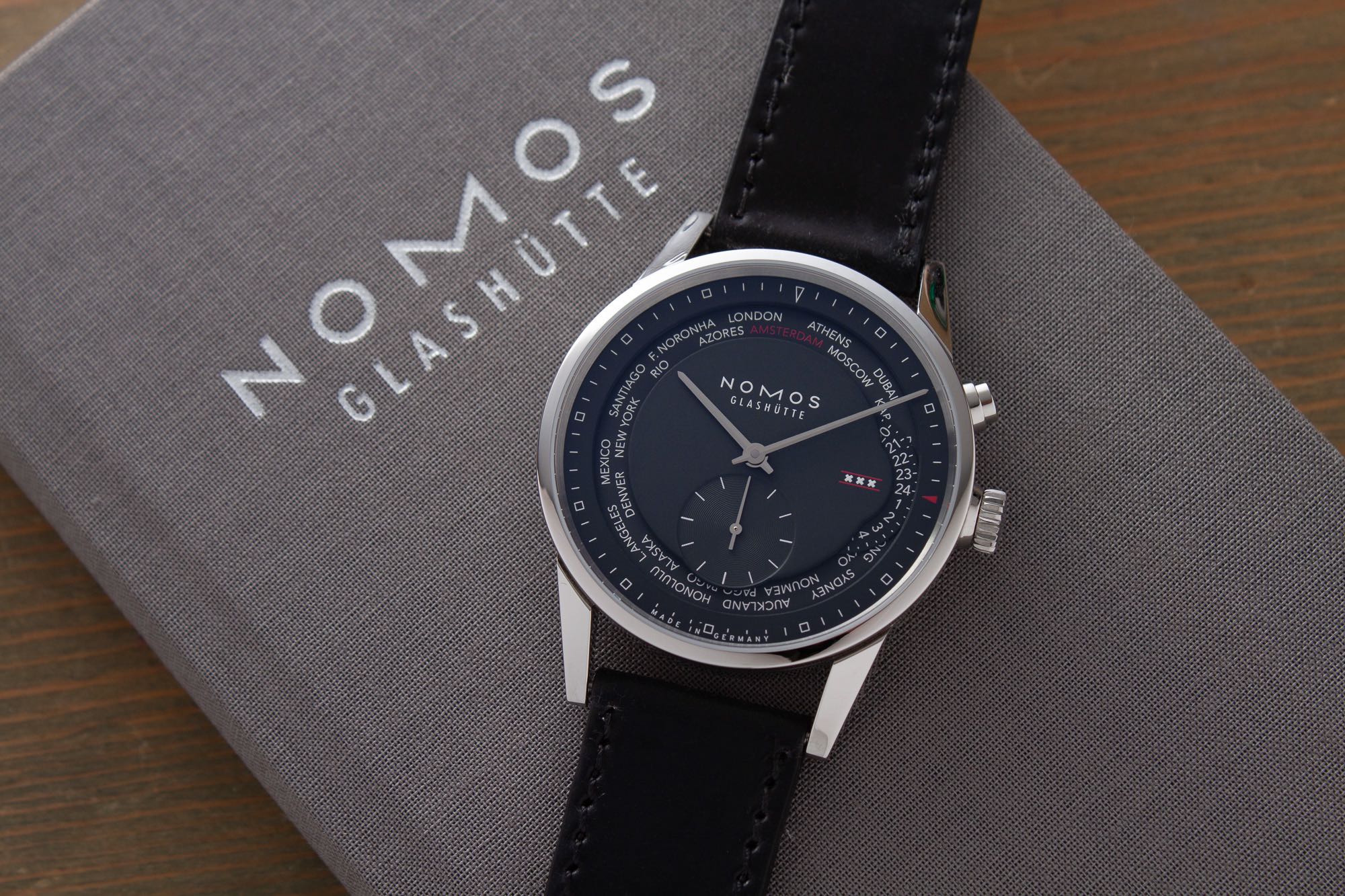 For the third year in a row, following the very original and arty Orion "De Stijl" and the sporty Club Campus Amsterdam, Dutch retailer ACE presents a collaboration watch with Glashütte-based watchmaker Nomos. And for the third year in a row, they hit the right note. The already existing Zürich World Timer (Weltzeit in German) was a very good starting point, but this limited edition makes it even better. So, we went hands-on with the new Nomos Zürich Weltzeit Amsterdam Edition For ACE Jewelers… to see what's what!
Let me start with straightening one thing out: Amsterdam is not really a big city. I live there, I love living there and it is, in fact, the biggest city in The Netherlands – and it still has unmistakeable town qualities to it. You can cycle everywhere you want, Sundays are slow and despite the huge amount of tourists circling the small streets around the old city centre, you still feel this is a place for easy living, not fast living. Trying to live the Big City life in Amsterdam is like wearing the most exclusive Tissot; it just sadly misses the point (sorry about that, Tissot…)
Having said that, it is a city with great taste. Forget about the touristic clichés (you know, the red light district and the coffee shops) because Amsterdam has, for the last 500 years been a city for creatives, artists and free-thinking souls. It's the anti-authoritarian city.
ACE Jewelers and Nomos
Still, the guys at ACE Jewelers, one of Amsterdam's prominent watch retailers, found a way to make a very nice watch for urban travellers with subtle inspirations from the Dutch capital. The most obvious touch is the three white Saint Andrew's Crosses at the home time indication at 3 o'clock. These crosses are very much associated with Amsterdam, as they are used as heraldic charges in the city coat of arms. (Since when this exactly is, no-one knows. Saint Andrew's crosses symbolize some sort of divine powers and were used by ancient Germans to protect against evil, demons and all-round disaster. In a way, that might've worked for Amsterdam. Now let's hope it works against global warming as well – the city lies about two metres below sea level.)
These same three crosses are also seen on the crown. In my honest opinion, that wasn't necessary, but Dale Boom, ACE's spokesman who was closely involved in the design of the watch, frankly didn't agree with me. "I think it really finishes the watch", he said.
One more reference to my hometown is found on the world-time city ring, the most obvious place. The word "Berlin" (an obvious choice for a German watch) was replaced by Amsterdam, which is now printed in red. All of these are nice touches, which really made me want the watch… A bit of patriotism and pride never hurts.
This isn't the first piece the jeweller has made together with the watch brand from Glashütte. The first collaboration gave us the Orion "De Stijl" 100th Anniversary, referring to the mainly Dutch art collective that celebrated its centennial birthday in 2017. This piece has uneven indices that were inspired by the playful use of straight lines which characterises the art movement. It also has a black cordovan strap.
The following year, both parties worked together again to create the ACE x Nomos Club Campus Amsterdam. This piece featured a grey dial with a mix of red Arabic and Roman numerals, whose colour scheme referred to Amsterdam. All 75 pieces were sold out, just as the 100 pieces for De Stijl did. The latest collaboration is only made in a limited run of 25 pieces.
Pros and Cons
A big advantage of this Amsterdam edition is the colour. The Nomos Zürich Weltzeit was already available in white and dark blue, but I think the black dial really gives the watch a cooler appearance. An unexpected advantage of this colour is that it sort of conceals a small design flaw in the original version: in my honest opinion, the city ring is sunk a little bit too deep in the dial. By making the whole dial black, it kind of camouflages that depth. The crystal is beautifully done; a domed sapphire.
Now before you start clicking to the website, there is one more drawback to this model I have to share. The lugs are too long for my small wrist. I really don't see why Nomos hasn't changed this, as it's already gotten quite some criticism from collectors about this design issue. And even more considering that most of other Nomos watches are actually small pieces (between 33mm and 38mm)… The lugs are straight, which doesn't really make the watch fall comfortably around the wrist. So be aware; you need a fairly large wrist for this edition.
Talking about the strap, by the way, this Ace x NOMOS Zürich Weltzeit Amsterdam is equipped with the very nice cordovan (horse leather) strap that is also found on, for example, the Nomos Metro. Having owned a Metro, I can assure you this is not only a very comfortable, but also quite a good looking strap that really gives this watch a modern, urban appearance. If you have small wrists, the strap might need an extra hole, but I guess that shouldn't lead to very big problems.
To real purists, this watch might offer another issue that we already noted in our earlier review of the Zürich Weltzeit in 2013. Back then, we wrote: "Essentially, a world-timer complication should allow the wearer to see the time of all different time zones all at once. The Nomos Zurich Weltzeit in this regard failed to do just that, as the timepiece is more akin to a GMT or a travel time with a city disc. With the Nomos Zurich Weltzeit, you can only view two different time zones simultaneously – the displayed time, and the local or home time shown by the Heimat (Home) disc near the 3 o'clock marker."
The upside of this system is that it is very easy to use, legible and not too expensive. You can switch time-zones quite easily with the pusher at two o'clock. A single press rotates the city disc counter-clockwise, which subsequently jumps the hour hand forward and allows you to flick through the different time zones with ease, while also leaving your 24h-hometime untouched.
Technical details
The case is made of steel, measures nearly 40mm in diameter and is water-resistant to 30m. The pusher that adjusts the world timer ring is located at 2 o'clock and there is one small pusher at eight o'clock to change the home time. That indication is found at three o'clock and only shows the hours.
Inside the case ticks a Nomos creation: the calibre DUW 5201. The first three letters of this calibre name immediately give away their provenance: Deutsche UhrenWerke Nomos has in-house produced and developed this movement. This calibre is based on the Epsilon movement, which itself was the automatic version of the Alpha movement, the first calibre made by the still-quite-young brand from Glashütte.
The DUW 5201 is an automatic calibre that has a 43-hour power reserve, a small seconds located above 6 o'clock and the earlier described world-time mechanism on the outer ring. Together with the rotor, this all adds up to a movement thickness of 5.7mm, which is still very acceptable for a watch like this. Special Glashütte touches are to be found on the ratchet and duplex wheel: the beautiful spiralling sunburst decoration. It also has the typical Glashütte three-quarter plate, although not as highly decorated as some of its (higher-end) neighbours. The rest of the decorations are done quite nicely, with Glashütte ribbing and perlage. All of this is seen through the large glass caseback, which really showcases that quite big 31mm movement.
When talking to the passionate people at ACE Jewelers, one directly notices that this special edition wasn't done on a Friday afternoon. Real thought went into this piece, and that shows. When Boom (pronounced in Dutch as 'Bohm', not BOOM) told me about all his previous ideas, he couldn't help but show me some of the first versions of this watch. A few years ago, he made the first sketches of this piece. Back then, Nomos and ACE decided to shelf the idea, but luckily it now has found its way to reality.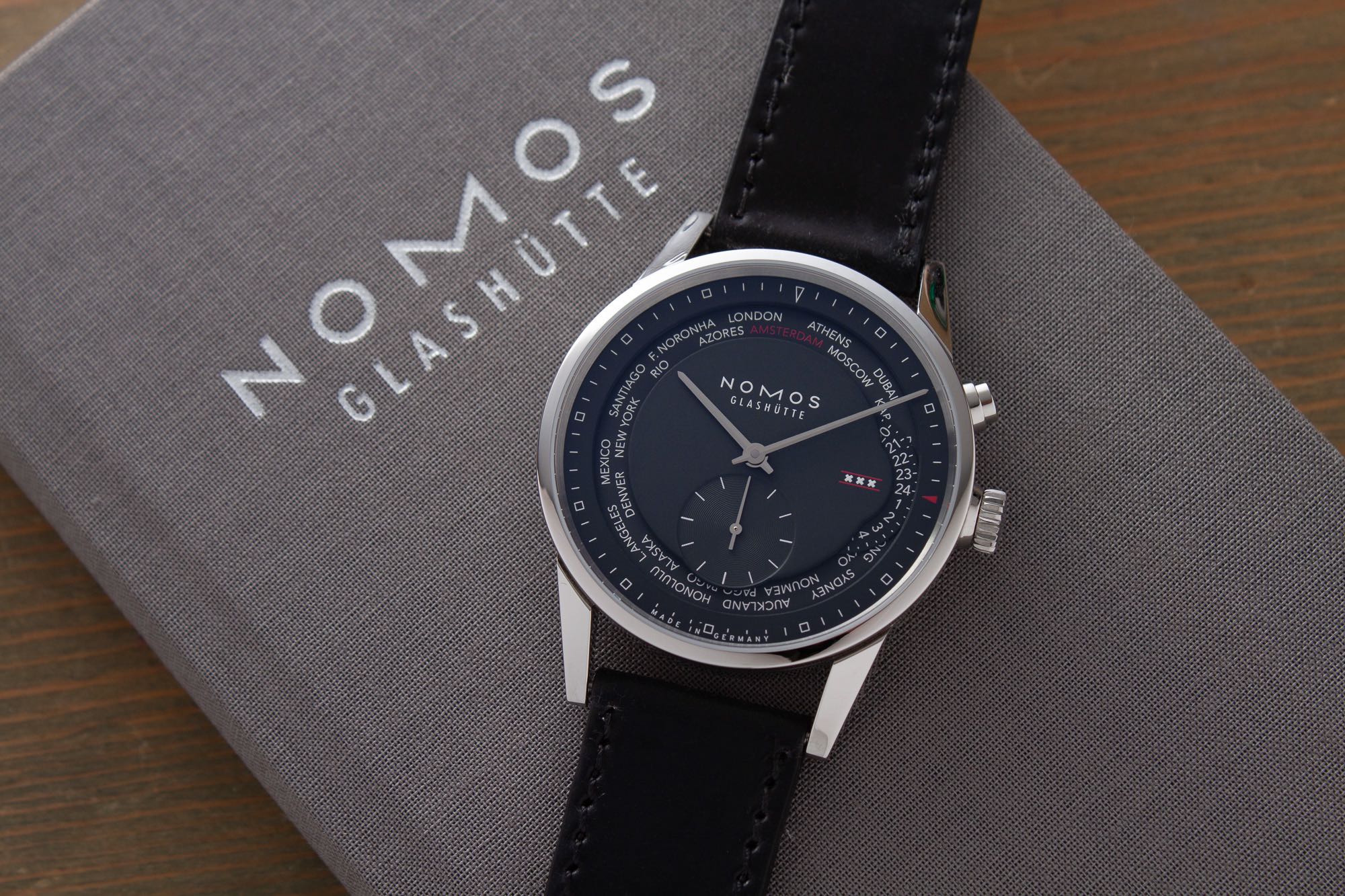 So far, the collaboration between ACE and Nomos has produced very interesting pieces, and that is mainly thanks to people like Boom and his boss, Alon Ben Joseph, who are real watch lovers and have spent way too many hours working on these projects. So far, only Nomos has dared to do this with ACE, but I would be very curious to see other watch brands doing this as well. Not because I want to see more Amsterdam-branded watches (generally speaking I'm not a real big fan of those 'branded' editions), but mainly because I think creativity from the outside world would improve a lot of watch companies that stick just a little too much to what they already know between their own four walls.
Final thoughts and availability
The ACE x Nomos Zurich Weltzeit Amsterdam Limited Edition as a whole is very well done, although it does have a few drawbacks I described earlier. Generally speaking, I think it is a very desirable watch that really fits the style of modern city life. Yet, it is not a very cheap watch. It's actually the most expensive watch in the regular Nomos collection, leaving the golden Lux and Lambda mavericks out of the equation. The watch comes in a limited run of 25 pieces and will be available from the end of this month. The price of the watch is exactly the same as the dark blue Zürich, meaning EUR 4,620 including VAT – which is actually quite sympathetic from the guys at ACE, as the updates actually go at the expense of their margin of profit. So if you want one, you'll have to be quick – expectations are that this limited run will be sold out soon.
More details and orders at www.acejewelers.com.
https://monochrome-watches.com/nomos-zurich-weltzeit-amsterdam-edition-for-ace-jewelers/