Maurice Lacroix Pontos S Diver Movember Limited Edition (specs and price)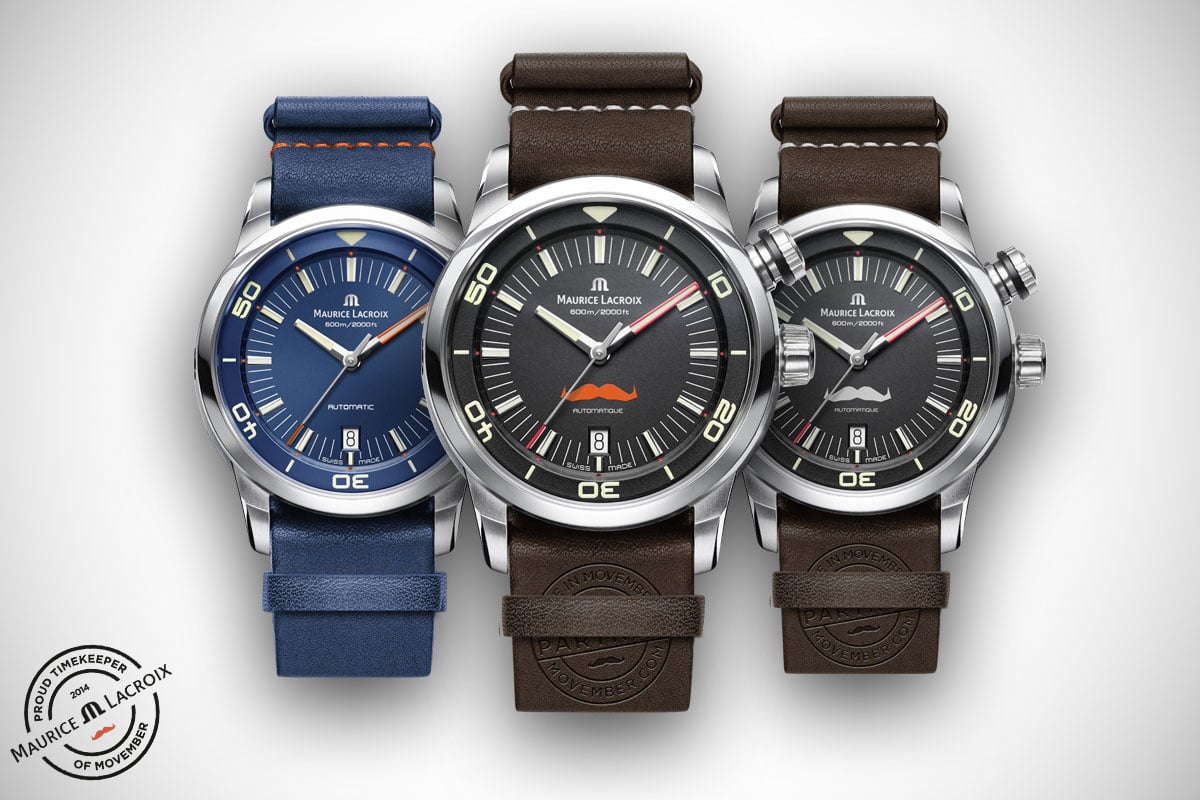 It's already November. So gentlemen, let your moustache grow. Why? Simply because it's Movember (an annual event involving the growing of moustaches during the month of November to raise awareness of men's health issues, such as prostate cancer and other male cancers). No we are not moving Monochrome into a hipster lifestyle magazine. Instead, we want to talk about a watch (surprising), especially one that has become a partner of this great and cool charity event. Here is the Maurice Lacroix Pontos S Diver Movember Limited Edition.
Movember is quite a young charity event (born in 1999, Australia) that involves men to let their moustache grow (and moustache only) for the entire month of November, to raise awareness and try to raise funds to fight men's health issues, such as prostate cancer and other male cancers. Even if dealing with an important and sometimes sad cause, the goal of Movember is to "change the face of men's health" but in a fun and cool way. If you want to subscribe or donate, check the website here.
Movember has several partners, including one that is our sort of material here at Monochrome-Watches: the watchmaking company Maurice Lacroix. This year the brand is getting involved and supporting the campaign with a limited edition of certainly their coolest and most attractive watch, the Maurice Lacroix Pontos S Diver. In fact we're are talking about 3 watches: 2 limited editions of 14 timepieces, both with a NATO strap in brown leather a black dial adorned with a stylized moustache – the first 14 with an orange Movember'stache to reward the greatest fundraisers of each national Mo'rice Lacroix team and the other 14 with a white 'stache on the dial (sold exclusively on the official website of the brand). Maurice Lacroix will donate all benefits of the sale to the Movember Foundation.
The third watch is a 2-piece edition, with a blue dial and NATO strap in leather, that won't be available for sale. The first Maurice Lacroix Pontos S Diver blue dial will be gifted to one man, chosen from the combined list of winners all over the world, crowned international Man of Movember, and that will become the face of the campaign. The second one will be offered to Maurice Lacroix ambassador and Movember CEO, Adam Garone.
As for the watch itself, this Movember limited edition remains a classical but appealing Maurice Lacroix Pontos S Diver, a 43mm dive watch, water resistant to 600m, with a compressor-style case – two crowns, one to rotate the inner minute ring and one to set the time and to wind the movement, here a Selitta SW200, an ETA clone totally suitable with the idea of a tool watch. It delivers 38 hours of power reserve, a good accuracy and a level of reliability good enough for the next 20 years. It also has a Helium escape valve at 9. The stainless steel case is brushed  – except the bezel and some nice bevelled angles on the lugs – and comes with a interesting level of finishing, especially when you consider the price: € 2,460 Eur.
Defenitely a cool watch for a cool charity. More info on the official website of the brand and on Movember's website.
https://monochrome-watches.com/maurice-lacroix-pontos-s-diver-movember-limited-edition-specs-price/