Introducing
The Laurent Ferrier Square Micro-Rotor Retro Watches (Live Pics & Price)
The Square Micro-Rotor with a 1930s Art Deco touch.
Since the creation of his company in 2010, Laurent Ferrier and his eponymous brand have always focused on an understated, extremely elegant and smooth design that embodied undeniable retro inspirations, mostly from the 1920s to the 1950s. Specifically, Art Deco is a theme of choice for the designer/watchmaker, something that the polarising Bridge One couldn't deny. These vintage influences will be used once again this year, with a new creation based on the handsome and refined Square watch, now equipped with dials inspired by a theme from the late 1930s. Here are the new Laurent Ferrier Square Micro-Rotor Retro watches. 
There are several things in the life of Laurent Ferrier that have inspired his work. First, his personal background, being the son and grandson of watchmakers, and having to spend time next to his family's benches, looking at old watches. Then is Laurent's professional background, having spend more than 3 decades working for Patek, overlooking the creation of some of the most glorious vintage watches we've come to see. Finally, there's his passion for motorsport, and his participation in multiple editions of the 24h of Le Mans. The latter might not be the most relevant influence for today's watch (this is dedicated to the Grand Sport watch) but the two others are certainly explaining some of the influences behind the new Square Micro-Rotor Retro watches.
There is no denying that many of Laurent Ferrier's creations are inspired by glorious watches and design trends of the pre-WWII era. Sector dials, triple-calendar layouts, regulators… And Art Deco, an unmistakably modern design school of the 1930s, with its geometric rigour, minimalism and graphic stylisation, has always been dear to LF, specifically in its Square Micro-Rotor watch.
For its new creation, the Laurent Ferrier Square Micro-Rotor Retro, the brand brings back everything that made the success of the previous Square models, yet adds a new visual touch with unprecedented dials. Yet, when it comes to the superbly smooth cushion-shaped case, nothing has changed… for the better. We find back the 41mm x 41mm entirely polished and curved case, which is here available either in stainless steel or in 18k 5N red gold. It retains the signature ball-shaped crown as well as a highly domed sapphire crystal on top, without anti-reflective coating – simply because Laurent thinks that reflections are part of the beauty and liveliness of a watch (we certainly agree when looking at the watch, less when it comes to photographing them…) Without the crystal, the watch is thin, at 11.10mm in height.
Being a dressy watch, water-resistance is fairly limited, with 3 bars, but this isn't a watch you want to bring underwater anyway. The finishing of the case, extremely soft to the touch, is flawless as always. And despite proportions that might appear on the large side on paper, the Laurent Ferrier Square Micro-Rotor is still a highly elegant piece on the wrist that wears smaller than expected – which is partially due to the relatively small diameter of the dial.
Depending on the case material and dial colour chosen, the watch will appear soft and casual, or contrasted and slightly more formal. It also goes down to the strap, the gold watch being worn on a classic dark grey alligator strap, while the steel model comes on a far more surprising khaki green velvet alligator strap. Both are equipped with a comfortable Alcantara lining and a pin buckle in stainless steel or 18K 5N red gold.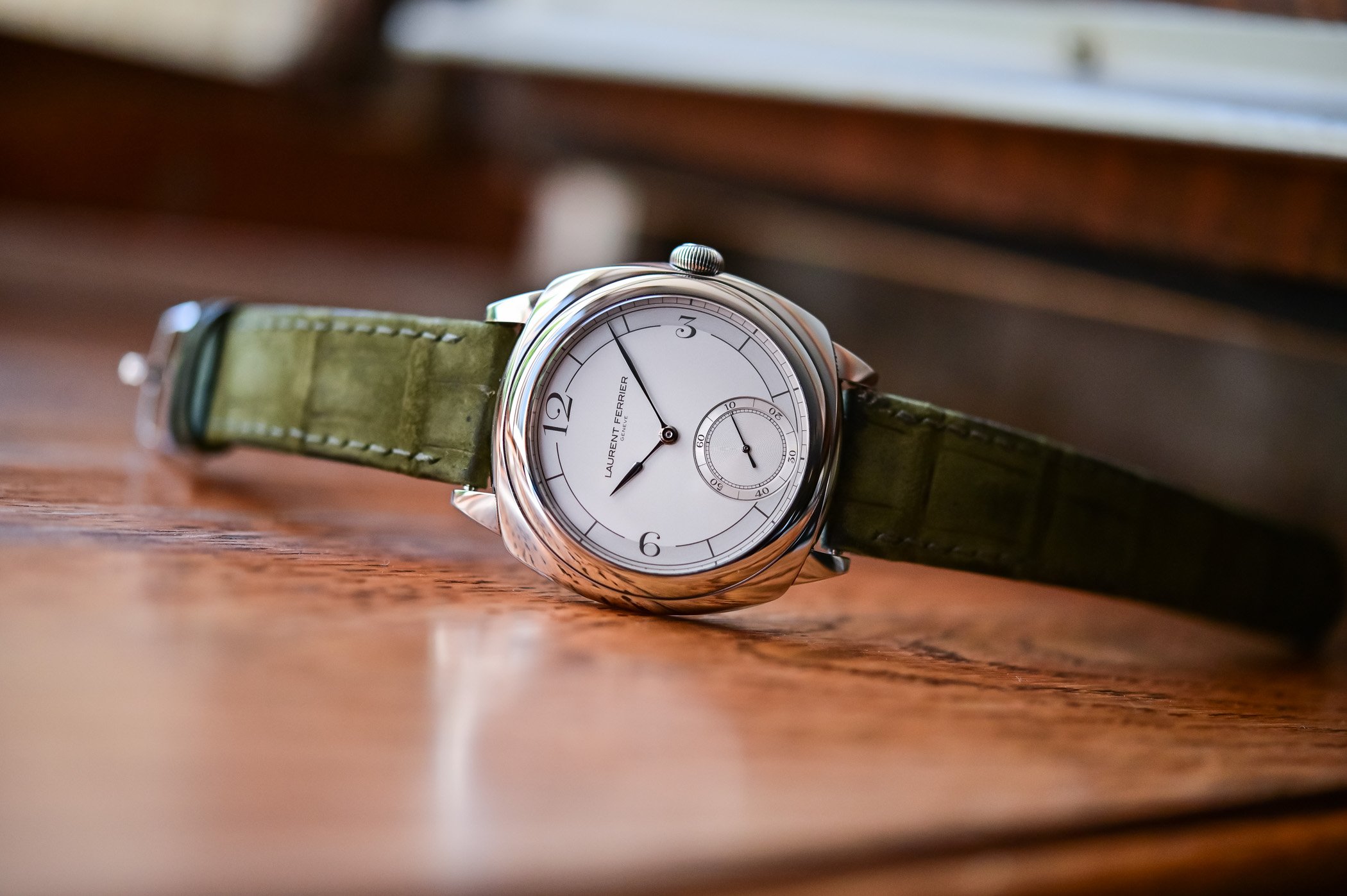 But time to talk dials now, because after all, that's what these new Laurent Ferrier Square Micro-Rotor Retro watches are all about. After taming Roman numerals and drop-shaped indexes in its Square collection, Laurent Ferrier is now exploring Arabic numerals in a typical Art Deco style. Also known as pilot numerals, they give the whole piece a casual feel while offering great readability. Finely decaled with an Art Deco touch, the Arabic numerals are placed far on the periphery combined with a modern, architectural hour chapter ring that isn't without reminding of sector dials.
As said, there are two versions of the Square Micro-Rotor Retro available. One has a light opaline silvery-white colour, matched with charcoal grey Arabic numerals, hour circle and logo decals. The second has a dark opaline charcoal grey dial with matte white Arabic numerals, hour circle and logo decals. Other than that, we find back the beautiful Assegai-shaped hands executed in solid gold on both versions. Two identical designs, however, the difference in tones results in very distinctive watches.
Under the sapphire caseback is still a haute horlogerie movement, the proprietary calibre FBN 229.01. This automatic movement is wound by a unidirectional pawl-fitted micro-rotor and boasts a three-day power reserve. What is truly unique in this engine, designed, assembled and adjusted in the Laurent Ferrier workshops is its regulating organ. It is fitted with a silicon escapement featuring a double direct impulse on the balance. This innovation developed by LF in collaboration with the Fabrique du Temps, enables the balance to be impelled twice per oscillation, which requires two escape wheels and an appropriately shaped lever. This modern construction, combined with the use of cutting-edge materials, maximises energy efficiency. This escapement's excellent performance thus guarantees the balance's high amplitude and the force required to wind the barrel spring is reduced, thereby optimising winding of the movement.
This movement isn't only a technical achievement, it is also greatly decorated. All the parts, visible or not, are finished by hand with polished bevels, large Geneva stripes, polished countersinks, black polished steel parts (look at the micro-rotor bridge or the cock for instance), perlage… and more. As always, this movement is a pleasure to look at.
Availability & Price
The two Laurent Ferrier Square Micro-Rotor Retro watches, whether in stainless steel or in gold, will be part of the permanent collection and not limited in production. The steel model will be priced at CHF 45,000 and the gold model at CHF 55,000 (both prices excluding taxes).
For more details, please visit laurentferrier.ch.
https://monochrome-watches.com/laurent-ferrier-square-micro-rotor-retro-watches-hands-on-review-price/