Jaquet Droz – Yes we can!
Jaquet Droz did of course have some new watches at Baselworld this year. However the coolest timepiece they showed was not a wristwatch…
First we go back in time… Pierre Jaquet-Droz was the founder of the modern manufacture Montres Jaquet Droz. The Swiss-born watchmaker lived from 1721 until 1790 and lived in Paris, London, and Geneva. He designed and built animated dolls, or so-called automata, to help his firm sell watches and mechanical birds.
Together with his son Henri-Louis and Jean-Frederic Leschot, Pierre Jaquet-Droz constructed 3 amazing 'automata'. These three mechanisms fascinated the world's most important (and rich) people: the kings and emperors of Europe, China, India and Japan.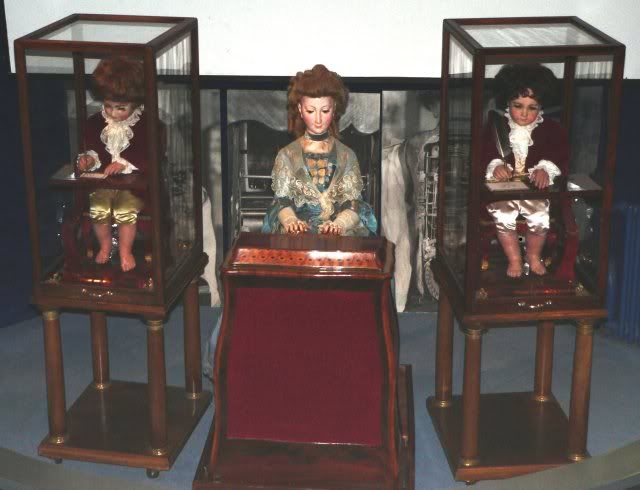 The Writer is made of 6000 pieces and has an input device to set tabs that form a programmable memory.  A total of 40 cams take care of the read only program and there's of course a pen for the output.  The two other pieces are the Musician (made of 2500 parts) and the Draughtsman (made of 2000 parts).
OK… now back to 2009.
Manuel Emch, president and head of artistic creation at Jaquet Droz, had the idea to create an automaton that relates to the 21st century. The project lasted 8 years an at Jaquet Droz the can say again "Yes we can!"
At Baselworld 2009 Jaquet Droz reveiled another astonishing device, La Machine a Ecrire le Temps or the Machine that Writes the Time. This amazing machine is made of more than 1,200 components, including 84 ball bearings, 50 cams and 9 belts inside the machine.
Wind it up, press the button, and the time is written on a small pad using a stylus.
And here's the official video from Jaquet Droz
Le Machine a Ecrire le Temps has a price tag of $342,000.
More information can be obtained through the Jaquet Droz website.
https://monochrome-watches.com/jaquet-droz-yes-we-can/