Introducing
The Jacob & Co. Opera Godfather 50th Anniversary Is An Offer You Can't Refuse (Live Pics & Price)
Celebrating half a century of the Don Corleone myth.
The Godfather is considered one of the greatest and most influential movies of all time. Francis Ford Coppola's cinematic portrait of the Corleones is an absolute masterpiece crowned by three Oscars and seven Golden Globes. First released in 1972, the crime family saga celebrates its 50th anniversary, and a remastered version of the gangster drama was unveiled this year. This was the perfect opportunity for Jacob & Co. to present a remastered, epic take on its Godfather Triple-Axis Flying Tourbillon Musical watch.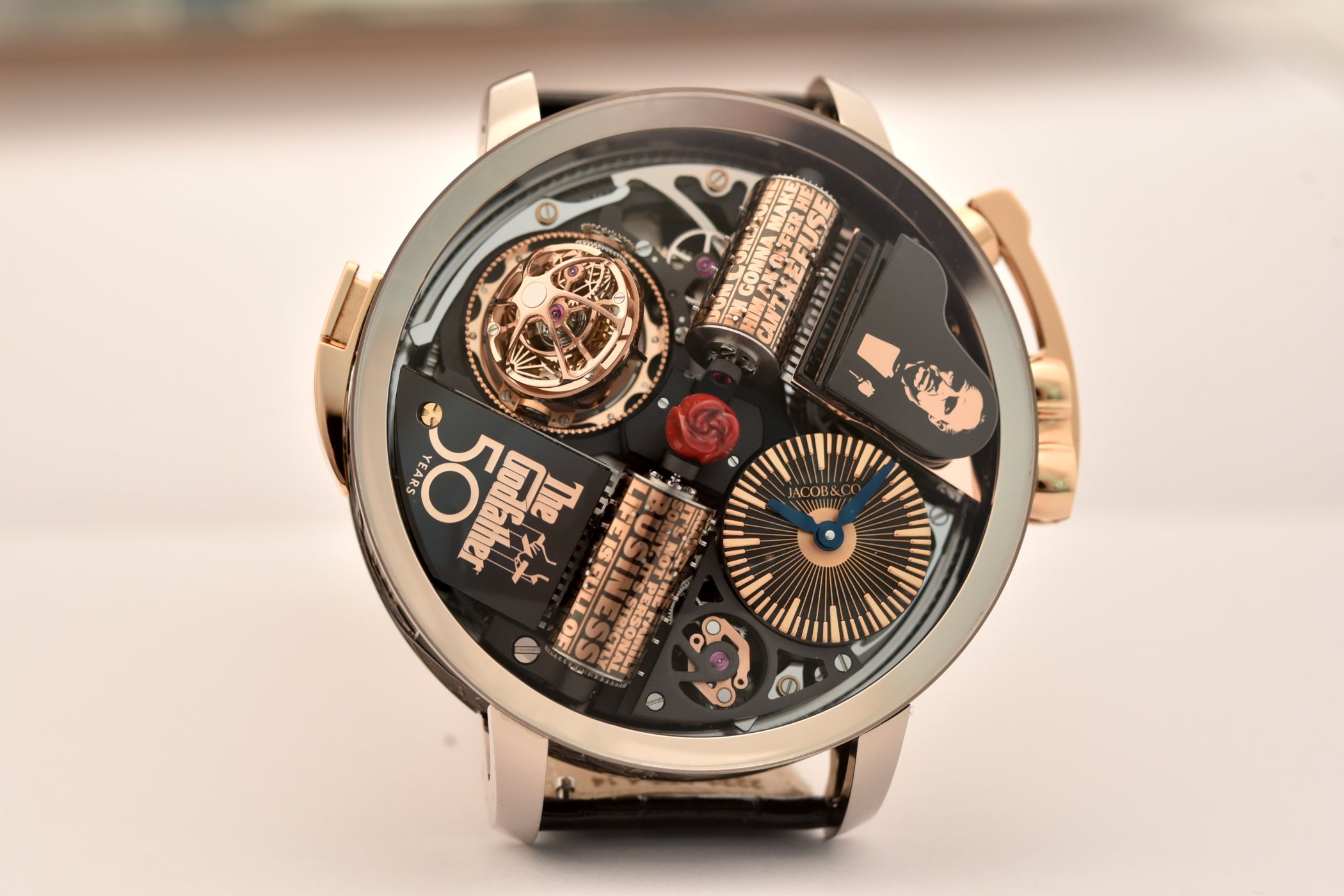 A SPECTACULAR SHOW ON THE WRIST
The Jacob & Co. Opera Godfather 50th Anniversary carries a special meaning for the brand's founder Jacob Arabo and its CEO, Benjamin Arabov, die-hard fans of the movie. One of the very first bits of dialogue is "I believe in America", words which resonate closely with Jacob. "When I first came to the USA from Uzbekistan in 1979, I was 14 years old, didn't speak the language, and my family didn't have a penny to its name. So we went to work really hard. It took me two years to earn the time and money to go to the movies. The Godfather was being released again; it was the first movie I saw in a theatre."
In the purest Jacob & Co style, the Godfather 50th anniversary edition is a statement piece, truly spectacular both visually and technically. This limited-edition watch is a compendium of expert craftsmanship and precision watchmaking skills, staging complications and decorative art in a unique way to create a 3D kinetic sculpture. Its impressive, highly domed sapphire crystal invites you to admire ever-changing details inspired by the cult movie.
First, there is a miniature grand piano emblazoned with the portrait of Marlon Brando / Don Vito Corleone, a black PVD-pink gold plate "The Godfather 50 Years" with the iconic puppet string logo and a hand-painted rose at the centre of the movement. The time is indicated on a subsidiary dial, reminiscent of a piano keyboard. The movement is regulated by a captivating triple-axis flying tourbillon (97 parts for 1.79g), and the ballet of the concentric cages (rotations in 24 seconds, 48 seconds and 180 seconds, respectively) allows for multi-dimensional rotations to counter the negative effects of gravity.
Godfather's Love theme ON DEMAND
But the spectacle is not just visual; a musical mechanism plays Nino Rota's "Love Theme from The Godfather". The mechanism works on the principle of a miniaturised music box. A pair of drums are set with 120 pins that are individually hand riveted – these must be positioned with exact precision to hit the comb's blades to play the 120-note melody. These twin cylinders feature 13 iconic Godfather quotes revealed as they rotate. The musical mechanism is driven by the rotation of the entire movement (120° in 30 seconds)!
Comprising no fewer than 658 parts, the hand-wound JCFM04 ticks at 21,600vph and has 42 hours of power reserve. The violin-shaped crank at 3 o'clock winds the two barrels powering the time mechanism and the musical mechanism. The latter is activated on demand via a pusher at 10 o'clock, and just like a minute repeater, a fly-wheel regulates its speed. Last, the time is set via a flip-up bow at the back of the case.
Femto-Laser Etching Technology
This miniature mechanical microcosm is protected under a sapphire dome and housed in an impressive 43mm gold case with hollowed-out lugs. Another nod to The Godfather, the case flanks have been used as a canvas to laser engrave a cinema film roll with 13 scenes from the movie. The engraving is remarkably deep ( 0.3mm) and sharp. The impressive level of rendering was achieved with one of Jacob & Co.'s Swiss partners, DM Surfaces. Each case is engraved for no fewer than 30 hours using a combination of nanolaser and femtolaser. The selective and mastered oxidation of gold allows the creation of a wide array of shades and tones (256 in total) to reproduce images in an ultra-realistic 3D chiaroscuro.
AVAILABILITY AND PRICE
The Jacob & Co. Godfather Musical Watch 50th anniversary edition is worn on an alligator strap closed by a gold folding buckle. It is released in a limited series of 50 watches. For this particular celebration, the watch is delivered in a large precious wooden presentation case with red velvet lining. It comes with a special crystal decanter with a high-resolution print of Marlon Brando and The Godfather's main logo. It also comes with an all-new limited-edition Godfather fountain pen by Jacob & Co. Price is set at USD 500,000.
Naturally, in true Jacob & Co. style, there is nothing understated about the insane Opera Godfather 50th Anniversary watch. While it's not the first musical movement wristwatch, this one goes a few steps beyond: the technicality of its movement and the attention to detail involved in its making is genuinely remarkable. Tridimensional and different every time, this exuberant tribute to The Godfather offers a unique experience and is really in a class of its own.
For more information, please visit JacobandCo.com.
https://monochrome-watches.com/introducing-jacob-co-opera-godfather-50th-anniversary-live-pics-price/