Hands-on
How Good Is Seiko's First Mechanical Prospex GMT Diver, And Specifically The Save The Ocean SPB385?
Some very cool things, but also a few disappointments.
Together with the chronograph, I do believe that the combination of a dive watch with a traveller's function, a.k.a a GMT complication, makes for some of the most attractive and practical watches. In short, it's your go-anywhere, do-anything kind of watch. And not only for summer but for any time you want to be a bit adventurous. Surprisingly, this specific combo, at least in mechanical formats, has never been done in the Seiko Prospex range – and knowing how many dive watches there are, this absence was always a mystery. But last month, Seiko unveiled its first mechanical Prospex Diver GMT, a collection of three watches, which includes the very appealing Prospex 1968 Diver GMT Save The Ocean Limited Edition SPB385. But how good it really is? Let's find out. 
The state of the GMT dive watch at Seiko
Complications are what make mechanical watches fun. There are tons of additional functions you can add to a watch, but let's be honest, in the real world, a moon phase or an equation of time are of very limited functionality. They are fascinating and add immensely to the charm of an elegant watch but serve almost no daily purpose. There are some complications, however, that bring a lot to the wearer of a mechanical watch, functions that are instruments for a job. Think chronographs or, for today's matters, a traveller's function, most of the time materialised under the GMT complication. And when you combine that function with dive watch credentials, you obtain one of the most useful timepieces available. It does everything, anywhere, anytime.
As for Seiko, the brand is no stranger to the concept of a GMT Dive watch, except that the offer was quite limited. And the few models available only appeared recently. As for mechanical watches, the only existing option was the trio of (very cool, but rather low-end) Seiko 5 Sports Style GMT, the SSK001, SSK003 and SSK005. And in fact, these are not real dive watches but rather sports watches that can withstand some underwater activity. There were also some rather expensive, high-end watches from the LX line, powered by Spring Drive movements, the SNR033/35 or the SNR049. But both were well above the 5k euros mark. Your only option within the more capable Prospex collection were solar-powered Sumo watches, the SFK001 and SFK003. Nicely designed, well priced, well equipped (a real "flyer" or "traveller" GMT function), but yes… solar-powered.
The Prospex 1968 Diver GMT SPB385
A press conference in early March brought us some good news announcing Seiko's first-ever use of a mechanical GMT movement in a Prospex diver's watch. In fact, a trio of watches, the SPB381 with a green dial and bezel, the SPB383 with a black dial and bezel (both part of the permanent collection) and a limited edition under the Save the Ocean banner, the SPB385 that we'll check out today.
First of all, let's talk about the basics and the design of this new GMT dive watch. Looking at the SPB385, or for that matter, the two other editions, there is a clear connection with previous watches from the Prospex range and with one specific historical watch. As indicated by its name – Seiko Prospex 1968 Diver's Modern Re-interpretation GMT, a mouthful as often with Seiko – this collection is a modern take on a dive watch released by the brand in 1968, the reference 6159-7001. Following its first professional diver, the 62MAS of 1965, Seiko revised its copy and introduced an impressive and innovative professional dive watch, the Automatic Diver 300m Reference 6159-7001. It is an equally if not even more important watch since it was the first Hi-Beat diver's watch on the market and a watch that was instrumental for the design language of most future Seiko dive watches.
This 1968 Hi-Beat Diver was first re-issued in 2018 in a faithful, high-end way with the SLA025. Additionally, Seiko presented the SPB077 and SPB079, more accessible and modernized recreation of the 1968 Ref. 6159-7001. But also fairly large ones. In 2020, Seiko revised its concept again with the SPB185 and SPB187. Still inspired by the 1968 Diver, these were more compact and more usable. And this is the base that Seiko has used to create its first collection of automatic GMT dive watches.
No surprises regarding the design of the Prospex 1968 Diver GMT: large and solid shoulders, a crown at 4 o'clock, a bold bezel framing a legible dial and a combination of brushed surfaces and polished accents. The case is made of stainless steel, and all parts are coated with Seiko's hardening process – a.k.a Super Hard coating – making the case more resistant to action. No debate regarding the overall quality; it's nicely done, feels very solid, and all parts are well adjusted. Typical of the SPB series.
Regarding the dimensions, Seiko has recently made an effort to introduce more compact models. Surely, at 42mm in diameter and with a 48.6mm lug-to-lug measurement, the SPB385 isn't what you'll call a compact watch. But it remains pleasant and comfortable, at least for an action-packed watch. Thickness is also fairly controlled. Despite the addition of a GMT function, the case is hardly thicker than the dive-only models and remains below 13mm. Of course, with the braided textile strap delivered with this watch (in addition to the steel bracelet), the watch sits higher on the wrist.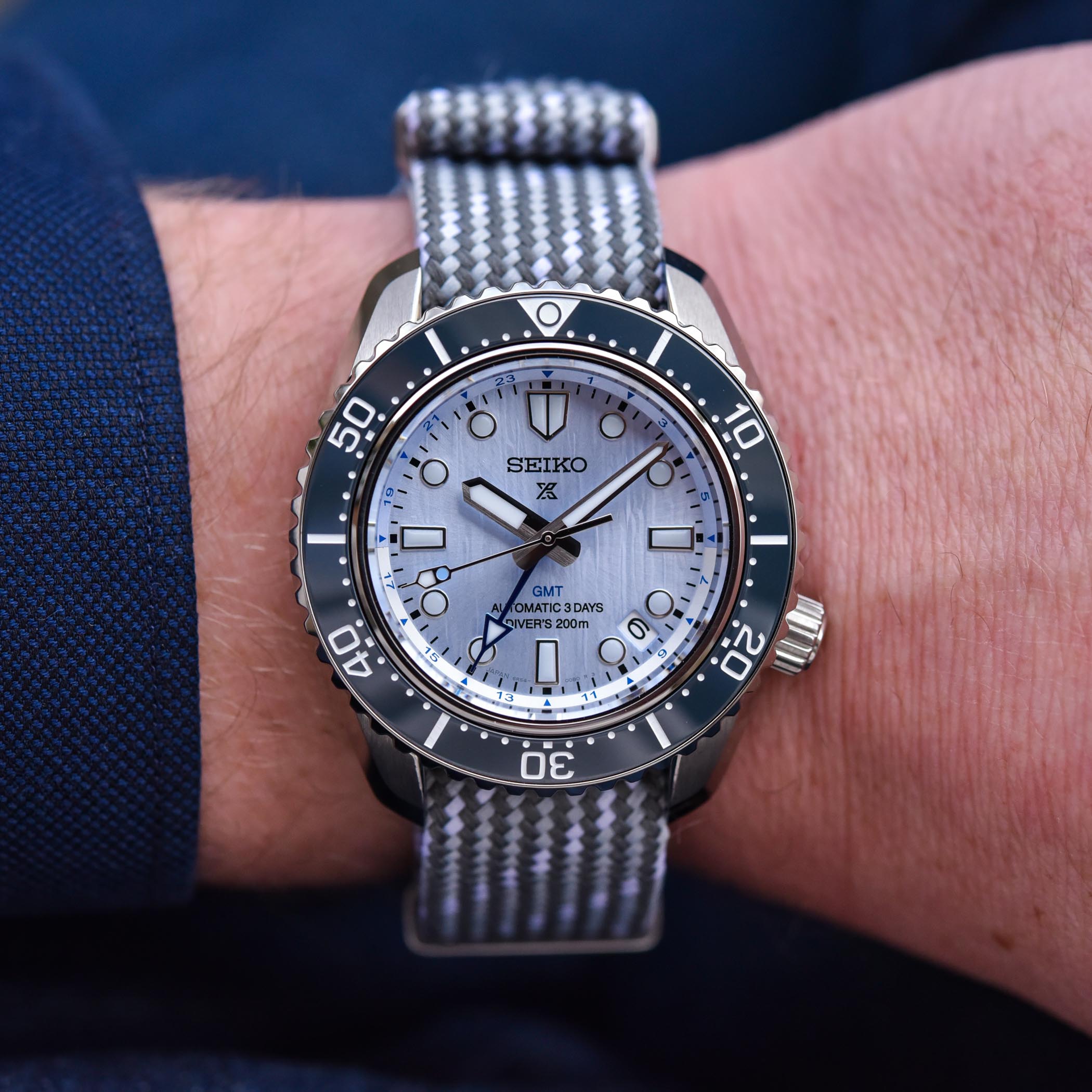 Regarding specifications, this collection is clearly meant to be a diver's watch first, with the addition of a GMT function. There are actually two ways to do a GMT dive watch. First, you can choose to have a 24-hour bezel, meaning that you lose the ability to time diving sessions. Then, you have the option retained by Seiko, which is to add a 24-hour scale on the dial while maintaining the 60-minute bezel. And I'd say that is, by far, the best option – specifically with the type of GMT function chosen by Seiko, but more on that later. This means that the SPB385 comes equipped with a unidirectional bezel with a ceramic insert and a 60-minute diving scale. To our surprise, the insert is actually dark blue, while the first renderings of the watch were giving the impression of a black insert. I'm not complaining, it actually looks more coherent with the dial. The rest is classic: 200m water-resistance, sapphire crystal on top with anti-reflective coating, screwed caseback and crown.
The reason why we chose to feature this Save The Ocean Limited Edition SPB385 rather than the classic black or green version is all about the dial. With its icy-blue colour and texture, it somehow brings a bit of a Grand Seiko vibe at a more accessible price. The dial is inspired by the polar glaciers that shape the landscapes and seascapes of the Arctic and Antarctic – a theme that we've seen in previous Save the Ocean editions here and here. This ice-blue colour is paired with dark blue accents, on the GMT hand and on the 24-hour scale. All elements are generously coated with LumiBrite, and the result is a dial that is simply lovely… And decently contrasted too.
This Save the Ocean limited edition (4,000 pieces in total) is delivered with a stainless steel bracelet with Super-Hard coating closed by a folding clasp with a diving extension. Also included is the strap you can see in our photos, a NATO-like strap made of recycled plastic bottles and done by using a traditional Japanese braiding technique called Seichu. Not only does it look really good, but it's also very pleasant to wear.
Inside the case is the new automatic calibre 6R54, which benefits from a comfortable power reserve, like all 6Rxx series movements. It beats at 3Hz and stores up to 72 hours of energy when fully wound. In addition to the time and GMT, it also displays the date. On paper, it has a lot of arguments, but there's one important thing to keep in mind, this movement is a so-called caller or office GMT. It means that it is the GMT hand that can be independently adjusted by one-hour increments, not the local hour hand – this feature is reserved for the so-called flyer or traveller GMT watches. (more on that difference here).
Thoughts
And that brings me to the annoying part… An office GMT watch can be practical in certain circumstances, mainly when you need to track a time zone while at home. But let me make two comments. First of all, the whole concept of a GMT dive watch is to be your ultimate outdoor companion, a watch that will follow you during holidays or adventure trips. And as such, it isn't a watch meant to stay at home. This means that the flyer or traveller GMT function is more than relevant here. Second, more and more GMT watches are using a traveller typology and the price point at which you can find them has come down quite drastically in the past few years. Think about the Mido Ocean Star GMT or the Decompression Worldtimer, or all watches powered by the Powermatic 80 GMT.
While I couldn't complain about this feature in a Seiko 5 Sports GMT, considering the market and the price of the Prospex 1968 Diver GMT collection (EUR 1,700 for the standard models, EUR 1,900 for the limited edition), I think Seiko should have made an effort to provide a true GMT function. It's too bad because this new series of watches, and particularly this Save The Ocean Limited Edition SPB385, is really attractive and otherwise decently priced – I know, we'll hear some comments again, but Seiko watches today have nothing in common with an old SKX anymore. The Seiko Prospex 1968 Diver GMT could have been a home run… I know I'm being a snob here, and some won't care about that caller/flyer distinction. But I do, and think brands should do too.
For more details, please visit www.seikowatches.com.
https://monochrome-watches.com/how-good-is-seiko-first-mechanical-prospex-diver-gmt-prospex-1968-diver-gmt-save-the-ocean-spb385-hands-on-review-price/